You always knew that Black Friday is a super important day for sales.
But is planning out your Black Friday emails newsletters strategy well in advance really that important?
Even if it is, what will it take to make the conversion-perfect holiday season email campaigns, especially when it comes to the busiest sales day of the year – Black Friday!
We tell you everything there is to know about top Black Friday email templates and subject lines in this brief write-up so that you never run out of email marketing ideas ever again.
Why Black Friday Emails?
According to a PwC industry report, the average American expects to spend about $1300 throughout the entire holiday season.
Therefore, one way to look at this is that not only is Black Friday the biggest shopping day of the year in the United States, but it also kicks off the busiest shopping season.
30% of all retail sales occur from Black Friday till Christmas (by Ecommerce News).
In-shopper visits on Black Friday 2019 fell by 6.2% (by Shopper Trak).
In 2019, 93.2 million buyers (40%) made a purchase online on Black Friday (by Adobe, NRF).
Amazon accounted for 54.9% of all sales on Black Friday (by Econsultancy, eMarketer).
Black Friday shopping is no longer confined to being a brick & mortar stores event. It is online. For a while now.
So right now is as good a time as any to plan out that magical mail campaign for the Black Friday sale. A standout Black Friday email sequence that'll get your digital cash registers (if there be such a thing) ringing like no tomorrow.
Black Friday Email Marketing Tricks
We believe in time-tested principles to create Black Friday emails that convert.
Have a clearly segmented, relevant email list already. Of course, this is assuming that you've been doing email list building right the whole year-round. The bigger your list of relevant prospects, the better the chances of hitting the sales jackpot!
Design compelling, catchy email subject lines. If the subject line does not pull them in, nothing else will. Also, be prepared to A/B test multiple subject lines.
Include time-tested elements that include Urgency and Scarcity. For example: showing a limited number of deals or a Countdown timer showing when the offer will end. Use high-quality copy to magnify these psychological factors!
Include visually stunning graphics in your email! If they are not drooling over it, then someone else is getting their sale!
Optimize your emails for Mobile. With over 39% of the $7.4 billion of Black Friday sales in 2019 happening on smartphones (by Adobe, Salesforce), we don't really have a choice, do we? 🙂
Design juicy, irresistible, and amazing offers. A Godfather offer, they can't just say no to! If it is not a great deal, none of the above really matters.
In the middle of all of this, don't forget that all of your messages and communication should not stray from the fact that this is the start of the holiday season for your reader, so wish them "Happy Black Friday" and keep it fun.
5 Black Friday Newsletter Design Ideas We Love
We believe inspiration comes in all shapes and sizes. Here are five of the Black Friday newsletter email templates we love.
1. Hush and Hush – Extended Black Friday Offer Email to Customers
We love this email because the plain white and black backgrounds visually enhance what we think is excellent product photography. In addition, email text has been kept to a bare minimum. Making your product look desirable to the eyes is a MUST — especially in e-commerce.
We love the simplicity of the offer too. The best products are clearly laid out, all falling under a single and straightforward offer — Buy ONE and Get the Second one at 50% OFF.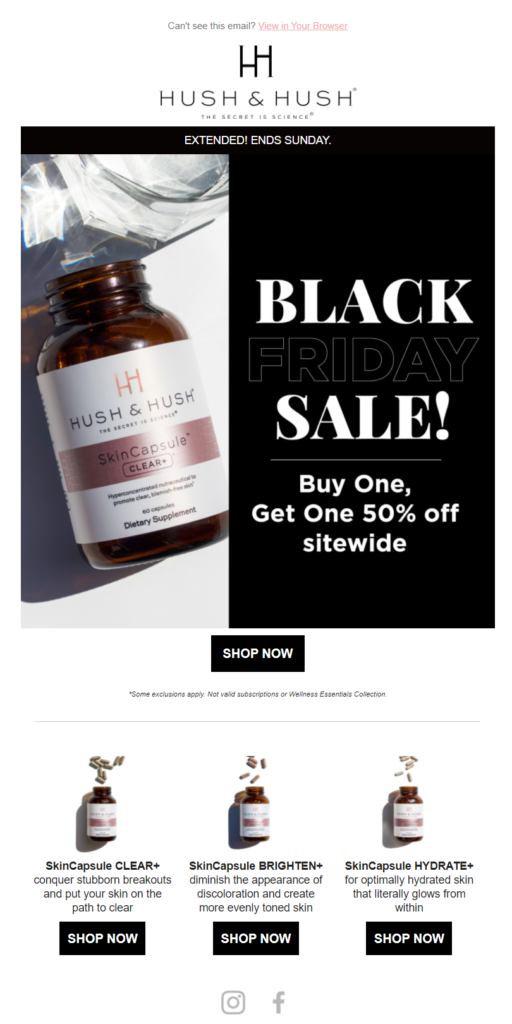 To create a high-converting Black FrTo create a high-converting Black Friday email, you need to use an email marketing tool like Sender, which has all features you need.
Let's take a look at how Hush and Hush email creation looks from inside Sender: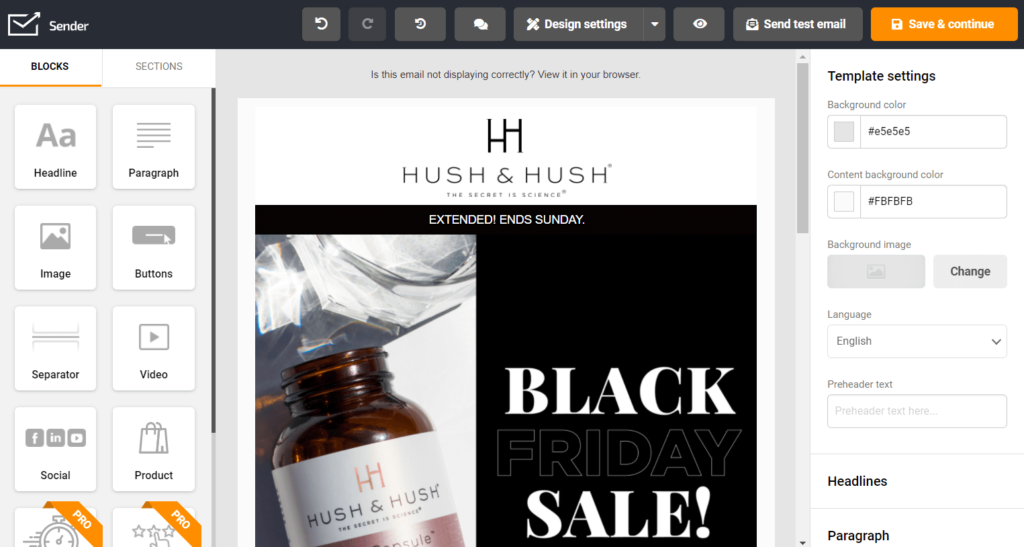 2. Bumble and Bumble – Black Friday Teaser Email
Haircare specialist Bumble and Bumble's email is purely offer-driven. An element of FOMO (Fear Of Missing Out) has been nicely included right at the top by saying "Ends Today". Also, the email content is minimal but highly relevant.
Visually highlighting the "25% OFF" is a great idea, too, so it keeps the reader's focus on the offer.
We also like how Bumble and Bumble stand out by inserting their values and ethics that point to their concern for the environment by clearly stating that they DO NOT test their products on animals. Instant love!
They could have done better to highlight FREE SHIPPING alongside the 25% OFF since that is also a desirable component of this deal.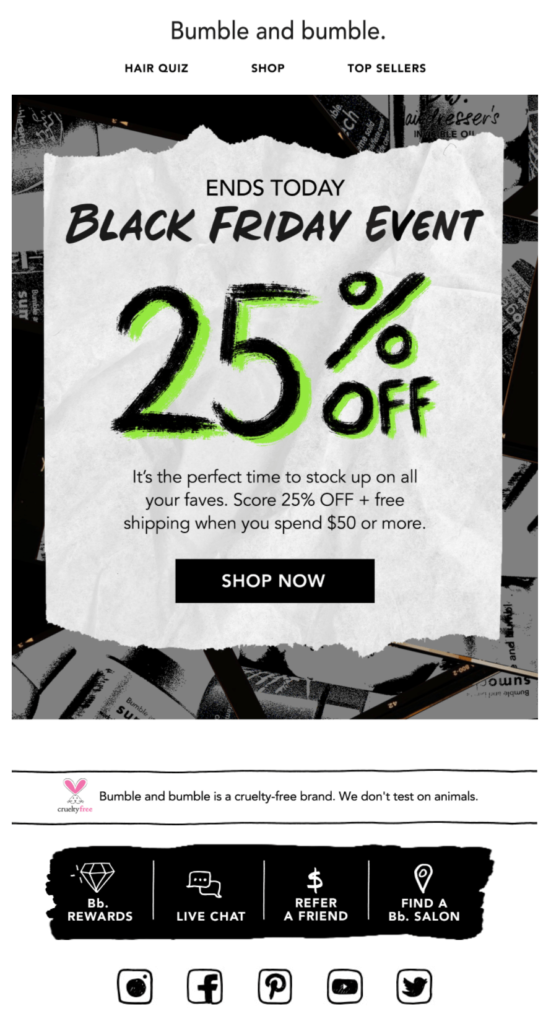 3. Aquasana – Attractive Black Friday Email with Coupon Code
We like the bold email design that includes aristocratic black and cool blue. The animation ensures attention. Also, the email copy bit that says "Best. Friday. Ever" is neat and very relevant to this occasion of Black Friday.
60% OFF Sitewide offer apart, other individual offers have been neatly laid out next to simple yet attractive-looking product images with individual CTA (Call to Action) buttons right next to them. It definitely makes shopping feel a lot easier.
They could have done better to highlight the coupon code "BLACKFRIDAY" with a better background color or bigger font. Also, if this were to be pre-encoded into the button click, the reader doesn't even have to bother typing the coupon code out to avail of the offer; nothing quite like it.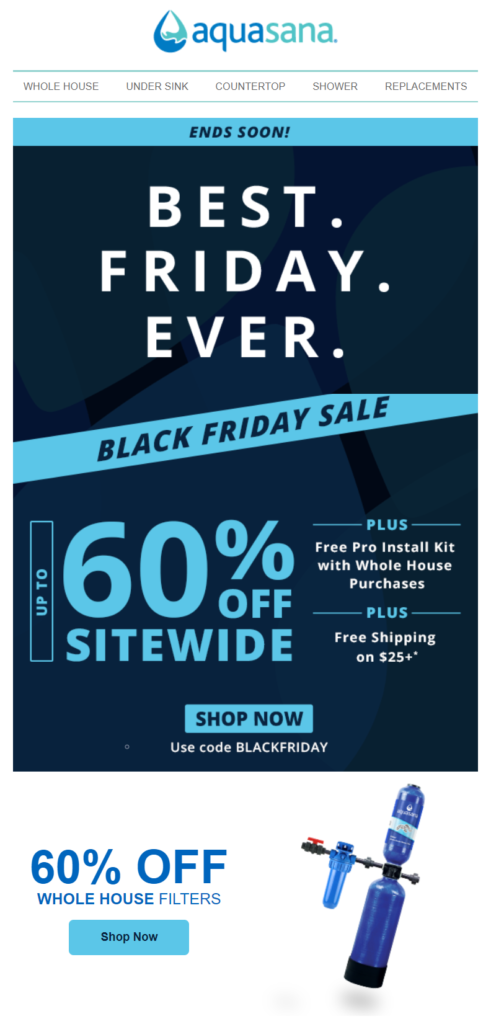 4. In Season Jewelry – Eye Catching Black Friday Newsletter with Nice Highlight Idea
In Season Jewelry tag line says they are makers of the "Finest Children's Jewelry in the World". The age segments of children they serve are made very clear at the very top by mentioning the age groups.
The copy is neat — 30% OFF. Every. Single. Thing.
Also, the FOMO element is highlighted by the limited period of the offer.
They could have done this better by including an adorable picture of a kid wearing their jewelry which would have automatically made their product more desirable. Alternatively, a picture depicting some of the latest attractive designs would have made this more eye-catching! But we still love it!
Also, if FREE shipping is a thing with their customers (they'd probably know this way better than us), it would be nice to highlight that.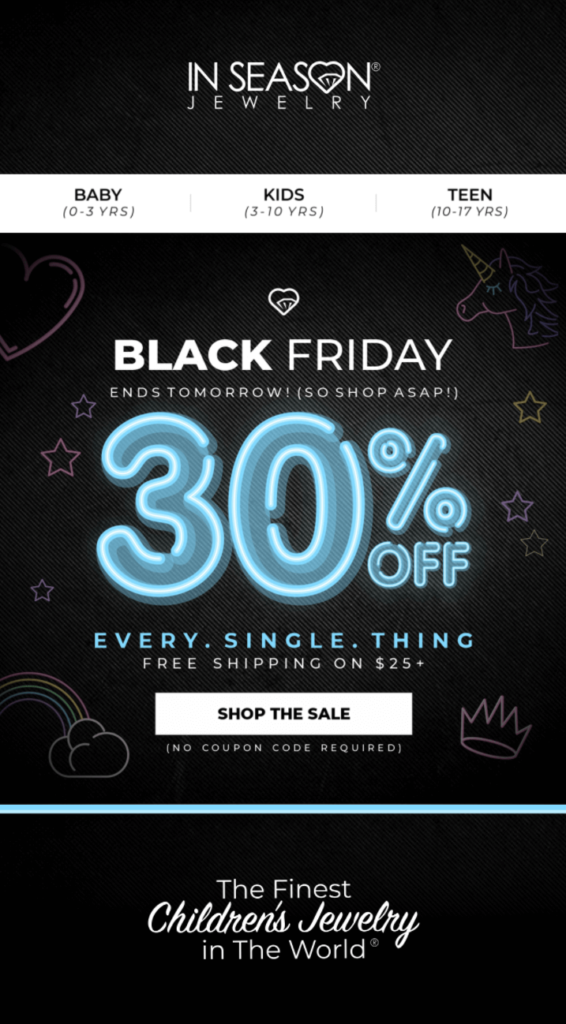 Also read: 115+ Catchy Email Subject Lines (Examples)
5. Timex – Creative Black Friday Sale Email
In this email, high-quality, creative graphics emphasize the premium brand that TIMEX has grown to become. The offer is clear and crisp — 30% OFF Sitewide.
We also like the fact that they've included two separate CTAs towards the bottom for MEN and WOMEN. FREE shipping is also highlighted at the top.
We wouldn't want to change anything about this one email. Just "send it already".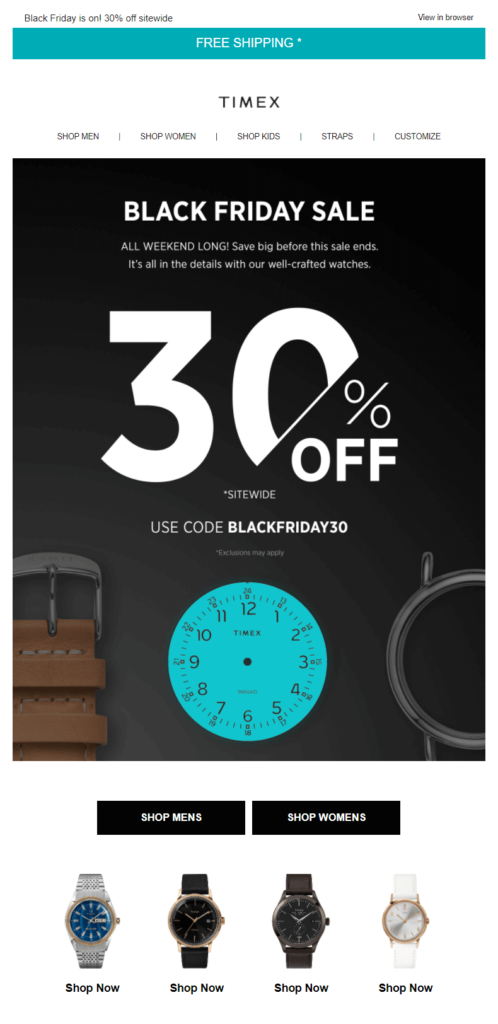 Black Friday Email Subject Lines Copy
Did you know that over 47% of email recipients open an email purely based upon what the subject line says?
At the same time, 69% of email recipients report email as spam based solely on the subject line.
Undoubtedly, your email subject line will be the most important gate-keeper that decides whether or not that email will be high converting.
The following statistics are on point:
You have less than 3 seconds or 12 words to convince users to click on your Black Friday marketing emails. (Study by Movable Ink)
And once that subscriber opens your email, you've got less than 11 seconds of their attention span to get them interested in your offering. So your chances of making a sale to a Goldfish are on par! (attention span of close to 9 seconds).
Subject lines are important, and getting them spot on during the holiday season, even more so.
Getting your Black Friday email subject line right is both an art and a science. It is simply the sheer time-tested practice of observing what works. Here below are some evergreen pointers to help you get it on point and yet keep it fun.
Be direct and get straight to the point. Given the attention spans mentioned before, this is SO NOT the time to be fooling around or playing smart.

– The Black Friday Flash Sale is HERE!
– THIS Sale is Truly ON!

Make it Personal: Emails that are personalized have a 29% higher open rate than emails without personalization.

– Travis, The Clock is Ticking…
– Elaine, How about 35% Off Everything?

Keep it Simple & friendly. Your subscriber's inbox is already being bombed during the holiday season. You will easily stand out by keeping it simple.

– You were waiting for this. The Sale's started!
– You thought we'd never ask…

It is all about the teasers. Hint a little. But don't just give everything away about the promo in the Subject line. Curiosity may kill the cat, but it compels humans to want to know more.

– Guess What's on Offer THIS Black Friday?
– What else is on SALE this Black Friday?

Include specific percentage discounts. Emails that included 'percent off' discounts in their subject lines converted at an average rate of 18.1%. In comparison, those without an offer in the subject line only generated an average conversion rate of 3.8%.

– 65% OFF Everything!
– 45% OFF and the Clock's Ticking…

Keep it short. Counter-intuitive advice, we know, but it works.

– The Sale's ON
– 24 Hour Sale

Try and include numbers. They consistently convert.

– The 9 Offers Everyone Else's Looking at
– 70% OFF!

Sprinkle some brand-specific humor. Be careful not to go overboard with this. Avoid religion, politics, and anything else that does not resonate with your brand voice and values.

– Get 49% OFF before the Joneses do
– Psst! Take BOTH 25% and a Better Product than Emily next door…

Gently play around with Urgency & Scarcity!

E.g.s of Scarcity.
– Almost Sold Out! Still waiting?
– Low stocks.
– Running Out Fast! Get Yours

E.g.s of Urgency.
– 25% OFF Only for Today
– 55% OFF While Stocks Last
– 75% OFF Special Offer Ends Tonight
– Jump in. SALE Extended for 24 Hours More!
Overall, resist the urge to over-optimize your Black Friday, Cyber Monday, and Christmas season email subject lines by trying out every tip and trick you see here. Instead, A/B Test a few out to discover the one that converts better for you!
That would be the perfect way to get marked as spam by the email service providers and "never seeing the sun" of the subscriber's primary inbox.
Do You Need to Send that Black Friday Teaser Email Still?
It is critical to remember not to wait until Black Friday to start your deals—promote them in advance.
The best day to send Black Friday email is, well, days in advance.
The typical holiday season email sequences will include:
Sales Annoucement Emails
Thanksgiving Day Emails
Black Friday Sales Emails
Final Hours Emails
Cyber Monday Email
Cyber Tuesday email (last chance to buy)
This is no longer just a BFCM (Black Friday Cyber Monday) weekend promotion scheme. Instead, this popularly called the "Cyber 10" period actually begins on the Sunday before Black Friday and finishes on the Tuesday after Cyber Monday.
Best Time to Send Black Friday Email Campaigns
The best time to send your Black Friday email campaign is earlier on the morning of Black Friday (November 26). Next, we advise you to continue sending out a final opportunity reminder with your Black Friday offer in the afternoon, so you reassure to emerge on the top of your customer's inbox. Do not forget to automate your email campaigns.
Choosing the Right Tool for Black Friday Emails
No two email marketing tools are ever created equal, and everyone always has their favorites.
In our experience, users prefer to stick to a tool that keeps it simple on the user-facing side for you while doing all the heavy lifting on the back.
Because with the wrong email marketing tool, sending out these holiday email campaigns can seem like such a chore.
Typically, given that Black Friday emails campaigns are significant for the business, they are mainly looking for two major standout must-haves:
A simplified interface that allows you to create that winning newsletter template with a drag and drop builder.
And since businesses will spend a considerable amount of budget during this holiday season, they are keen to understand what's performing and what's not. Because everyone really wants to be doing more of what's working. This is entirely possible using advanced reporting modules.
Sender offers the above and some other essential features that could ultimately impact the top line of your business, namely:
High email deliverability through Sender's owned, high-quality infrastructure.
Smart automation workflows.
Automated SMS follow-up, who didn't open your email campaign.
NO-CODE high-quality email templates to simply choose from and send.
Awesome support!
And more…
Great Black Friday Emails & Catchy Subject lines
Kickstarting this holiday season will involve really nailing that all-important mail on Black Friday, and we both know it.
However, contrary to popular belief, this is NOT a zero-sum game. It never was. i.e., your competition doesn't have to lose for you to win that sale and vice versa.
There's plenty of fish in the sea to go around, so simply focusing on planning out your Black Friday emails campaign (maybe even an SMS messages campaign thrown in to complement and support) in accordance with your target audience, and business strengths alone could provide your business with significant momentum to go ahead and crush this holiday season with some high-velocity sales!
---
Content contributor – Santosh Balakrishnan
Like what you read?
Apply it in practice with Sender.net - the most cost-effective email marketing solution in the market.
Try Sender for free