Email, as a tool of communication, is simple, elegant, low-cost, and efficient – all traits that take you far in the business world.
Furthermore, it's a tool that proves its value time and time again, and it now stands next to giants like Facebook, Twitter, Instagram, and TikTok.
On the other hand, Thanksgiving and Black Friday are the events that mark the start of the holiday shopping season.
According to the National Retail Federation, 84.2 million U.S. consumers shopped in stores on Black Friday 2019, and 93.2 million shoppers went online to find the deals they wanted.
The numbers are impressive, but Black Friday is a double-edged sword.
It requires careful planning and consideration towards a series of factors that don't usually show up during the year. A well-coordinated Black Friday can be a very useful business tool; but only if it reaches the right people.
Moving forward, we are going to discuss how to use the power of email to promote your campaign in the most effective manner. As such, it's important to know that the best Black Friday email campaign has two important parts: the visual and the content.
Content menu
The Visual Aspect of a Black Friday Email
How to Choose the Best Template
How to Integrate Your Brand Identity
The Content of a Black Friday Email

How To Write A Black Friday Email

Stand Out in Users' Inbox
Best Black Friday Emails [Examples that Made History]
Put Together a Strong Strategy
Wrap Up
Let's begin.
The Visual Aspect of a Black Friday Email
Yes, visuals matter, especially when it comes to standing out from the crowd! According to Campaign Monitor, users are more likely to open an email with appealing visuals. A corrupted look of buttons or messed fonts will not translate into positive impression, thus converted leads, so better ask a developer for help or use free Sender email templates.
How to Choose the Best Template
The best email is the one that sends a clear message using a template that's easy on the eyes and loads quickly.
A few good rules to follow are:
Use a simple structure (preferably with two columns) that's responsive and behaves well on any screen size.
Combine image & text (this is important since some email filters block images).
Be consistent – don't use a cornucopia of fonts, sizes, and highlights.
Use unusual elements and rich media such as GIFs, videos, or interactive accordion/carousel elements.
Use CTA buttons wisely – Call to Action elements must be well-placed and very visible (among other features).
A great example of a visually-appealing email comes from CanvasPop, announcing their Black Friday sale.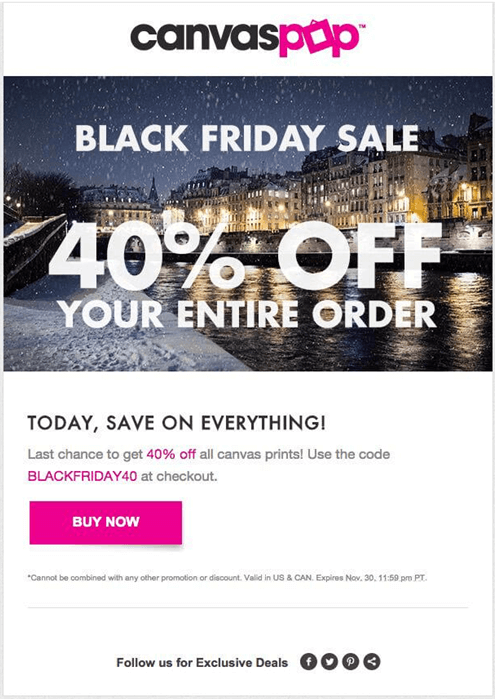 How to Integrate Your Brand Identity
Keep in mind that you're not the only one sending out emails. All your competitors do it as well, so it's important to highlight your brand as quickly as possible (in the email).
Start with the subject line, where you integrate the brand name in the most visible manner. According to an email open rate study, 64% of people open an email because they recognize the organization that sent it.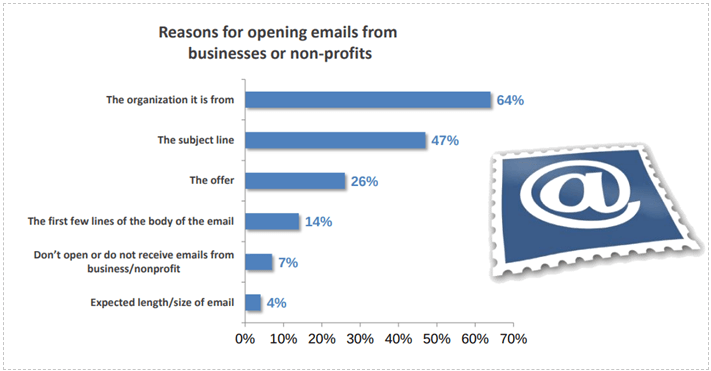 So, before anything else, let your customers know the email is from your business or brand. Next, the brand logo, style, images, and overall graphic style must be replicated within the body of the email.
This increases the chance that readers will be more interested in your message and they'll actually pay attention.
The Content of a Black Friday Email
According to a recent Sender report, email marketing can offer a return of up to 41 times the initial investment.
But only if you know how to use communicate your message and retain people's attention!
The visual aspect of the email is for grabbing attention and standing out from the crowd, and the content is for communicating your intent.
How To Write A Black Friday Email
When you write the content for your email, keep in mind that this has become a time for online shopping.

True, people still like to crowd in front of stores and make a mess of a brick & mortar place, but the numbers show a promising increase in online sales.

Furthermore, according to Adobe Analytics, during Black Friday 2018 more than $2 billion in sales weremade using mobile devices! In addition to that, a Litmus email analysis found that 56% of emails are read on Gmail or iPhone.

This means that people shop on the go whenever they get a bit of time to browse your offer.

As such, your email must focus on the online shopper who uses a mobile device to decide which product is going to make it to their shopping cart.

Here are a few tips to help you out:

Work hard on your subject line (here's guide with best subject line examples).

Highlight the urgency of your campaign – people love to grab something before others get a chance to!

Communicate clearly – people must understand all about your deals & discounts form a quick glance.

Keep the text short and image files small – a long paragraph looks a lot more intimidating on the screen of a phone and large images load slowly.

Use intelligent humor (if appropriate) as a way to differentiate yourself from the pack.

Make it easy for the customer (easy to understand, easy to act, easy to shop).
Stand Out in Users' Inbox
According to research done by Business2Community, 47% of people declared the subject line (its length and what it communicates) is the deciding factor when they ponder opening an email or not.
To make it clear, keep the subject line under 60 characters. According to AWeber, 82% of marketing experts send subject lines with 60 characters or less to avoid being cut off by email clients.
It should contain the brand or company name, so the receiver knows who it comes from. And it needs to focus on the special offer or discount you're providing.
Quick tip: To make it more unique, you may consider including emojis in the subject line (if your brand identity allows it).
Best Black Friday Emails [Examples that Made History]
There are lots of examples of stellar email marketing campaigns, but we'll only discuss three that caught our attention.
#1: A Simple, concise, and Easy to understand Black Friday Email from National Geographic: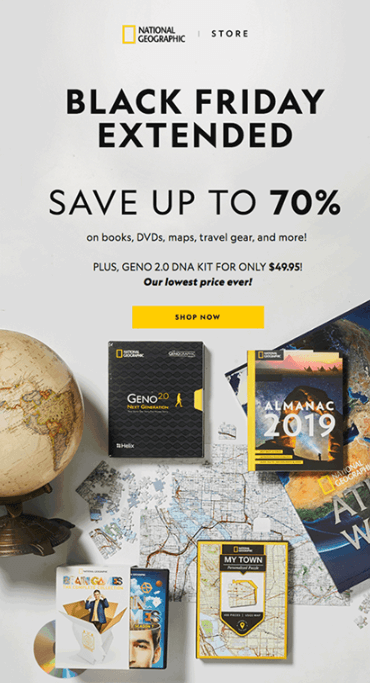 #2: An email campaign that focuses on urgency: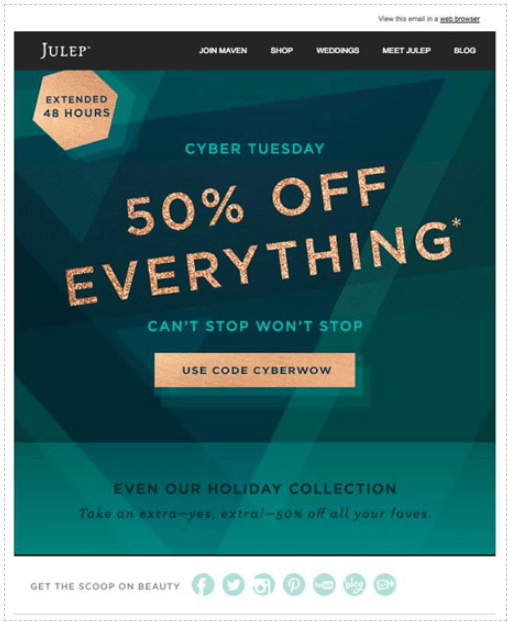 #3: A campaign that uses intelligent humor and is highly relevant to their target audience: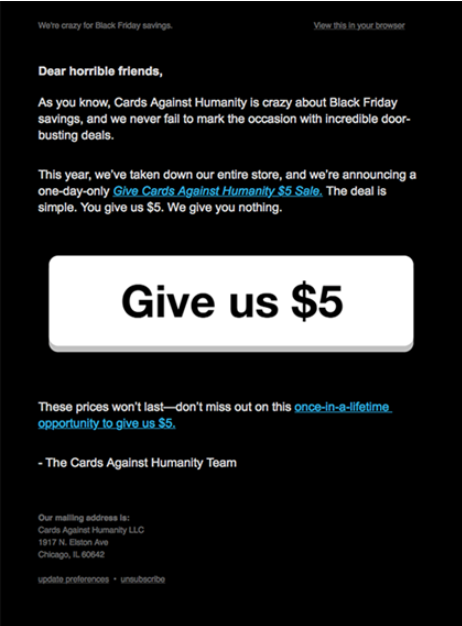 Also you can create your own black friday email template on Sender drag&drop builder or selected already created our designs and send it to your subscribers.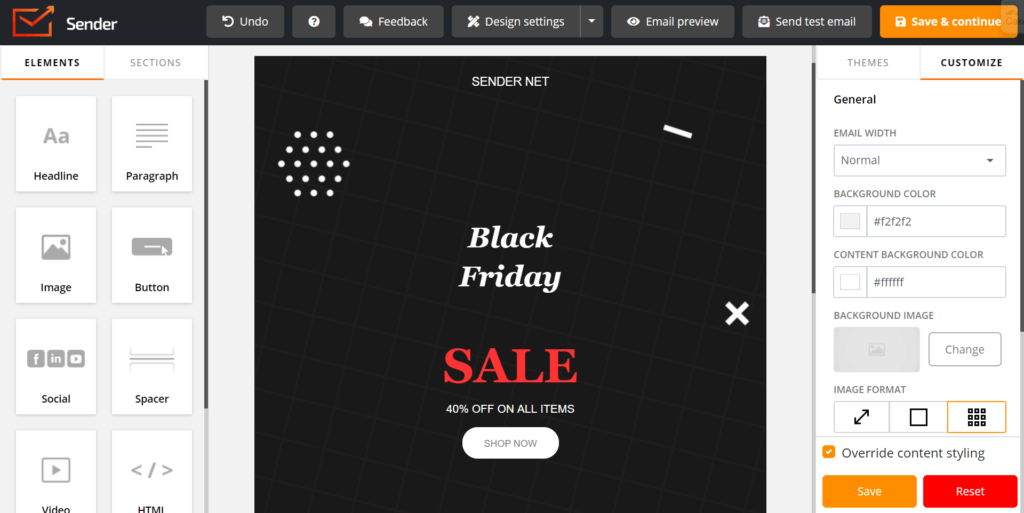 Put Together a Strong Strategy
Now that you have the visuals and the content, there is still one question that remains.
Why are we talking about Black Friday now; isn't it a bit early?
True, it may seem early, but a strong emailing strategy needs time to grow and adapt. So, it's best to start planning your content and visuals early, in order to be prepared when the time comes.
Speaking of when the time comes, studies show that the biggest rate of opened emails is between 10 and 12 AM (receiver's time). Furthermore, it's best to send out emails during the week, when people are stuck at work and must check their inbox.
Lastly, if you start planning the campaign early in the year, you have time to grow your email list and decide if there will be several categories with different needs.
Relevance is important for today's shoppers, so it's best to send out fewer, highly-targeted emails than to practice a spray and pray attitude.
Wrap Up
A good email campaign needs time to grow and take shape, but it also needs to be well-timed so customers will be more willing to check it out. Also, once opened, an email must grab people's attention with familiar brand elements and must provide useful, relevant information that will make them use that carefully-placed CTA button.
In conclusion, a successful campaign requires work and effort, but it is worth the investment!
---
About author
Stewart Dunlop looks after content marketing a Udemy and has a passion for writing articles that users will want to read. In his free time, he likes to play football and enroll in CSS courses.
Like what you read?
Apply it in practice with Sender.net - the most cost-effective email marketing solution in the market.
Try Sender for free