Like what you read?
Apply it in practice with Sender.net - the most cost-effective email marketing solution in the market.
Try Sender for free
You've been repeatedly told that getting your Black Friday marketing on a point will be made or broken for your business this BFCM and holiday season. And that is true to a significant extent.
Here's what they don't tell you about Black Friday marketing—it will not only help you get your BFCM weekend sales in order, but it indirectly helps you get ready for the upcoming Christmas shopping season that shortly follows.
Here's everything you need to know about Black Friday marketing to help you design an effective and efficient strategy that'll help your business answer the imminent question of how to plan for Black Friday sales in a way that its sales goals are met and the year is ended on a strong note.
For the uninitiated, though, a quick look at some basics before we begin.
What Is Black Friday?
It's the Friday after Thanksgiving that kickstarts the start of the holiday shopping season.
The advent of Black Friday is a signal to both offline retailers and online businesses to line up their best offers and sell at crazy discounts while buyers line up in hordes, to partake in this once-a-year crazy shopping fervor and benefit from exclusive shopping deals.
Again, Why Is Black Friday Marketing Important?
Here are some data points to re-emphasize the importance of planning well for Black Friday.
Black Friday has single-handedly been the busiest shopping day of the year in the United States since 2005.
2021 witnessed an estimated 180 million American shoppers from Thanksgiving through Cyber Monday. As usual, Black Friday remained significant, recording close to 66.5 million in-store and 88 million online shoppers on the day alone.
Contrary to what you've likely read, your marketing strategy for BFCM (Black Friday Cyber Monday) can be simple and low-budget yet highly impactful.
24 Black Friday Marketing Strategies for Business
You could be a brick-and-mortar retailer focused on offline business, an SMB company (small medium business) that barely sends out a newsletter, or even an online store looking to scale ahead of this busy sales season.
Regardless, your Black Friday ecommerce strategy needs help. Here are some proven digital marketing strategies and tactics from which your marketing campaigns can derive great inspiration.
1. Black Friday Email Marketing
Composing conversion-perfect Black Friday emails is never easy. Truth be told, everyone struggles with finding unique, cinderella-fit campaign ideas, especially when it concerns a mega event like the BFCM.
So we compiled some of the best real-world Black Friday emails that crossed our paths, for your inspiration and swiping pleasure. 
Freshly
Freshly is a food startup that offers freshly made, storable meals for working individuals with busy lives. In its Black Friday email newsletter below, the company hits the mark where it counts.
Image Source: Freshly
Why do we love it?
Clear $60 OFF offer made upfront, including breakup;
Simple CTA (call to action) that's in sync with the offer;
Implicit urgency: this week only!;
Plenty of whitespace in the explanatory sections below, bringing all attention to text that is kept purposefully concise.
All-in-all, a well-designed email that we are sure raked in plenty of sales!
You can apply certain strategies that work pretty much on all social media platforms. Of course, you might need to tweak them slightly, especially if it's a professional or B2B focused site like LinkedIn.
2. Black Friday Social Media Promotion
While other digital marketing channels, such as email, are given their fair share of attention, social media often gets stepmotherly treatment for BFCM campaigns.

Here are some great examples of real social media campaign ideas so that this Black Friday, your social media promotions don't just get you traffic and eyeballs but also much-needed conversions and sales.
SaaS Promotion Inside a Private Facebook Group
Lifetime deals are great for companies looking to acquire their first lot of users cheaply and fast. A lifetime deal is one where the user gets to use the SaaS software for as long as they want for a one-time fixed price.
One great way to do this is shown from a closed Facebook group named Ken Moo's SaaS Lifetime Deals Group, boasting nearly 11K group members, most of them very active.
Check the below example of an organic post promoting their Black Friday giveaway. With over 100 likes and 300+ comments, it gave several newly launched products visibility and new user signup traction.
Image Source: Ken Moo's SaaS Lifetime Deals Private Facebook Group
Why do we love it?
The post headline makes the benefit very clear;
Asks for clear and low-commitment yet fun engagement actions to enter the giveaway. For e.g. posting your favorite GIF;
Well formatted, making readability very easy;
The use of emojis keeps things fun to read;
Apart from the fact that it's a giveaway (who doesn't love free lifetime SaaS software?), we love how a community-driven approach can help you maximize user engagement and sales and profits on the other.
3. Black Friday SMS Marketing
Including SMS marketing in your Black Friday strategy is a surefire way to increase conversions and multiply sales, especially when combined with effective Black Friday email sequences.
If you haven't optimized your SMS marketing for maximum profits, or are new to text marketing, here are a few pointers:
Optimize signup forms to accept mobile numbers;
Set up website popups with special discounts for SMS opt-ins;
Configure SMS automation for post-purchase confirmation, post-buy upsells, cart abandonments & others;
Personalize your SMS texts with information specific to your subscribers;
Avoid salesy phrases or being pushy in your texts, since SMSes are an incredibly personal space;
When it comes to SMS content, prefer being clear and concise over clever or funny;
Last but not least, include a way for readers to conveniently opt out of your SMS messages;
For best results, intersperse your text messaging with emails, which will also positively influence your email campaign performance. For example, here's how you can create an automation with SMS complementing it: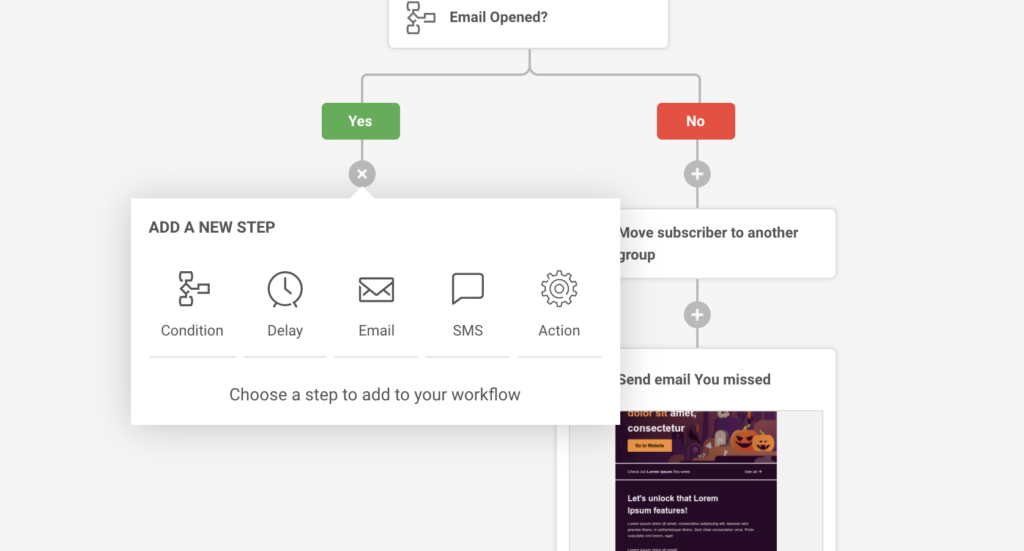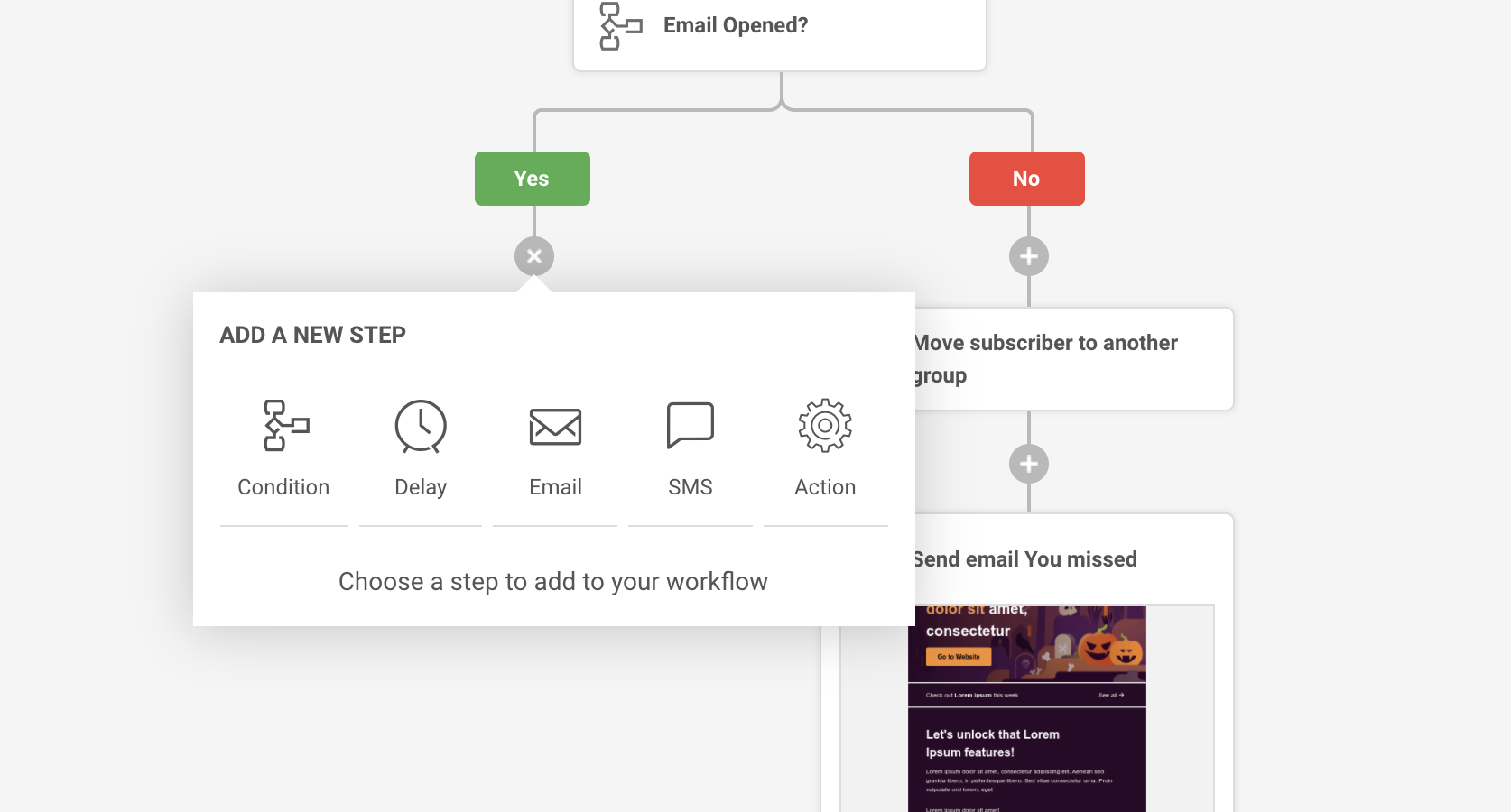 If you're thinking about SMS marketing, now is almost the perfect time to begin preparing the ground for Black Friday sales.
4. Teaser Email Campaign
While it is sufficient to launch your offer before Black Friday, building some anticipation in the week or two before, using email marketing, could improve your sales hugely.
Besides, according to a survey by ThinkWithGoogle, shoppers have already completed 42% of their holiday shopping by the Black Friday and Cyber Monday period.
So you definitely want your prospects to hold their purchases till you go live with your Black Friday sale.
And we need to look no further than Apple to see how to do this correctly with an almost-perfect Black Friday teaser email.
Source: Apple
A teaser Black Friday email's primary job is simple, to create desire, and Apple seems to get this. If the pride of owning a top notch quality Apple product was not enough, they just threw in an Apple store gift card of up to $200 worth!
You can also create outstanding Black Friday emails! Good thing it's a child play when you have an easy-to-use tool to do that. Check yourself:
5. Product Sneek Peak
If you allow early access to your Black Friday sale, ensure your list of loyal subscribers knows about it well in advance so you don't lose them to competition.
All the more so if you have a star product or service that is coming in with an incredible offer that you believe will benefit your prospects immensely.
Brooklinen's owned brand Marlow's email below makes for a compelling case on how to run a black friday sale to those who love their siesta.
Source: Marlow
We love how the creative says it all, and by doing that, it takes the pressure off the copy and messaging, which are therefore deliberately kept simple and communicative as a result.
Without a single number in the entire email nor the mention of an ultra-heavy discount, the call-to-action (CTA) simply tells you to what to do next. You have to agree that this is an email designed fast but definitely executed well.
6. Collect Contacts via Popups
The best thing about Black Friday is that your market audience already comes in hot. They are ready to buy. So if you have a good product and combine it with a great offer, it will likely sell like hotcakes.
You must begin building your target audience at least a month before (if not even earlier) with the help of Black Friday-specific popups and signup forms. Here are some quick tips for you to get it right:
Place responsive popups and signup forms on your most visited as well as your most relevant content pieces;
Create tease and intrigue by telling them just a little about what deals and shopping specials you got lined up while still keeping the details under wraps;
Offer a special discount for early bird signups.
Once your lead generation is set to work on auto-pilot, it's literally half the battle won.
Image source: GAP
7. Keep Nurturing Your Leads
While the BFCM events barely last all of under four days, the fact remains that a sizeable majority of the sale happens before it all starts.
Your Black Friday popups and subscription forms are already active and collecting leads on automation. But it is equally important to run at least weekly emails to these new signups so that they stay warm and your brand remains top of mind.
While a number of attractive marketing tools exist from a variety of vendors, attracting and nurturing Black Friday signups becomes easier when using a hassle-free, set-it-and-forget-it all-in-one marketing platform like Sender. 
With tons of premade layouts, your high-converting popups and forms are only a click away, while easy-to-use email automation ensures that your subscribers always get your perfect message at the right time.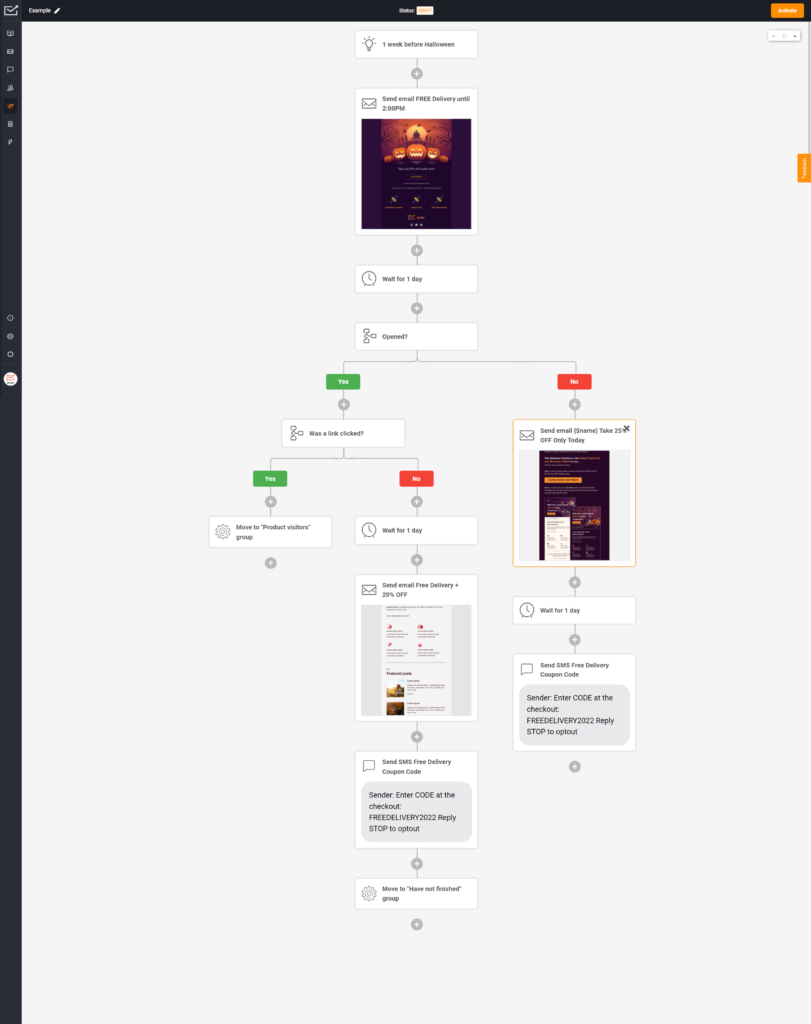 Also read: What Is a Repeat Customer? Meaning, Rate & Statistic
8. Spark Urgency with Flash Sales
For humans, the fear of missing out (FOMO) can be a powerful psychological trigger..
Urgency is deep-rooted in our human psyche and being able to activate this inside your subscribers can allow you to print money at will literally.
Induce urgency in your emails by allowing a:
Limited-time discount (for e.g. next 2 days only);
Limited-subscriber discount (for e.g. first 100 buyers only);
Limited-quantity discount (for e.g. only for the first 1000 quantity of purchases).
At all times, maintain consistency and transparency when using this tactic.
We strongly advise against creating a false sense of urgency or scarcity. It could lead to a few extra trailing sales but you could lose trust in the eyes of your prospects in the long run.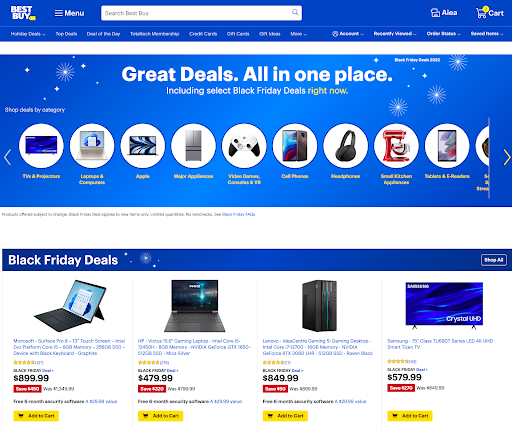 Image source: BestBuy
9. Create Pre-Sale Curiosity
Curiosity is the art of creating just the right amount of interest and hype in your prospect's heart so as to leave behind a obsessed feeling that gets satisfied only when the offer unveils itself or as the purchase is made.
Google's email below keeps its readers on the edge of their seats as they await the Black Friday offer launch.
Source: Google
10. Provide Early Access to Product or Service
A common challenge that your marketing is likely to face is your competition. And they don't even have to be selling the same or similar products.
The limited budget your prospect has is likely to be spent on buying other products before your Black Friday launch gets underway.
An easy way to overcome this situation is to go early with your offer launch like Brooklinen below.
Source: Brooklinen
The headline "Black Friday on a Monday? Yup. Deals start now" makes no apologies about having come early while the attractive product photography and layout holds your attention and interest.
11. Black Friday Exclusive Deals
Part of the attraction that Black Friday offers is the exclusive deals and discounts that wouldn't otherwise be available throughout the year.
Customers expect a great offer, so if you ever wanted to get creative with your marketing, now is the time to go crazy. But the question you'll likely have is what to sell on Black Friday?
Some examples of offers and ideas you can curate from:
Exclusive Black Friday only discounts;
Buy One Get One (BOGO);
FREE shipping above a threshold checkout value;
FREE gift;
FREE smaller product;
FREE upgrade to a better product;
Complementary product bundles;
Early bird discounts;
Loyalty points
and more.
It is the deal they are after; so assuming you are able to produce a great offer, your product will literally sell itself.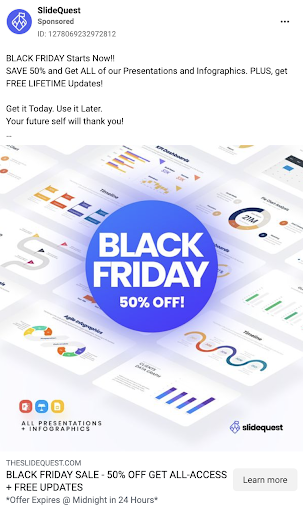 Image source: SlideQuest Facebook Ad Library
12. Optimize Your Abandoned Cart Funnel
Black Friday is likely to result in a ton of traffic to your landing pages and web assets, but not everyone's going to buy and that's alright since it is not something you can directly control.
However, there's something that your marketing strategy has to take into account and optimize for—abandoned carts.
A cart abandonment is when someone shops for deals but fails to check out for some reason or the other. Your goal must be to get as many of these interested buyers as possible back to your checkout page and have them finish the transaction.
Here's what you can try:
Automated 3 part email sequence that triggers upon cart abandonment at 4, 12 and 24 hrs;
SMS reminder coaxing them back to complete the checkout;
FREE shipping or extra discount IF they will complete the checkout within a stipulated period of time.
The best part about monetizing cart abandonment is that it is ridiculously easy to win back some part of the lost revenue.
13. Follow Up After Black Friday
Whenever in doubt, remember the adage – "Black Friday sales don't end with Black Friday".
Surprisingly, a sizeable quantum of your sales could still happen during the Thanksgiving weekend that follows Black Friday and Cyber Monday.
Here's what you can do to prepare:
Extend your BFCM deals and offers, and communicate this to your prospects using email & SMS;
Offer special deals for Cyber Monday. For e.g. Cyber Monday product bundle specials etc;
Upsell to existing customers, especially those who bought during Black Friday;
Downsell to existing customers;
So, keep knocking after Black Friday and ask again.
14. Audit product pages
Every ecommerce brand readies its home page in anticipation of the BFCM big sale days. However, your product pages demand equal if not more love because that is where your visitors will likely spend most of their time.
Auditing these product pages, at least for the top-selling items, can help you push more sales by reducing friction and enhancing customer experience.
Some things you could do are:
Ensure that product descriptions and headlines are SEO-optimized;
Give prospects a feel for how your product would feel by including high-quality images and videos;
Provide clarity & transparency on Accepted payment methods, Shipping and Returns policies;
Categorize like and complementary products into readymade product bundles that your prospect can add to their carts and checkout.
Next, one of the most important aspects of all is optimizing for mobile.
15. Optimize Your Offers for Mobile
Mobile devices are used by more than two-thirds of the world's population, with an estimated 5.48 billion unique users by October 2022.
Furthermore, mobile devices are increasingly being used by consumers to shop online. In addition, consumers frequently research products on their mobile devices before they make a purchase later on their desktops. There it is important for you to ensure that the prospect's mobile browsing and shopping experience is extremely satisfying.
Especially, optimize your ecommerce site for mobiles with response to:
Responsiveness – ensuring that every webpage, from the Home page all the way to the product pages loads up correctly;
Site speed – ensure that you're not making them wait for too long by ensuring that pages load up super fast;
Optimized navigation menu & fast searchability;
Easily locatable search function;
Bigger buttons & button text etc.
Mobile Usage Stats:
56% of online sales in 2021 will happen on mobile devices.
Global eCommerce mobile traffic is 2.47 times higher than on desktop.
16. Get Your Referral Program Out
A successful referral marketing strategy involves a customer recommending your product to someone in their network who makes a purchase as a result.
92% of consumers trust referrals from the immediate circle of people they know, while such customers referred by other existing customers have a 37% higher retention rate.
Referral marketing can be a very impactful way to add new prospects and customers to your Black Friday campaign. Here are some tips to get it spot on with your brand's referral program:
Develop an enticing offer, for e.g. FREE gift, exclusive discount coupon for every share or referral sale;
Gamify the referral program with a leaderboard and points system while offering a big fat prize at the end for the winners;
Leverage social media with some great copy and eye catching creatives;
Do it the easy way by educating your customers about your referral program through the first automated post-purchase email they receive;
Use a personalized SMS that allows them to share it with the people they trust;
Enable social share buttons on your landing and web pages to make it easier for your existing customers to share and spread their love for your brand;
Sender allows you to not only send out automated post purchase emails with your referral program details inside, but you can also send out personalized SMS messages to consenting customers from the same dashboard with incredible convenience and at highly affordable rates.
17. Content Marketing
Black Friday is not just people waiting for your emails to hit their inboxes. It is also that time of the year when your prospects and customers are actively scourging online for ideas and inspiration for their next purchases.
According to Statista, the U.S. still has the highest online search interest for Black Friday, with just over a fifth of the search volume (21%).
While paid advertising is a great way to maintain budgeted control over your Black Friday marketing promotion, investing some effort and time in SEO (Search Engine Optimization) and content marketing can potentially add a sizeable upside to the ROI.
Here are some pointers to get it right with content marketing this Black Friday:
Create gift guides surrounding BFCM to both ideate and inspire people to gift;
Beef up your existing blog content surrounding or related to the event;
Create new blog content to supplement new search trends;
Leverage the power of video marketing over platforms such as YouTube and TikTok to get attention and eyeballs on your upcoming BFCM campaign;
Distribute all of this great content through your email list. If the content is great, it also takes care of the nurturing part well.
Also, inbound traffic that comes in through SEO and content marketing is likely to stay more interested and invested in your product or service as compared to the targeted traffic from a paid ad, so it helps to pay some attention to this aspect of your online presence.
18. Employ Affiliate Marketing
There is no better sight for affiliate marketers than a hungry market ready to lap up their best offers. And a market filled with people looking for red-hot Black Friday deals in an online shopping frenzy is about as hungry as it gets.
Here are some pointers to nail your Black Friday affiliate marketing campaigns.
Deploy popups with your best offers early;
Design custom BFCM resources to improve conversions;
Optimize landing pages for speed, load, and messaging;
Nurture your new email newsletter signups with updates and relevant information;
Use scarcity authentically, and urgency without overdoing it;
As a business owner, having a highly successful Black Friday affiliate campaign is not just about having high stakes and incentives for your affiliate partners but also about your unbeatable offer. Don't be shy of saying it out loud in your creatives, landing pages & email campaigns!
19. Test Social Selling
Social selling is the art of using your existing social media handles from Facebook, Instagram, Twitter etc, to engage and connect with interested prospects and helping turn them into potential leads and customers.
Here's how you can use your social media presence like a landing page to convert interest into currency:
Fully redo and optimize your social media cover photo, banners and bio sections for your upcoming Black Friday shopping event;
Create anticipation and tease with high quality post ideas, slogans and captions that generate tons of engagement;
Use platform specific optimizations to draw attention to your sale event further

For e.g. pinning your Black Friday-specific Tweet to your profile or using targeted hashtags on Instagram to achieve higher reach for your organic posts;
Offer a social media special discount for followers;
Engage with your followers in DMs one to one to create a personal bond.
Social promotions can help complement your overall Black Friday marketing strategy which likely includes paid ads and SEO, by meeting people where they already are, and by softly drawing their attention and interest to your business.
20. Creative Social Media Campaigns
You can apply certain strategies that work pretty much on all social media platforms. Of course, you might need to tweak them slightly, especially if it's a professional or B2B focused site like LinkedIn.
Before heading on to the strategies for social media, we'd like to note that we'll skip over the basics such as discounts or online sales from here onwards. Sales and discounts work on any marketing channel for Black Friday.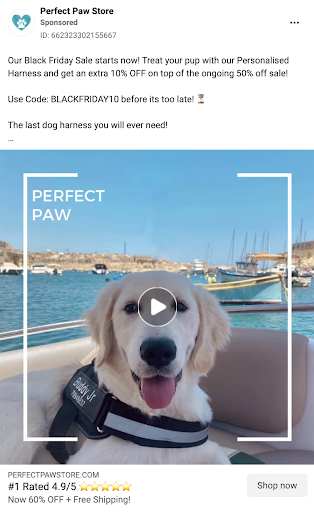 21. Contests for Social Media Followers and Fans
Social media thrives on engagement with audiences. There's no better way to get a lot of engagement and attention than holding a contest with a giveaway.
Many brands choose one of two routes when creating a contest:
Ask followers to create a specific (usually, branded) image or photo.
Engage with content and use a specific hashtag.
Both of the choices are equally as effective. They are better, however, for slightly different goals. For Black Friday marketing, you'll likely want to go with the second choice as you want to draw as much attention to your ads as possible.
Additionally, the second choice requires less creative practice from your audience. Anything that introduces extra effort is likely to reduce the amount of participants. While it may make for some great content, it's not as great for Black Friday as it's not focused on that.
22. Early Black Friday Deal Announcements
A lot of consumers look for early discounts, especially those who want to avoid crowded spaces or lagging online stores. You can use social media posts to cater to that audience. That audience might even be growing due to the global pandemic that has been troubling the world for several years.
23. Black Friday Facebook Ads Tips
In addition to setting up hyper-optimized email newsletter and SMS campaigns, your lead generation and sales funnels, including Facebook advertising, must also be optimized for BFCM. Here are some tips to ensure your BFCM Facebook ad campaigns perform at their best when you need them to.
Start Your Ad Campaign Early
The number one question you will like face with respect to Black Friday advertising is when to advertise for black friday.
Regardless of the content placed in the Facebook ads, the most important strategy is to start early. That way you achieve two goals – build a remarketing audience and take advantage of lower bid prices.
Usually, holidays are the time when everyone starts rushing the PPC space to grab the attention of potential buyers. As a result, the bids skyrocket. Luckily, you can start early and still get much of the same results without overpaying for keywords.
Don't Change Your Ads During Black Friday
There's always a desire to keep tweaking ads to squeeze out that final bit of optimization. It may work in regular circumstances, however, that does initiate a new learning phase for the algorithm. You don't want to be teaching the algorithm at the moment when traffic and conversions are at their highest.
24. Partner Up with Influencers
Unless you already have great engagement on social media, it can be difficult to get traction for your Black Friday campaigns there.
A better way to approach your social media strategy would be to get influencers and creators to support and push your brand in front of their niche audience. A majority of influencers already have a following that trusts them and enjoys interacting with their content. This can help you cut through the clutter and reach out to ready and willing prospects.
Influencers and creators can impactfully support your efforts to generate awareness, drive traffic and boost sales for your Black Friday marketing campaigns.
According to Adobe, 20% of people make holiday purchases based on recommendations from social media influencers.
Examples of how you can work together with influencers and creators for your Black Friday promo:
Influencer-led content such as unboxing videos, product reviews, tutorials and use guides;
Share endorsements and social proof;
Offer outrageous and unique influencer-only discounts;
Promote curated gift wishlists & guides;
Put up collaborative posts with them on social media.
Black Friday Marketing Advertising Ideas for Small Businesses
Bigger businesses have dedicated internet marketing teams strategizing everything out for them. On the other hand, small businesses may be faced with the question of preparing for Black Friday ecommerce on a limited budget, especially without boutique agencies' specialized expertise.
Therefore, we put together some awesome Black Friday advertising ideas that small businesses can use for inspiration and implement themselves.
A Simple Black Friday Sales Email
If you're struggling for Black Friday advertising ideas, remember that you don't have to do anything fancy. It's not Christmas or Easter. Customers don't expect some huge marketing campaign that's branded according to the holiday.
All you need to do, if you want to keep it short and sweet, is to draft an email that has three pieces of content:
Your branding and company name.
An announcement for all the discounts (add a coupon code if needed).
A call to action.
While the game plan might seem deceivingly simple, but for the effort required, such a simple email will work wonders. Especially for ecommerce and any other online shopping business, since you're essentially giving the customers what they want in one fell swoop.
Here's an example:
Image source: Focus
Also read: 5 Black Friday Email Templates We Love + 23 Subject Lines
A Free Gift Email
Another simple approach to get the most out of Black Friday and Cyber Monday without working too hard is to create a free gift email. You've likely seen them – buy at our store for X amount and receive a free product.
Building such an email is exactly the same approach as with the simple sales one. Simply exchange the discounts for a coupon code that grants a free item. Set a high enough bar for purchase amounts to avoid bleeding too many of them and that's it.
Also read: Cyber Monday Email Guide + Template Examples
Product Display
Another sample sales promotion idea we'll propose is drafting an email that shows off all the discounts for the most popular items in your store.
Again, the basis of the email is the same. Usually, however, instead of listing only an overarching sale scheme that applies to all items, you list out the most popular products.
Of course, instead of having one call to action, you might need to put in several. Setting up a product display email is a great tactic if you can spare the extra time and resources to pick out the most popular products and draft the email and some intriguing subject lines.
Buy More to Save More – Black Friday Upselling and Cross-Selling Techniques
Another way to approach SMB pricing strategies is to use upselling and cross-selling approach. Instead of dropping prices of items right off the bat, a tiered system is created. After reaching a set sum, a small discount is applied.
For example, an SMB could use a pricing strategy that grants 2% discount for each $100 spent up to $500. Discounts like these work essentially like a small sales pitch each time the customer comes close to the sum where they would get a larger discount, enticing them to add one more final item thereby increasing the average order value.
Black Friday Marketing Campaign Timing
We've mentioned the importance of starting early several times in this article. There are a multitude of great reasons why you should do so. However, the primary reason is that you're preparing your audience for the sales.
You might have heard the old sales adage that it takes 7 or even more touches before you make a sale. The same goes for holiday marketing. You don't want to drop the discounts, even if they're expected. Some people will have planned their expenses and won't be able to participate. A lot of people will simply miss your message.
Additionally, you shouldn't end Black Friday sales on the dot. A lot of companies choose to extend their Black Friday marketing campaigns to Cyber Monday. It's an effective tactic because it helps those lagging behind and gives more time for people to find your store.
Also read: Best Time to Send Emails in 2023: By Email Type
Apply These Black Friday Marketing Strategies and Ideas
We hope this guide has done justice to your quintessential search for how to sell on Black Friday.
Black Friday is an opportunity for all kinds of businesses to boost their sales and drive revenue. If you've never done any Black Friday marketing before, now is the time to take advantage of the holiday!