Like what you read?
Apply it in practice with Sender.net - the most cost-effective email marketing solution in the market.
Try Sender for free
With the 4th of July celebrations just around the corner, businesses need to organize and tackle the best Independence Day campaigns.
This is an excellent opportunity to present some great deals, special offers and get those sales going. To be fully prepared, you need to plan your 4th of July email marketing: arrange the messages, pictures and create stunning emails that clearly stand out in the recipients' inboxes.
Stick around and find out more about why your brand should produce the 4th of July email campaigns. We will also give you some content ideas and template examples to boost your imagination and creativity so you could send the best 4th of July emails to your clients!
4th of July Email Marketing
According to the National Retail Federation (NRF), 84% of Americans celebrated Independence Day in 2021. On average, people spent $80.54.
Most Americans spent the holiday at gatherings with family and friends. So it's no surprise that most of their spending went to food, decorations, and alcohol.
That means you have a chance of attracting customers with your 4th of July emails in 2022.
Even if your products don't fit the food-fun-family theme, you can still do a lot by experimenting with the red, white, and blue color scheme and sending simple Happy Fourth of July emails highlighting relevant products.
Independence Day – 4th of July Email Templates
To keep your creative juices flowing, we have also gathered some excellent email design templates which should give you a further understanding on how to present your brand in different situations during the 4th of July.
Let's look at some best examples from other businesses:
1. Happy Independence Day – 4th of July Email Greetings to Clients
Send greetings to your clients on this special day. The message will be appreciated and will showcase that you value your customers.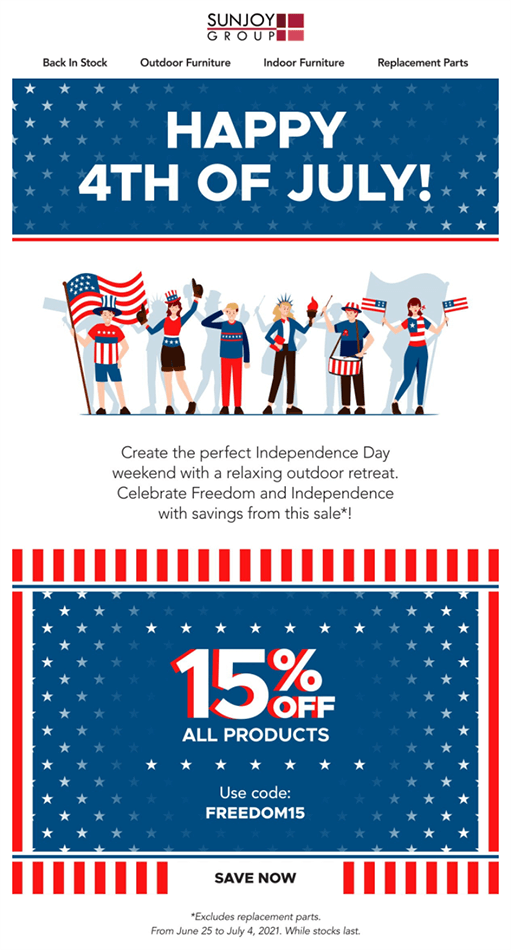 2. Independence Day – 4th of July Sales Email
Promotions are a big part of the 4th of July, so ensure they stand out from the crowd! Don't forget – festive designs and colors should be included to attract attention.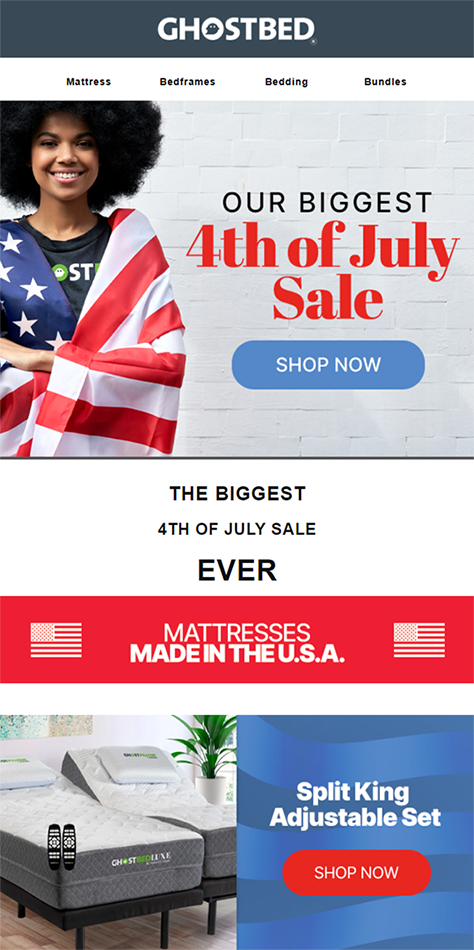 3. Email For Independence Day Celebration
Engage your customers on Independence Day by creating a series of games or questions to increase their participation in your brand.
This email by Road Scholar is a perfect example. They engage their readers with a series of questions to test their knowledge of American history.
4. Happy Independence Day – 4th of July Email to Employees
Showcase that you value your employees by sending them a Fourth of July email with a message to wish them a good time during the holiday. Some personalization for individual members would also be appreciated.
5. Independence Day Email to Staff, Team
If you have many staff members, you might not have time to send individual messages to everyone. Instead, a nicely crafted email greetings card would be a great gesture.
6. 4th of July Office Closed Email
Prepare an automatic reply or any other 'away' message to tell your customers that you are out of the office. Ensure them that their matter is important, and you will get back to them soon.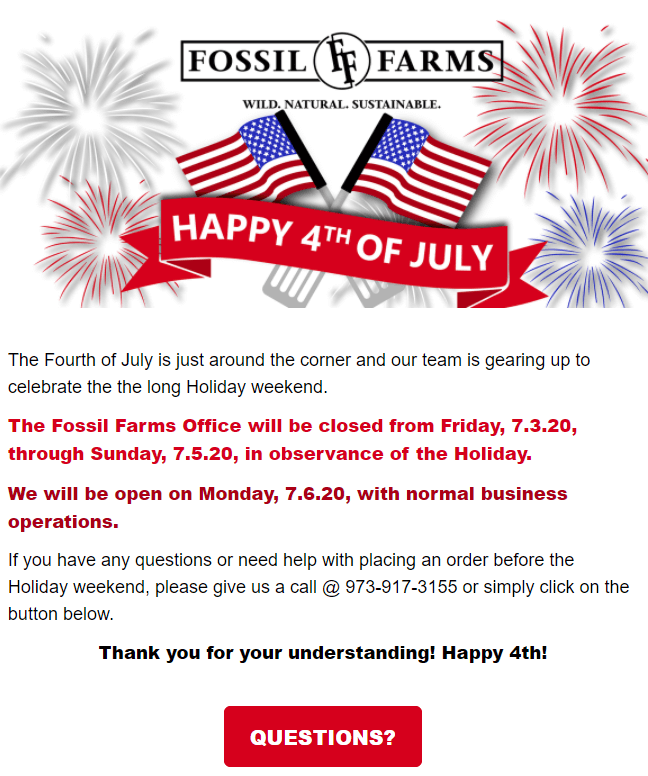 7. 4th of July Newsletter
Craft an Independence Day email newsletter by giving some ideas on how to celebrate in style! Things to do, places to go, recipes, or anything else might be included besides some promotions and deals.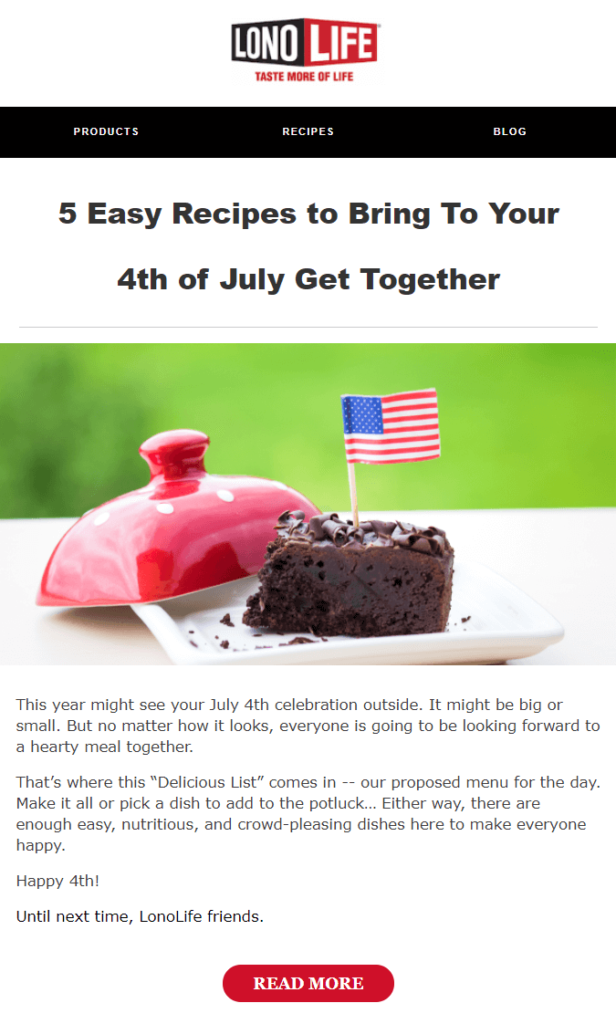 Running Independence Day – 4th of July Email Campaign Blasts
International and national celebrations are some of the best times around the year to increase sales and revenue. People have some free time to do the shopping and are prepared to receive some fascinating deals from the businesses – to compare and contrast the products or services before making the final decision.
Below, there are a few reasons why you should run a campaign for American Independence Day:
Satisfy your customers: As the 4th of July is a special holiday in the USA, you should treat the clients with the offers they would be happy about. Besides, if your business is not based in America, sending an Independence Day email to your American customers will showcase the appreciation and value. The clients will definitely appreciate you going the extra mile for them.

Increase sales and revenue: We have already mentioned that celebrations and festivities give brands an opportunity to boost their sales and the 4th of July is no exception. Customers will be more willing to spend some money during the memorable holiday to treat themselves and celebrate in style!

Extra clicks: Independence Day is important to people, so anything to do with it will get you those extra clicks from the potential clients looking to purchase some items for the 4th of July festivities. Besides, the customers are getting smarter, and they are fully aware that many businesses will be offering some special deals during the holiday. For that reason, try to distinguish yourself from the competition by preparing killer email campaigns and excellent email designs.

Easy to get involved: 4th of July is an easy celebration to get involved in. You can present topics such as patriotism, fireworks, summer, BBQs, or anything related to get your customers involved in the Independence Day celebrations. Besides, by emphasizing these topics in your 4th of July emails, you will indeed have more interest and more email openings from holiday enthusiasts.
Read more about holiday email marketing here.
Content Ideas for the Independence Day, 4th of July Emails
If you are unsure how to attract clients with your Fourth of July emails, don't worry – we've got you covered! Below, you will find some great content ideas to effectively use for your Independence Day campaign!
Buy one – get one free offer: Who doesn't like free stuff, right? Motivate your customers to purchase from you by giving them something in return to celebrate the 4th of July. The interest will definitely increase, and you will receive a lot of attracted buyers.

Run a giveaway: Instead of rewarding all the customers by giving them a free product while buying another one, you can host a contest. Select a certain number of winners who will be entitled to a special prize to honor the Independence Day holiday.

Educate your clients: Give them some guidance and information about Independence Day and why it is important (especially if some of your clients are foreigners). You can also provide details and ideas about places to visit or things to do during this holiday.

Provide the customers with patriotic products: Patriotism is a big part of Independence Day, so use this in your email campaigns and offer a special edition of products that involve symbols, flags, or relevant colors to awaken every customer's love for their country.

Offer a special deal: Provide your customers with a discount they won't deny. As many companies are providing deals to their clients, you need to play smart and ensure that your deal is worth taking. You might want to discount the services, products, tickets, memberships, or anything suitable for your brand.

Customer loyalty programs: If you provide a referral program or there is an ability to collect the bonus points, you should definitely treat your loyal clients by giving them special treatment. Besides, this is your chance to get more customers to become loyal, so giving them something in return for a referred friend who makes a purchase would be a great motivation.
25 4th of July Email Subject Lines
All Things American On Sale! 🏈🍺
35% Off This 4th of July.
Order Before the End of Independence Day and Receive Free Shipping!
Check out our July 4th Savings 🎇
Free Shipping this 4th of July Weekend.
Celebrate Independence Day with Free Shipping.
Celebrate Freedom with these Savings 🗽
Free Shipping For All Our 4th of July Deals.
FREE SHIPPING this 4th of July Only!
Free Shipping for all items until 4th of July.
Independence Day Sale Starts Now!
Create the Perfect Independence Day Weekend With These Deals.
Celebrate Independence Day with FREE SHIPPING.
Mouthwatering Deals Only on 4th of July.
Celebrate Independence and Freedom with these Savings.
Up to 40% Off In Celebration of American Independence!
Land of the Free, Home of the Sales.
6 Special Offers for Independence Day You Can Save On.
Last Chance: 4th of July Savings End Soon!
Bring out the fireworks: Our Independence Day sale will get you fired up!
Celebrate Your Independence Day With These Awesome Deals.
35% Off for Our 4th of July Sale.
It's On: Our July 4th Sale Marathon Begins.
We've Saved Our Best Deals for Independence Day.
We're Having a Savings Celebration on Independence Day.
If you're looking for a powerful email marketing platform that equips you with the complete arsenal of features – consider trying out Sender. Complete multipurpose platform with every necessary feature, including multichannel Email + SMS and automation capabilities. You will definitely find the most suitable designs to fit Independence Day.
Also read:
---
Article contributor – Erika Klisonyte