Like what you read?
Apply it in practice with Sender.net - the most cost-effective email marketing solution in the market.
Try Sender for free
In this guide, you will find everything you need to know about December newsletters.
December Newsletter Theme & Topics
Here are some ideas on what to include in your December season email newsletter:
Gift Guides. What's more helpful than a useful list of recommendations for gifts?
Templates. Benefit from templates for tracking gift shopping, planning holiday parties, or budgeting during Christmas.
Customer Loyalty. Offer an exclusive promotion for your best customers. 
Be Funny. It's not a secret that the holiday time is incredibly stressful, so create a humorous way to communicate with your clients.
Offer a Preview Sale. Give your subscribers a sneak peek before anyone else gets a chance at an upcoming sale. 
Provide an End-of-Year Update. Why not let your clients know what your business was up to in the previous year? Share your accomplishments and failures.
Provide Price-Sensitive Suggestions. If your customers are budget-conscious, make their choices a little easier by offering a gift list targeted according to price range.
Be Inclusive. While a Christmas newsletter is a must, ensure you're not excluding any clients by managing your communications throughout the month.
Promote "Self-Gifting." Make sure to tell your subscribers that they deserve to give themselves something, and offer some intelligent suggestions.
Share Your Resolutions. Letting your team share their New Years' resolutions can be another fun way to tell about your business.
Help Those in Need. Share your company's charitable activities, and invite your customers to participate.
Menu Ideas for Christmas. Everybody focused on food around the holidays. Recommend some recipes for parties to help subscribers properly prepare for holidays.
Tell a Fairy Tale. It is a time for magic, everyone loves a good holiday story.
Old Photos. Who on your team has the silliest Santa photos from childhood? Sponsor a contest and let your customers vote on whose photos are the worst.
Share Traditions. What unusual traditions does your team celebrate? 
Reward Everyone. Why not give something great, like a 25% discount, to every client who, for instance, participates in any contest or campaign you run?
Be Grinchy. Everybody struggles with the holiday spirit from time to time. Why not craft a Christmas newsletter that's not holiday-themed at all?
Next Year's Top Trends. You could forecast upcoming trends based on your market knowledge. 
Promote your Christmas products. Do you serve a special Christmas coffee, or do you have a Christmas perfume and then share it with your subscribers? 
Christmas gifts and wrapping. Give people ideas on how to wrap your product as a gift. 
Send heartwarming wishes. From your home to your client's home, and heart to heart, say thank you to your customers and wish them all the best. You can spread this festive spirit by getting personal with your subscribers and making them feel like they are part of your business family. 
Offer free shipping on Christmas. Free shipping is a popular option for online shopping. On Christmas, free shipping is crucial; everyone is spending money on gifts. If you cut the shipping fees, your customers will highly appreciate it.
December Newsletter Template Ideas
DEC 1:
National Christmas Lights Day
World AIDS Day

DEC 2:
National Mutt Day

DEC 3:
Giving Tuesday
National Disability Day

DEC 4:
National Cookie Day

DEC 5:
Candle Day
International Ninja Day
National Repeal Day

DEC 6:
National Gazpacho Day
National Miners Day

DEC 7:
Green Monday
International Civil Aviation Day
National Cotton Candy Day
National Letter Writing Day
National Pearl Harbor Day of Remembrance
DEC 8:
National Bartender Day
National Brownie Day
Pretend To Be A Time Traveler Day

DEC 9:
National Llama Day
National Pastry Day

DEC 10:
Human Rights Day
National Lager Day

DEC 11:
International Mountain Day

DEC 12:
National Ding-A-Ling Day
National Poinsettia Day

DEC 13:
National Ice Cream Day
National Horse Day
National Salesperson Day
National Violin Day
U.S. National Guard Birthday

DEC 14:
Monkey Day
National Bouillabaisse Day
National Free Shipping Day
DEC 15:
National Cat Herders Day
National Cupcake Day

DEC 16:
National Chocolate Covered Anything Day

DEC 17:
National Maple Syrup Day

DEC 18:
Answer The Telephone Like Buddy The Elf Day
Arabic Language Day

DEC 19:
National Emo Day
National Hard Candy Day
National Wreaths Across America Day

DEC 20:
National Sangria Day
National Ugly Sweater Day

DEC 21:
National Coquito Day
National Crossword Puzzle Day
National Short Girl Appreciation Day
Winter Solstice
DEC 22:
National Cookie Exchange Day
​National Short Person Day

DEC 23:
Festivus

DEC 24:
Christmas Eve

DEC 25:
Christmas

DEC 26:
Boxing Day
National Candy Cane Day
National Thank You Note Day

DEC 27:
National Fruitcake Day

DEC 28:
National Call a Friend Day
National Chocolate Candy Day
National Download Day
DEC 29:
Still Need To Do Day

DEC 30:
National Bacon Day

DEC 31:
Hogmanay
New Year's Eve
---
National Drunk and Drugged Driving Prevention Month
Safe Toys and Gifts Month
Universal Human Rights Month
DEC 1-7 National Handwashing Awareness Week
Christmas Email Campaign
A Christmas newsletter isn't one email you send to your mailing list during Christmas. To get the full advantage, you must create a 3-step Christmas email campaign: Pre-Christmas, Christmas, and Post-Christmas.
Step 1: Pre-Christmas 
During December, the email inbox is going to be busy for everybody. Stay ahead of the game by sending a pre-Christmas email to stay at the top of your subscribers' minds. Plan ahead and start the design work for your primary Christmas campaign. If you want your Christmas email to stand out, so December with a season's greeting.
Step 2: Christmas Email 
The celebration has finally arrived, and if you send a Pre-Christmas email, your subscribers will open your Christmas newsletter and will expect your offer.
At this step, you can do a lot with email personalization to provide your clients with Christmas discounts on products they've already had in their carts or search for it on your website. It is a great way to encourage them to take action on your email. Here's a great December newsletter example.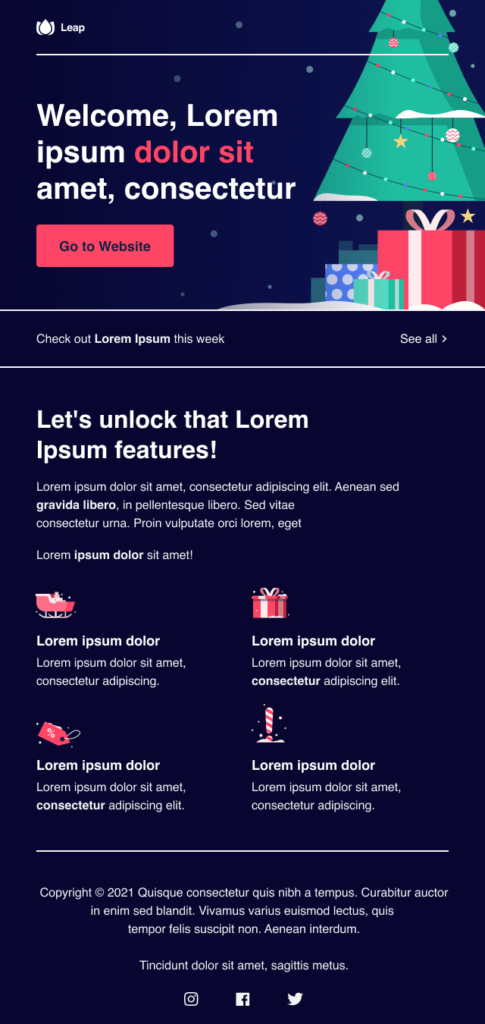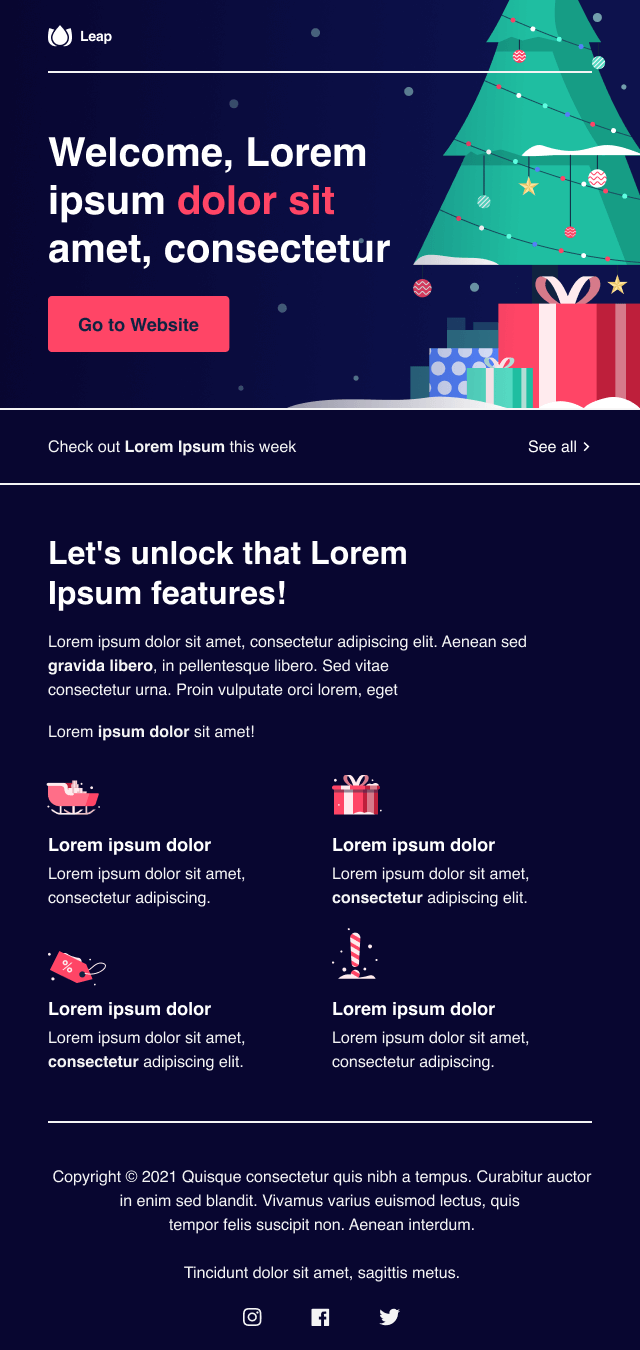 Step 3: Post-Christmas Email Campaign
After Christmas, everybody are relaxing, and their email inbox is not crowded place at that time. Take advantage of the situation and send a Post-Christmas email campaign. The end of the year is a great time to boost your business results. 
Christmas Email Subject Lines
It's time to create the perfect Christmas email subject line that stands out and will increase your email open rate. If you don't get your clients to open your email, the rest of your email content doesn't matter.
Here are some subject lines examples that will help you to improve your metrics:
60% off ⚡ The Season's Flash Sale.
Buy One, Get One-Half Price Before Christmas
Put some fun under the tree. 
Company's Gift Guide 
Our little gift to you
12 Presents To Make You More Attractive this Season
5 Recipes for a Christmas Cocktails
Warm up with some hot chocolate. 
Ho Ho Ho… It's me [Company name]
Here's a gift just for you… 
Find the Perfect Gift for Everyone on Your List
Season's greeting— 25% discount + shipping.
Christmas Sale – 25% Off Store Wide
Writing a Christmas-themed email subject line is an art for some email marketers.
You don't have to be over-promotion here; you can send wishes in your subject line. When you run a festive email campaign, create an inspiring subject line to increase the open email rate.
Also read: Perfect Email Subject Line —Best Practices, Tips & Examples
December Newsletter Ideas: Key Takeaways
December is an exciting moment; the weather is colder, and people spend more time at home preparing for Christmas and New Year.
These celebrations are the main in the whole year, and if you miss out you will lose a lot of possibilities, for example:
Get closer to your subscribers.
Increase the end of the year sales.
Thank and reward loyal customers.
The best Christmas season newsletter is the one that people would love to share with friends and relatives. You can share your year's events by writing a good newsletter to add to everyone's holiday spirit. You may even find that writing your Christmas email becomes a holiday tradition!
Also read: