Like what you read?
Apply it in practice with Sender.net - the most cost-effective email marketing solution in the market.
Try Sender for free
When you're selling products or services or organizing events, meetings, and webinars, it's essential to get feedback from your audience.
Customer feedback is crucial for the growth of a business as it does two things at once – gives you unbiased reviews about your product, service, or event, and also makes your audience feel involved and their opinions valued.
Customer feedback is an integral part of customer service. 90% of Americans consider customer service as a critical factor in deciding whether to choose a company or not.
Hearing the reviews and suggestions of customers, you can determine what's great about your product and what's not, so it gives you valuable insights for continuous improvement. And as your customers realize that you have listened to and implemented their suggestions, it will only increase their trust further and make them loyal to your brand.
One of the best ways to communicate with customers and request feedback is by sending an email message. But here's the tricky part – an average person deals with hundreds of emails regularly, so your review request email can easily go unnoticed or even go to the spam box. Even those who do notice it may not always bother opening it.
How do you avoid this from happening?
With the help of attention-grabbing email subject lines. If your subject line can pique their interest enough for them to open the email, they are likely to leave some feedback for you.
In this article, we've put together some helpful tips to come up with the perfect feedback email subject line for your feedback request emails, based on three different categories – customer feedback, customer satisfaction survey, and meeting/webinar feedback.
Email Subject Lines Asking for Customer Feedback
First things first. Ensure your email marketing provider has the necessary features for effective feedback gathering. We recommend using feedback blocks as the more convenient evaluation method.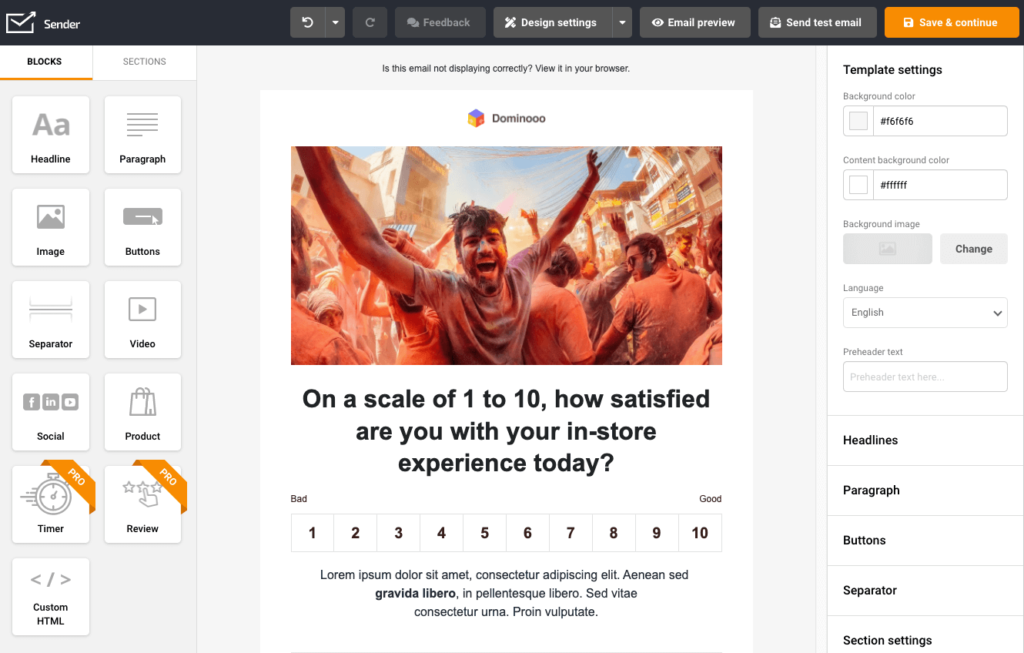 Sender's in-built email design tool makes it a breeze to build emails quickly and efficiently using simple drag and drop editing.
If you want your customers to leave a review after purchase, ask them for it with an excellent email. Time and attention are hard to get on the internet, so you need the right subject line.
Here are some tips and examples you can use:
Subject Lines for Product Reviews
Product reviews give you specific information on what people think about your product. Some customers may leave detailed reviews, while others may only provide generic feedback. Nonetheless, every review matters – you just need to gather them.
Try these tips to create perfect subject lines for product review request emails:
Make them feel valued and important.
There's no denying that people like to be appreciated, so giving your customers importance on the subject line is a simple and effective strategy.
If they have used the product and have something to say about it, knowing that their opinions are valued encourages them to speak up.
Example Subject Lines:
(Customer Name), we need you. Can you help us by leaving a review?
You know us better than anyone else. What do you think?
Liked our (product/service)? Tell us, and we'd love to hear about it!
Offer them rewards
We don't need to say much here. Offering special discounts or rewards to customers in exchange for their feedback is guaranteed to get many customers' attention. Just make sure that your subject line highlights the offer.
Examples:
Now you can earn (reward) just by leaving a review today!
Leave us a review, enjoy a 10% flat discount on your next purchase.
Subject Lines for Comments and Suggestions
When asking for comments and suggestions, you can take a direct and honest approach. Your subject line should clarify that you desire to improve the product and service for them, so their suggestions are essential and valuable. And of course, you can always throw in some rewards in this case too.
Examples:
Your honest opinion can help us improve
Is there anything we can do to make our (service/product) better for you?
What (features/product) would you like from us next?
Get X% off for giving us your valuable suggestions!
How can we make [service] work for you?
Subject Lines for Thank You Emails
If your customers have been kind enough to leave a review or share their feedback, it's common courtesy and healthy practice to send them a Thank You email.
You can make such emails even more special for the customer by either addressing them on behalf of an important designation (CEO or Owner) or by combining them with some gifts and rewards. But try to keep the subject lines for these emails short, sweet, and to the point.
Examples:
Special thanks from our CEO!
Your feedback is valuable to us. Thank you for your time!
Thanks for your comments! You make us better.
So glad to have you as a customer. Thank you for your support.
Thank you for being honest with us! Here's a special gift for you!
Also read: 70+ Thank You Email Subject Lines (Examples, Ideas)
Subject Lines for Customer Satisfaction Survey Emails
Customer satisfaction surveys are a bit different from product reviews and performance feedback requests. These surveys are used to get audience responses on specific aspects based on their satisfaction with the product or service.
The focus is not on what is good or bad about the product but more on how much the customer personally likes it. So, reviews put the product in the spotlight, while these surveys spotlight the customers and their experience.
And that is what your feedback email subject lines should also do – put customers on the center stage. It should show that you are eager to listen to them, as it's no surprise that people love to be heard. Use words and phrases that demonstrate your eagerness and interest to listen to their opinions.
It is also essential to create a custom newsletter design or get custom email marketing solutions for your company's needs. To create some awesome newsletters with your specifications and requirements, you can hire software developers to help you customize your email campaigns and achieve better results.
Samples:
Your opinion matters to us. Tell us how you feel!
Be honest, what do you think of our new (product)?
Did you enjoy the experience with (brand)?
Care to share your experience with us? We're listening!
Complete this short survey for an X% discount coupon!
We value your feedback!
Was (product) all you hoped for? Let us know!
Feedback Email Subject Lines for Events, Meetings, and Webinars
Unlike products and services, the feedback from meetings, webinars, and similar events is different. The people who attend can be customers if your webinar is based on a digital product you're trying to send, or they could be your clients and employees if we're talking about office meetings.
In all such cases, here are some tips for creating engaging subject lines for feedback on events like meetings and webinars:
Subject Lines For Post-Event Survey Emails
After an event, it's common to send emails requesting those who attended to take a post-event survey. What can you do to create perfect subject lines for such emails?
Ask a quick and direct question, whether they liked the event.
You can also highlight that it will not take much time at all, and they can complete the survey quickly.
Express gratitude and thank them for attending the event is also a great way to get their attention and then lead them towards the survey.
Example Subject Lines:
What are your thoughts on the event? We'd love to know!
Would you like to help us by sharing your feedback?
If you enjoyed the event, spare 2 minutes to share your experience!
Thank you for being there! Did you have a pleasant experience?
Exclusive ticket price for the next event for your feedback!
Also read: 10 Best Survey Email Subject Lines
Subject Lines for Meeting Feedback
People who attend your meetings are usually employees, clients, and stakeholders. When requesting their feedback, the first thing is to keep the subject line polite and formal. And there's also no need to beat around the bush here. As you're dealing with people within your professional circle, you can be straightforward with the subject line.
Example Subject Lines
We'd like to hear your insights on the meeting.
What are your thoughts on the recent meeting?
We value your insights. How was your meeting with (brand)?
Let's keep our conversation going!
Please let us know your feedback on the meeting!
Subject Lines for Webinar Feedback Email
Webinars are pretty popular these days for educational, informational, as well as email marketing purposes. When you're sending feedback emails to those who attended your webinar, your subject line should be clear in its purpose, that you're requesting them to leave their comments.
And as we mentioned in earlier cases, valuing their opinion and thanking them for attending are good ways to encourage them to give their feedback.
Example Subject Lines
Did you find the webinar informational? Let us know.
Please help us improve. Tell us if you enjoyed our webinar.
Thank you for joining us! How did you like it?
How was our webinar? Please share your experience with us.
Got a minute to spare your feedback after our webinar?
Final Words: Make Your Feedback Emails Stand Out
Email inboxes are often cramped these days, from personal emails to official notices, social media updates, and brand promotions. You surely don't want your feedback request emails to get lost in the crowd. Make your emails stand out with a bold and visible subject line that your customers just can't ignore.
Whether it's product reviews, surveys, or feedback for events and meetings, there are three things you should follow when creating the perfect feedback email subject line – be honest, show a desire to improve and value their opinions. These things will encourage customers to leave feedback and create a positive image of your brand.
Also read:
---
About author
Iryna Bilyk is an expert content marketing manager who works at YouTeam – a marketplace for instant engineering team extension. She passionately discovers and writes about technology, innovations, and software development solutions.