Like what you read?
Apply it in practice with Sender.net - the most cost-effective email marketing solution in the market.
Try Sender for free
How you craft your email subject greetings determines whether your email is read or forever ignored.
On average, professionals receive about 126 emails within a working day. You must use the subject line to make your email stand out from the crowd. This article has tips and examples that will help you craft subject lines that will make you seen.
Formal and Official Email Greeting Subject Lines
A good example of formal emails is job application emails. Greetings email subjects for such emails should:
Carry the keyword of why you are writing the email.
Be under 25 characters to increase its readability on small screens such as smartphones. No wasted words.
Be polite and professional. Slang and shortened words do not come out too good here.
Examples of formal subject lines:
Your name and title of the position you are applying for:
Samuel – Data analysis position at Google
The reader knows exactly who you are and why you are writing without reading the content of the email.
Name of the person who referred you:
Referred by Jane Ramos
The reader will most likely not ignore you upon seeing that name. In most cases, that's someone they know personally.
If you are sending the email to someone you met already, say at an event, mention your name and the event:
Hi. (Your name) from (event)
If it is someone you already had a fruitful conversation with before, mention an attention-grabbing keyword or phrase from the conversation.
Checking in since (insert keyword)
If it is someone on your professional level, mention the purpose of the communication:
Looking to get your perspective on (topic)
Often, official emails are accompanied by attachments. Because you don't want to clutter your message with an endless word or excel documents, you must invest in a tool that can compress big documents and help you send large videos or other files as one attachment.
Professional Email Greetings Subject Lines
These include emails sent to prospective and existing customers or new business associates. A good subject line will significantly improve your email open rates and boost the results of your email marketing efforts.
When writing professional email title greetings:
Make them click-worthy by inserting a call-to-action in the subject line. Insert verbs that are enticing to the reader; that makes them want to act right away.
Get on the road to entrepreneurial success
Use phrases that make the reader feel special, privileged, and exclusive. Make them feel like your email is a show of respect to them for the special place they hold in your organization.
Free course just for you
Become an insider for (insert topic)
Make the message in the email seem rare, urgent, and important. The sense of scarcity makes people more eager to consume the content before everybody else.
Don't miss out on our loyalty program
Invoke the natural curiosity in people by hinting in your subject line what's in the article, but without revealing too much.
In case you haven't heard about (topic)…
Request to chat on (insert topic)
Happy Holiday's Greetings Email Subject Lines
When writing holiday greetings to your customers or business associates, be sure to mention how grateful you are for their continued support. For example:
From all of us at (name of the business), have a well-deserved rest this (name of the holiday)
Thank you for your ongoing support. Best wishes for the holiday season.
When writing to your employees, be sure to thank them for their incredible work and promise better days ahead. For example:
You have been a great pillar in our company. We wish you happiness and fond memories this holiday season.
The management team is proud to have you. Have a fabulous holiday season.
What an absolute pleasure it has been to have you on our team. Happy holidays, (name)!
Also read: 10+ Best Holiday Newsletter Ideas
Get Best Open Rates and Engagement using Sender
You no longer have to worry about doing everything you can to the maximum results from email marketing. Create and send branded greeting emails using Sender.
If you are looking for an uncomplicated email marketing service for your email campaigns to send out visually stunning newsletters that are not only easy to design using a smooth-as-butter drag-and-drop email editor-cum-builder, but also something that will not cost an arm and a leg to keep using, you are in the right place!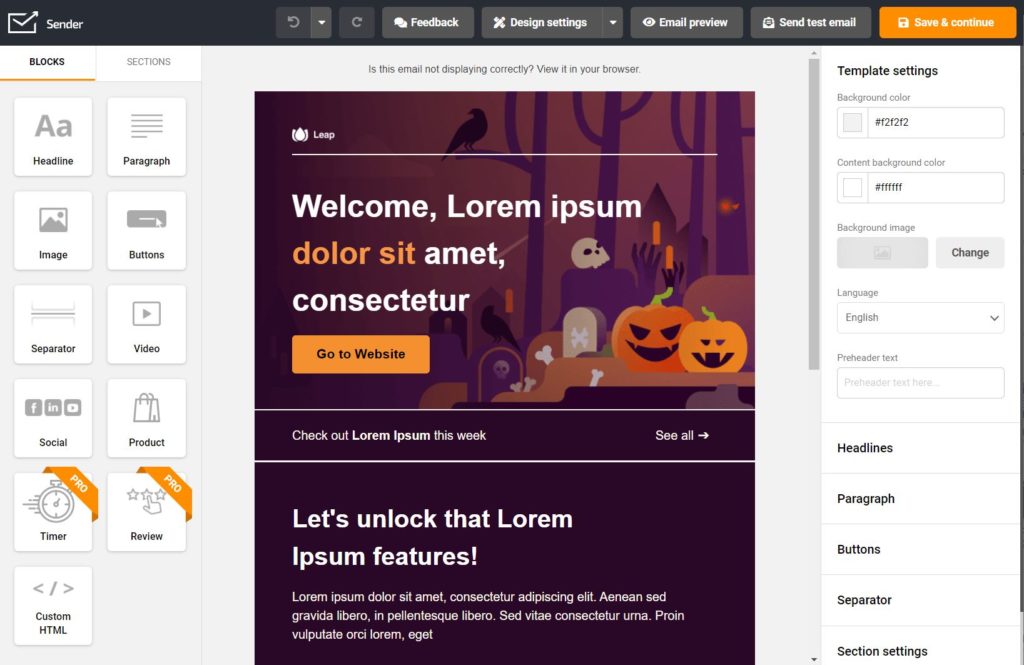 Warm and Friendly Greetings Email Subject Lines
Actually, warm and friendly email greetings are suitable for just about any occasion. And warmth can be communicated using simple greetings such as "Hello" and "Dear". But you can get a little more creative, for example:
Here is a personal note for you, (Recipient's name)
(Recipient's name), would you kindly talk with me about (topic)?
Hey (Prospect's Name)! I like (something they like) too. That is if you are sure you have mutual interests.
Thank you for your time, (insert name)
The chat we had at (name of the event) was insightful.
Funny Congratulations Email Subject Lines
In most cases, humorous congratulations email work for informal communications. You must be careful not to pass as condescending when using humor in informal communications. Examples of funny subject lines include:
Prolonged recipient's name, e.g. Danyyyyyy for Dany or Hakiiiiim for Hakim.
When sharing exciting or exciting information, a perfect humorous line can be:
You may need to sit down for this one
Use the recipient's routine to craft the subject line. For example, if the person is a lover of caffeine, you can start by:
Hey! Have you had your coffee yet?
For your friend, you can open with:
I have got some juice!
If your bosses or colleagues can take a joke, you can use an inside joke as a subject line. Example:
I know you never do any work around here, but this email isn't working. I promise…
Creative Email Greetings Subject Lines
A little more creativity when crafting a subject for a greeting emails can help you shape and refine a unique personal brand.
People you regularly send emails to will recognize your email just by the personality and values you inculcate into your subject lines. New audiences will get a good impression of you right away.
Examples of creative greetings:
When emailing a respected figure in an industry, you can include their achievements in the subject line. For example:
I read this report (name of report) and thought of your (insert achievement)
That is a creative way to communicate your admiration of the person, creating a rapport, before delving into the main topic.
For an informal email, you can break the ice by using a light subject line:
This will be brief, I promise…
For mass messages, avoid using the cliché To Whom It May Concern. It is lazy and somewhat tiring. Find a common name that defines everyone in the group and use it in the subject line. If you are writing to donors, for example, this would be a better option:
Salute to our esteemed donor
If you have a casual, friendly relationship with the recipient, including their unique (and/or your) nickname can make the whole difference. E.g.:
Hey. It's just (your nickname) checking on you
Yep, (their nickname), it's me again
For follow-up emails, a creative way to get the recipient interested is to make it seem like a kept promise:
As promised…
Proper Email Greeting Subject Lines
A proper email should strike a good balance between formal and casual. They should not have clichés unless they have a clear purpose. You should also avoid exclamation points.
Here are 5 examples for you:
For your email newsletters:
X tips for turning your life around
When applying for a job you were recommended by a friend:
A friend of (name of the mutual friend)
When reminding someone about an event:
(Name of the event) is happening on (date)
For a delayed email reply:
Sorry I didn't get back as fast as I would have wanted
If it is a follow-up email:
Could you please clarify this for me?
Season's Greetings Email Subject Lines
Season's greetings express appreciation toward the people who have made a difference in your life or business. They should be casual, personalized, and warm. For example:
A joyous, cheerful, and peaceful holiday season, (name of recipient)!
Season's greetings to my merry friend!
May this season be spectacular for you and your family, (name)!
May this season's cheer last forever in your life!
You are in my mind this joyous season. I love you.
Final word: Make Simple and Catchy Greetings Email Subject Lines
Always make your subject lines easy for the eye, enthusiastic but not too enthusiastic, and maintain a positive tone even when conveying negative messages. That is how you will get people interested in your emails.
Also read:
---
About author
Nancy Cambell is a digital marketing manager at her father's company. She designs, builds, and maintains your social media presence, so she can contribute to marketing effectiveness by identifying short-term and long-range issues that must be addressed.