Perhaps, one of the vital aspects of modern business to consider today is customer care.
And one of the key elements of proper customer care is providing your customers with the things they love.
Now, one of those many things that your customers most certainly love is holidays. Like, who doesn't want to receive a beautiful and fancy Christmas or a Halloween postcard wishing them all the best and all their dreams coming true?
On top of that, who wouldn't just love a holiday discount?
While you surely don't have to send each and every customer of yours a real postcard, you can definitely send them an email.
Yes, email is still a thing, and an effective one as a marketing tool, by the way. In any case, chances that your customers open a virtual letter are higher, and sending one to thousands of customers is much more cost-effective. Yet, how can you make your holiday newsletter awesome?
Let's take a look at some of the best ideas and find out.
Top 5 Holiday Newsletter Your Customers Will Love to See
Everybody seems to love holidays not only because of all the greetings and the warmth of family gatherings.
Holidays are the time for presents and, so, there are vast opportunities for many kinds of marketing promotions.
And as we've mentioned before, one of the most effective media platforms for that is email.
Indeed, being 40 times more effective than social networks, email is great not only for its vast reach but also for the capabilities it gives the promoters.
Not only email is something familiar to a huge number of people of different categories, from Millennials to Zoomers and from janitors to CEOs, but it also gives a great capability to fit as much information as you might need for your promotion as well as make that newsletter a piece of art.
With that being said, here are some of the best ways to make your holiday email marketing campaign much more effective.
While there are lots of holiday newsletter template examples, these ideas should evoke your imagination and make your holiday letters original.
1. Attractive shipping offers
Everybody wants to get their present on time on holiday. And, perhaps, not a single person in the world would refuse free shipping.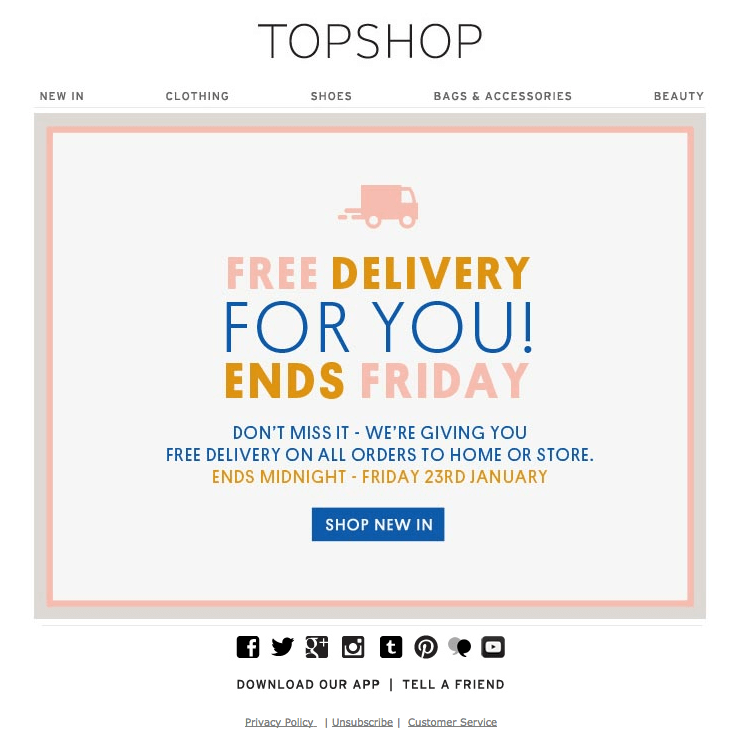 Source: Original Topshop email example of free delivery.
So, play with these notions.
You can offer early or priority shipping for customers who would offer before a certain date and time.
This will certainly increase your sales even before the holiday week begins. Alternatively, you can offer free shipping for orders over a certain value.
Traditionally, that could be $50 or $100.
Finally, you can go with all-or-nothing and offer both options at the same time.
2. Holiday coupons for your newsletter
Who wouldn't like to get a discount and buy more presents for their beloved ones?
Offer a generous special holiday discount coupon that they can use by a certain date around the holiday.
Alternatively, you can offer discounts for additional services that would go along with your customer's purchase.
The most important thing here is to not be afraid to experiment, either with the discount value or with the kind of offer.
You'll certainly not regret that as holidays are usually the harvest time for every business and lots of people use discounts at this time particularly.
Here's an email example with Christmas holiday coupon: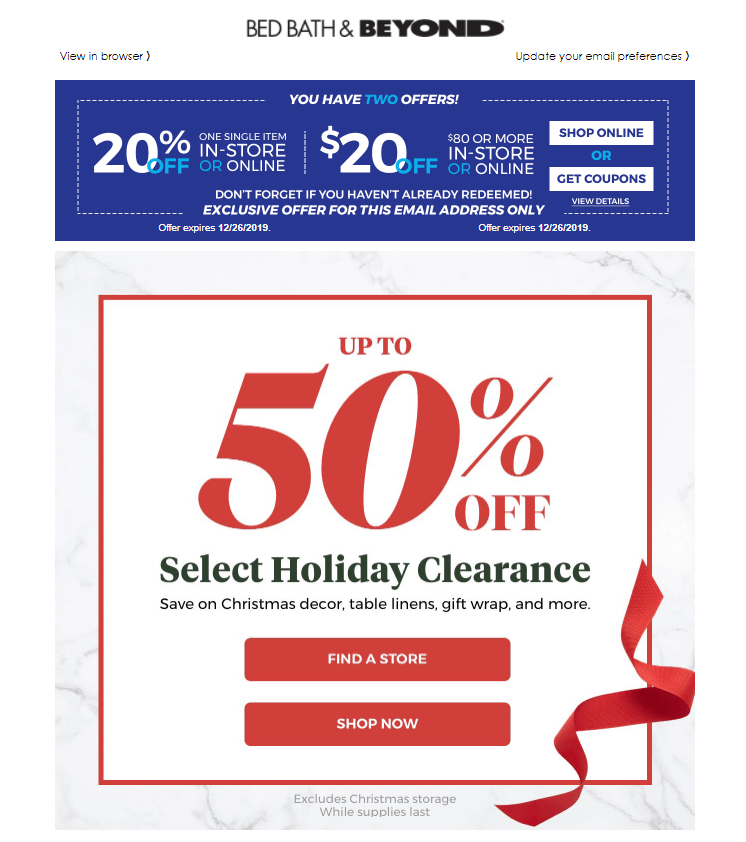 Source: Original Bedbathandbeyond Christmas email example
3. Offer your customers a to-do list.
As the holidays approach, lots of people might get so busy preparing for them that they might forget what they must do.
Offering them great advice for holidays or holiday preparation will not only be useful for them but will also cheer them up additionally.
What you can benefit from this is an opportunity to offer them to purchase something from you between the lines.
The only thing to consider here is to offer your customers something that they might need for their proper holiday.
Here's an example of American Eagle Outfitters black friday email with to-do list:

Source: Original American Eagle Outfitters Black Friday email template.
4. Remind your customers that holidays are something more than just discounts
While you should still keep that in mind and in your letter, you should really open that letter with a reminder that holidays unite us and our families and that it's a great time of the year to be together, be happy, and give all our kindness and love to others.
If you plan to go for charity during the holiday, you can also tell your customers about that and, maybe, even offer them to participate in it along with you.
That will definitely have some strong emotional effect and attract your customers to whatever you have to offer during the holiday weeks.
5. Offer your customers to share your offers with friends and family members
Instead of just offering your discounts, bonuses, or special holiday offers to your customers, let them share your offer with a friend or a family member if they are not interested in using them themselves.
This is a great addition to point number 4 above as it once again demonstrates your devotion to the holiday and not just the revenue.
While there are a lot of holiday family newsletter templates online to help you, you should still not rely on them entirely and make the needed adjustments to fit the holidays and the family members.
6. Offer gift guides and tips
As some people might not know what to give on this holiday, they might also not want to go with a gift certificate.
Providing them with gift guides of different kinds, from detail and solid to humorous, you have a great chance to insert your offers and discounts along the lines.
7. Target alternative holidays
While lots of people around the world do celebrate Christmas, Halloween, or Easter, there are many other holidays to consider.
You can send such happy holidays newsletters and be sure that your Jewish customers will be glad if you wish them Happy Hanukkah and your Chinese audience will appreciate your holiday newsletter wishing them all the best during Chun Jie, which is the Chinese Spring Festival, an equivalent of the Western New Year celebration.
This allows you to broaden your reach and leave nobody behind with your newsletter.
Here you can found all holidays by the month and season:
Summer season:
Fall season:
8. Don't end your promotions after holidays have passed
And make sure your customers know that around the end of the holiday week.
You can market such offers as a chance of getting the present they wanted for their holiday but, for some reason, didn't get one.
9. Promote gift certificates actively
While this seems like an obvious idea, not everybody seems to use it.
Oftentimes, people just don't know what kind of gift they'd like to share with their family members or friends, so many of them opt for buying gift certificates.
Make sure to remind them that you offer such a thing.
10. Make your holiday newsletter diverse and colorful
It's always pleasant to open an email that's elegantly and professionally made.
Such a letter doesn't have to be as colorful and shiny as the Christmas Tree, but it should still consider some interactive and interesting stuff, like videos or social media tie-ins for more offers and greetings.
There are, of course much more things you can consider while planning your holiday email newsletter, but these are the essential ones.
As an addition to point number 7, while you target the alternative ethnic holidays, you can also translate your newsletters to increase the reach even better.
It doesn't really cost much money or effort.
Basically, all you have to do is to find an appropriate resource and let the professionals take care of the rest.
This way, you will not only target your customers more closely but will also make your newsletter as relatable as possible.
Holiday Newsletter Done Right
A holiday or vacation newsletter can be a serious boost for your marketing campaign during a certain time of the year.
Holidays are the special time that mots of people love for a huge variety of reasons.
This is the time of the great gathering as families, friends, and lovers get together and share the comfort of their love, warmth, and happiness.
With a greatly and effectively done newsletter, you can boost that happiness, as well as your sales along the lines.
Here are few guides, how you can improve your holiday newsletter to the next level:
---
About author
Mark writes all about the new and newest trend in modern culture and lifestyle. Work, leisure, travel, self-development, and more, he's got it all covered. With many years of experience of traveling around the world, Mark has learned a lot about each of those subjects.
Throughout his career, he saw a lot, studied much, learned even more, and now, he's ready to teach. Whether you can't decide where you want to travel or need to find accurate translation website. He's working with translations at Isaccurate.com. Mark can handle that with a good old piece of advice. So, never miss a thing. Follow Mark and find something close to your heart and mind!
Like what you read?
Apply it in practice with Sender.net - the most cost-effective email marketing solution in the market.
Try Sender for free