Like what you read?
Apply it in practice with Sender.net - the most cost-effective email marketing solution in the market.
Try Sender for free
Are you sending emails to your restaurant patrons and notice that few seem to open them?
That might have something to do with the subject lines you're using. Being the hook, the subject line of an email should contain at least one element that will capture the recipient's attention.
That can be a funny remark, a phrase that creates urgency, or, most often than not, a perk they'll get if they open the email.
In this article, we teach you how to write restaurant subject lines that convert and provide examples of successful subject lines for various topics and occasions.
5 Benefits of Restaurant Email Marketing
You might think that restaurants don't need email marketing. Well, you might rethink that after reading these benefits!
It Builds Loyalty
The purpose of email marketing is to forge a long-lasting connection with your customers. By sending regular deals and discounts their way, you will encourage repeat business.
It's Affordable
Implementing an email marketing campaign won't cost you much money, making it a great marketing tool for small restaurants that lack a large budget.
It Generates Excellent Results
For every dollar you spend on restaurant email marketing, you can earn up to $44 back. This makes the ROI well worth the time and effort put into email marketing.
It's Easy to Set Up
With the countless email automation tools available at your disposal, you can create and distribute your emails without breaking a sweat.
It Inceases Conversions
By crafting attractive restaurant email subject lines and calls-to-action, you increase the chances of your subscribers converting.
How to Write a Successful Restaurant Email Subject Line
It's not a rocket science, however, some tips and tricks up your sleeve might just help you double or triple your open rates…
Use Important Words
People might not read the entire subject line, especially if they get to the middle and don't spot anything that captures their interest. But if you use powerful words at the very beginning, that can change. For example, if the purpose of the email is to present a deal, don't leave it until the very end of the subject line.
Be Specific
Don't expect the user to open the email to see what you're talking about – unless you're aiming for the surprise factor. Otherwise, tell them what the email is about right from the beginning.
Ask Questions
Something that will make your email stand out is asking recipients a question. That draws more attention than a simple sentence, and it might catch their eye.
Be Funny
Using puns or witty remarks in your restaurant email subject lines is more than welcome but not all the time. Read the room first and see if the topic could use some humor. If it's hit or miss, it's best to stay away from it.
Restaurant Subject Lines That Will Improve Your Open Rates
Subject lines are the focal point of any email you send. They are the first thing customers see. They determine whether the email will be opened or buried somewhere in the user's inbox.
To craft emails that convert, you need to learn how to write creative subject lines for every occasion. Below, we look at some examples of successful restaurant email subject lines and why they work.
Pro tip. To create and send branded restaurant emails to whole contacts are easier to use an email marketing tool like Sender.
You can start with selecting one of the already premade email templates from the library and just insert your copy and photos.
Here is an example from Sender.net email editor: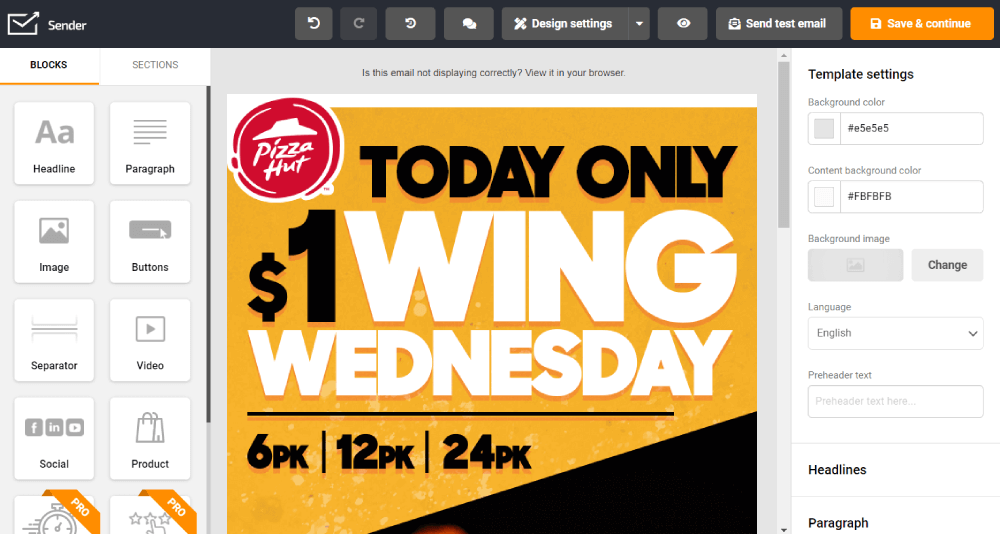 In this editor, you can insert a live event timer, take feedback or review and other things which may be required for your marketing strategy.
After you are done with creating your email just click save and sent it to your contacts.
Restaurant Event Invite Email Subject Lines
If you regularly organize events at your restaurant, it would be a shame not to promote them via email. The subject line should always include the name or the type of event you're inviting customers to; otherwise, most won't bother opening it.
Additionally, try to create some sense of urgency and exclusivity to the invite to motivate people to check it out. Here are some potential restaurant subject lines for events and parties.
[event name]: Don't miss out on the fun
Join us at [event name] – free drink on us
Almost sold out! Reserve a table at [event name]
Countdown to [event name]. See you there!
Mark your calendars: [event name, date]
Also read: How to Win at Event Marketing (Step-by-Step)
Restaurant Promotional Email Subject Lines
When you want to entice customers with a special deal or a discount, it's typically enough to let the deal speak for itself. If it's appealing enough, people will jump at the chance of taking advantage of it.
Now more than ever, it's essential to make it clear that the deal is limited-time, and they should act fast before it disappears. Check out these email subject lines for restaurant promotions.
[deal]: You have ONE DAY to claim this
Only this Valentine's Day: [deal] at [restaurant name]
[discount] on Christmas Day
Bring your family for [deal] this Thanksgiving
Unwrap your surprise gift from [restaurant name]
TODAY only: 15% discount on [new menu item]
Psst, forget something? Here's [discount]
Happy birthday! Here's [deal] from [restaurant name]
Stop EVERYTHING! Up to [discount] on [menu item]
Claim [deal] ASAP. Clock's ticking!
Happy hours start Friday at 2 pm. Don't miss it!
Restaurant Win-back Email Subject Lines
From time to time, it's advisable to check in with subscribers who haven't been active in a while. Let's say they used to open your emails, click on your CTAs, place orders via your online ordering system, and generally engage with your restaurant, but now they're MIA.
Sending them a win-back email is an excellent way to reconnect with them and reignite that spark before you lose them entirely. Below, let's look at some restaurant subject lines for winning back customers.
We miss you! Come back to us.
Don't leave a good thing behind… claim your [deal]
Let's catch up at [restaurant name, date]
Long time no see. Are you still interested in [deal]?
You'll hate to miss this: [discount]
Restaurant Closed Email Subject Lines
Not all restaurant emails have to be promotional. Sometimes, you just have news you want to share with your customers or announcements that they would be interested in. One example is when your restaurant is closed during the holiday season or for any other reason.
While the topic might not invite creativity like the rest, it doesn't mean you can't make your subject line funny or quirky. Take a look at these restaurant email subject lines for when you're closing your doors.
WE WERE ON A BREAK! We'll be back [date]
We're taking a snooze until [date]
Happy holidays! We'll be closed until [date]
Merry Christmas! See you again on [date]
We'll miss you… [restaurant name] closed until [date]
Restaurant Newsletter Subject Lines
Do you send regular email newsletters to your restaurant patrons? As you well know, the topics vary from month to month (or week to week).
Let's say you want to let customers know about brand-new features like food delivery and pickup or a dine-in QR code restaurant menu. Or maybe you'd like to update them on your health and safety guidelines.
The key is to make the subject pop in their inbox, so they don't gloss over it.
Take the following restaurant newsletter subject lines:
We deliver! Place your order on our website.
New feature: QR code menu for dine-in
COVID19 health & safety guidelines – [restaurant name]
We teach you how to cook on our YouTube channel!
ALL DEALS scheduled for the month of September
Take The Best Restaraunt Email Subject Line
Email marketing is a quick and easy way to grow your restaurant by attracting new customers, securing their loyalty, and increasing conversions. So if you want to learn how to promote your restaurant website and boost profits, give it a shot.
However, to do that, you need well-crafted restaurant subject lines that get your point across and motivate the recipient of the email to click on it to read more.
We hope the tips on how to write effective restaurant email subject lines, as well as the examples adapted for a variety of situations, have provided you with the inspiration you needed to start writing your own winning restaurant emails.
Also read:
---
About author
Laura-Andreea Voicu is an online marketing specialist at GloriaFood (an Oracle company). She writes about restaurant marketing, helping small restaurant owners use content, social media, and other online marketing tools to grow their business.