Like what you read?
Apply it in practice with Sender.net - the most cost-effective email marketing solution in the market.
Try Sender for free
Based on Sender report, the ROI on emails has climbed from $41 for every $1 spent.
Undeniably, it has opened a massive opportunity for marketers to leverage this opportunity.
If you, too, are looking to grow your professional email list but aren't sure where to begin, we have a few successful ideas planned for you.
Off the top of our head, one of the best ways is to get inspired from what other successful websites or your competitors are doing. We have collected a few sign up success message templates across a range of niches.
But first, let's understand:
Why are Sign Up Success Messages Important
A sign up success message is an email that marketers send out to customers after they have correctly filled their signup forms. They usually express it by thanking the customer for their time and interest.
Sign up success messages are a very simple approach to make customers feel respected and level up your business right from the start.
That's because success messages make your customer feel valued, which can turn out to be a game-changer.
Sign up success messages create not only the perfect first impression but also offers a host of other benefits:
They give better clarity about the brand on how they treat customers and assures their confidence right from the start.
They are vital for educating customers on what to expect next.
They increase engagement, help open up conversations with the brand.
Before we go further, make sure that you have a signup form or a popup so you'll have a list send messages to. This is how subscribe form creation looks like within Sender tool: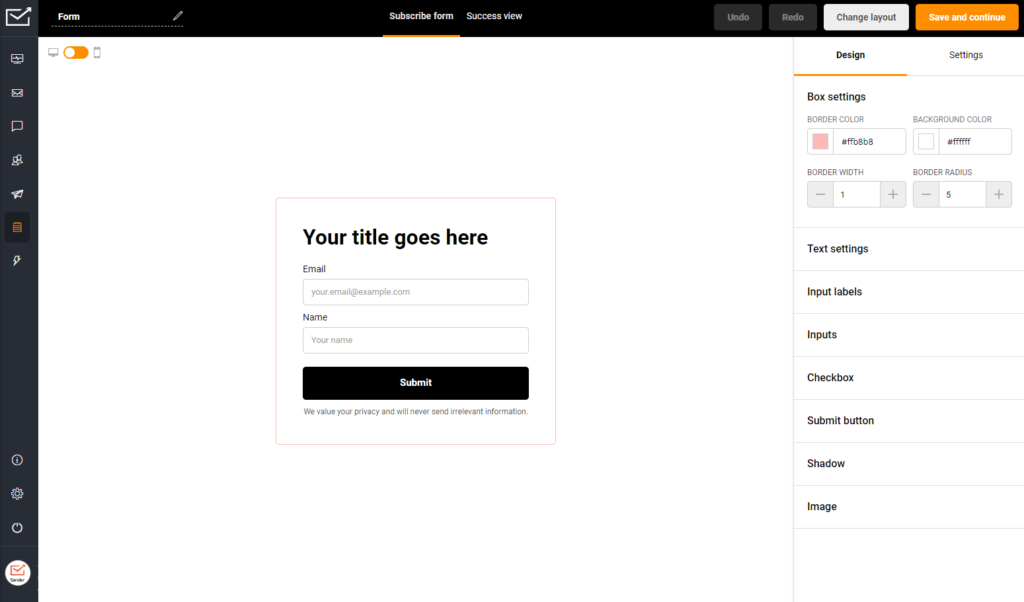 10 Examples of Well-Designed Sign Up Success Message Templates
1. Inform your customer or subscriber about your message
Inform your customer that your message has been successfully sent.
Thank you!
Your message has been successfully sent. We will contact you very soon!

[Your Company]
2. Thank them for investing their time and energy
Thank them for investing their time and energy in filling out your form. Also, politely ask them to come back again.
Thanks!
We appreciate that you've taken the time to write us. We'll get back to you very soon. Please come back and see us often.

[Your Company]
3. Signup success message with instruction
Tell customers what to do next, so they do not get lost. It will also help them understand what to anticipate in the following email.
Thanks for being awesome!

We have received your message and would like to thank you for writing to us. If your inquiry is urgent, please use the phone number listed below to talk to one of our customer care executives. Otherwise, we will reply by email as soon as possible.

Talk to you soon,
[Your Company]
4. Engaging newsletter success message
A simple thank you may not always be enough. You should also engage them with your website by asking them to go through your products, offers, or your latest blog posts.
Thanks for filling out our form!

We will look over your message and get back to you by tomorrow. In the meantime, you can check the FAQ section, look over our new product collection or browse through our latest blog posts [link to the blog page].

[Your Company]
5. Special offer in success message
Hyper-personalization can go a long way too. Give them a special something, maybe an offer they cannot resist, and that's a good marketing strategy for your business.
Thanks [Customer]!

Thank you for filling out our sign up form. We are glad that you joined us. For this reason, we are giving you a special offer. Here is the link to the coupon for you to exclusively use on our website.

Have a nice day,
[Your company]
6. Ask for feedback in sign up success message
It is important to know if you are moving in the right direction in order to have positive growth. The best approach is to ask your customers directly for their feedback. But don't make it a lengthy survey.
Thanks [Customer],

Thank you for getting in touch. We will respond to you soon. In the meantime, we'd want to know your opinion about our company. Please take a moment to answer our survey. It will take only two minutes.

Cheers,
[Your Company]
Also read: How To Ask For Customer Feedback
7. Give more information about your business and goals
You can also use shorter notes to make customers feel more at ease with your team. Use a call-to-action where they can learn more about your business.
Thank you!

Thanks for signing up. Welcome to our community. We are happy to have you on board.

Why don't you follow us on [social media] as well?

[Your Company]
8. Report that their information is secure
If customers are sharing with you their personal data, it means they trust you. The least you can do to reciprocate and be grateful and ensure that your customers know that the information is safe with you.
Thanks [Customer],

Thank you for filling our form. We will keep your information safe.

Feel free to follow us and leave some comments.

[Your company]
9. Let them feel important in your message
Make your customers feel like they belong to your business. After all, they are as important as anyone else in your team. Ensure that they know about it.
Hello [Customer],

Thank you. We are delighted to have you with us. We hope you find in our business what you are looking for. Someone from our customer care team will get in touch within 24 hours.

Respectfully,
[Your Company]
10. Thank you for contacting us message
If you want to get more creative and shed off the "Thank you for contacting us" phrase, here are a few other phrases that you can use instead.
Thank you for sharing this with us.
Thank you for being awesome!
You've just helped us get better.
We've got your message.
Psst! You're on the list?
Confirmed! You're in!
Confirmed! You're on the newsletter list! (If you are sending out newsletter sign up success message)
Types of Sign Up Success Messages
Every organization has a unique style of sending out sign up success messages. However, a majority of those all under three common types explained below:
Text-based messages
It is a basic approach that a lot of marketers love to use. The customer is shown a confirmation of sign up a popup success message after completing the form. They overlap the message in the same space where the form was earlier visible.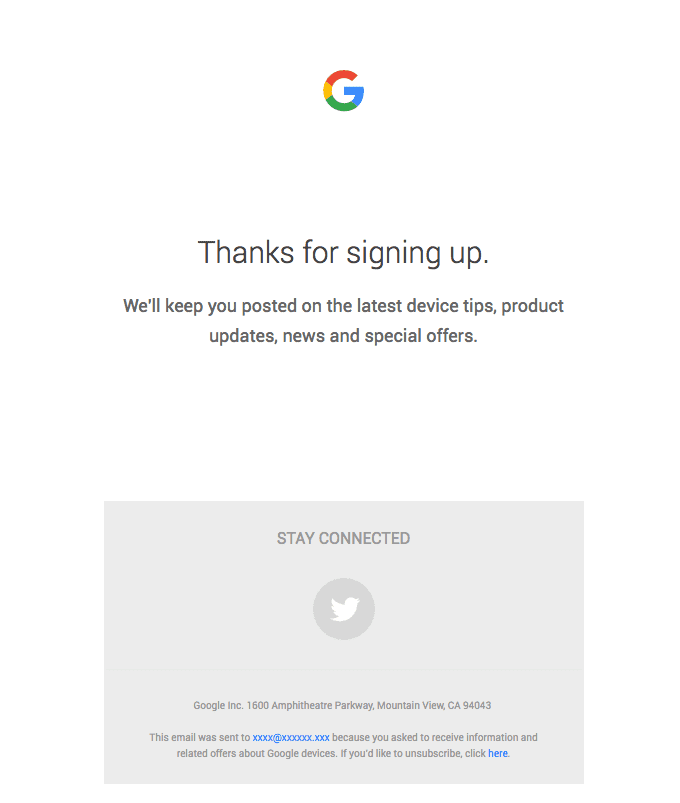 Redirect-based messages
Customers will be redirected to a new page after sign up. It can be any page, so if you choose this option, make the most of it by creating a page with compelling, interactive content that your customers will enjoy.
Text-based and redirect combined messages
This method blends the first and second options, allowing you to display a simple Thank You message before redirecting your customer to another page.
A Few Other Tips for Sign Up Success Messages
The sign up success message approaches mentioned above can be combined to better suit the message you've created.
It's best if the message and the form are on the same page. If you're redirecting to thank-you pages, make sure they're only accessible after a form has been filled out. Remember, this page is often overlooked as many thank you pages already rank on SERPs (Search Engine Result Pages).
When a customer fills out a form, email verification is helpful, but it isn't always sufficient. What you can do is ask for the email address in the email again that the customer receives.
Why Should You Send Sign Up Success Messages?
According to Epsilon's research in collaboration with GBH Insights, 80 percent of customers prefer to do business with companies that provide a more personalized experience.
That number can reveal a lot of how critical it is for your business to include a thank you message. Including it demonstrates respect and concern for the customer who took the time to fill out your form.
Remember that personalization encourages loyalty and confidence. After all, you're providing them with a one-of-a-kind experience to solve their unique requirement.
An easy-to-read thank you message can alter how a new customer perceives your brand and convert them into loyal customers. Therefore, ensure that your message must be something that will leave an enduring first impression.
Also read:
---
About author
Sumeet Anand is a B2B Marketing Expert skilled in SEO, Social Media Marketing and Content Marketing. He helps brands and businesses out there generate leads with his top-notch content strategies and is featured on various major media publications across the globe. You can connect with him on LinkedIn.