Employ your powerful emails
Increase sales and engagement by sending your well-designed emails with Sender.
Get Started For Free
Sad and dark times come when anyone falls from your email list as a soldier on the battlefield. Subscribers become strangers… Do you want to escape this agony?
Then you must act fast and do all that it takes to reactivate inactive customers through re-engagement email marketing campaigns.
You can easily automate this process with an email marketing tool. Email & SMS marketing automation will help you with many workflows such as abandoned cart recovery, order confirmation, we miss you emails, and much more!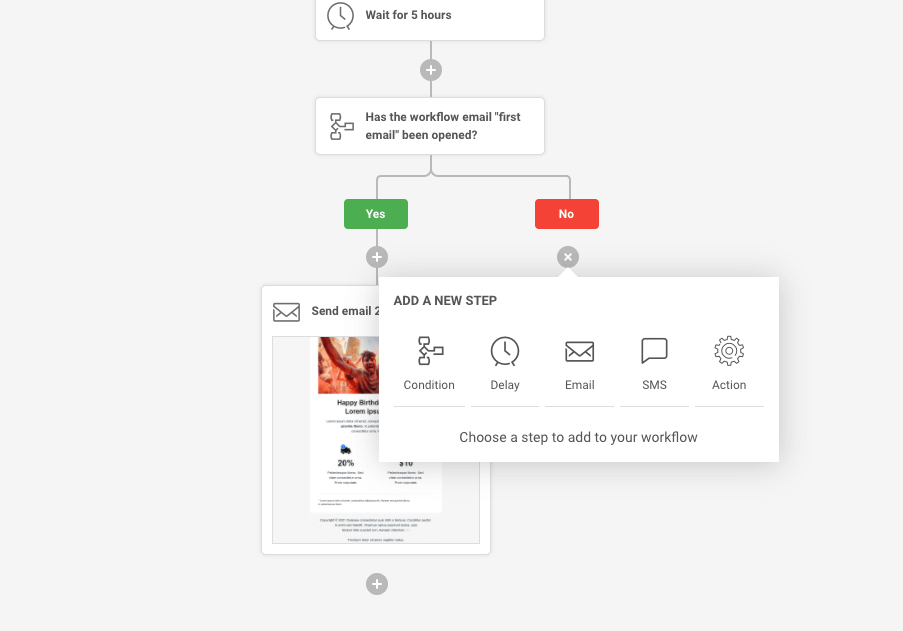 When you send your dormant customers we will miss your emails, you remind them about your brand and let them know that they are important, loved, and needed for your business success.
Subscribers who receive such emails might consider giving your brand another chance. But how do you get them to say a big YES over again? If you want answers, you come to the right place.
This article provides reactivation email template examples from various brands to provide comprehensive insights into reaching out to your sleeping subscribers. Let's dive in!
Ideal Re-Engagement Email Template Examples That Work
1. Ruggable Abandoned Cart Recovery Email
Source: original Ruggable email
Our first example is the company's "Ruggable" email. Firstly, it has a clear subject line that offers a time-limited proposal. It includes free delivery of ALL orders and offers a 15% discount. Now, that's highly promising words!
In addition to this golden offer, the email includes a photograph of the item that a reader can instantly check out on their website. A clear and visible CTA button below the picture enables the shopper to purchase the product in a few seconds.
In a direct but not aggressive way, "Ruggable" uncovers an easy way to shop, giving all the needed directions to customers. Happy client, happy company!
Last note on this one, its email also includes CTAs to other pages on the website. There are three different categories presented, giving something for everyone's taste.
Also read: 17 Abandoned Cart Emails To Get Shoppers Back
2. High Sierra Last Call Email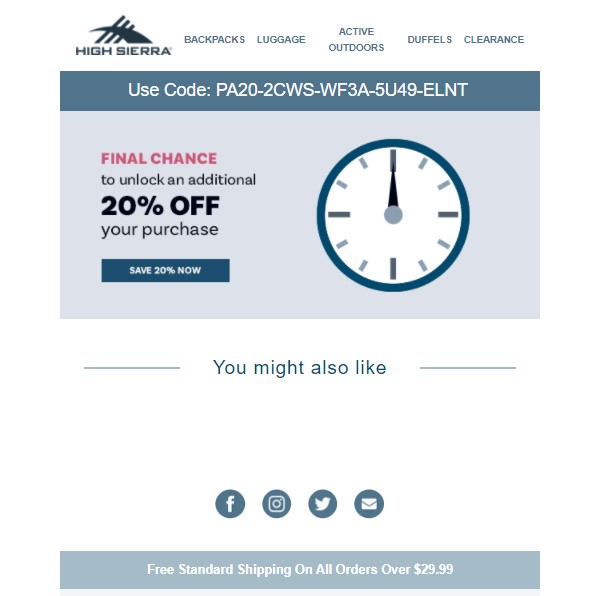 Source: original High Sierra email
"High Sierra's" use of the word "you" in the subject line is a great tactic. Why? Of course, as you may guess, it personalizes the email, and the readers feel that the presented information is for them and ONLY for them.
In addition, the sender includes "Final Chance" and a ticking clock to create urgency, quickening the recipients' response.
The 20% discount is an additional price cut to the initial reduction. Marketers use this discount to reactivate last-minute buyers in a flash sale.
3. Birthdate Candles Final Chance Email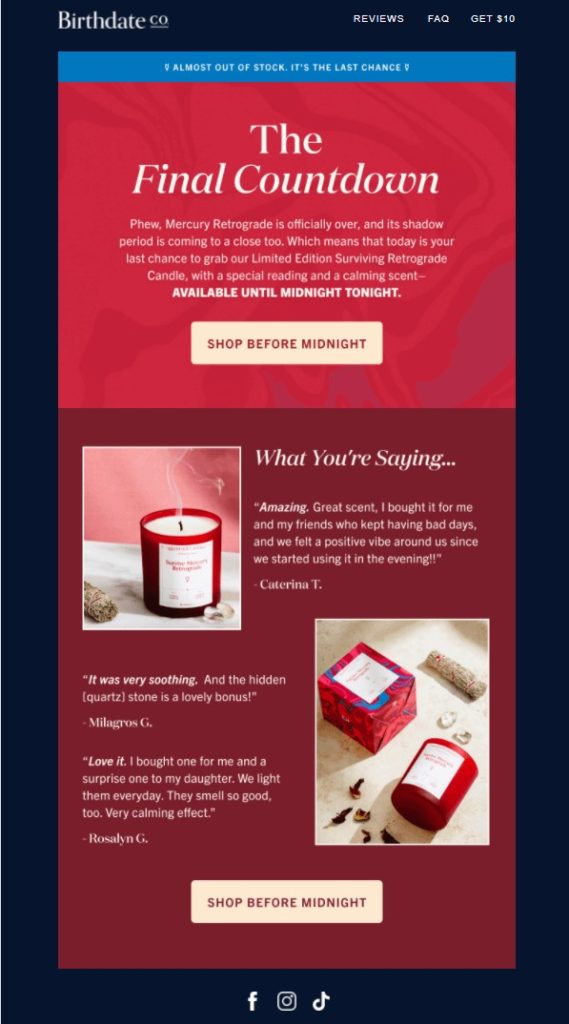 Source: original Birthdate Candles email
This email example's subject line creates urgency, the same as the "High Sierra" one does. Although, it's telling that the product is getting out of stock and only pieces remain. Using that, "Birthdate Candles" builds even more suspense.
The Email body says that the recipient has the time until midnight to make a purchase. Basically, it screams, "hurry up!". And places CTA right below the disclaimer for the most accessible access ever.
Moreover, the email includes a review section. Best thing ever. Literally, everyone reads them, right? If not, some buyers will most likely purchase an item with positive reviews. So yes, this is an almost excellent formula for marketing campaigns.
4. Society6 Abandoned Cart Recovery Email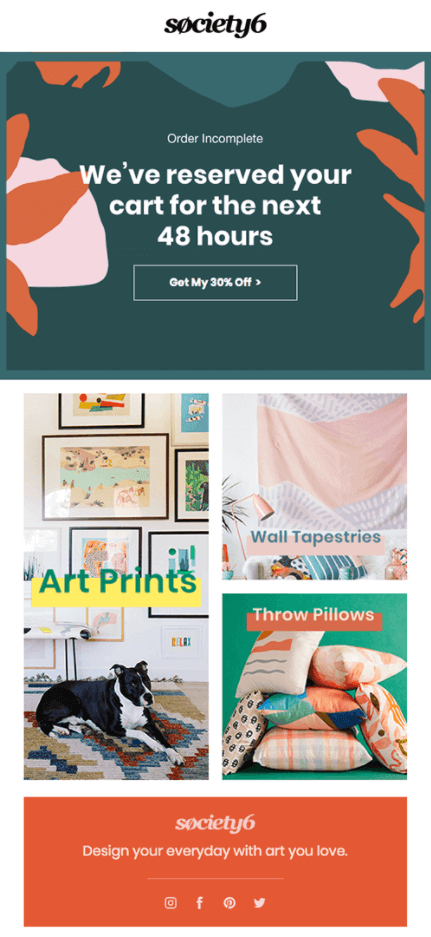 Source: original Society6 email
Moving on, we have "Society6's" email. Its subject line informs customers that not all is lost! Shoppers can access the items they left behind within 48 hours.
The limited text accompanied by visuals is an excellent idea as it encourages the reader to scan through and understand the message quickly.
The email also includes an irresistible 30% discount to encourage shoppers to complete their purchases.
5. Drybar Flash Sale Email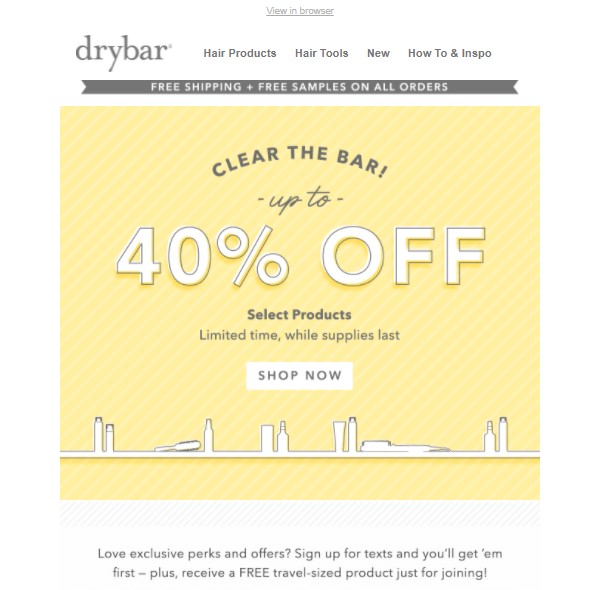 Source: original Drybar email
Here we can see the use of casual language and the inclusion of the offer in "Drybar's" subject line. It's the perfect example in this case! The 40% offer is very compelling. Customers will notice these details.
In addition to this absolute perfection, the brand provides free shipping plus samples upon completing an order. The limited-time offer covers some selected products, with a quickly noticeable CTA redirecting the customer to the product page.
Moreover, the sender suggests signing up for future newsletters and promises to offer even more tempting proposals for subscribers. You can also receive a gift from them if signing up is successful.
6. NBA Store Re-engagement Email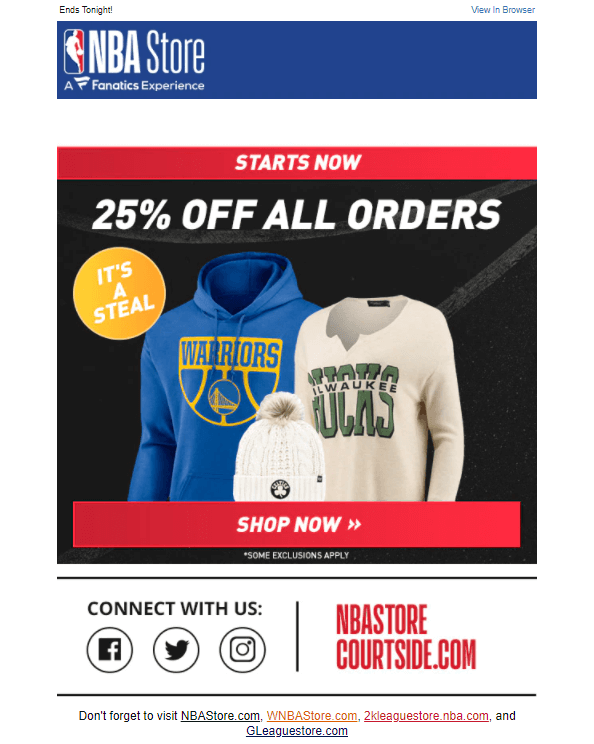 Source: original NBA Store email
This email example has a catchy subject line. It's brief and straight to the point. The "NBA" store makes the recipient eager to know more from the email content by including a fantastic offer.
The email body is simple as the subject line is. It includes the offer, the images of the products on offer, and a clear CTA, which stands out and is noticeable.
It also provides social media icons to encourage more interactions. This example is excellent when the brand wishes to reactivate those old subscribers and gain more attention.
Also read: How to Write Re-Engagement Emails That Reactivate Old Subscribers
7. iStaging Customer Reactivation Email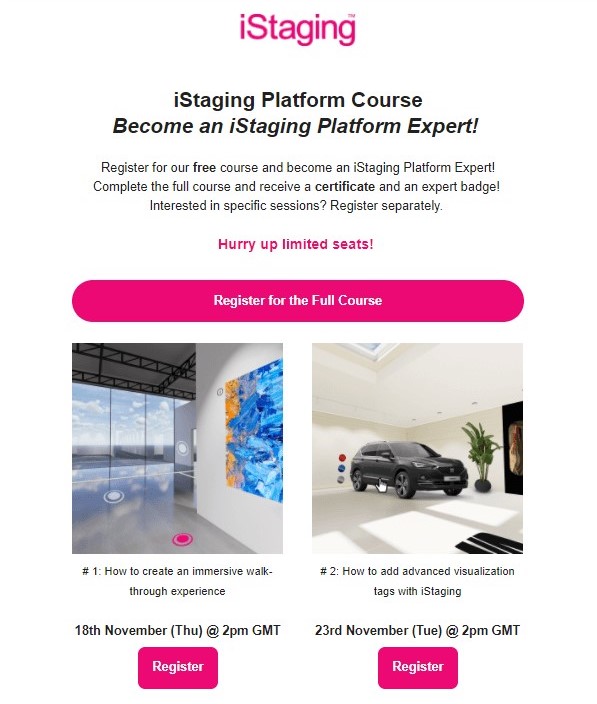 Source: original iStaging email
As always, we start with the subject line. "iStaging" uses a clear one that's straight to the point and briefs the reader about the exclusive content. The FOMO and FREE products will push recipients to open the email and register for the course because it is that easy.
Most importantly, the email maintains consistency by using the brand color on the key areas, enhancing recognizability and natural association. This color is pleasant for the eye and sets the CTAs apart from the content.
What happens, then? Yes, CTA stands out and catches the attention. Also, inserting CTA under every course is annoying, but what the hell, it makes it effortless to register!
8. Pinkblush Flash Sale Invitation Email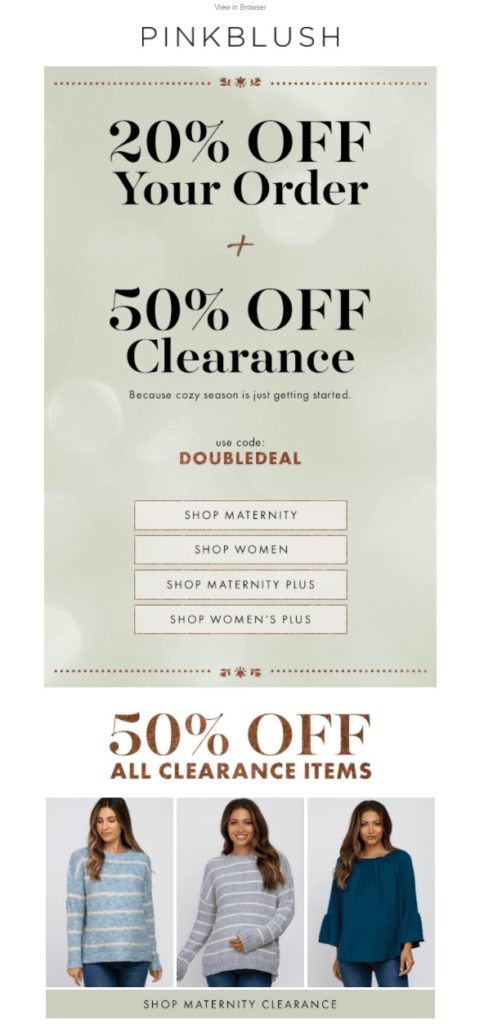 Source: original PinkBlush email
The cozy and simple language in "Pinkblush's" subject line creates a pleasant atmosphere for the readers. A pale color tone helps the email's text to stand out.
In this case, you instantly notice the phrase "double the deal." Everything double is always better, yeah? It creates a desire to open the email and understand the content.
Next, the email body revolves around the offers that have images. It's well known that visual content is effective, so "Pinkblush" made a good decision.
But, of course, we can't forget the CTA! And surprise, surprise… They put those devil buttons under every one of their items in the email! So shoppers can instantly get what they want—what a time to be alive.
Overall, this example offers mind-blowing discounts, making this email very effective. Take everything that inspired you from this email and send it to your clients who haven't visited your store for quite some time. Learn, do, celebrate – circle of happiness. Agree?
9. Tomtop Last Call Email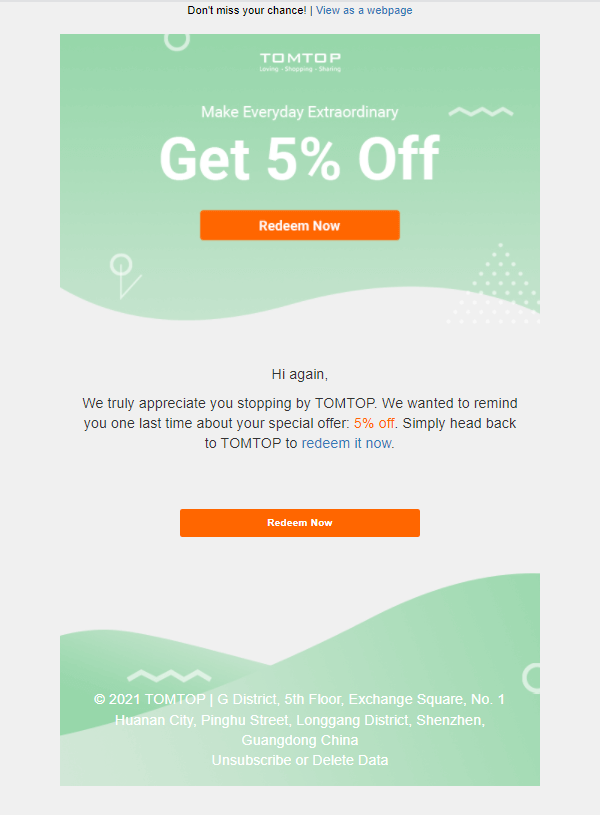 Source: original Tomtop email
Welcome to the "Tomtop" world. Firstly, from the subject line, we understand that this email belongs to a series of emails reminding the recipient to collect their offer.
This email uses the "thank you note plus discount" strategy to win back the dearest customers. It's an indirect we miss you message. Does it sound kind of desperate, isn't it? As a matter of fact, that works perfectly well. The customers feel appreciated and vital as they would be an actual part of the brand.
By asking the buyers to redeem their offer, you get informed about those still interested in your brand. If we say brutally – you sort them as clothes. Those who may fail to respond (sadly, you may face that) remove them from your contacts to avoid spamming.
10. Soak and Sleep Reactivation Email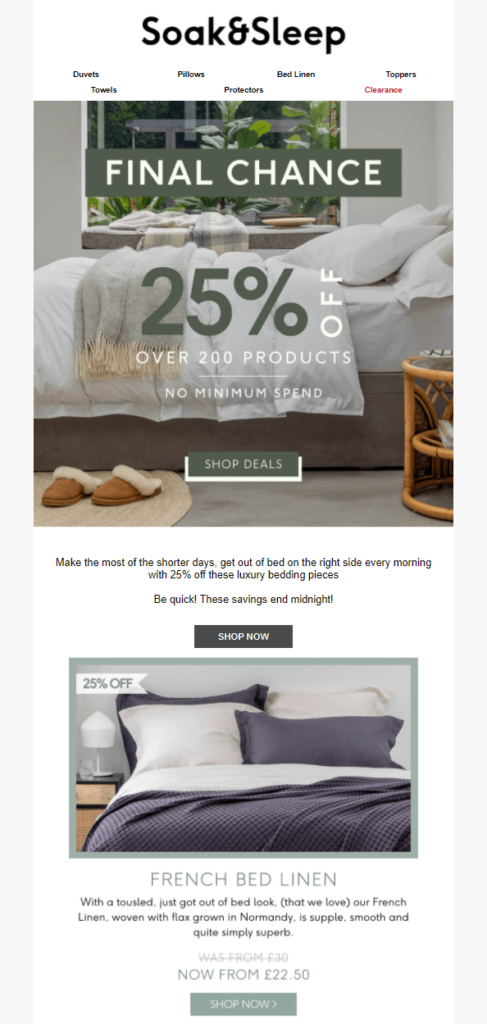 Source: original Soak and Sleep email
How does "Soak and Sleep" differentiate from other examples? Simple, it just has a polite and minimalistic last-call subject line. There are no icons or moving images to create irritation; it's simply – "final chance."
The email content is similar to "Pinkblush," mentioned earlier. It includes photos of the products on sale and a brief description of each. The visual presentation helps the buyer make an informed decision on which product to purchase.
As you can see, there's no way "Soak and Sleep" will not include a discount. They offer 25% off, and the offer is limited-time. So naturally, it creates a desire to act instantly.
Also read:
Send a We Miss You Email to Win Back Beloved Subscribers
Of course, we know that there are many ways of re-engaging your inactive customers. But sending a we will miss you email is a simple yet compelling idea! It doesn't cost a million and if you do it right, be prepared to triumph! Don't forget to use a non-direct way to lure subscribers back home.
Are you still here? Good, there's an incredible prize waiting for you. Firstly, use the above-listed template examples to create your we miss you emails with user-friendly and highly functional design builder tools like Sender.net. Then, pick from a wide variety of pre-made templates and start from scratch.