Profit from your knowledge
Apply email and SMS marketing strategies you already know to see the best results with Sender. It's free. It's easy.
Get Started For Free
On today's menu: webinars. This email marketing strategy can be a phenomenal one.
It can enhance brand awareness, increase audience, improve customer engagement, and create brand authority in the highly competitive e-Commerce world. Lots of goodies, as you can see.
Therefore, marketers work hard to create exciting and value-adding webinar content for their viewers. In fact, 58% of them use these online events to promote their brands. Do you feel tempted? Stop for a moment and listen. This great content is not significant if it doesn't reach the target audience.
Sooooo, you are asking what to do? How do you reach out to your subscribers and get them excited enough to show up for your webinars?
Then you came to the right place for those sweet answers. This article will help you understand web seminars marketing and the most effective ways to make your upcoming webinar successful.
Let's dig in, shall we?
What is Webinar Marketing?
To get insight into webinar marketing, you need to define a webinar clearly. A webinar is an online event organized by marketers to target a specific audience. The speaker(s) address specific topics through visual and audio content using an internet browser or web conferencing.
The audience can directly ask questions via email or instant message in real-time. As you can highlight, it's a convenient way to connect with listeners and create live-stream encounters. That way is easier to reach desired audiences.
Next, we have webinar marketing. It's just using webinars to market your brand. Easy peasy! It's also an excellent way to engage your subscribers. Increased engagement boosts brand visibility and creates more brand ambassadors.
As a result, your sales scale up. Hurray! The interactive nature makes webinars a unique marketing technique among the various other ones.
Webinar Marketing Strategies
Here we go. Now prepare yourself to look at the most effective webinar promotion techniques and boost your efforts of marketing your online events.
1. Inbound Marketing
Let's start with the simple one. Inbound marketing attracts prospects by creating brand awareness. It provides the informative content about the brand through blogs, content marketing, events, and many others. Don't forget to spread information consistently to reach the highest of the high.
As you share content with your audience, you can cleverly promote your webinars as a part of your inbound sales strategy.
First, load your content with links that enable your recipients to register for the event easily. Then, be the sneaky one and include attractive descriptions about your upcoming webinars.
Also read: Inbound vs Outbound Sales: Meaning, Strategies
2. Webinar Email Marketing
Next strategy that we are discussing consists of multiple emails serving different purposes. They include:
Webinar invitation email to attendences
Webinar reminder or follow-up email
Webinar registration confirmation email
Webinar cancellation email
Webinar recording email
Missed webinar email
Webinar promotion email
Feedback request email after webinar
Post webinar thank you email
Webinar Invite Email Message Example
This email is first in the line. You send it before the event date to make a loud webinar announcement for your audience. It's an invitation to inform your public when and where to catch the event. Be specific here!
This email aims to mobilize subscribers to register for the event, and hence should be sent early enough (like 2-3 weeks in advance). So don't sleep in and act! As wise people say, the sooner, the better, yeah?
Why is that important? Because it gives the recipient enough time to include your webinar in their calendar. After registration, send the registrants a friendly webinar confirmation email.
Check around for inspirational examples from successful brands to motivate you.
Here's one to make your life a bit easier!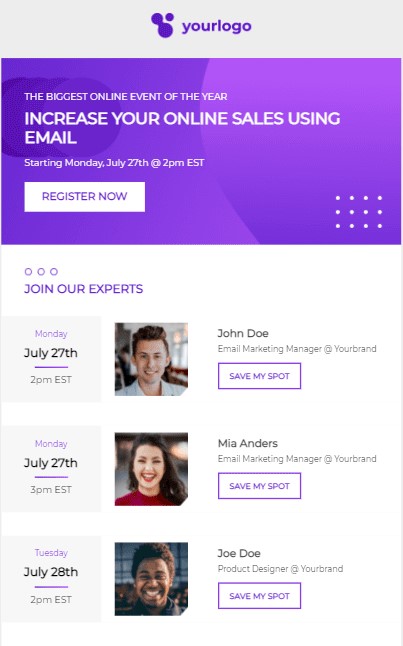 Source: Pinterest
Webinar Reminder Email Example
You send this email after a successful webinar registration. Sadly, when people register for your webinar, it's not a guarantee that they will attend. Only 46% of the registered individuals attend on average. As you can see, it's kind of sad…
To escape these statistics, you need to send reminder emails a few days before the webinar's due date to increase that sweet attendance.
The open rate of reminder emails is high, so of course, it boosts customer engagement. As a result, most attendees will purchase the event. Lucky for you.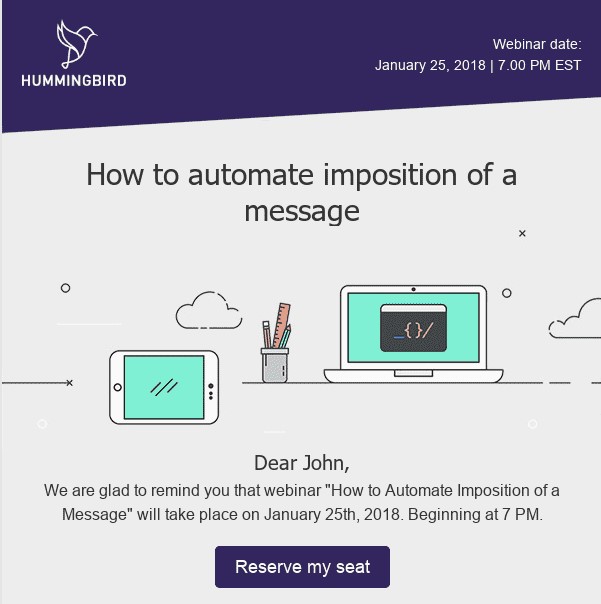 Source: Pinterest
Thank You for Attending our Webinar Email Example
As you may have guessed, this is the webinar email you send to your attendees after the event. It's advisable to send different messages to your beloved subscribers. Those who showed up for the webinar should get a thank you for attending webinar email.
If you enter the higher level, be sophisticated enough and offer a replay link of the event. Additionally, you could offer a price reduction for those who buy within a brief period. Finally, if you desire to be a superhero, you can even invite them to a call for more engagement.
For the non-attendants, highlight that they missed such a special event and provide them with a link to the event's replay.
Don't forget to ensure that your webinar email subject lines are attractive enough to increase your email's open rate. The king of all – design, can't be missed. And you must make sure it's phenomenal. For example, acquire a beautiful template that will leave your audience with no other option but to read through your email.
Also read: What is an Email Campaign? Marketing Examples & Guide 
3. Webinar Content Marketing
Now we have content marketing. It focuses on providing relevant and value-adding content to your audience. You can use such content to educate your subscribers and draw their attention to your brand.
According to Content Marketing Institute research, 60% of B2C marketers use content marketing. Not a surprise, but the number is even higher in the B2B field, where 91% of marketers are evolving already. Therefore, a webinar content strategy is an excellent tactic for putting your webinar in the spotlight.
Most companies successfully use webinars as a vital marketing tool. Apart from indirect advertising, they include relevant and informational content in their webinar. Take this as advice and start using educational content in your webinars.
With the knowledge of your audience and the webinar's selected best practices, you can indeed create exciting events! They'll keep your viewers engaged and convince them to make a purchase at the end.
4. Webinar Social Media Marketing
We reached the most exciting strategy – the use of social media. Most of us, these days, are on one or another platform, using digital communication like crazy ones! You can benefit from that to grow your audience.
Posting your online events on Facebook, Twitter, LinkedIn, and Instagram is a truly brilliant way of spreading information. You could also host a free webinar to create awareness of the upcoming live webinar. Do you see how smart it is?
If you don't believe it, this tactic enables your followers to register and share the information on their pages. They will widen your reach! Let someone do the job and watch your popularity grow.
Down below, you can see an example of that delightful inspiration. These guys chose to show webinar's guest speakers in their social media post, exposing their valued titles. Impressive, right? Take some notes!
Run Webinar Social Media Ads
Utilizing Facebook ads to promote your webinars is an excellent marketing strategy! Why? They help reach out to a selected group of people on specific platforms. Be patient and do thorough research on Facebook webinar ads. It will help you to create the best option for attractive promotion.
We can't forget Facebook's brother, LinkedIn. Its ads are also essential in promoting an event, and most brands are doing great in this area.
On Linkedin, you can reach many professionals and target particular people's categories. So if you want to achieve big brands' wins, you should consider including LinkedIn webinar ads in your marketing strategy.
Facebook Ads Webinar Promotion Example (Instagram as well)
Linkedin Webinar Advertising Example (Twitter as well)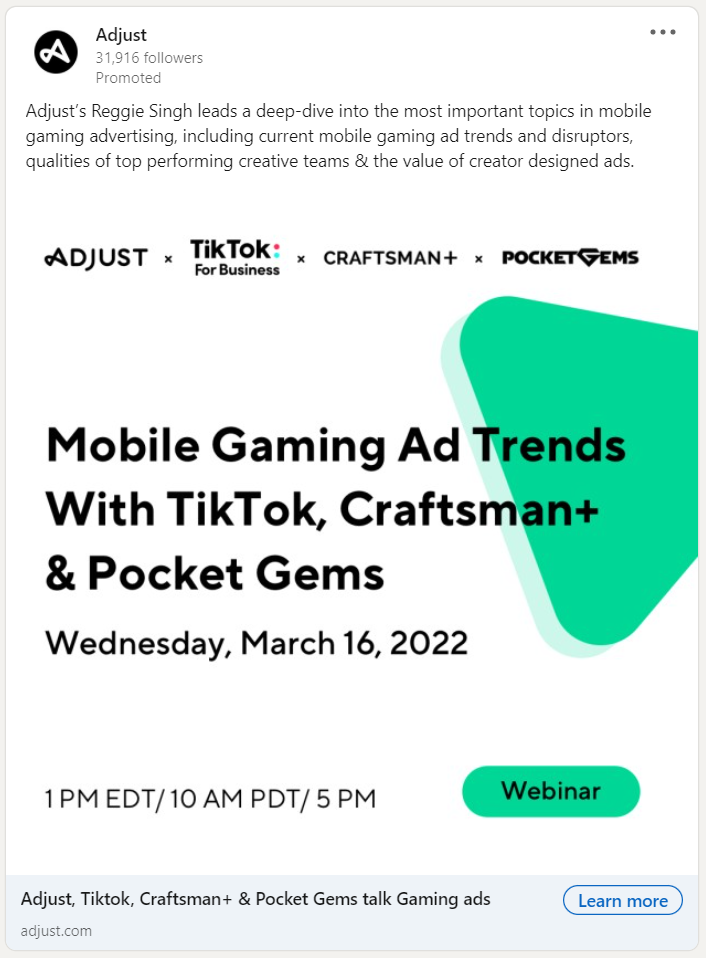 Organic Webinar Promotion on Social Media
Additionally, you can create Facebook, Instagram, Twitter or Linkedin webinar social media posts to promote your online event. Makes sense?
Then go crazy and don't be afraid to use hashtags, optimize your content, and include compelling content.
Even the perfect ones should keep in mind that a few key points are crucial to making the following advice effective:
Add Informative Visual in Your Post

Use videos, Gifs, live streams, and images in your posts for effective, engaging, and memorable content. Join forces with your creative side!

Visuals generate more traffic and increase conversion rates of your posts. They attract more views; thus, registrations for your webinar increase.

Use a Clear CTA

Like any other platform, the call-to-action should be straightforward and understandable. It'll enable your audience to easily take the right action after reading the webinar's details. Most importantly, make sure that your provided links are functional.

Use Your Presenter's Posts

Your moderators have followers, and sharing their posts on your platform causes their audience to interact with you as well. As a result, your reach widens, leading to an increase in your webinar's visibility.

Link Your Landing Pages to Social Media

Simplify the sharing process of your webinar's details by inserting social media buttons on your landing pages. It's a subtle reminder to take instant action.

For engagement, after they sign up, let a "thank you" text be displayed in front of them. Now, there's no way out, and it will encourage subscribers to share the information on their social media accounts.
5. Webinar Influencer Marketing
As you may have noticed, the demand for influencers has become exceedingly massive! So reach out to commendable influencers in your industry and request them to share your live event's details for an agreed fee.
Okay, so you rather save up or aren't ready to spend on influencers? There's an option for you too! Offer them something from your brand or a discount on anything they buy from your store.
Influencers can open up to a broader scope of diversified audiences. Influence marketing is excellent in referring people to your website and social media platforms.
6. Affiliate Marketing for Webinar
In affiliate marketing, businesses hire third parties to market their products or services. In return, the affiliate marketers get a commission on every sale generated by their effort.
In the same way, you can employ webinar affiliate marketing to promote your webinars. An affiliate program can do wonders as marketers earn more with increased sales. You get recognisability, and they get a commission. Win-win situation!
7. Webinar SMS Messaging
SMS marketing rises like a phoenix from the ashes. It's alive again! It's getting more and more popular for brands to use text messages for communication with their customers.
Recommended to use SMS messaging for:
Welcome and invitation message
Webinar reminder message
Feedback request message
Thank you message after webinar
Also, you can send SMS about promotions, new product launches, updates, and many more. Basically, there are open doors to a room full of opportunities.
Furthermore, text messages can also be effective in promoting your online events. Easily personalize these messages and include all the necessary details for the recipients to register. Also, make your text compelling enough by creating FOMO.
Make the most out of SMS marketing by using our multichannel platform to send Email and SMS campaigns. All of our features, including email marketing automation, are included with every plan. So you'll get everything we have to offer even with our free plan!
SMS text campaigns cannot be easier to set up. Within a few minutes, you'll be able to create and deliver personalized and compelling campaigns cost-effectively.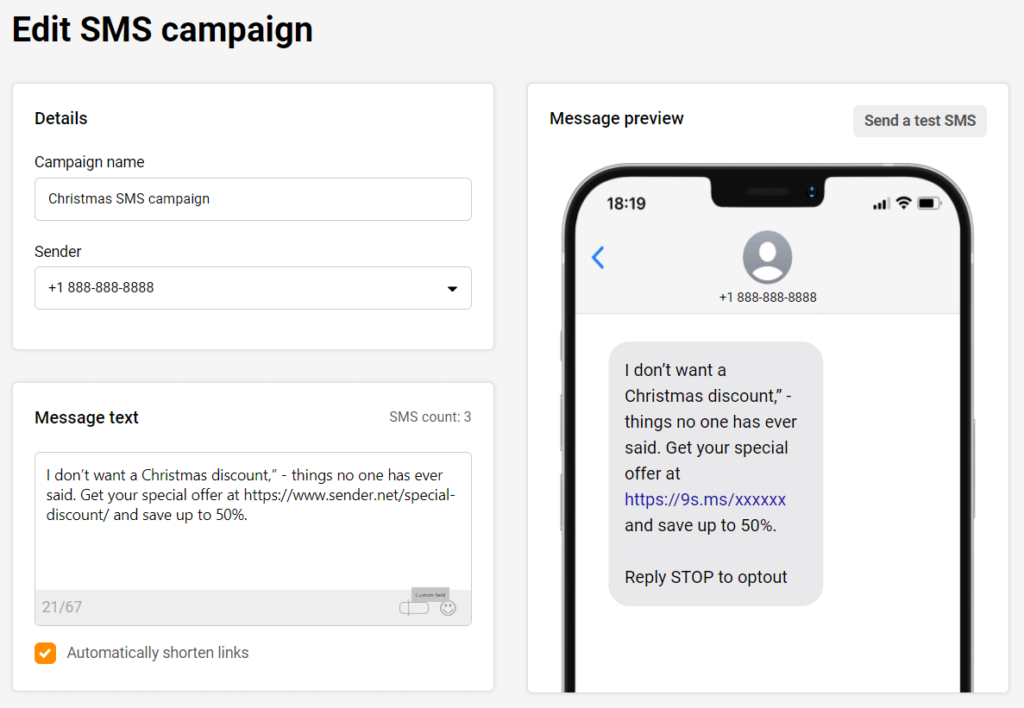 8. Webinar Marketing Automation
Since most of the tasks involved in webinars are repetitive, you can make your life much easier. Automate your webinar marketing plan to minimize the time and energy you use.
For example, you can automate your webinar reminder emails for your audience. As a result, they will receive messages helping them remember the virtual event coming in two days. And you, in the meanwhile, can relax and give yourself a break.
By the way, after the event, the attendee can automatically receive a "thank you" note for attending the webinar.
Increase Engagement and Sales using Webinars Marketing
As you hopefully had time to observe, online webinars could be a great digital marketing strategy. Although, you must ensure that you choose the right tactic to market these online events. That way, you can effectively reach your audience and engage them in the desired way.
With the ideal strategies discussed in this article, you can promote your webinar. Once you diversify your webinar marketing strategies, you can reach a broader audience, enhance their engagement with your brand, and turn prospects into active customers. As a result, you are giving a boost to your sales.
So go get them!