In today's digital era we are bombarded with advertisements online. To stand out, your business needs to find innovative ways to promote your products and services, and to develop your brand.
While new marketing strategies such as social media and paid search are increasingly becoming popular for businesses older forms of advertising are still effective.
One of the oldest forms of digital advertising is email marketing.
While many trends have come and gone, email marketing has stood the test of time. Implemented with the right strategy, your business can effectively target and retarget potential leads and enhance your brand development.
To develop an effective email marketing strategy, you have to choose the right email marketing tools, identify your target audience and decide on an approach.
Research indicates that trust is one of the most important parts of the customer decision-making process.
Therefore, your business needs to find ways to implement trust in your email marketing strategy.
11 Company Newsletter Examples
A newsletter can be described as a business newspaper. And like any newspaper, it needs to offer captivating and meaningful information to make your brand stand out.
Let's explore 11 company newsletter ideas you can implement in your advertising and brand development strategy:
1. Internal Company Newsletter with Employee Spotlights
Consumers are more drawn to brands that show publicly that they care about their customers and employees.
Newsletters are a great business and personal brand development tool that you can use to nurture customer relationships by shining the light on the people involved in the business.
For instance, you can give brief profiles of key employees in your newsletter:
Through these employee spotlights, your customers will get a sense of who they are dealing with, which enhances trust.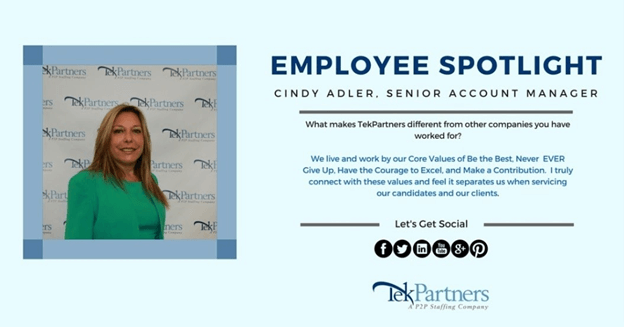 Source: Original TekPartners template
Tekpartners is one company that made use of 'Employee Spotlights' to show off their team's skills and ability.
They've made use of a short description with an image of the employee to add a more personal touch.
2. Employee Newsletter with Company Highlights
Use research, case studies and infographics in your newsletter to highlight your business' successes.
This is a good way of showing exactly what separates you from other businesses in your niche.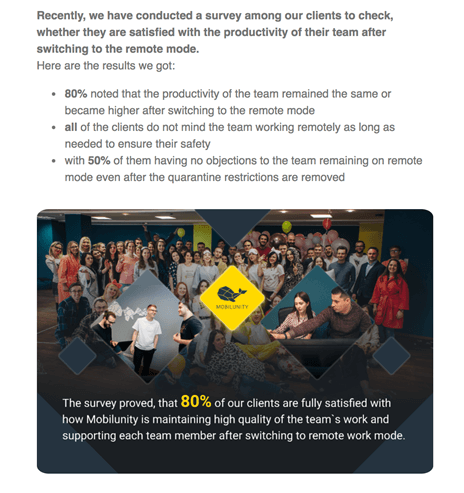 The above newsletter by software development company Mobilunity offers a unique look inside the business, using different interesting stats. These stats were obtained from surveys which makes the information reliable and trustworthy.
Through this, the newsletter highlights what the company and its team does well, by leveraging research on how their services have impacted their clients' businesses.
3. Modern Company Newsletter with Blog Posts
A great newsletter idea is to do a roundup of all your well-performing blog posts, past and present. This offers a look at your business' knowledge and expertise, and is a great way of providing value to your audience.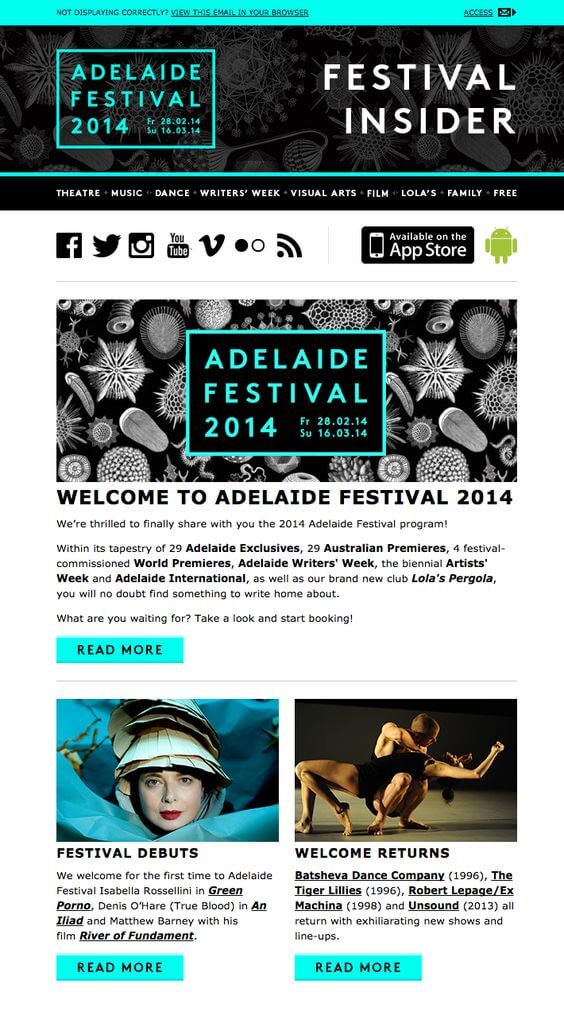 Source: Canva.com
The Adelaide Festival newsletter featured above is a good example of combining blog posts in a newsletter.
The newsletter uses bright colors and featured images, which are quite inviting and will keep an audience engaged.
4. Company Newsletter with Video Content
We live in a highly visual world, and images and videos have become an important part of marketing. The use of videos is an effective engagement driver. Research indicates that including videos in newsletters increases their open rate.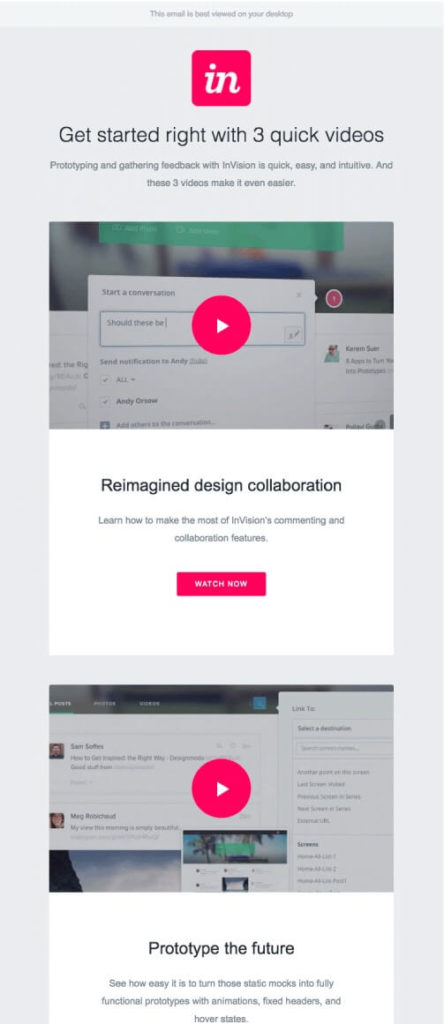 Source: Invisionapp.com
This newsletter by Invision utilizes various types of content, including the use of videos to keep its readers engaged. The newsletter also features well-outlined content segments, which are easy for readers to scan through.
5. Promotional Company Newsletter
People are naturally drawn to deals and promotions.
Therefore, promoting sales and discounts in your newsletters is an easy way to attract the attention of your target customers.
For instance, you can offer an exclusive deal for subscribers only, which will motivate non-subscribers to subscribe to your newsletters.
This also increases brand visibility at a very low brand development cost.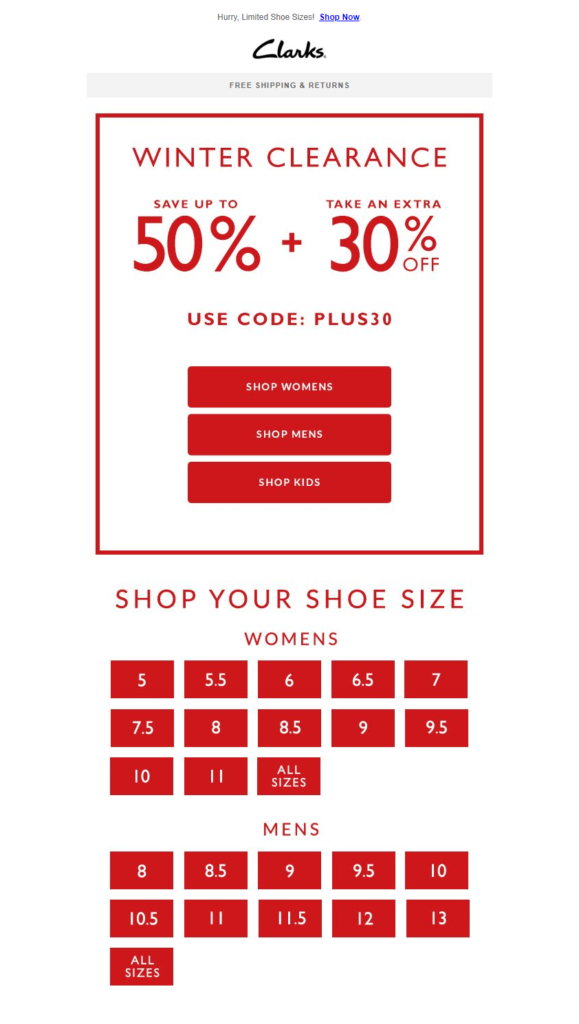 Source: Original Clarks Email Deal Template
Offering your customers special discounts or deals, such as the Clarks' example above, will invite your customers to re-engage with your business faster.
Clarke also makes use of a strong call to action (CTA), which takes users to a place where they can shop.
6. Including Valuable FAQs
People will always have questions about your business and its products or services.
Naturally, they want to know as much as possible before they spend money.
Because of this, you can leverage frequently asked questions (FAQs) to offer valuable information to readers, while convincing them to buy what you are selling.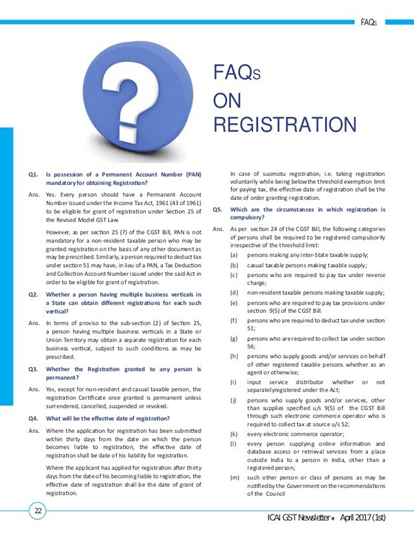 Source: Slideshare.net
In the above featured newsletter, ICAI GST addresses a range of FAQs.
Through this, they offer thoughtful answers to important questions in a detailed and easy-to-read manner.
An FAQ section in a newsletter is also a great way of showing customers that your business is in touch with their needs and pain points.
7. Use of User-Generated Content in Your Customer Engagement Newsletter
User-generated content describes any content such as pictures or videos created and shared by users, or your customers, via social media platforms.
You can leverage this content and include it in your newsletter, as social proof.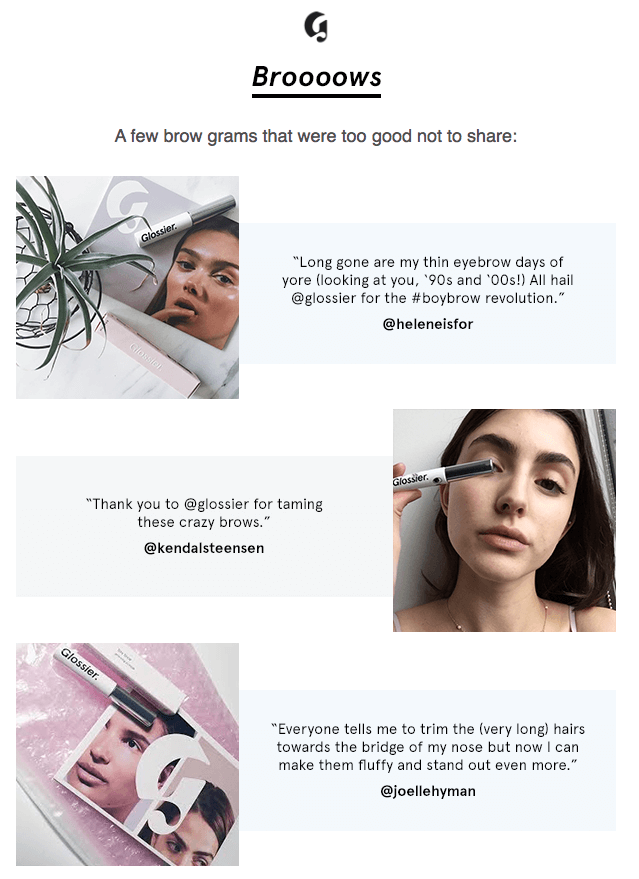 Source: Glossier email offer
In the example above, Glossier, a skincare and beauty products company, shows off images and reviews shared by their customers to showcase the effectiveness of their products.
This boosts confidence and trust in consumers.
8. Using Influencers and Celebrities
Social influence is a big deal today. Most people want to buy the products and services the people they admire use.
Therefore, consider doing thought-provoking interviews or get testimonials from influencers or celebrities in your industry.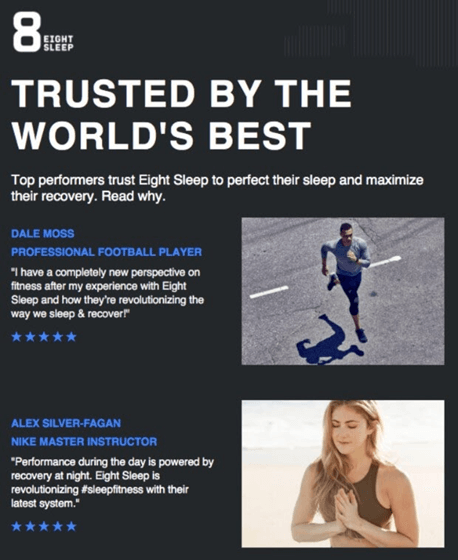 Source: Eightsleep.com email example
In their newsletter above, Eightsleep uses testimonials from influencers in their niche, such as professional football players, as a type of product endorsement.
The newsletter is effective, as it mentions the influencers' names along with their exact quotes.
9. Include Behind the Scenes Content In Your Company Newsletter
Featuring behind-the-scenes (BTS) content from your company offers customers a sense of exclusivity.
BTS also makes businesses seem transparent and genuine, which enhances customer trust and loyalty.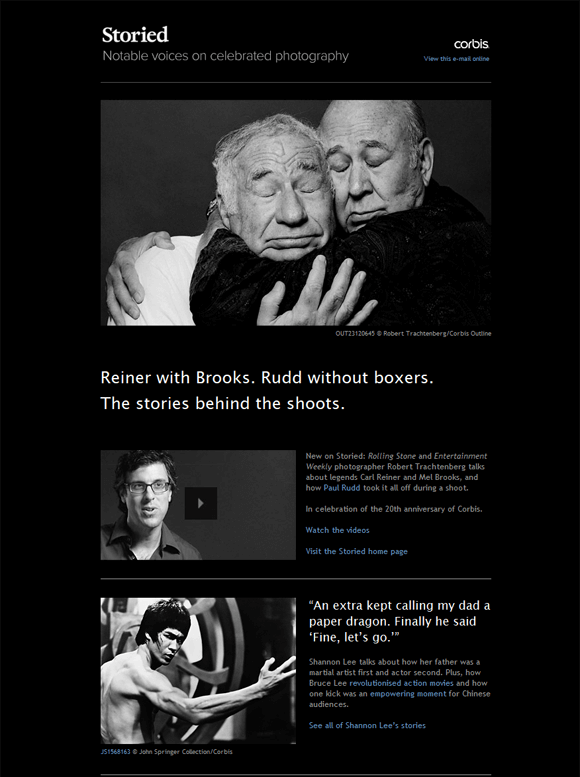 Source: Gettyimages.com email example
Featured above is an example of how Storied, a strategic messaging firm, used BTS stories to give their readers an exclusive inside view of how some shots were captured; under the intriguing heading "The stories behind the shoots".
10. Share Your Business' Story in Internal Company Newsletter
A genuine story shared with your customers elicits emotions and fosters deeper connections with them, enhancing brand authenticity.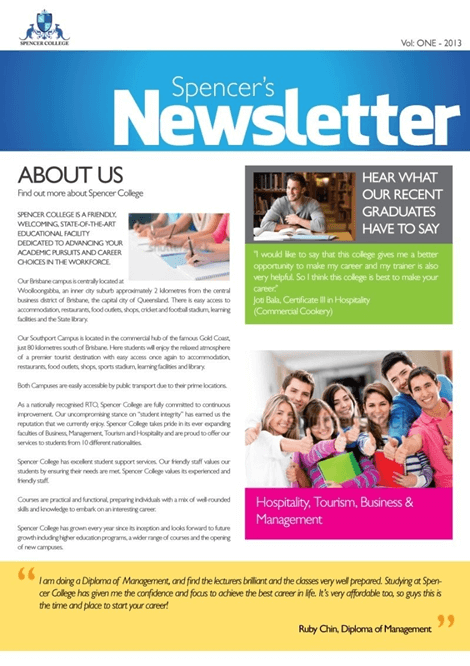 Source: Designcrowd.com
The above illustrated Spencer College newsletter focuses on the college's values and motivations under the title "About us".
The newsletter also spotlights testimonials from students to promote the courses offered.
It's a great example of how an organization utilizes different storytelling methods to convey their message.
11. Include Company Updates in Newsletter
Ensure your customers are informed of any updates to your products, services or business.
This is a great way of educating your audience on the happenings within the business and also allows you to highlight benefits and value to customers.
Source: Venngage.com Company Update
In this newsletter by Venngage, the CEO outlines updates in their services and reasons behind these updates.
This is an effective way of keeping customers alert about the changes they are likely to encounter in the future.
Tips Creating Company Newsletter Template
1. Establish Familiarity with Your Customers and Employees
Consider this; people will rather buy from a familiar brand before they spend money on an unknown business.
So, the more people recognize your brand, the higher your rate of closed sales.
Email newsletters allow you to display your brand in creative ways and deliver it to your customers and potential customers' inbox. With a newsletter campaign, you can send regular emails, which enhances the familiarity of your products and services with your audience.
2. Build Trust Between Your Business and Target Audience 
A newsletter can help you build trust with your target audience.
For instance, a newsletter that relays information about a company's values and motivations might elicit a sense of belonging and inclusivity among readers, thus establishing trust.
3. Personalize Your Corporate Newsletter
In general, a newsletter is more personal than a paid ad on social media or Google. This allows you to address your customers directly and customize your newsletters to suit their needs perfectly.
Create Best Company Newsletter To Empower Your Business Image
In essence, company newsletters are a great communication channel for building trust and brand loyalty, which means increased revenue for your business.
Customers want to do business with companies and brands they trust. Hence, the need to utilize innovative newsletter ideas for effective brand development.
These ideas will turn your subscribers into loyal customers and help your business grow faster.
---
About author
Kateryna Boiko is a Marketing Director at Mobilunity, Provider of Dedicated Development Teams with 9 years of hands-on experience in digital marketing.
Kateryna managed to work with diverse industries and markets and now is keen on sharing unique cases with the world and coach on topics relevant to Web Analytics and Search Engine Optimization.
Like what you read?
Apply it in practice with Sender.net - the most cost-effective email marketing solution in the market.
Try Sender for free