Email marketing has long been a key component of many eCommerce businesses' marketing arsenal.
A low cost, high return on investment tool, it can drive business revenue through engaged subscribers.
But sometimes companies neglect to incorporate an email schedule that is cohesive, leading to sporadic emails that fail to correctly communicate the brand story.
Or, they send out regular emails, but they're too generalized, failing to differentiate between customer types, interests, or behaviors.
Enter drip email marketing campaigns, or as they're sometimes known, automated email campaigns.
Drip email marketing campaigns are a type of email marketing strategy often set up to segment subscribers by objective.
For example, to reward your loyal customers, to convert an abandoned cart shopper, or drive a purchase, or even things like enticing a visit in-store, signing up to an event or class, or just promoting a relevant piece of content.
Each drip campaign will have it's own timeline and templates specific to their audience and goal.
Below, we'll outline what a drip email marketing campaign is, when to execute them, best practices and most importantly, highlight the benefits of switching to an automated style of email marketing.
What is an Email Drip Marketing Campaign?
The simple definition is a set of marketing emails that will be sent out automatically on a strategic timeline.
Drip email marketing campaigns use automation to be sent out at either preselected times or in triggered responses to user or visitor actions. Each email belongs to a chain of prewritten and pre-personalized emails that is grouped by its overall objective and timeline.
Here's an example how automated drip campaign workflow looks: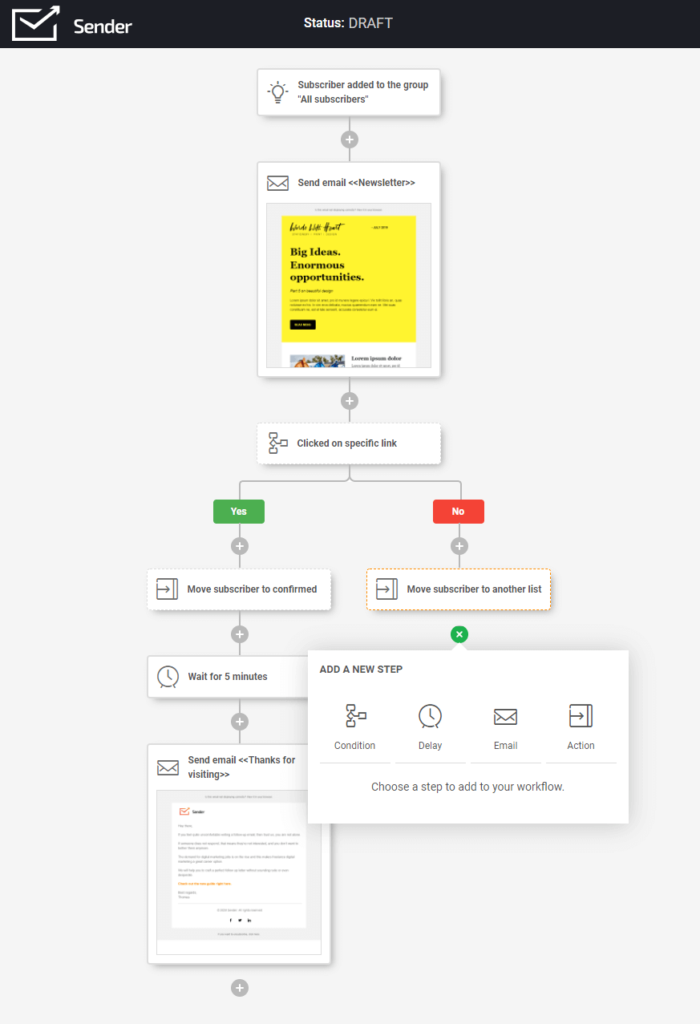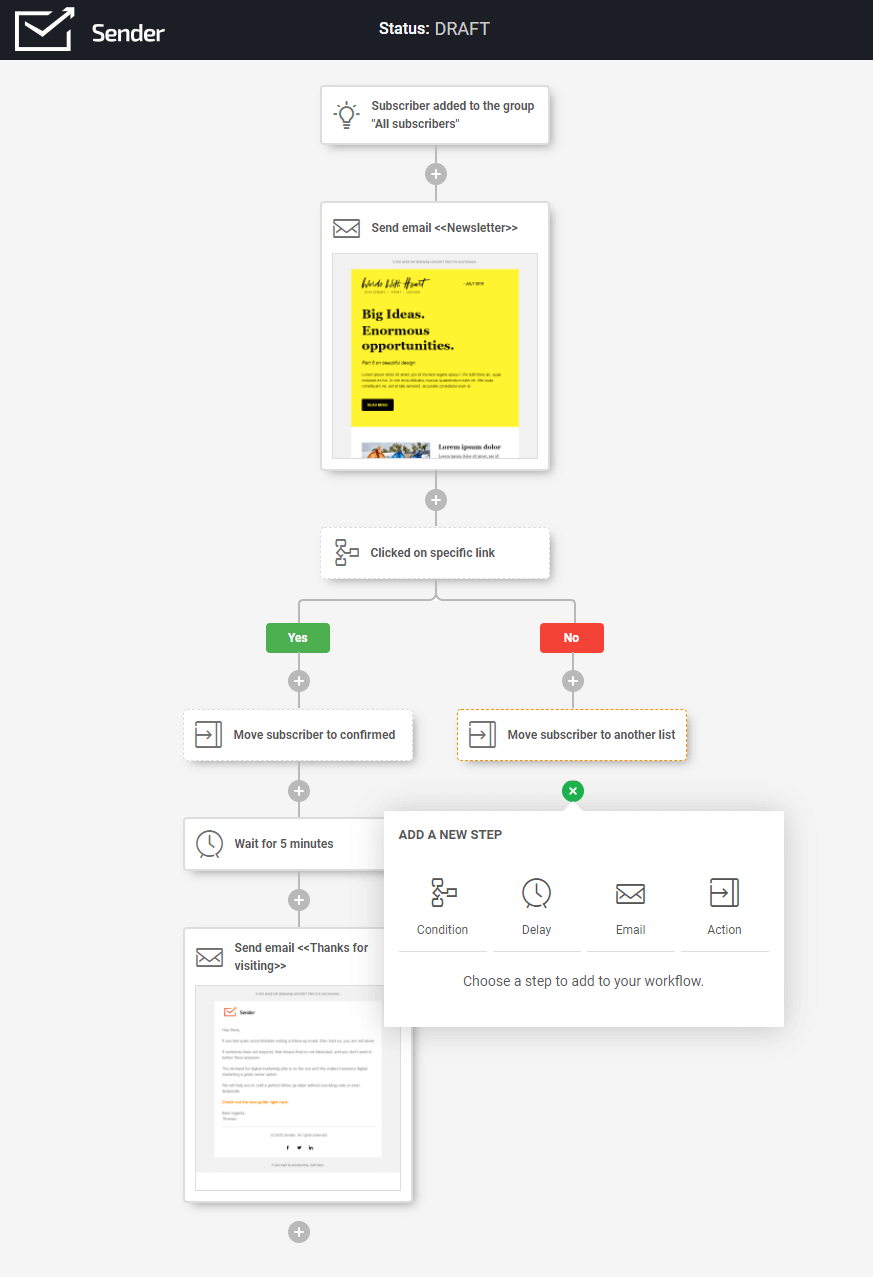 For example, one chain could be segmented by customers who have viewed a particular product page more than three times.
As these users have shown interest in the product, but are hesitant for whatever reason to purchase, an automated email campaign that sends infrequent emails highlighting the benefits or USPs of the product could encourage them into making a purchase decision.
If we take the above example and then compare that to a campaign that is neither segmented nor automated, customers who have already purchased the product would gain no value from being targeted with these emails, and therefore are likely to blacklist or mute further emails from your business.
This increases your email bounce rates and potentially loses you previously engaged customers.
Research suggests that relevant, targeted email strategy generates 18x more* revenue than generalized ones.
They also discovered that when it comes to drip email campaigns, there is an X119% increase in the chance of a link being clicked in one of those relevantly targeted emails.
So as far as best practices go, ensure yours are targeted.
Drip marketing automation is all about reaching the right people, at the right time, with the right information. Being able to segment your users into an already arranged email queue that is ready to inform, engage, or persuade your target audience through behaviors like their demographic, interaction rates and purchase history leads you to more conversions, less bounce rate, and potentially massive boosts in revenue.
However, there is a balance.
Whilst drip automation emails can be set to a repeat cycle that simply needs to be checked to deploy, you'll want to ensure that each email chain does not bombard or overwhelm subscribers.
So be sure to review your strategy frequently to ensure it's still effective keeping an eye on the frequency of emails you'.
The content should be educational, relevant and, in addition, timed for the right moments – such as a weekly follow up from the email before. This keeps your business top of mind for consumers, without overflowing their inbox.
When to use a drip email marketing campaign?
Now that we've discussed the balance and the varying use cases, the next thing to be clear on is when an automated email marketing campaign should be used, what the messaging is, and what template you need to use.
Whatever segment you are grouping your subscribers into, above every objective your one goal should always be to keep that customer engaged and wanting to open the next email.
So, here are five of the most effective times to use a drip email campaign:
1. Nurture prospective leads
Leads is just another term for customers that you think have the potential of becoming users of your product or service or could purchase from you.
On their own, leads may not be motivated or engaged enough to begin the necessary stages in their customer journey.
This is where the phrase, "nurturing leads" is coined.
Whilst you may not have time to reiterate to everybody who has viewed your product or landing page how great your service or business is, you can set up a drip email campaign to do that for you.
In drip email campaigns, lead nurturing could be a series of emails that educate your prospect on the benefits of your product or service, highlighting certain features, or even offering a free or discounted sample if this is available to you.
These types of campaigns can be great for those in the B2B space with longer purchase cycles.
By ensuring your content is educational and the frequency of emails doesn't bombard prospects you can stay top of mind as prospects work their way through the buying stages.
2. Welcome new customers
If you've acquired a good number of new customers signing up for samples of your product, or they are requesting more information, it can be overwhelming when faced with the idea of how you're going to satisfy the necessary needs of all of them.
For example, those who want a sample are already one step ahead of those requesting information, so the segmentation of these users must be different in order to engage each group enough for the next stage of conversion.
A drip email marketing campaign can work wonders here. For those who have signed up to sample your product, a drip sequence that features case studies from previous customers of how your product has benefited them could be a great place to start.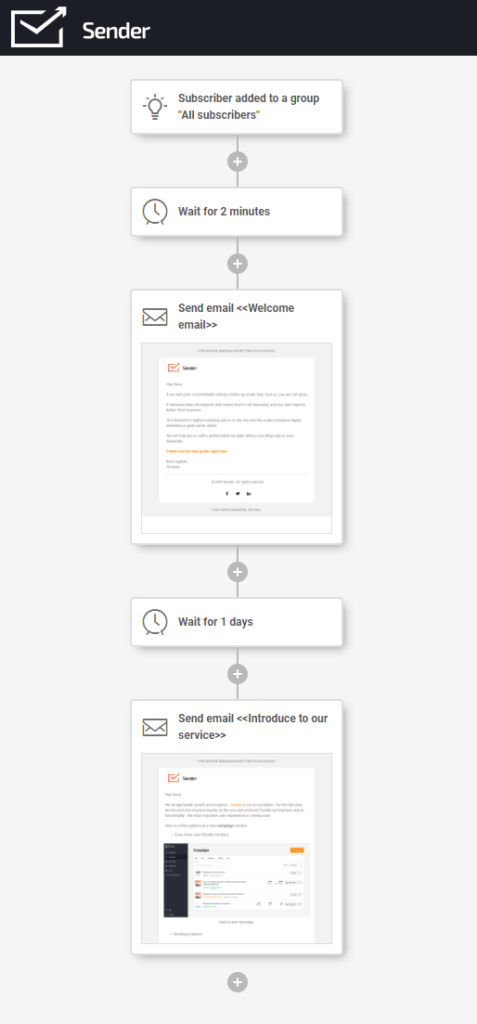 3. Rescue abandoned shopping carts
Perhaps the most popular use for email marketing campaigns, abandoned shopping cart emails can have drastic effects on conversion and purchase rates.
Research shows that abandoned cart emails have an open rate of 46.1%, a click rate of 13.3%, and generate around $5.64 in additional revenue.
Automated email drip campaigns specifically set up for those abandoned carts can re-engage customers through instilling psychological tactics of popularity and urgency, such as suggesting that only a certain amount of products are left, or that the product they'd placed in their cart is moving fast.
This can apply to products or services that are not physical items, too. These types of abandoned shopping cart or abandoned purchase emails can be set up to cater to those who looked to be upgrading their subscribership, but never did, for example.
Drip emails that contain the comparison between the existing plan and the new one, or that are informative and reiterate the benefits, can work wonders for driving users to return to the upgrade now page.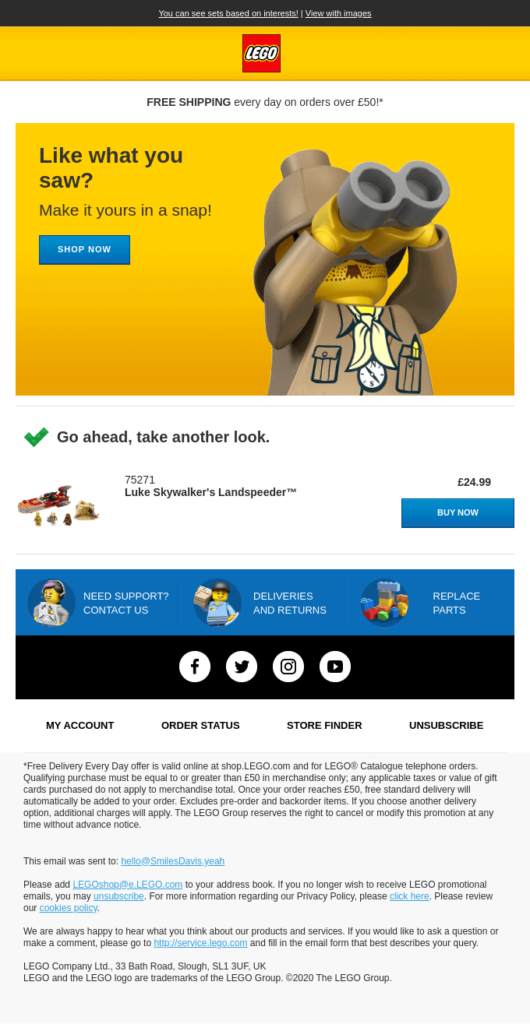 Source: Reallygoodemails
This example from Lego is instantly engaging thanks to its vivid colors and graphics.
Here's example of automated abandoned cart reminder email campaign: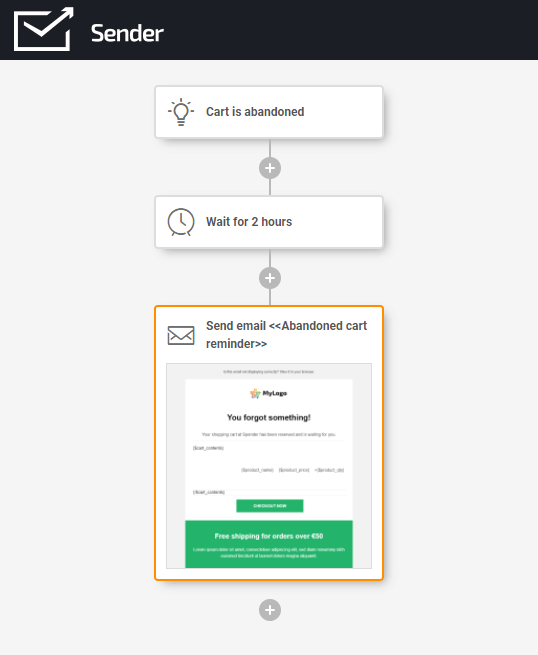 4. Keep engagement levels high
As is the most commonly known information in the marketing world, the more a potential user or visitor interacts with your product, site, or service, the more likely they are to continue progressing through their customer journey.
A drip campaign that segments users by their levels of engagement can reinitiate interest in specific pages, benefits, or products with a view to converting that user to a purchaser.
One example of this could be the below email from the fitness brand, MyProtein.
When a user has been inactive for a while, or not purchased, MyProtein sends a series of emails that entice the user back to the site with exclusive promotion codes or discounts, or that simply highlight new content or relevant purchase items.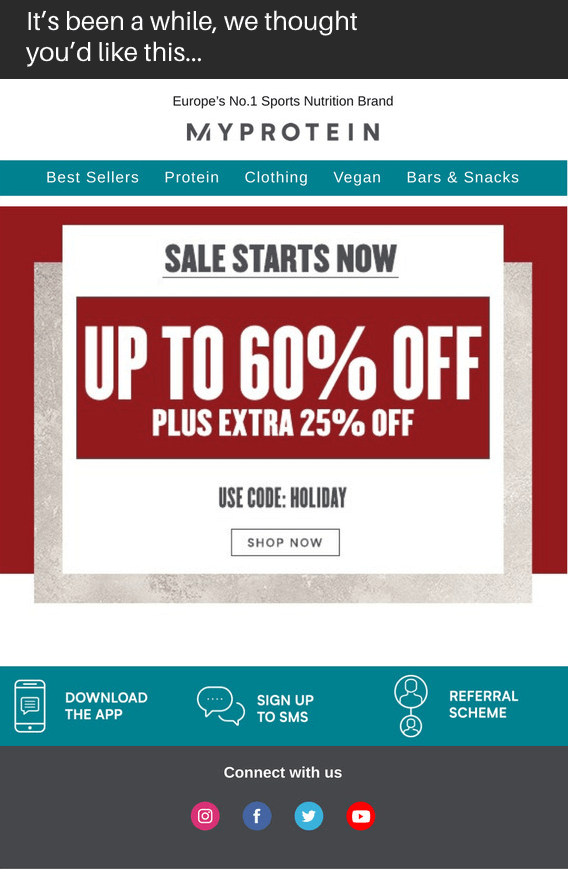 Behavior like this can jog a user's memory and entice them into taking an action, such as visiting your app or website or being tempted by a new recommended purchase that they might finally have room for.
5. Prevent Unsubscribes
The type of automated drip email campaign that no eCommerce business owner wants to set up. Unsubscribers mean bad news for your emails and for your brand, but all hope is not lost.
Setting up an email sequence that is triggered when an unsubscriber hits the dreaded button can give you a wealth of information as to why that subscriber has performed this action, which can help to make your campaigns more informative in the future.
For example, sending an email that recommends the user to follow your social media channels could imply that they are willing to interact with you in a different manner.
Or, you could directly ask that user through a series of clickable links what it was that drove them to unsubscribe.
If one of the suggestions returns as too frequent contact, you know to lessen your email communication and if you take steps to prove this, could halt that unsubscription process in the first place.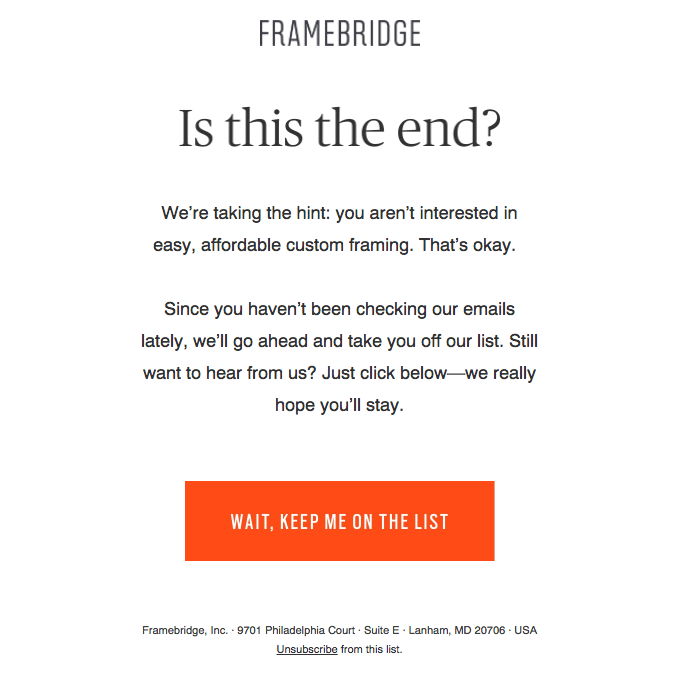 Source: Reallygoodemails
What are the benefits of drip automation for email marketing?
The benefits of an automated email campaign should be obvious by now.
Segmentation to strengthen relationships
By precisely segmenting your customers into their appropriate groups, whether by purchase behavior or customer journey cycles, you can accurately target them with relevant information that can change their buying habits to achieve the goal you have in mind.
This works to build trust with your subscribers too, who will feel they are experiencing a much more personalized journey, which leads to fewer unsubscribes and higher conversion rates.
Maintained engagement levels
By proactively targeting relevant customers with relevant information, they remain engaged because they are experiencing value from your emails.
For customers who have come away from your brand for whatever reason, by retargeting that segment with emails that remind them of your benefits, or highlight recommended products in a more personalized manner that perhaps a competitor is not offering, can change their mind and reinitiate them into their customer journey.
This also builds an initial platform for you to then begin to add them to potential other segments in order to retain them.
Plus, because the email sequences are automated, it's a cost-saving, time-saving exercise.
The emails do not need monitoring, writing, and then sending individually each time. They can be automatically triggered the moment a user or visitor performs an action.
To Conclude
Implemented correctly, drip email marketing campaigns can boost your email marketing campaigns to the next level.
To be at their most effective however the segmentation of your users must be precise and accurate, otherwise the wrong information will reach the wrong people, bringing about consequences such as irrelevancy and potentially equalling high bounce rates and unsubscribers.
In order to achieve this, consider consulting a company that has guaranteed experience in eCommerce marketing automation, to help with the optimization of your email marketing campaigns and behavioral segmentation strategies.
Also we recommend to read:
---
Author Bio
Justina Bakutyte is the Growth Marketing Manager at Yieldify, helping eCommerce companies quickly and easily grow their leads, conversions, and revenue by creating personalized customer journeys.
Like what you read?
Apply it in practice with Sender.net - the most cost-effective email marketing solution in the market.
Try Sender for free