Turn strategy into action
Don't leave your perfect strategy untapped. Unlock its potential with Sender and see your sales explode.
Get Started For Free
Ever tried sending an email to a friend or your email list only to receive an error message? The most common reason for email non-delivery is an invalid email address. But if you're sure the email address is correct, check your Drafts and Sent folders.
Can't find it? Then you're most likely dealing with a bounced email.
We'll be looking at what a bounced email is in this post. You'll also learn how to know if your email has bounced and how to handle a bounced email.
One of the best ways to dodge bounced emails is to make sure that your email deliverability is good. At Sender, we put the email deliverability to our priority list so you'll be safe while sending your great newsletters. Also, make sure not to buy contacts as it's straight way to bounced emails, instead, creatively collect leads with popups and forms: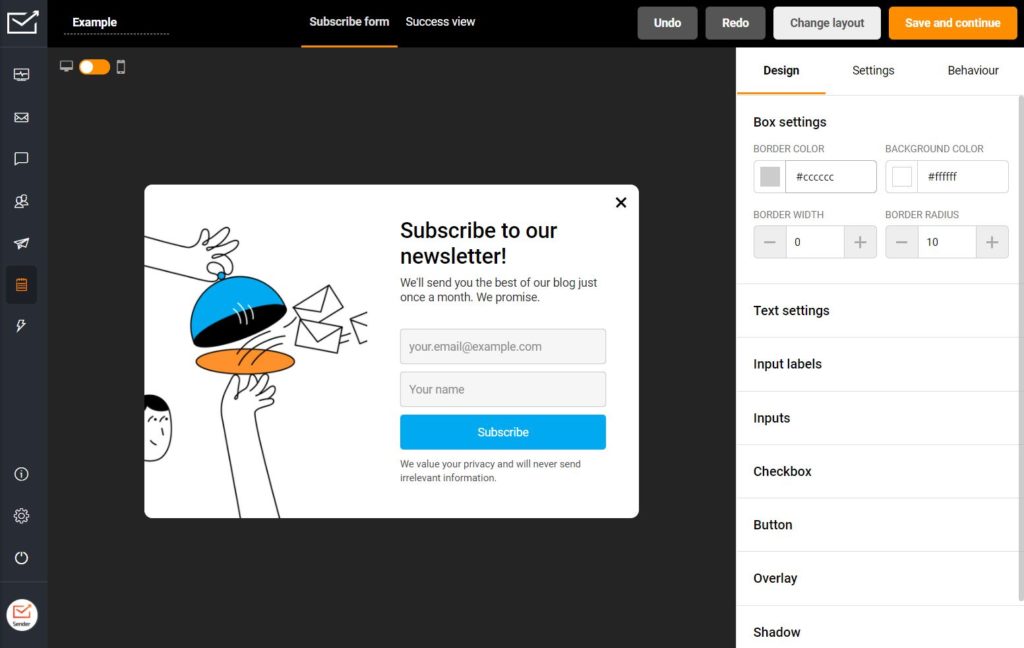 Bounced Email Defined
An email that isn't delivered to the intended email server is bounced. Having your email bounce can be frustrating and annoying.
That said, bounced emails aren't that hard to fix if you know the problem. Your recipient's mail server can help you narrow down the issue. It does this by sending you an SMTP message or "return to sender" email, as shown below, with a detailed explanation.
Image source: Google
So why do most senders find it hard to fix the problem?
That's because sometimes, bounced emails occur due to technical errors. So, you'll need to be tech-savvy to fix them.
There are two types of bounced emails:
Hard Bounce
Hard bounces are also called permanent failures. That is, there's a permanent or unchangeable reason for email non-delivery, and they could give you quite a headache. Imagine this scenario. You just created the most beautiful email newsletter with Sender. Your images are on point, and the brand messaging speaks to your target audience. Then the email just doesn't get sent. Horrible, isn't it?
There are different reasons why you'd get a hard bounce. Here are some of them:
The recipient's email no longer exists;
The receiving email server doesn't work or is unavailable;
You've misspelled the recipient's email address or domain name.
Most email service providers (ESPs) won't resend an email after the first hard bounce. After all, if there's no clear destination, there isn't any ESP that can send your email. In fact, some ESPs will go as far as deleting hard-bounce contact addresses. This happens near-instantaneously and automatically.
But contrary to what most people believe, hard bounce emails don't have to end in deletion. Let's say one of your customers decides to change ESPs e.g. from Gmail to Yahoo!. It's very likely that they forgot to update you about their new email address. Then when you try sending an email, you get a hard bounce, as shown below.
Image source: Postmark
It doesn't mean that they've opted out of your list or don't want to hear from you. They've simply updated their contact information or e-business card.
Deleting their email address from your contacts will mean losing a potential customer. That's why a good SaaS marketing plan, retail plan, or any other marketing plan will rarely ask you to delete a bounced email.
So how about sending a prompt to update their active email address instead? There are several ways of doing this, either in-app like Twitter does or via a Communications Platform as a Service (CPaaS).
Soft Bounce
Soft bounces are basically temporary failures. Usually, non-delivery is because of a temporary issue. Consequently, they're handled differently by ESPs. Here's a soft bounce reply example:
Image source: Google
Usually, your ESP will still try to deliver your email after a specific time frame. But if non-delivery continues after multiple attempts, then your ESP will stop trying. That email has now become a hard bounce and has been removed from your list. Reasons why you may get a soft bounce include:
Incorrect mailbox configurations;
The recipient's inbox is full;
The recipient's mail server is offline or down;
Inactive mailbox;
The message is too large;
Email violates the recipient's anti-spam policy;
Email violates the recipient's anti-virus policy;
Email content caused non-delivery;
Email violates the recipient's mail policies;
Email violates the recipient's DMARC email authentication policies;
The recipient's mail server has received too many emails over a short duration.
For new contacts, most ESPs will try to deliver several times before considering it a hard bounce.
Key Takeaways
Hard bounce emails occur because of an unchangeable or permanent reason.
Most ESPs delete contacts of hard-bounce email addresses and exclude them from any future campaigns. But not every time. Sometimes you can salvage the situation by prompting the user to update their email address regularly.
The main reasons you get hard bounces are invalid emails, the server is down or you misspelled the address.
Soft bounces are caused by a temporary problem or circumstance in the mailing environment.
Soft bounce emails can be treated as hard bounce emails if the non-delivery issue persists after multiple tries.
Soft bounces are typically caused by a full inbox, incorrectly configured, inactive mailbox, offline mail server, etc.
How Do You Know If an Email Bounced?
Bounced emails are messages that your email server can't deliver. To find bounced emails, log in to your ESP dashboard, navigate to your Email Delivery Statistics and check the Send Status column. When you click through those emails, you'll see the following:
A unique message ID tied to that sent email;
The time and date when that email bounced;
Your email client's IP address and the hostname;
A non-delivery error message;
An SMTP error reply message is explaining the reason for non-delivery.
Once a contact returns a bounce, most of the time, there's no use trying to resend that message. That's because a higher bounce rate will affect email deliverability.
Key Takeaways
To find out if an email has bounced, navigate to your ESPs campaign deliverability tab. You can then filter the results by "Send Status" to see all bounced emails. Click on the bounced email to find out why it wasn't delivered.
Pay attention to the unique message ID for that email, when it was sent, your ESPs hostname and IP address, the error message and the SMTP error reply message.
How to Handle a Bounced Email
The best way to handle a bounced email is to avoid getting it in the first place. Here are a couple of tips you can use to lower the number of bounced emails.
Always use a double-opt-in to collect and confirm contact;
Never buy an email list;
Make it a habit to verify your contact still wants to receive emails from you;
Check your email deliverability rate;
Perform spam checks on your messages before sending them;
Delete contacts that always result in bounced emails.
Generally speaking, these are effective tips to lower your bounce rate.
Image source: Digital Inspiration
But what do you do when you receive bounced emails? Here are four easy steps you can use to handle or troubleshoot bounced emails.
Review the bounced email error message. This should give you a clear reason for non-delivery. It could be a non-responsive mail server, an invalid email, etc.
Can you fix the problem without help? If you can follow the instructions in the error message and fix it, then do it. Some bounced email issues can be easily fixed by following the instructions.
Can't fix the problem without help? If you can't interpret the error message, then it could be because you've blocked the email id. In most cases, it's usually because the content of the message triggered the spam filter. This usually happens when the content of the error message begins with X-Spam Status. This type of message gives you accurate information about the problem. If it starts with a different word, then contact your administrator or 3rd party spam protector.
Very few mail servers will need a specific type of Domain Keys configuration. You can add your DKIM and SPF to your domain's zone file. You can ask your server admin to help you configure DKIM and SPF for your domain.
Bounced emails usually come with an explanation for non-delivery. All you have to do is read the instructions from the error message, and you'll be able to fix the problem.
Key Takeaways
The easiest way to handle a bounced email is to avoid it. There are several ways you can do that. They include using a double-opt in, never buying a subscriber list, verifying contacts, monitoring your deliverability rate, doing spam check and deleting hard bounce contacts.
If you already have a list and are getting bounces, start by reviewing the error message and see if you can fix the problem by yourself.
If you can't fix the problem yourself, ask for help and finally configure your domain keys.
Should You Delete Bounced Emails?
Do you have an email address that's consistently returning bounced emails? Check whether it's an invalid email. If it is, then you can feel free to remove them from your database because they're a hard bounce. If that's not the case and you keep getting bounced emails, then they're likely an inactive subscriber. You can either put inactive subscribers on a reactivation campaign or remove them from your CRM.
Key Takeaways
Bounced emails are a fact of life. The key is to minimize them and to know how to handle them should you encounter them. That said, here are some key takeaways from this article:
Bounced emails are emails that get rejected by the recipient's email server. It means an email message didn't reach its intended destination for whatever reason.
There are two types of bounced emails; hard and soft bounces.
Hard bounces mean there's a permanent reason for email delivery failure. Either the address is invalid, or the server is unavailable.
Soft bounces mean that the reason for email non-delivery is temporary. That is, a change in circumstances prevents deliverability, but it's only temporary.
No matter how great your email campaign is, you're shooting in the dark if it doesn't reach your leads. Focus on building systems for boosting email deliverability, and you won't have to worry about bounced emails.
Author Bio
Nico is the founder of Crunch Marketing. The company works with enterprise SaaS clients, helping them scale lead generation globally across EMEA, APAC, and other regions.