Like what you read?
Apply it in practice with Sender.net - the most cost-effective email marketing solution in the market.
Try Sender for free
Marketing automation is the new marketing buzzword. With so much information around the subject, it's pretty confusing to start with it.
Let's try to clear the air while covering the basics of marketing automation, benefits and general use cases. Following this guide will help you understand how marketing automation works, why it's important and how you can use it for your business.
What Is Marketing Automation?
Any marketing campaign needs a lot of work to succeed in 2022. From launching a landing page to driving traffic, engaging visitors to nurturing leads, and more.
You can gain a lot using technology to optimize all your marketing activities. It involves automating marketing processes, personalizing campaigns, and qualifying leads to drive conversions.
By automating some recurring activities, marketing automation helps you scale marketing efforts without losing relevance or increasing workload. For example, creating personalized drip marketing campaigns for onboarding new users.
When implemented well, marketing automation helps drive conversions and increase revenues. 45% of marketers find marketing automation really useful in improving marketing effectiveness and ROI.
But what exactly can you achieve with marketing automation and what is automated marketing? Is it about using AI or bots? And more importantly, can marketing automation improve ROI?
Well, marketing automation helps you become more efficient by automating marketing activities like:
Email marketing; 
Lead nurturing;
List management & customer segmentation;
Campaign scheduling; 
Campaign personalization;
Drip campaign setup, etc. 
Automation helps you speed up processes to save time and money on recurring tasks, increasing marketing effectiveness.
In fact, 56% of all companies actively use marketing automation enjoy an ROI of $5.44 per dollar spent. That's a solid reason to start taking marketing automation seriously. Isn't it?
Types of Marketing Automation
Nowadays, everyone wants to get maximum ROI out of their marketing efforts. Naturally, the demand for marketing automation is rising. Here are a few ways to start with marketing automation:
Email Marketing
Email marketing provides the highest ROI across all online marketing activities. Using marketing automation software, you can automate your email campaigns quickly.
47% of companies use it for sending personalized welcome emails and onboarding users.
Marketing automation tools help set up trigger-based email automation, improve email personalization efforts, set up and run engaging email newsletters, and more. 
Use email marketing automation for delivering lead magnets, sending personalized offers, and newsletter content throughout the buyer's journey.
Lead Nurturing
Marketing automation helps nurture leads into paying customers.
Marketers use it to segment and nurture leads after they take action on the website, such as filling out a form or visiting the pricing page.
Automation workflows can work based on triggers, events, or actions taken by a user. For example, an automated drip campaign for active trial users who log in daily to convert them into customers.
Process automation
Marketing automation saves a lot of time by automating several activities. Scheduling product demos and triggering abandoned cart emails are some examples.
50% of companies plan to increase the use of automation to speed up recurring processes.
Companies use marketing automation to send personalized recommendations, thank you emails, or offers for special occasions like birthdays.
CRM Automation
CRM or customer relationship management is often confused with marketing automation. Marketing automation can be used to feed CRM systems and is used for lead scoring inside CRM.
Many companies use lead scoring to qualify leads, warm up prospects and support their sales teams. Lead scoring via marketing automation helps improve your sales productivity.
You can turn visitors into MQLs and SQLs based on lead scores using any marketing automation tool.
What Common Problems Does Marketing Automation Solve?
Marketers vouch for the benefits and advantages of marketing automation all the time.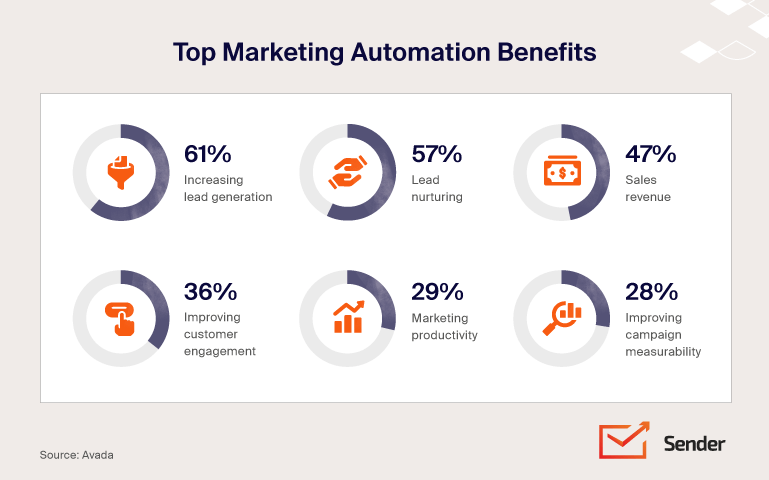 77% of marketers believe marketing automation helps in increasing digital engagement.
74% believe that marketing automation helped them save time.
Four out of five users saw an increase in the number of leads when they use marketing automation tools.
Marketing automation enhances the ROI by speeding up everything along the customer journey.
From lead nurturing to personalization, lead quality to automating outreach, marketing automation solves several marketing challenges. Here's how marketing automation helps solve common problems:
Helps Optimize Campaign Results
Marketing automation helps optimize campaigns at scale through A/B test automation, personalization, audience segmentation, and lead scoring. Data-driven lead qualification aligns marketing and sales funnel better to promise higher conversion rates.
Helps Reduce Workload
Automated lead nurturing and email campaigns ensure your revenue pipeline is never dry without spending a lot of time on manual activities.
Helps Nurture Leads
Personalized communication powered by lead scoring and qualification triggers helps warm up cold leads and nurture them on autopilot.
Improves Customer Satisfaction And Retention
Real-time response like triggered welcome emails and automatic updates improves customer experience and also reduces churn/abandonment.
Syncs Your Funnel To The Buyer's Journey
Adds relevance to your marketing funnel by providing the right information to the right audience at the right time, increasing chances of conversion.
How Does Marketing Automation Work?
Marketing automation ties everything together — your audience, campaigns, mediums, analytics, tools, platforms, and regular tasks. Think of it as a bridge between your marketing efforts and revenue generation.
Marketing automation fuels your sales and conversion funnel by gluing different tools and techniques. It's all about not missing out on opportunities to interact, follow up, and persuade a stranger into a lead and, ultimately, into your customer.
A lot of it is about using technology to capture, nurture, and convert leads. Marketing automation saves you daily hours by automating repetitive tasks like follow-ups, reporting, or sending emails.
Marketing automation ensures your audience receives relevant information at the right time. Basically, it pushes a user further into the buyer's journey automatically.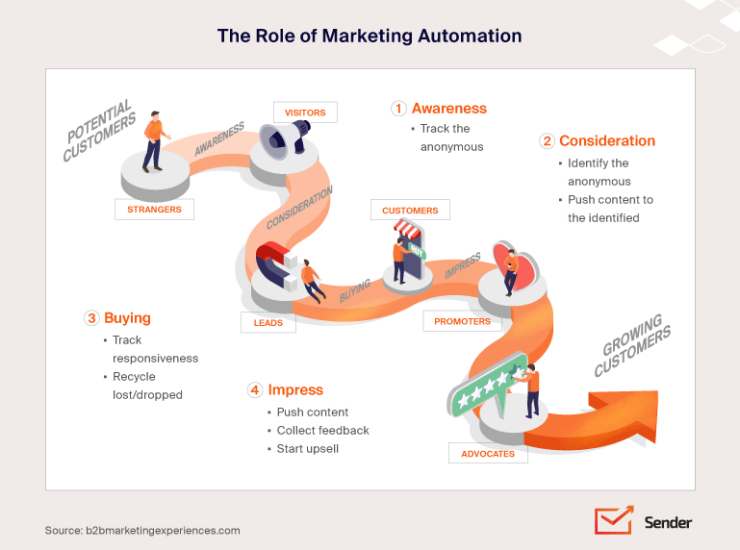 Let's take an example.
A marketing automation platform will help you schedule an automatic lead nurture campaign for your newsletter subscribers who show interest in a webinar. They are sent an invite automatically and a follow-up email with a downloadable PDF right after the webinar. People who download the PDF are directed to your sales team as an upsell opportunity.
CRM vs. Marketing Automation
You can easily confuse marketing automation with CRM. They seem to be doing similar things. But in reality, they serve different purposes and have their own importance.
Marketing automation helps marketers manage your marketing campaigns and automate recurring manual tasks for lead generation and nurturing. On the other hand, CRM is used by sales reps to identify sales opportunities, assign tasks, and maintain a database.
You can think of marketing automation as a solution that fuels the CRM system. Leads nurtured through marketing automation gets handed over to the sales team, which they manage through a CRM system. While marketing automation help with lead generation and nurturing, CRM systems help manage the sales pipeline.
Comparison between CRM & marketing automation
Marketing Automation
CRM
Used by
Marketing Teams
Sales Team
Goal
Automate recurring tasks to generate, nurture and qualify leads to pass to the sales team
Maintain a database of leads and customers to power your sales funnel
Applications
1. Automate recurring marketing tasks
2. Generate and nurture MQLs to pass on SQLs to the sales team
3. Track & improve marketing ROI & efficiency
1. Improve sales productivity
2. Maintain customer relationships
3. Visualize the sales funnel
Marketing Automation Best Practice Examples
Lead Generation
Whether you're into real estate or B2B, own an eCommerce agency, or any other business, marketing automation can help you generate leads effectively.
Take a look at this example lead gen popup from the Homesick website.
​​

Image Source: Homesick
Here are some lead gen best practices that will help you when using a marketing automation solution:
Create simple, concise and on-point forms for your website or marketing campaigns;
Incentivise sharing information via lead magnets;
Provide only one call-to-action per email to avoid confusing the prospect.
Segmentation And Targeting
One of the best use cases for a marketing automation tool is the segmentation of leads for effective targeting.
Personalize your marketing campaigns by categorizing and segmenting leads based on event triggers or actions they take on the website. Also, make sure to align your audience segments with the buyer's journey in your industry.
You can segment your leads and set up advanced segmentation filters using a marketing automation tool like Sender.
Relationship Marketing
Set up automated campaigns to build relationships with your existing audience.
You can send relevant offers, deals, and coupons to your list on their anniversaries, birthdays or special occasions. This way, they will be more inclined to remember you the next time they think of buying something.
Cross-sell And Upsell
Always set up cross-sell and upsell automation flows to increase the customer's lifetime value. Use marketing automation to trigger such campaigns based on the action they take on your website.
For example, sending a personalized email consisting of shopping recommendations or related products right after they checkout on your eCommerce store, like the following email by Dickies:
Image Source: Dickies
Lead Nurturing and Scoring
Use a marketing automation tool to score leads based on their behavior. Then, set up hyper-personalized and dynamic lead nurturing campaigns.
For example, suppose someone's in the early stage of the funnel, often lurking around your pricing page. In that case, they should receive a unique offer, different from early-stage leads going through the documentation section.
Think of dynamic campaigns as a story, but without a fixed plotline. It should aim to convert a lead, but not in the same way, every single time. Lead nurturing isn't a linear path but a complex activity.
Retention and Customer Loyalty Programs
Use automation campaigns to promote retention and customer loyalty. You can do this by rewarding your loyal customers on their relationship anniversary with you.
Remember Spotify rewarding each user every year with a personalized playlist? That was retention marketing at its best. You can also reward your loyal customers with discount offers and special deals like John & Ginger did in the following email campaign:
You can alternatively set up automated campaigns that incentivize or reward a customer for repeated purchases from you.
Return On Investment (ROI) Measurement
You shouldn't see marketing automation as a 'set and forget' tactic. Instead, use automation to speed up operations, but keep track of the ROI and analytics every now and then.
Create detailed reports using automation tools that address questions that are important for your success. Like, how many leads did a campaign attract? Did those leads convert into paying customers? How was the conversion rate?
Use the insights to optimize your campaigns through A/B tests, personalization tactics, or find new user journeys that make more sense for achieving your business goals.
Account-based Marketing
One of the advantages of marketing automation is hyper-personalization — the base for account-based marketing. Account-based marketing involves creating a personalized buying experience based on specific behaviors or user journeys.
Use marketing automation to automatically identify high-value accounts using lead scores, structure elaborate journey flows using automated flows, and automate personalized campaigns for all your ABM initiatives.
A/B Testing
A/B testing allows you to try out different campaign variations for the same audience. Marketing automation allows you to speed up A/B testing and personalize better.
Use automated flows to set up campaigns and track the result. Once you spot an opportunity for optimization, use A/B testing within automated flows to compare results and pick the best-performing campaigns.
Marketing Automation Do's and Don'ts
| | |
| --- | --- |
| What to automate? | What not to automate? |
| Lead segmentation, nurturing, and scoring based on buyer's journey, interests, preferences | Strategy to align your goals to your marketing efforts |
| Personalized marketing and communication across the buyer's journey via emails, contextual content and offers | Writing and developing content, creative design and consumer psychographic analysis to build relationships |
| Data analytics and quantitative research to measure the impact and ROI of marketing campaigns | Audience insights (qualitative research) to personalize the marketing campaigns based on user behavior |
| A/B testing for different elements of your marketing campaigns | Creating creatives and collaterals for A/B testing |
| Account-based marketing based on lead scores and stage in the buyer's journey | Sales enablement content delivery and demo to address the particular queries of a buyer |
Will Marketing Automation Increase ROI?
Marketing automation is a powerful tactic to save time and augment your growth efforts. The time you save with marketing automation can be spent optimizing growth strategies and retaining the customer base.
All of this directly impacts the bottom line — something every business owner wants from additional investment in technology.
It Saves Time And Money
74% of marketers agree that marketing automation helps save time and is an important benefit.
By automating recurring activities like scheduling email campaigns, marketing automation allows marketers to spare more time for qualitative and strategic activities.
Optimizes The Marketing Funnel
Marketing automation helps automate every activity through the marketing funnel — opt-ins, lead generation, nurturing, conversion, and analytics.
Managing everything using a single automation tool helps bring transparency and efficiency throughout the marketing funnel.
Automation helped directly impact customer engagement rates for 36% of marketers, and marketing productivity for 28% of marketers, signaling better optimization of the entire funnel.
Helps Grow Revenue
By replacing manual work associated with optimizing funnels, marketing automation adds efficiency and productivity to the marketing process.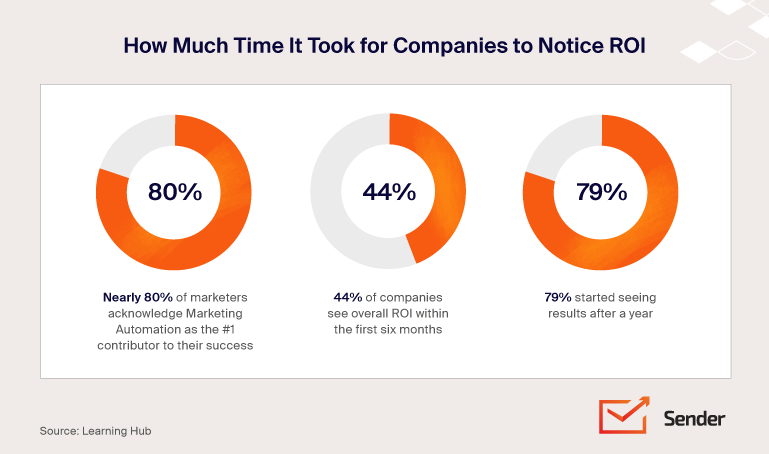 Businesses using marketing automation solution witness a 10% increase in revenues within first six months. 44% of all companies using marketing automation experience an increase in ROI after using a marketing automation tool.
Top 5 Companies for Marketing Automation
What is a marketing automation platform, and what can you do with it? What is campaign automation and how can you leverage it? Read more to learn!
Sender — Best For Email And SMS Marketing Automation
If you're keen on using a mix of SMS and email to grow your business and skyrocket your sales, Sender is here to help. Sender is a complete marketing automation package that allows you to set up automated campaigns to attract visitors to turn into customers, nurture leads, and retain existing customers.
Sender allows you to track user behavior using in-built features and set up dynamic drip sequences and popups. With a generous free plan with all the features and functionalities to automate your marketing, Sender is truly a powerhouse.
Here's what you can do using Sender:
Nurture customers and prospects with email & SMS automation;
Generate quality leads with easy-to-create popups & forms;
Retain customers and turn them into loyal fans with automated email & SMS sequences;
Set up high-converting drip sequences for upsell/cross-sell, win-back, and reactivation campaigns;
Use drag-and-drop builder and email template library for creating engaging emails.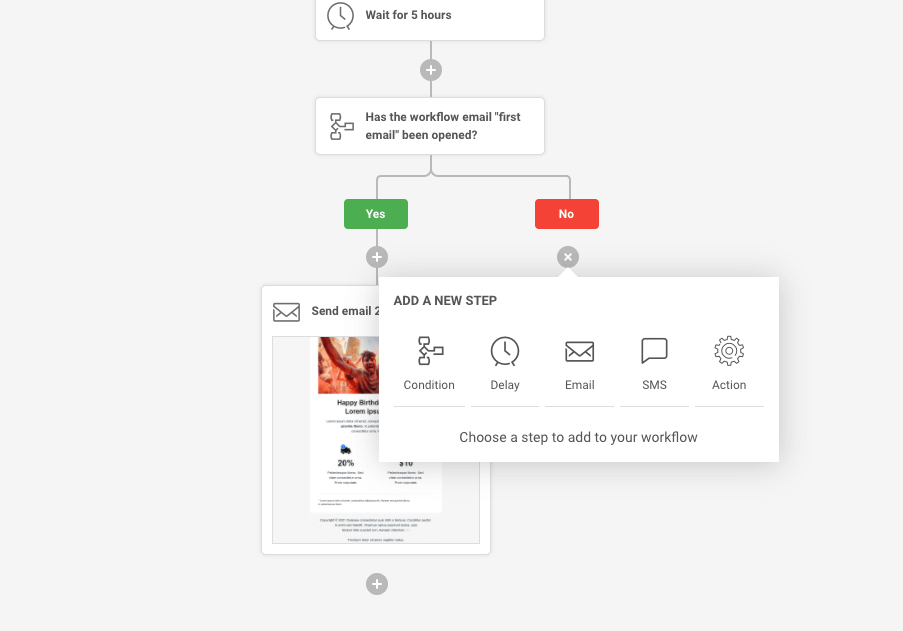 HubSpot — Best Overall CRM
HubSpot is a category leader in the marketing, CRM, and automation space. Dedicated marketing, CRM, customer service, and RevOps modules simplify executing marketing automation initiatives.
Here's what you can use HubSpot for:
Set up complex automation workflows across sales, CRM, marketing, and RevOps;
Schedule marketing tasks based on user journeys;
Track and analyze sales/marketing activities.
While HubSpot is great for efficiency, contact-based account limits are a big turn-off. Also, the monthly cost of HubSpot's massive ecosystem makes it an unviable alternative for any fast-growing company.
Pardot by Salesforce – Excellent For B2B Clients
If you're aiming for success in the B2B SaaS space, Pardot is a powerful marketing automation suite. Pardot adds visibility to the complex B2B buyer's journey by connecting to the Salesforce platform.
You can use Pardot for:
Identifying leads and prospects ready to buy;
Segment, score and integrate your leads with CRM;
Set up automated email marketing campaigns.
Third-party integrations and a prompt support team make Pardot suitable for large enterprises. But steep pricing and inclination towards the Salesforce ecosystem mean it's not useful for everyone.
EngageBay – Good For Sales And Customer Service
If customer service and sales are essential for your business success, EngageBay is perfect for you. It can help you automate a lot of recurring CRM, sales, and marketing tasks.
You can use Engagebay for:
Automating canned responses in live chat;
Service call automation and meeting scheduling;
Automate email marketing campaigns;
Integrate sales with CRM.
Unlike HubSpot and others, EngageBay is quite affordable, too. So, you can take your marketing automation efforts to the next level without burning a hole in your pocket.
Features like drip campaigns, 360 views, and a deal tracker are perfect for tracking marketing ROI. But the lack of integrations, limited template library, and complex training documentation make it unsuitable for businesses in fast-moving or high-ticket industries.
Act-On — Great Platform For Digital Marketing Agencies
Act-on is designed for digital marketers, agencies, and experienced marketing professionals. Powerful segmentation, automation, and email marketing capabilities make it a compelling solution for experienced marketers.
Act-on is focused on providing visibility across different stages of the customer lifecycle. Some of its features include:
Lead scoring and segmentation;
Website and landing page optimization;
Email and SMS marketing automation;
Marketing attribution and advanced analytics for demand gen.
The platform is easy to use, but the extensive data it offers can confuse a lot of non-technical founders. Also, the lack of template variety and a steep learning curve can turn off many users. It's suitable for someone with prior experience in marketing automation. Though its pricing is based on 'active contacts', the $900 price tag isn't something everyone can afford for marketing automation.