Turn strategy into action
Don't leave your perfect strategy untapped. Unlock its potential with Sender and see your sales explode.
Get Started For Free
Email is a pretty popular means of communication, and many people utilize it to manage their businesses, reach out to loved ones, and get the latest bits of information.
However, the sheer number of emails you receive on any given day can be overwhelming. And what's more?
Many of these emails can be irrelevant.
Receiving irrelevant emails is dismaying for marketers since it becomes difficult for their messages to resonate with potential clients. Fortunately, an email sequence can take care of the problem.
What is an Email Sequence?
An email sequence allows marketers to advertise to customers effectively and efficiently.
An email marketing sequence utilizes the sending of emails to people as they move through the sales funnel.
However, you must understand that there are different sequences to use, and you use them depending on the purpose. To create the perfect email sequence for your customers, you must know what they need.
You should also highlight the things you want to achieve using these emails.
Primarily, you'll want to:
Nurture leads
Communicate with your clients
Re-engage with lost clients as a business owner
If you utilize the opportunities of the email sequence, you can achieve all those things.
It will help you define and streamline your message to your target audience, which means you will have different messages for those who want to subscribe to your business and those who have bought a product or service from your company.
Still, you must be careful.
Email sequence targets customers; it aims to encourage and build a relationship between you, the business owner, and the client. Utilizing an email sequence means that your mail must be relatable to the recipient.
They should relate to whatever you send to them without feeling like it's a scam or junk.
Therefore, you can't rush the process of creating an email sequence. Try to be patient and attentive to what your clients want, and then make sure to provide them.
Let's check out some of these sequences.
Welcome or Onboarding Email Sequence
An onboarding email sequence contains an email you send to a customer who has just subscribed.
Not only does it welcome the customer, but it also educates and guides the client on how to use the product. It helps to build trust with the customer while sharing valuable information on the product.
Source: original Trello email
Finally, an onboarding email calls the customer to action.
However, you must strive to make these emails as engaging and interesting as possible. Because if you do not, you will lose your clients and smear your reputable reputation.
Therefore, you must put in the necessary effort to keep the client with your brand. The first step to creating the perfect email is to research your customers. Knowing what they want and are looking for will give you a better chance of keeping them in the fold.
It's prudent to create emails based on the different purchasing stages.
In these emails, you want to trigger emotions and call your customer to action. You should never send standardized emails to a subscriber. Everything from typography design to making sure the emails fit your branding – each email you send needs to resonate.
Be sure to personalize your emails – use the person's name and speak in the second person. You should also apply the waiting period rule to these emails. That is, you should reach out to your customers consistently but do not appear to be nagging them.
Overwhelming people with these messages can scare them away.
Lead Nurture Email Sequence
A lead nurture sequence helps your email subscribers to learn more about the business.
It's a nurturing stage, and you should ensure that your customers absorb as much information as you want them to and make it as concise as possible.
Use this opportunity to establish a positive relationship with your clients, making sure to fulfill any opt-in promise you may have made to them. Investing in an excellent lead nurturing email campaign means you must provide value to your customers.
The first email you should send when building a nurture campaign is a thank you email.
A 'thank you' email shows appreciation to your clients for subscribing to your email campaign. The following email you send to your customers should provide valued information that matches your clients' interests.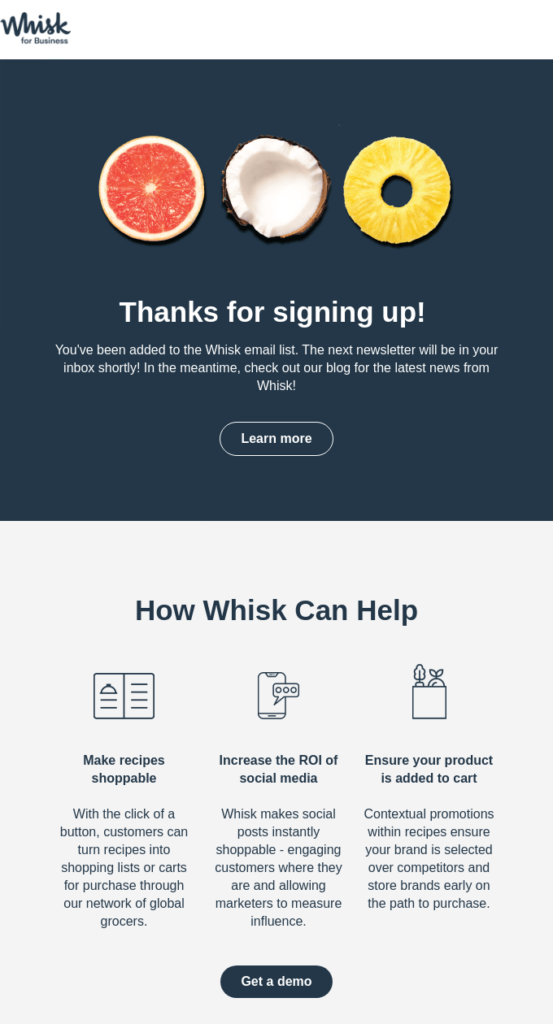 Source: original Whisk email
This information will ensure that the subscribers see more of what you can offer to pique their interests continually. The next email you need to send is an introductory mail.
This email introduces your team to your client.
You should be brief but precise in doling out information. Make sure to provide the necessary contact details to reach you or any team member.
Your next mail will contain valued information that helps the client with a problem they might have. The last email presents your product to the client and how it benefits them.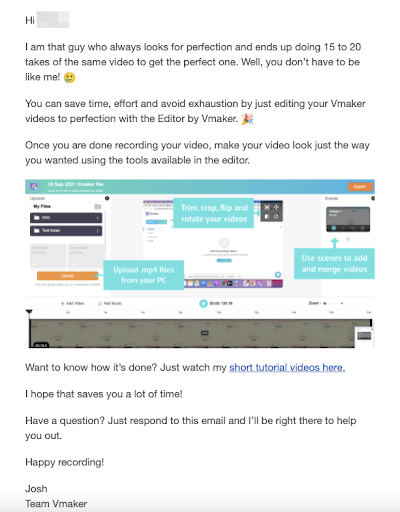 You should not overwhelm your customers with these emails. At least, try to provide them with a waiting period of about two days.
Sales Funnel Email Sequence
A sales funnel sequence highlights the steps that a person will take to become your customer. It is a pretty viable method of converting sales into purchases.
Seeing your product or identifying your service is the first step in the funnel. When customers come in to engage with your service, they have entered into the next phase of the funnel.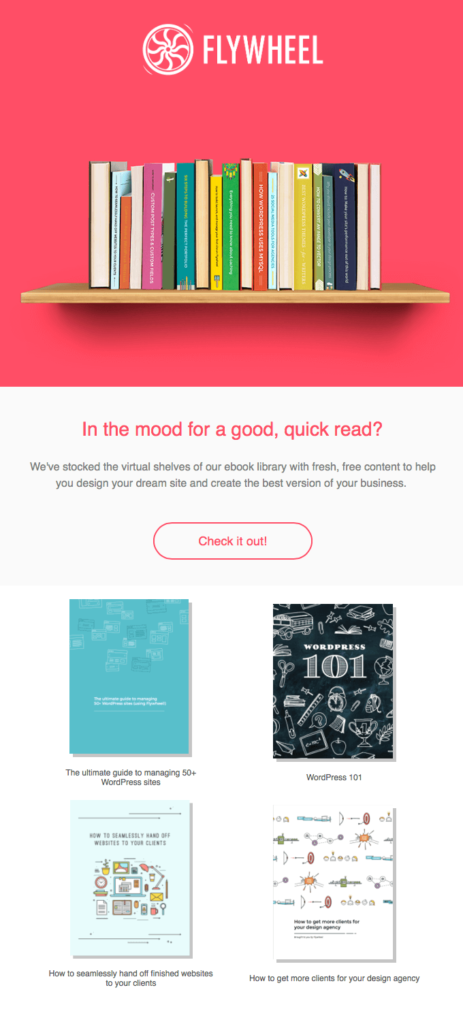 Source: original Flywheel email
If everything goes well and the person becomes a customer by purchasing the service or product, they enter and finish the last phase of the funnel sequence.
When you understand your funnel sequence, you can identify points where you need to improve.
The sales funnel sequence plays on the four phases of what happens in a customer's mind when identifying with your brand.
First, they become aware of what you are offering. This awareness can come from the severe advertisement you've invested in to ensure people can see your service.
Next is the 'interest' phase. Here, the customer shows interest in what you are offering. Then, they will decide whether to buy or not. After these stages, they will take action.
You can help push the process with timely emails, encouraging the visitor to cross the process to become a customer.
When a visitor visits your site and browses through your service, you should offer an email subscription after a while. When they subscribe, begin to work your magic and push them through the stages with targeted emails to make them do what you want them to do.
Also read: Building Winning Lead Generation Funnel
Email Follow-up Sequence
The idea behind this email sequence is to keep the client engaged with your brand and remain interested in your product or service.
It is a sequence that will also help you identify those who open and take action on their emails.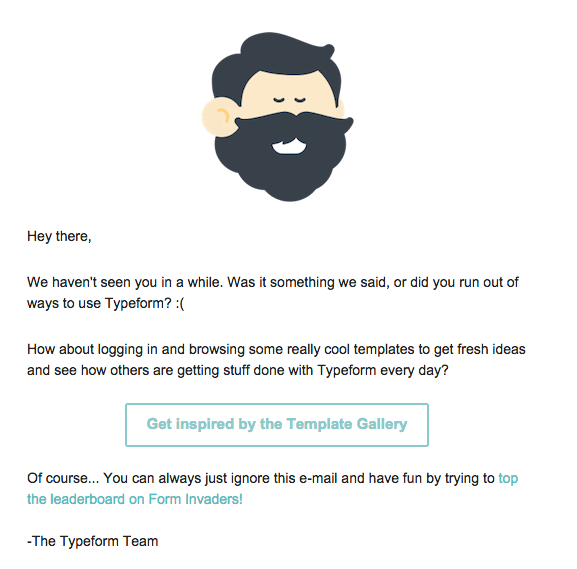 Source: original Typeform email
To be successful at this type of email sequence, you will need to be persistent. Many times, customers will disregard the email you send because of their busy schedules. However, you must follow up on these emails with precise attention to detail.
You must time the follow-up email to when your customers are likely to respond.
When you send the first message to your client, make sure to express your wishes extensively. Keep in mind, however, that your client may not read this mail or process it. You should send another email a day later with the same message in a more concise form.
Avoid attachments and don't write a different material. After two days, send another mail that only restates what you want to do.
What this mail will contain is an invitation to take action.
Some days after, if they've not replied to any of the above mails, send a breakup message, where you say goodbye, regretting that they couldn't be part of the program you're offering.
In many cases, this psychological tactic works because your customer will reply, apologizing for not reaching out earlier.
Also read: How to Write a Follow-Up Email after No Response?
Event Email Sequence
An event email sequence is a series of emails that you send around the time of an event, online or offline. With these mails, you remind your customers of the event and prepare them for it. You can make flyers with all info about the event and send them over.
You can send these emails before the event and after it. A post-event email sequence can:
Gather feedback about the product
Sell other products
Ask customers to subscribe to your brand
You can utilize the different types of content to get your clients prepared for such events, audio, visual, and audiovisual. Make sure your content follows the visual hierarchy rules to look its best.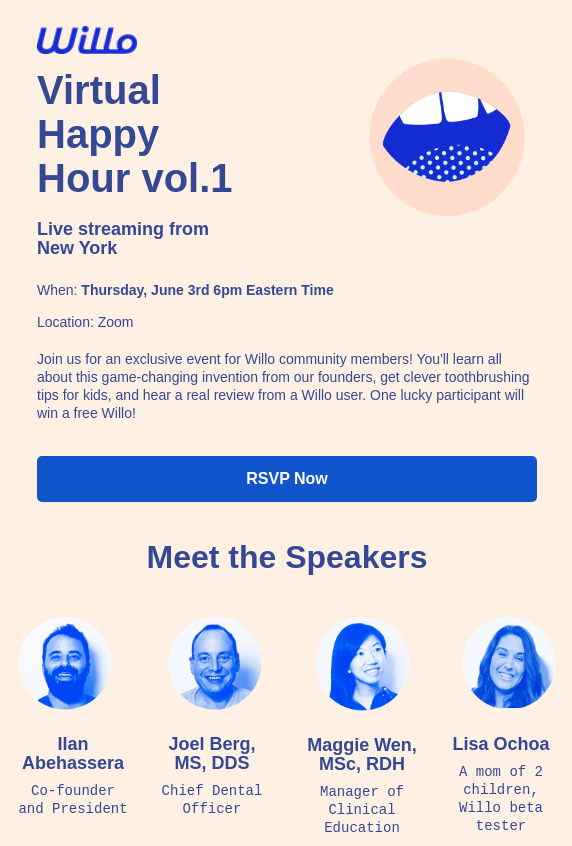 Source: original Willo email
You should also ensure that you send these emails without overwhelming your clients. Send the emails with about two days between them until the day of the event.
You should also construct the content creatively to ensure that your customers engage with the program you are bringing to the table.
You must make sure that your customers understand why the event will be beneficial to them. To this end, the email content must contain reasons for the event, highlights, and benefits of attending the event.
It should also include a CTA that encourages your clients to participate in the event.
Product Launch Email Sequence
Getting a product ready for launch is one of the best and nerve-racking times in any business.
The feeling of anticipation and optimism concerning the approval ratings of the product on the market can affect your marketing tactics, so be sure to do it right.
The best campaigns will sensitize people about the product you are launching, and this is where a product launch email works best.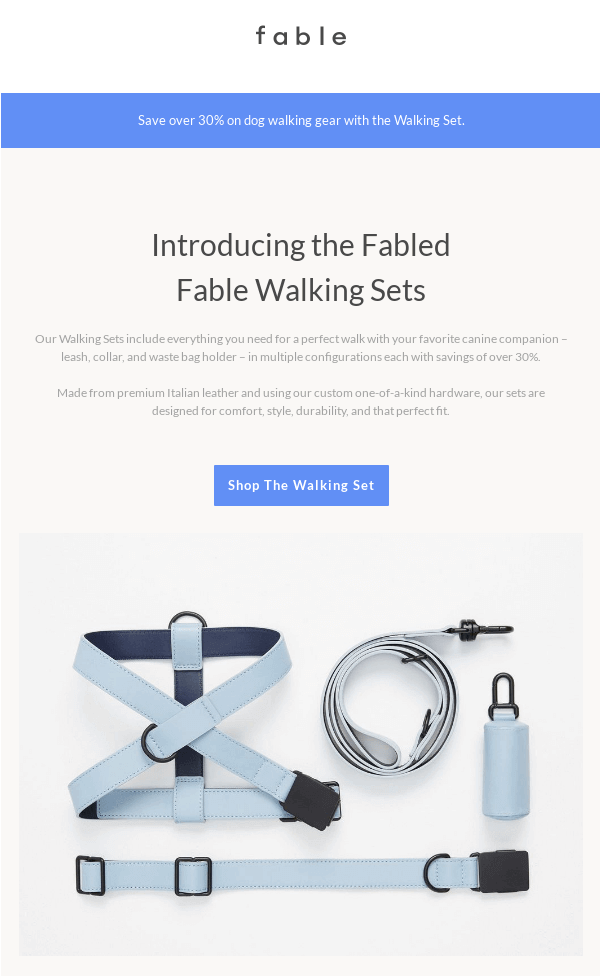 Source: original Fable email
You can utilize this sort of email to raise awareness for the product and, at the same time, provide relevant information concerning it.
In this email, you will want to cover various topics, including the product's purpose and benefits.
First, you should make sure the subject of the mail contains the purpose of the mail. By doing this, you lead and pique the interest of the customer.
After that, you should start with an overview of the product.
Concise creativity is the key in this part of the mail. You should also provide your customers with the product's key features in a way that keeps them engaged and interested.
A call to action (CTA) is a crucial aspect of your mail. It should be well-written and worded to encourage your client to buy the product.
You should also provide them with contact details of how they can reach out to the company.
These details are normally provided by adding a professional company email signature or an email footer at the end of your emails.
Also read: 10 New Product Launch Email Template Examples
Abandoned Cart Email Sequence
Are you in that situation where you put in a lot of effort to drive sales, but you do not see the desired results?
Well, you've got to do something about it.
Some customers will show interest in a product by adding it to their cart but later abandon them.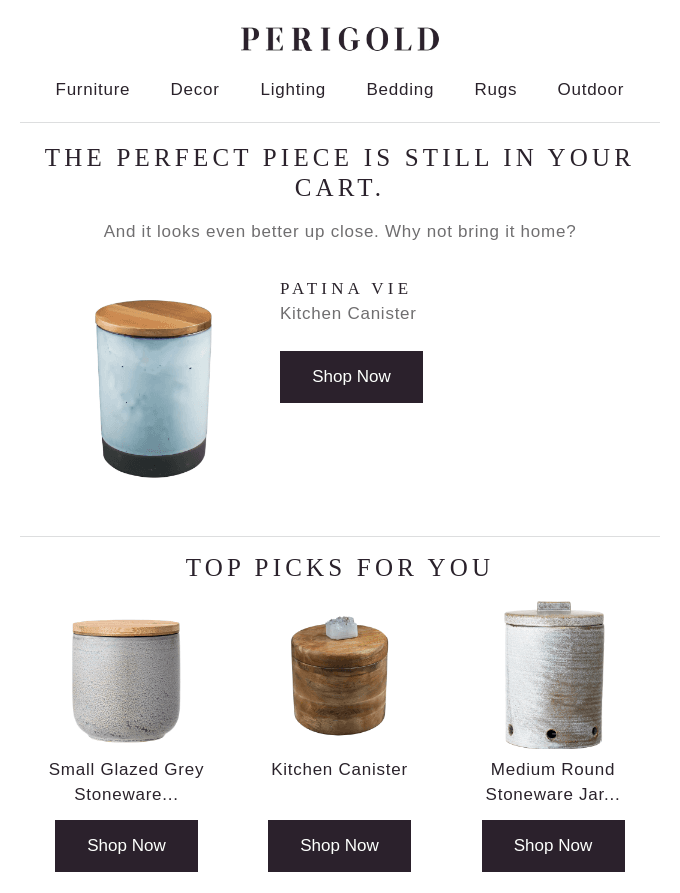 Source: original Perigold email
The abandoned cart email sequence strategy can help you deal with these situations.
If you do it right, you can recover your lost advertisement revenue and convert visitors to customers when they visit your site.
This type of email is a follow-up email you send to someone who has indicated an interest in buying your product by adding it to their cart but later abandons it. It reminds the customer of the product they left without purchasing and encourages them to go back to buy it.
You should make these mails target and pique the interest of your client. Also, make sure to utilize waiting periods to your advantage.
With a good abandoned cart email sequence in operation, your business ROI should begin to see an upward drive.
Some keynote qualities your mail should showcase are credibility and trustworthiness. You should also dwell on the positive benefits of the product to encourage the client to buy it.
Also read: 17 Abandoned Cart Emails To Get Shoppers Back
Email Autoresponder Sequence
This email sequence is the best to improve your click-through rates because it gets your subscribers to open their emails and builds a relationship with them. Most times, you send these emails to new subscribers.
You may also send them to old subscribers.
You have to plan an autoresponder email sequence to cover a decided period. Such mails have to be sent daily, weekly, or monthly to your customers, and they must contain authentic and original content.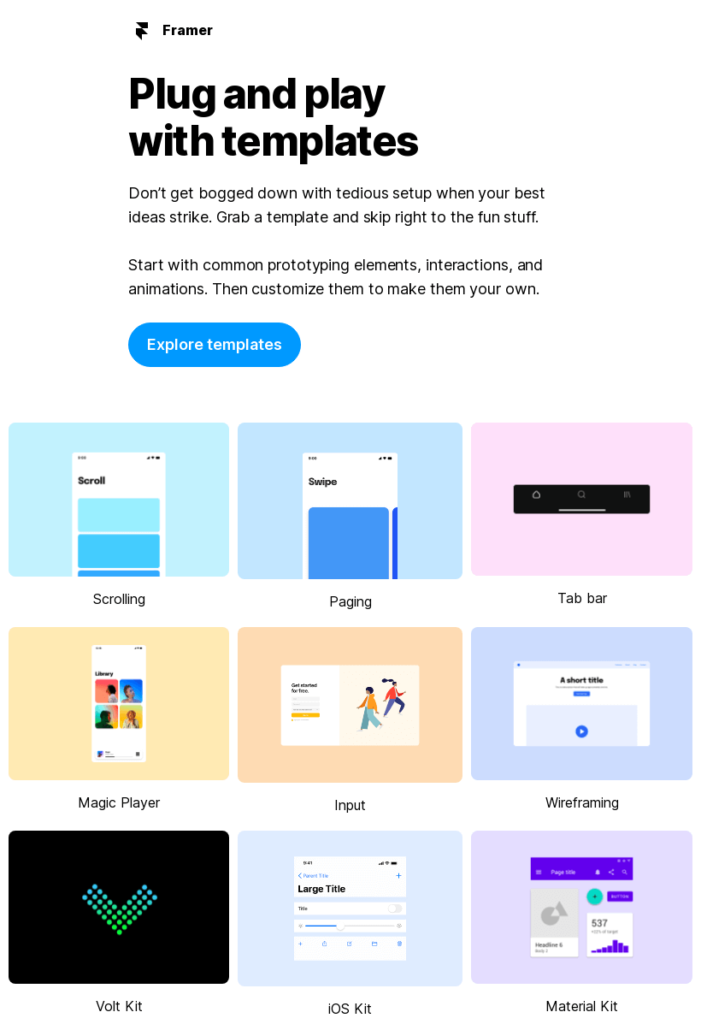 Source: original Framer email
Therefore, this is a task that will take a lot out of you. But if you get it right, you will reap bountiful rewards from your loyal customers.
To create a successful autoresponder email sequence, you need to highlight your reason for creating one in the first place. The benefits of an autoresponder sequence are vast, and when you identify your goals, you can move forward to the next phase.
At this phase, you will identify the content you want to share with your subscribers.
You must never forget that this content must be valuable and well-developed. As long as you pursue value, your customers will always open your emails. Let your content be original, engaging, and relatable.
Once you have all these done, you can send the mail. You should also monitor how the mail did with your subscribers. Doing this will help you improve as much as possible.
How to Write an Email Sequence
You should ensure that your mail engages the customers. Whatever you do, make sure you are creative with it.
Some tips to help you get started include:
Highlighting your goals clearly, including what will qualify as a success
Personalizing your emails. You can include first names or discuss demographic specifics
Creating engaging, compelling, and creative content
Utilizing a solid CTA. Always have a call to action, so they aren't confused about what to do next
Following your gut. Your audience is just an extension of your business. Do what works for you regularly and trust the process
Use the Right Email Series
Email still runs the business world, driving more conversions than other marketing channels. Therefore, you should focus on making sure your customers experience the best of it.
By utilizing the mail sequences above, you will have a better chance of reaching your customers.
---
Darya Jandossova Troncoso is a photographer, artist, and writer working on her first novel and managing a digital marketing blog – MarketSplash. In her spare time, she enjoys spending time with her family, cooking, creating art, and learning everything there is to know about digital marketing.