Like what you read?
Apply it in practice with Sender.net - the most cost-effective email marketing solution in the market.
Try Sender for free
As a small business, you probably feel like you're in the dark regarding email marketing. You might wonder what an email platform is and how to use it for your business whenever you hear that email marketing offers the highest ROI.
Email marketing is the key to finding new customers and growing your business. If you're curious about choosing the best email marketing service, read this blog and get started with email marketing for your small business.
Why Choosing The Best Email Marketing Service Important?
If you're starting with small business email marketing, you don't want to increase your troubles by choosing a complicated tool or solution. Choosing a simple yet reliable email marketing service is essential for leveraging the benefits of email marketing.
Email marketing has an ROI of 38x, which means you'd earn $38 for every dollar spent on email marketing.
As a small business, evaluating all the service providers and choosing one that suits your budget and growth needs is essential. The best email marketing service will help you in:
Engaging your existing email list subscribers through regular email campaigns;
Automating recurring marketing tasks like sending a newsletter, nurturing leads via email, scheduling campaigns, etc.;
Segmenting your customers based on their online behavior and help you personalize your email campaigns;
Boosting your email marketing performance by reducing the cost of operations and increasing engagement rates;
Coming at par with large startups and enterprises that spend thousands of dollars every month on marketing.
So, to get better at marketing, you must be serious about picking the best email service provider. But with many similar options in the industry, you might already be questioning which email service is the best.
Let's look at the attributes of the best email tools that will help you select the right one for your business.
List of Best Email Marketing Services for Small Business
Okay! You know what you should look for. So, here's a list of the best email marketing services for you to evaluate. Remember the factors we shared in the previous section when you look at these tools.
Sender
Sender helps SMBs, digital creators, and online shop owners to deliver targeted and engaging marketing emails to their audience. It's a complete marketing automation platform that supports email and SMS campaigns to increase sales and grow your business.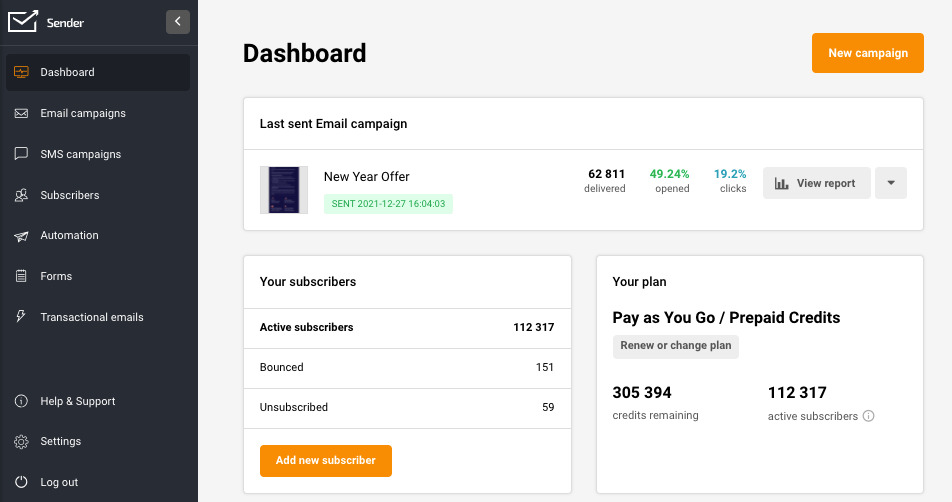 Sender's easy-to-use interface, drag-and-drop builder, and great segmentation features allow you to personalize your emails, send the right message to the right audience, and automate campaigns effortlessly.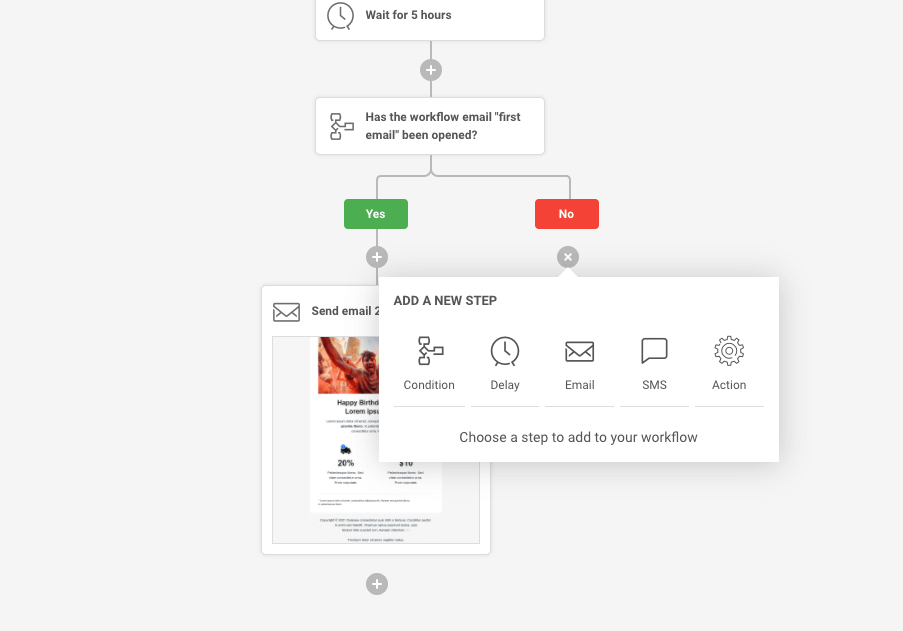 With Sender, you can truly automate your marketing efforts. Set up automation workflows like welcome emails for new subscribers, cart abandonment emails for effective cart recovery and much more (!) using the in-built automation dashboard and never miss an opportunity to grow your sales and engage with your customers.
You can also use Sender to send transactional emails & SMS for order confirmation and delivery notification emails.
Email & SMS marketing features, form and popup builder, personalization and segmentation capabilities, behavioral automation flows, and an affordable pricing plan make it a full-service email marketing solution for growing SMB or ecommerce businesses. Plus, the tool has an excellent deliverability rate across all major email clients, making it a top-rated solution for anyone starting with email marketing. 
Key Features
Powerful marketing automation capabilities with drag-and-drop workflow builder;
Omnichannel campaign creation that supports multi-channel SMS campaigns;
Behavioral marketing features that help create targeted campaigns based on subscriber activity.
Pricing
Free to use for up to 2500 subscribers without restrictions and up to 15000 emails. Paid plans start at $8 per month.
---
Constant Contact
Constant Contact is a reputable email marketing service provider that has been in operation for over 20 years as an email marketing service provider. It has all the features you need as a small business owner.
An extensive template library, marketing automation features, and support for SMS campaigns, social media posts, and ads make Constant Contact great for bloggers, creators, makers, and business owners looking for an all-in-one solution. 
Professional hand-holding and support can be useful features for a small business owner. You can connect to professional designers and marketers who can provide complete hand-holding, design guidance, custom templates, and marketing consultation for additional fees.
Key Features
Email automation features based on user activity or behavior;
Create a social post, social media ads, landing pages, survey forms, etc., from the same dashboard;
Professional hand-holding and consultation support.
Pricing
Starts at $9.99 per month for up to 500 contacts.
---
SendinBlue
Sendinblue is another email marketing vendor with a user-friendly platform to help you run complex email campaigns.
Designed as an all-in-one solution, SendInBlue has a built-in Sales CRM and supports marketing automation and transactional emails.
Sendinblue is more suitable for a small business owner inclined toward social media. Its live chat integration and sales pipeline features let you take charge of conversations across channels.
Key Features
Support for Facebook ads and social campaigns;
Sales CRM support with unlimited contacts storage;
Live chat integrations with social campaigns.
Pricing
Starts at $25 for up to 25,000 emails sent per month.
---
Mailchimp

MailChimp is one of the USA's most popular email marketing services, primarily because of its user-friendly interface and peppy branding.
Mailchimp has dozens of small biz-friendly features like automation, segmentation, email builder, etc., that can help you get started quickly. If you have a small list or are just starting with email marketing, you can think of choosing Mailchimp.
But beware, the monthly costs can quickly increase as you grow. The starter plans come with limits, and all other features and functionalities, like transactional emails, are to be paid separately, which is a sharp contrast to the attributes you should look for in an ideal email marketing solution as a small business.
Plus, the starter plan has quite restrictive limits for the number of emails you can send. So, you should look for MailChimp alternatives if you're serious about email marketing and thinking long-term.
Key Features
Drag and drop interface for building emails, forms and landing pages;
Marketing automation workflows with conditional logic;
Basic customer segmentation and behavioral targeting.
Pricing
Starts at $14 per month for up to 500 contacts.
---
Moosend
Moosend is another great email marketing solution for small businesses. Personalization and segmentation features are the reason why it's on this list.
Moosend comes with a drag-and-drop email, landing page, and form editor. Automated workflows with pre-made templates will help you in quick deployment.
When it comes to personalization, it has some advanced segmentation features to help you get the most out of your email marketing efforts.
Key Features
Powerful segmentation and personalization capabilities;
Pre-made automation flow library;
Product recommendation tool powered by AI for deep personalization.
Pricing
Starts at $9 per month for up to 500 subscribers.
---
Active Campaign
Active Campaign is a popular service with all the standard features you need as a small business owner looking to start email marketing.
Active Campaign focuses on automating personalized customer experiences and has several recipes, tools and templates to help you set up for success.
Deep segmentation, AI/ML capabilities, and advanced email marketing features make it pretty useful for small business owners as well as B2B businesses looking to stand out in their industry.
Key Features
Robust analytics dashboard with data compiled from across the customer lifecycle
Advanced tags and custom segmentation capabilities
AI/ML-powered recommendations and suggestions for automating workflows
Pricing
Starts at $9 per month for up to 500 contacts.
What to Consider When Choosing Email Marketing Service
When picking an email marketing tool for your small business, you should be extra cautious. Some tools might appear useful, but they can soon become a headache, especially if they're not designed for a small business owner.
When comparing the best email marketing tools, study and should pay attention to pricing, automation, deliverability, features, and integrations. Here's a rundown of what to look for in a good email marketing tool:
Cost
Cost can be critical when deciding which email marketing tool to use. The price of a tool should align with the size of your email list and your monthly marketing budget.
Also, the pricing shouldn't be predatory or restrictive by limiting your access to some features on lower plans. Instead, it should help you grow your footprint.
If you plan on running email campaigns for the long term (more than 6-12 months), then you should consider a cheap and inexpensive service with tiered packages that increase as you grow. 
Features
You should always look for a feature-rich email marketing tool that saves you time and helps build a strong relationship with your customers. The tool should have an intuitive and user-friendly interface, great templates for emails, and robust analytics capabilities. 
It should also have advanced segmentation features to help you group your customers and marketing automation features to help you serve your customers better. While there are many free email marketing tools, you should always pick one with relevant features that allow you to launch and manage email marketing campaigns quickly.
Automation Capabilities
Most email marketing solutions today have some form of automation features. You can get pretty confused with technical terms as a small business owner.
Just remember that the tool you pick should be able to create dynamic campaigns, send automated emails, and set up custom automation triggers. You should also be able to build automated emailing and lead nurturing campaigns based on online behavior.
Reporting & Analytics
An email marketing tool should have robust analytics features that help you understand customer behavior. An inbuilt analytics dashboard is the ultimate measure of your email marketing success. 
Make sure to pick a tool with a robust analytics dashboard that can track user activity and behavior, measure the success of individual campaigns, and help you understand how you're performing.
Deliverability
Your email marketing solution has one job — putting your email campaigns in front of your subscribers.
A good email marketing service should have solid deliverability. Many tools fail at delivering your message to the inbox, with increased privacy concerns and improved spam filters. Choose a tool that's good at distribution, follows email deliverability best practices and promises excellent deliverability. And even then, always test the deliverability through a small pilot campaign before going all in.
Integrations
As you grow your business, you'll use multiple tools to manage your daily affairs. The tool you pick should be able to integrate with various tools to improve the efficiency of your marketing activities.
An email marketing tool with support for third-party integrations will allow you to manage multiple channels and activities seamlessly. This will ensure that you won't waste time on data transfer and setup and can focus on your campaigns immediately.
Best Email Marketing Services Compared
Pros
Cons
Pricing
Sender
Small business-friendly pricing model.
Supports Email & SMS Campaigns.
Behavioral automation triggers.
Great deliverability rate.
No landing page builder (yet).
Limited signup form templates.
Free to use for up to 2500 subscribers without restrictions.
Constant Contact
Great deliverability rate.
Social media support.
High pricing plan.
Limited and non-flexible automation workflows.
Starts at $9.99 per month for up to 500 contacts.
SendinBlue
Low-cost plan.
Sales CRM with unlimited contacts.
Sending limit of 300 emails per day on the free plan.
No team collaboration or support (only allows multiple logins on business plan).
Starts at $25 for up to 25,000 emails sent per month.
Mailchimp
Clean and simple email builder.
Endless integration options.
Restrictive pricing plans, not suitable for a small business.
Add-ons for several useful functionalities that need to be paid separately.
Starts at $14 per month for up to 500 contacts.
Active Campaign
Free migration from other service providers.

Powerful analytics and reporting dashboard.
Steep learning curve.
Test campaigns (and previews) are chargeable (over and above your plan).
Starts at $9 per month for up to 500 subscribers.
Moosend
Excellent reporting features, including click heatmaps, geolocation insights, etc.
Prompt support team.
Limited form and email templates.
Average deliverability rate.
Starts at $9 per month for up to 500 contacts.
How To Do Email Marketing for Small Businesses?
Starting anything new can be pretty daunting — you've got a lot to learn, test, and improve. When it comes to email marketing, you should have a streamlined process. This helps you stay on track, prevent wasting time and effort, and help you get the most out of your marketing investments.
If you're wondering how to start email marketing for small businesses or how to send a marketing email once you've picked an email marketing service provider, here's how to get started: 
Step 1: Choose An Email Marketing Tool
This step is pretty obvious — you should first have access to a top email marketing application. You can pick any one from the ones we mentioned above. Just remember to choose a company that caters to your needs and growth goals.
Remember, no two tools are equal, and there are no 'size fits all programs for small business email marketing. Collate a list of the most-useful features for you, correlate the available options, and compare them based on the following aspects: 
Personalization features;
Email builder;
Integrations;
Marketing automation;
Pricing.
Check out the previous section for a detailed analysis of why these factors are important and how you should pick an email marketing tool that's useful for you. 
Step 2: Collect Or Import Email Addresses
Once you've picked an email marketing tool and set up your profile, you should start importing your existing email list. If you're completely new to email marketing, you should set up a signup form instead of importing to collect emails on your website.
You can embed lead capture or opt-in forms for allowing your website visitors to signup for newsletter subscriptions. 
Lead capture forms are more popular because they require minimal effort from the end user. All you need to do is ask for an email address at the end of the contact form.
Opt-in forms, on the other hand, are usually embedded within the email or on a separate web page and offer additional value to the user.
When you have an email marketing tool, it manages your email list, helps you send targeted mass emails, and set up custom email blasters to start nurturing your subscribers. You can use the list management dashboard to view your email list.
Step 3: Create a Drip Campaign or Email Series
Once you have a list of contacts, the real fun begins. You can now start creating an email campaign.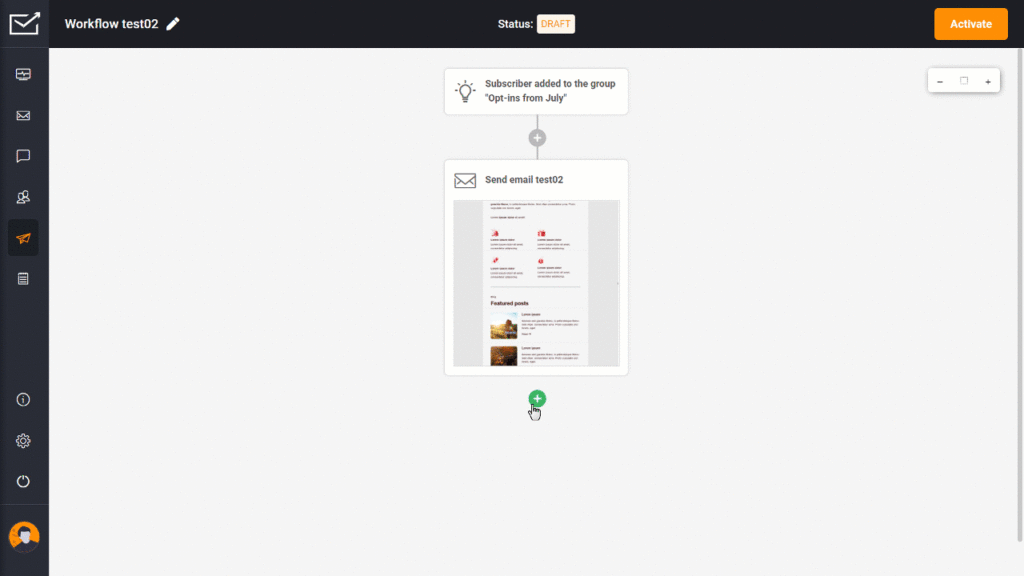 You can use your email marketing dashboard to create a one-time email blast or broadcast campaign, a drip campaign, or even an email series. For instance, you can set up an automated welcome email to a customer when they sign up or make a purchase.
You can even set up an email sequence that gets triggered based on a particular event or user action. Such campaigns involve sending a series of emails to nurture leads and strategically targeting them via personalization. Your email marketing solution will help you launch such campaigns which you can use for:
One-time advertising and promotions;
Automate email sequences like welcome series;
Setting up re-engagement email, and more.
You can use the email builder to create a fresh email or choose a template for a marketing campaign. Design the email, pick up the list of subscribers you want to target, and let the marketing automation tools do its job.
Always create a professional email design that suits your brand guidelines and style guide. You should also use personalization features like custom fields to make your emails more effective.
Step 4: Monitor the Results and Optimize via the Analytics Dashboard
Your email marketing tool has an analytics dashboard that you should use right after your first campaign. 
The analytics dashboard tracks the open rates, clickthrough rates, and other metrics that help you audit how successful (or not) your direct mail campaign was. This will help you optimize and improve your future campaigns. For example, if you're not seeing desired open rates, you should probably tweak your subject lines. If people are opening your emails but not clicking your offer, you should start segmenting your customers and personalizing the offer further.
Once you get some data based on analytics, you can use A/B testing to improve the performance further. A/B testing involves sending multiple variations of the same mailer to a set of subscribers and comparing the performance to finalize a winning campaign.
Analytics tracking and tactics like A/B testing will help you get better with email marketing and register success quickly.
Popular Email Marketing Strategies For Small Business
You've got enough information to get started with email marketing.
But before you rush away, here are a few tips for you to implement from day one after you choose an email marketing service:
Embed Signup Forms on Your Most-Popular Website Pages
When starting with email marketing, you'll need a way to populate your email list with subscribers.
Embedding signup forms on your most visited pages is one of the best ideas to ask users to subscribe to your newsletter service. This is a great way to use your existing momentum to kickstart email marketing.
Embedded forms on your most visited pages will help you generate leads and create an audience you can nurture to increase sales revenue.
Just create a signup form using your email marketing tool and embed the form on your Shopify store or WordPress website.
You can incentivize signups for your email list by offering them an offer, coupon, or an exclusive sneak peek, as AllBirds does on their homepage.
Image source: AllBirds
Create Responsive Email Designs
According to a recent report by Litmus, most people read their emails on mobile phones.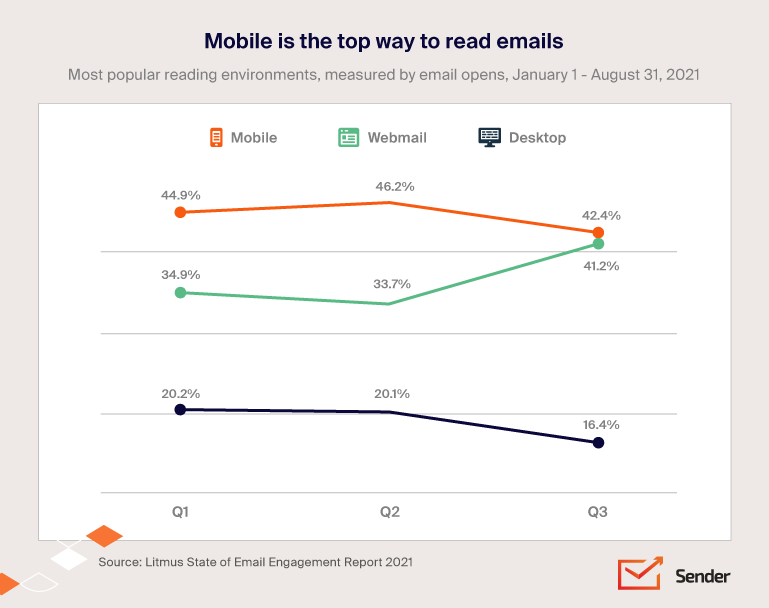 So, you should always design your emails for mobile. You don't want your subscribers to see gibberish when they see your email. Right?
Your email marketing service should have responsive templates and mobile-first features to improve the reading experience on mobile.
Segment Your Email List
To appear warm, friendly, and relatable to your subscribers (and increase sales), you should always focus on customer segmentation.
Segmentation helps you personalize your offer and register higher conversion rates. You can segment your customers based on demographics, psychographics, or online behavior.
Segmentation will help you add context to your email campaigns and make your subscribers deeply interested in buying from you. For example, receiving an email with product suggestions based on their past purchase history will make a previous buyer more likely to buy from you again.
Key Takeaways
When it comes to email marketing, it's all about building relationships with your customers. A solid email marketing service will help you save time, streamline processes, and connect with your customers on a personal level. Remember to choose a solution that has the following:
Powerful marketing automation capabilities; 
Support for multiple channels like email and SMS;
Affordable monthly pricing plan that suits your budget; 
Reliable deliverability metrics.