Employ your powerful emails
Increase sales and engagement by sending your well-designed emails with Sender.
Get Started For Free
If there's one marketing channel that has had a universal impact across niches, industries, and audiences, we can safely agree it's email marketing.
Low-cost yet high ROI, what's not to like about it? But you only really benefit from email marketing when you grow your list using email subscription methods.
In this article, we discuss what an email subscription is, its fundamental components, and best practices for your email subscription forms. We show you how to implement it for your business immediately with a free tool (that's better than paid)!
What is an Email Subscription?
Your blog audience absolutely loves what you write and want to check if your weekly newsletter matches up. Or maybe your website visitors want to hear more from them because they are interested in your product or service.
How can they tell you about it?
To define an email newsletter subscription form simply — it's an easy and convenient way for your website or blog visitors to "opt-in" and slide inside your "mailing list'.
When someone opts into your mailing list, they are said to have subscribed and consented to receive email communication from you in the future.
You can choose to embed your email subscription form on your website, blog, or landing pages. Alternatively, you could also design popups that do the same job.
Having a well-designed and optimized email subscription form is a crucial starting point for any email marketing strategy.
Again, Why Take Email Marketing So Seriously?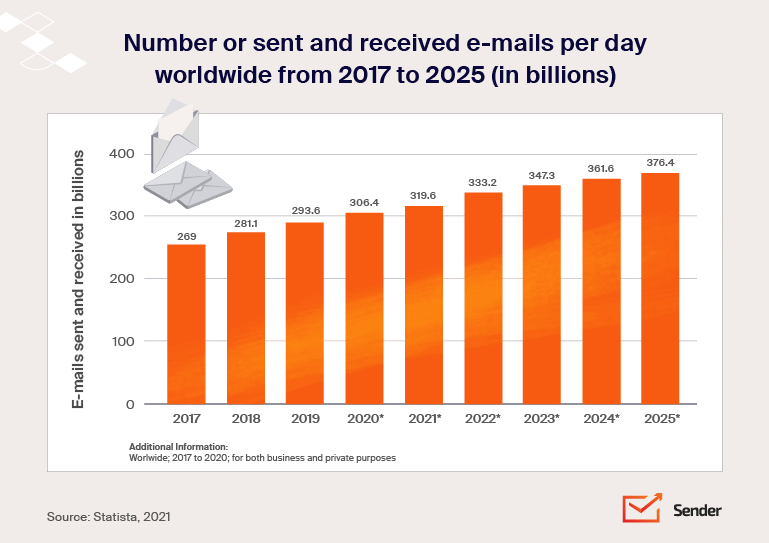 How Does Email Subscription Work?
Email newsletter subscription is a process by which individuals opt-in to receive email communications from a business or organization. Here is how an email subscription typically works:
The business or organization provides a way for individuals to sign up for email updates, either through a sign-up form on their website or by providing an email address in a physical or online store.
Your email marketing tool collects and adds this email address to a default list. This ends the "single opt-in" process where no further confirmation is sought from the customer before sending them the following email.

In the case of "double opt-in", your email marketing tool does the above and then sends out a confirmation email to the email address that was just submitted.
This confirmation email requires the subscriber to open their inbox and click on a link inside the email to take them to a micro landing page. Once the subscriber confirms that they want to stay subscribed, is the user's email address added to the website's mailing list?

This process is also called "double opt-in" and offers more meaning when looking for highly curious subscribers.
Single opt-in will help your list grow faster since it is as simple as just typing out an email address in an online form. But most subscribers will just as quickly forget your website and business.
Double opt-in requires a prospect actually to take the effort of confirming their email address, so you end up getting a high-quality engaged audience and therefore leads this way.
Still in doubt? Always go double opt-in. As a matter of fact, if you are from Germany or Australia, most email marketers will tell you this—double opt-in is a must.
Also read: How to Create an Email Newsletter: Latest Definitive Guide
Email Subscription Elements
An email subscription mechanism is easy to set up, but it has some key components that you must not miss. Here are a few examples of how businesses and organizations might use email subscriptions to engage with their audience
Lead Magnet
A lead magnet is a low-cost (usually FREE) high-value resource given out to prospects in exchange for their email address. This should have value for the subscriber's eyes and be immediately deliverable and consumable. For example, for B2C businesses, you could offer FREE PDF e-books, video tutorials, discount coupons, Checklists, etc.
Keep in mind:
Make your prospect feel rewarded in exchange for sharing your access to their inbox.
Winning introduction of your business.
Highly concerned prospects (especially if using double opt-in) who can be nurtured over time.
Great example by Neil Patel – FREE audit of your website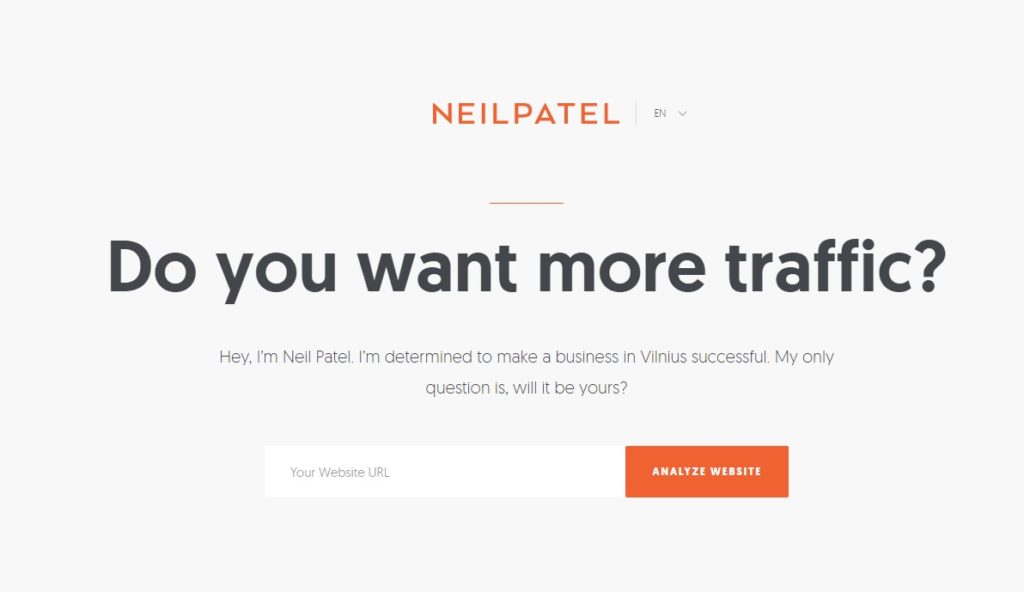 Email Subscription Form
When you say you want to grow your email subscription list, meaning you want to increase the number of interested prospects, all you're likely daydreaming of is email subscribers & newsletters.
An email subscription form is one that your website or landing page visitors fill up to get on your mailing list or newsletter service.
And the way you'd get them to do it would be to offer a relevant and valuable piece of content as a lead magnet in exchange for their email address.
When using email subscription forms, you'd ask the prospect for their email address at the bare minimum. Using multiple fields, however, can help you collect additional information, such as their first and last names, geographical locations, pet names, and so on.
However, be warned that this is the start of a new relationship. So, if you are asking for too much information, the form completion rate could likely plummet.
Also, using custom fields in your form, you can collect any information that will help you better serve your prospects. For example, if you're in a protein supplement business, you could ask them what their favorite flavor is.
Check out the signup form Macy's utilizes to collect email addresses for their newsletter.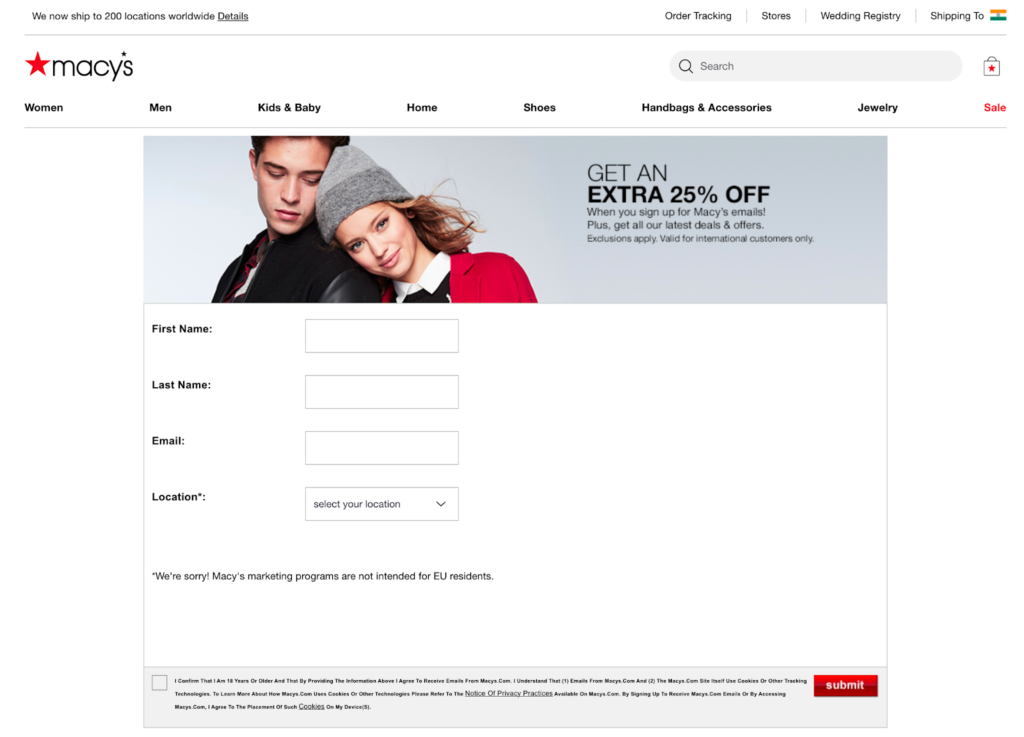 Website visitors who sign up to Macy's email list get 25% off, and we think that's a fantastic way to grow your email list.
Also, being a retail store, knowing the customer's location can help them convert this online conversation into in-store footfall traffic. Win-win either way!
Email Subscription Popup
Both popups and forms help you answer the all-important question of how to get more email subscribers.
A popup is much like a subscription form in that both are used to opt-in prospects and collect leads. However, the main difference lies in their implementation and the user experience they provide.
With forms, you design the forms and then copy-paste custom HTML code to embed them inside your website or landing page. That means these forms will be static and always where you placed them last.
On the other hand, pop-up forms are dynamic and can be customized to match user behavior.
You can easily create these forms and popups with Sender's Free Forever plan without any hassle!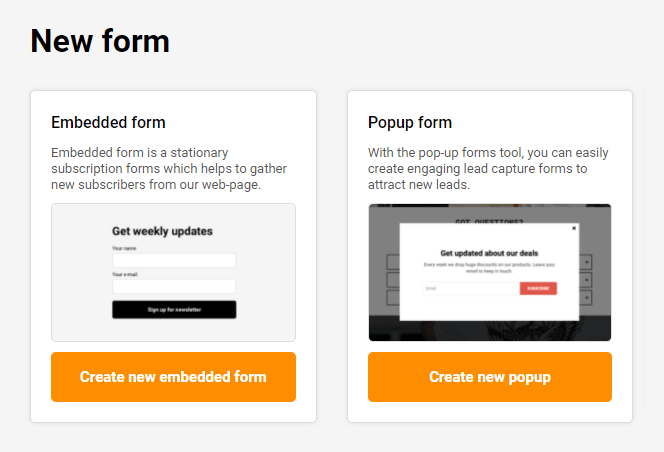 Popups are potent for a number of different business use cases—early access popups, sales promotion popups, ecommerce popups with a countdown timer, and more.
For instance, you could modify your popup window behavior settings to trigger an exit-intent type popup that'll appear only when a user tries exiting the page.
You could also configure a popup to show after 50% of the page content has been scrolled or precisely after 15 seconds. The possibilities are endless.
Also, on average, pop-ups convert at 3.1%, while the best ones convert at 9.3%. So they appear like a high-performance and automatic choice at first glance. However, overuse of popups adversely hinders user experience and makes your business look hyper-promotional, aggressive, and borderline desperate. So use them with care.
Take a quick look at how Nike gets it right with its use of popups on the home page.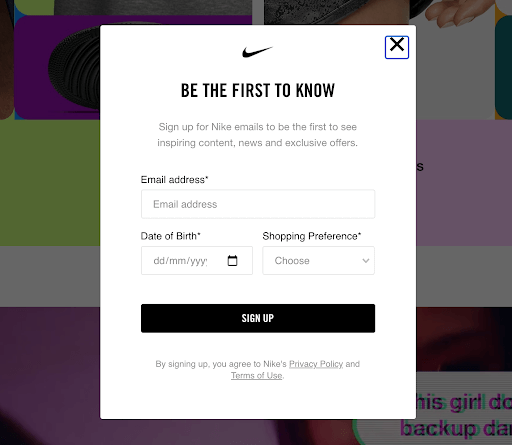 Also read: 12 Effective Newsletter Signup Examples & Popup Form
Email Confirmation Letter
A confirmation email is usually sent out as an automated email to users when they sign up. Its purpose is to verify their consent for email communication from your business.
It's helpful because sometimes, someone's email address gets submitted inside your subscription form without their knowledge or consent.
The confirmation email is a part of a double opt-in process only. And while not mandatory in all countries (even GDPR recommends it but doesn't mandate it), it is an excellent practice because it filters out spam or fewer engaged visitors.
Example of the Confirmation letter by Sender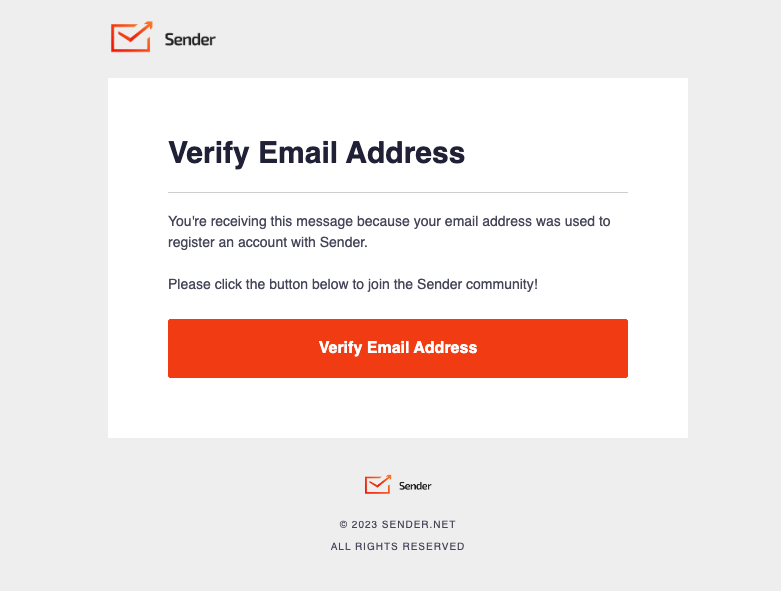 How to Setup a Free Email Subscription Form & Popup
If you've been struggling with figuring out how to set up email subscription forms and popups, there's no need to worry. Growing your email subscription service has never been easier.
Registering for an account on our platform is not only quick and effortless but also 100% free!
Send up to 15,000 emails monthly using our simple-to-operate tool to up to 2,500 subscribers for no cost, including all top-tier features like Email & SMS automation.
Start by creating a free account.
Choose the type of signup form you want—embedded or popup.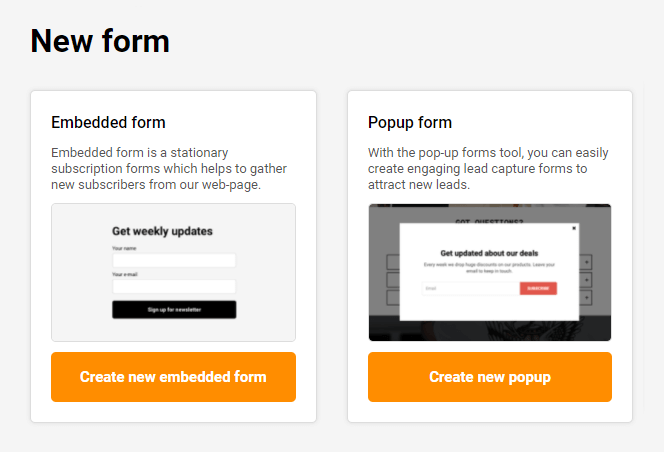 Choose from a range of predesigned, high-converting templates, or choose to design your own from scratch. Using a template makes the process faster and more effective.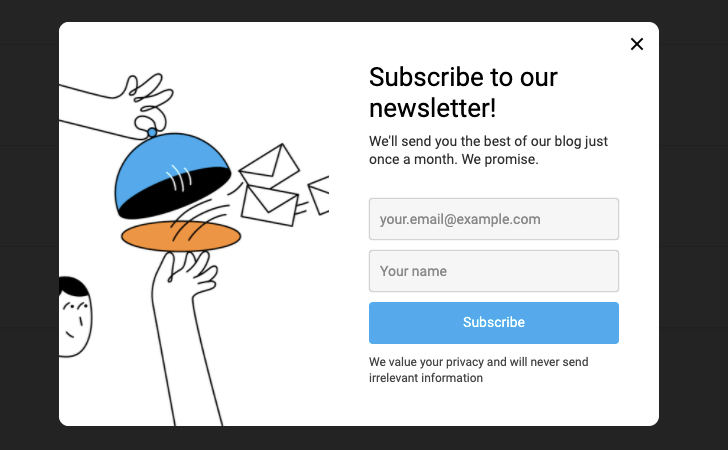 Customize the input fields in your form. Additionally, if using popup forms, customize behavior based on time or exit intent.
Design thank you message.
Add the generated code to your website manually or use plugin integration. Both ways, it's a few-click job.
Whether you are using plain old WordPress to run your blog or running an ecommerce website over Squarespace or Woocommerce, it is effortless to start growing and profiting your email list with Sender's plugin integration. You can visit the help center by clicking here for a complete guide.
5 Email Subscription Form & Popup Examples
Heard the quote—"Inspiration does exist, but it must find you working"?
We think it's true to a great degree. Therefore, we put together the following subscribe newsletter examples to inspire you to grow your audience properly.
Alex Cattoni's Sign-Up Form
Alex Cattoni is a top-notch copywriter with over a decade of high-conversion writing experience, and her website as such represents her personal brand, "Copy Posse".
Her sign-up form is hard to miss as it is not only above the fold but also stunningly attractive. It aims to register leads for her copywriting training programs.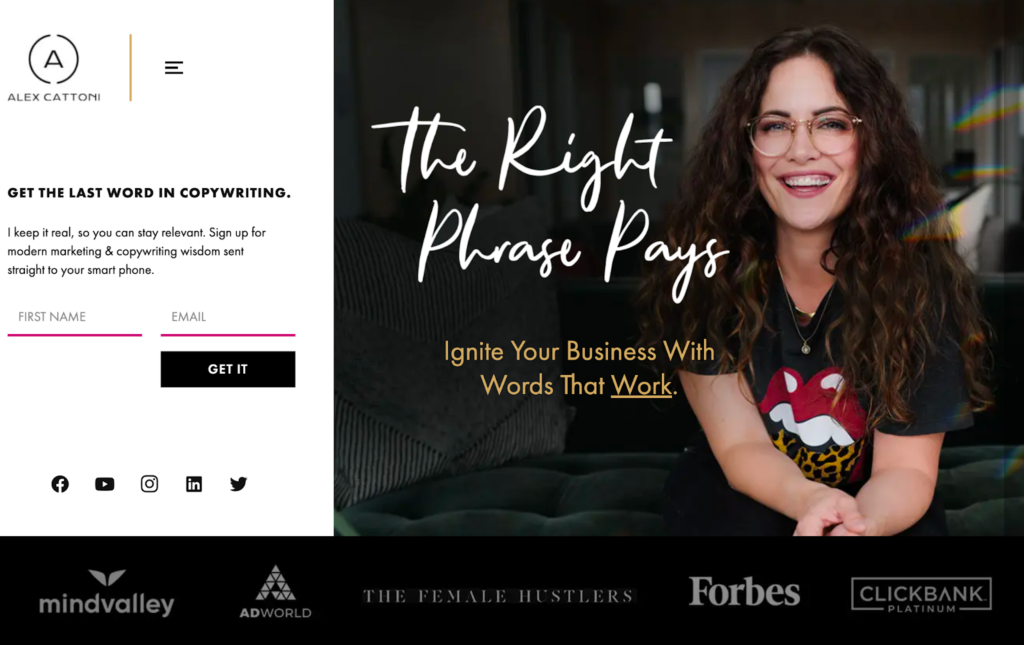 What do we love about it?
Eye-catching, mobile-friendly design;
Great copy giving you compelling reasons why you must sign up;
Shows social proof in the form of logos of significant brands she supposedly worked with;
Collects the first name (instead of just the email address), which can help Alex Cattoni effectively personalize her emails to the list;
Short and sweet CTA "Get It" instead of the cliched "Subscribe To My Newsletter"!
All in all, a well-executed sign-up form that we believe converted well.
Girlfriend Collective's Exit Intent Popup
We admit. There is a common narrative about popups that they disrupt the user experience. However, this is not true when you implement them within the proper context. In particular, when it comes to capturing visitors who are just about to leave your website.
Girlfriend Collective, a sustainability-based activewear retailer, shows us the right way to do exit intent popups.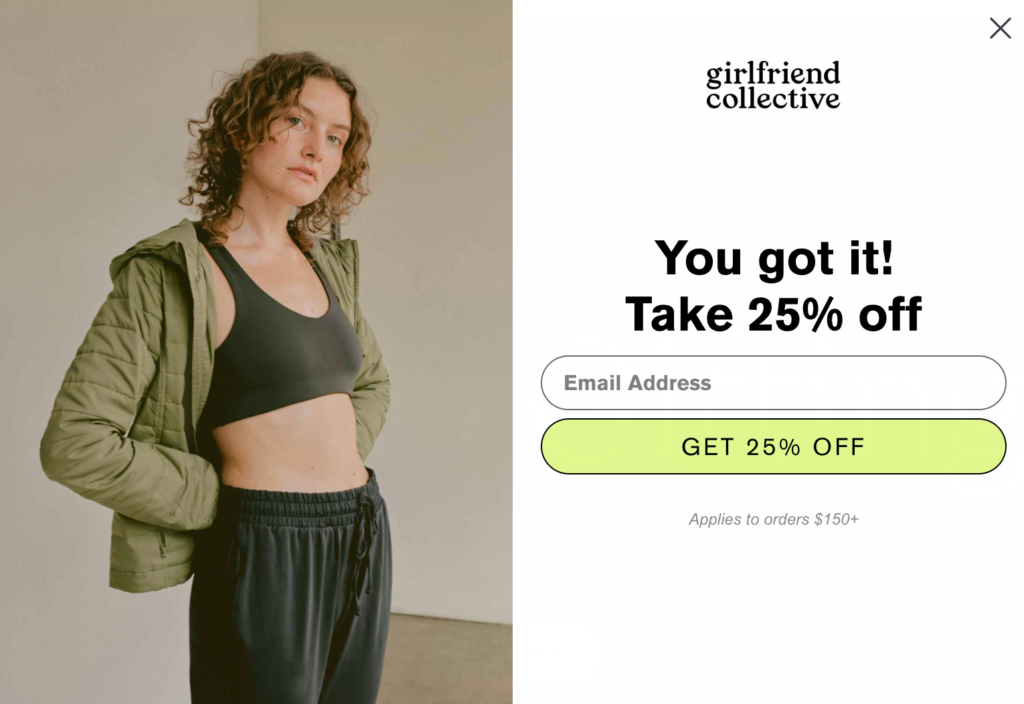 What do we love about it?
A striking creative of a real-life model wearing one of their stylish products showing us how it's done;
Whitespace makes the text stand out in a clean, crisp design;
Clear call to action (CTA) telling the visitor where to click next.
Next, onto an example of a form that promises a lead magnet.
Appsumo's Lead Magnet
Appsumo is a top marketplace for online SaaS software & digital products. Its target audience is entrepreneurs and businesses of all sizes and niches.
In this case, Appsumo is aiming to attract prospects by sharing with them something they're likely to value—no code business tool ideas. Such a value offering, often given to prospects in lieu of their email addresses, is called a lead magnet.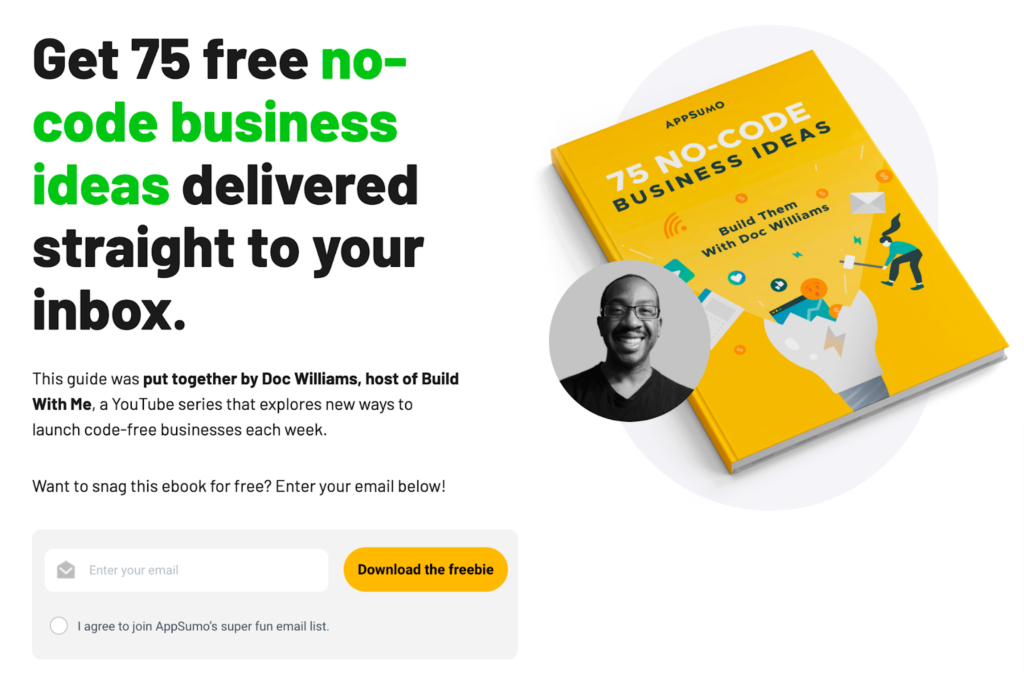 What do we love about it?
Attention-grabbing headline;
Fantastic creative that showcases what the reader will be getting once they sign up;
Simple yet effective CTA that mentions the golden word "freebie" (because people love the word "free").
Hestan Culinary's Newsletter Sign-Up Form
Hestan Culinary, an award-winning innovative stainless steel cookware retailer, attracts sign-ups for its newsletter subscription using its simple yet attractive form placed just about the web page footer.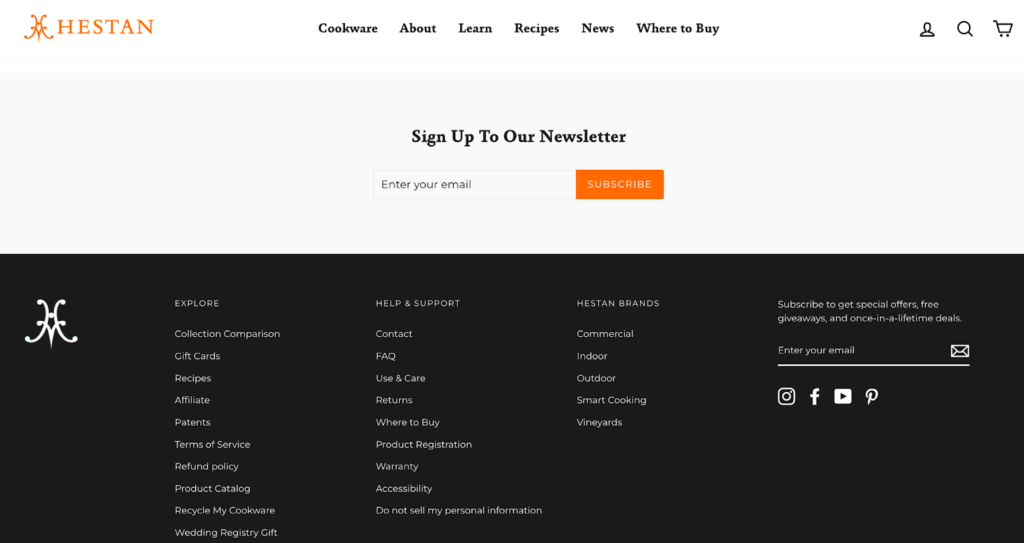 What do we love about it?
Great choice of font and typography;
Nicely styled CTA button that you cannot miss as you scroll down;
Collects only the email address, which may have resulted in higher form completion rates.
We do, however, feel that including a compelling reason or benefit below the CTA button or the header could massively improve both the quality and quantum of signups they're getting.
Otherland's Animated Popup
Animation is a great way of keeping the interest going, especially when it comes to popups. Otherland's popup is a great example of this.
It is an interactive popup that opens up only when you click on the discount button on the left-hand side of the page. And it asks you for your email address in the next step only when you say yes to their offer.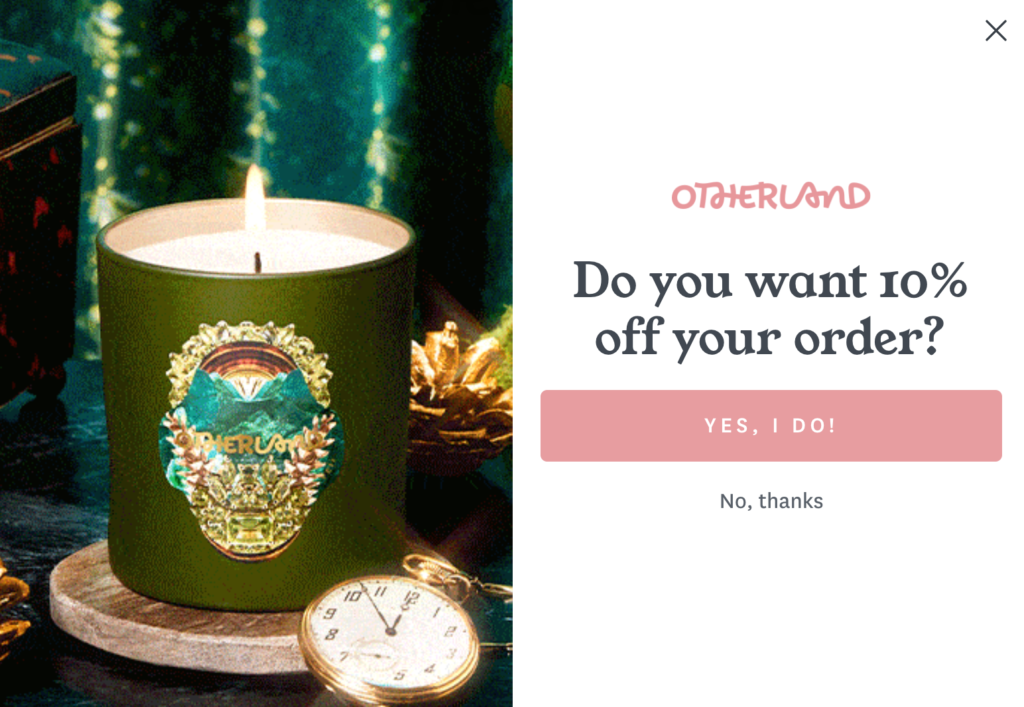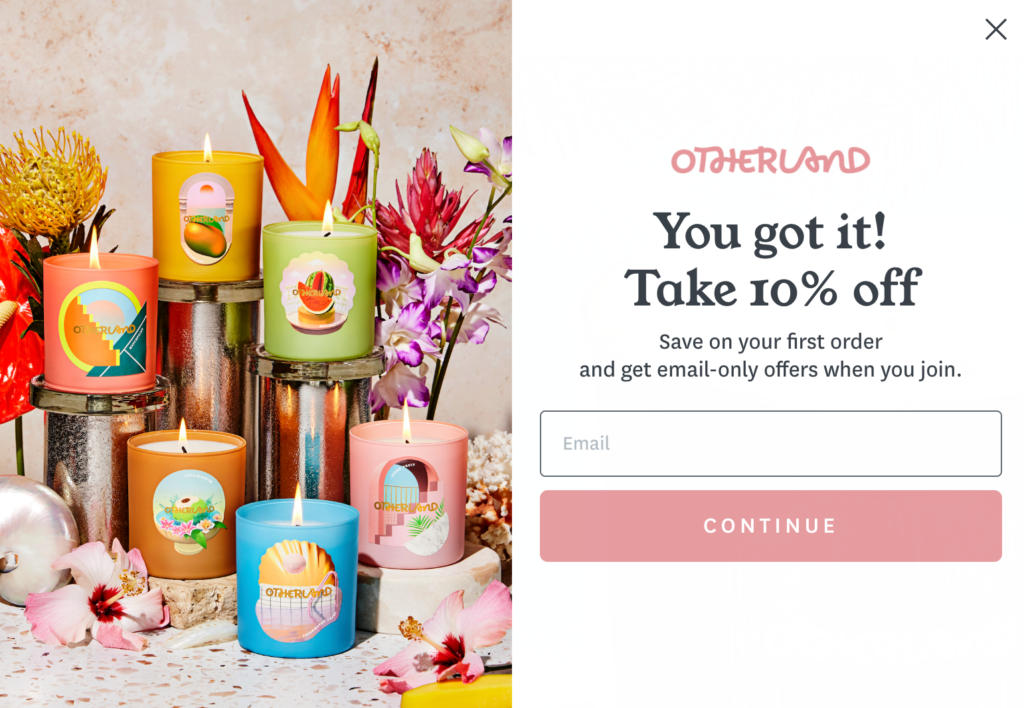 What do we love about it?
Compelling animation that wows you at first look;
Makes the reader feel special by promising exclusive email-only offers that only subscribers are entitled to;
Out-of-the-box, natural-sounding CTA — "Continue" instead of a generic "Subscribe" or "Submit".
Checklist for Effective Email Subscription Process
Whether you're a blogger trying to set up a Wix or WordPress email subscription or a business owner setting up a contact form for your website, the following checklist will help you design better email capture popup and form systems.
Build a highly interested list of hungry subscribers using the following best practices.
Always use double opt-in to increase your email list size. It ensures a high-quality list and keeps your business legally clear.
Design a great lead magnet. Research your target audience's pain points and determine what they need most.
Place popups on your highest-traffic pages.
Ensure that your popups are mobile-friendly, aka responsive.
Always personalize your popups in accordance with the landing page or web page holding it. For instance, popups placed on your lead generation service page should offer a lead magnet relevant to that page for maximum effect.
Make it easy for them to join by keeping the form simple. Keep minimum fields (ideally only one).
Maintain persuasive, benefit-driven copy & call-to-action (CTA) on all subscription forms and popups.
Don't lump email addresses together. Instead, segment incoming email addresses into different lists, ideally by source, if it helps you better.
Are you looking to drive traffic to get more subscribers? It's more important to set the right expectations from day zero. Set up email automation with a welcome sequence to be sent out to your subscribers as soon as they confirm with a double opt-in.
A/B test your popups and forms for all major elements — copy, creative, design, website page, and CTA.
Next, good list hygiene management is essential, making it easy for email subscribers to cancel or opt-out. Doing this is better than being marked spam and not hitting the inbox for other valid and interested subscribers.
Reconfirm your reader's agreement to sign up for your list by including a checkbox that reiterates the type of emails they are likely to receive and how frequently that's likely to happen;
Set it up to increase subscriber experience. For instance, the ​​popup only shows once to a visitor.
Lastly, engage your new signups on your thank you page. You can include your best content there, social proof elements, or by leading them to your social media handles.
Struggling to solve the problem of adding an email subscription to WordPress or looking for ecommerce ready solutions for your Shopify or Magento 2-based ecommerce site?
You may want to consider using an email marketing platform like Sender that comes in the form of ready-to-install plugins that help your email marketing strategy hit the ground running.
Also read: 8 Popup Maker Plugins For WordPress
Fine-Tune Your Email Subscription Strategy
Today's modern-day marketing challenges call for a renewal of approach. As such, digital marketing offers you a whole array of options to market and boost your business growth, including direct (where you approach the prospect with an offer) and indirect marketing (the prospect finds you).
Email marketing is a form of direct marketing that can have the most significant results on your business's top line. And getting your email subscription mechanisms firing is the best way to ensure this gets done profitably.
Also read: