Capture leads without a hassle
Level up your lead generation with Sender's powerful popups and build your email list like a pro.
Get Started For Free
Using popups is an extremely effective way of marketing, especially for online stores & lead-generation websites.
They give you a chance to re-engage visitors before they leave. A well-timed popup relays your message while increasing its visibility and gives you a second opportunity to connect with your visitors, effectively doubling your chances of converting them.
Although it is a successful strategy – popups can be a nuisance to the users, thus affecting the overall rank of the website. Be mindful when installing your popups, especially on mobile. Google penalizes websites for using "intrusive interstitials" (annoying popups, in other words), except for legal (cookie and privacy policy) popups.
That being said, there are plenty of great popup makers for WordPress or other CMS, which not only allow you to create beautiful and well-converting popups but also take into account best popup practices and offer great analytics. Below we review some powerful popup maker plugins for WordPress website.
1. Sender Popup Creator

Key Factors
Free plan option.
Easy integration to WordPress or other CMS websites.
Customizable good-looking templates.
ReCaptcha & Opt-in features.
Sender Pricing
Free and paid, and the free plan gives you access to all features. Sender's monthly subscriptions start from 9€, however you can opt for a custom solution if you require a larger plan.
Sender Integrations
WordPress/Woocommerce, Prestashop, Magneto and more.
It can be used with a WordPress plugin and without plugins with Javascript and HTML. You only need to add a Javascript code to your website code and then access settings through the Sender platform.
How to Create a Popup Form for a Website Without Knowledge with Sender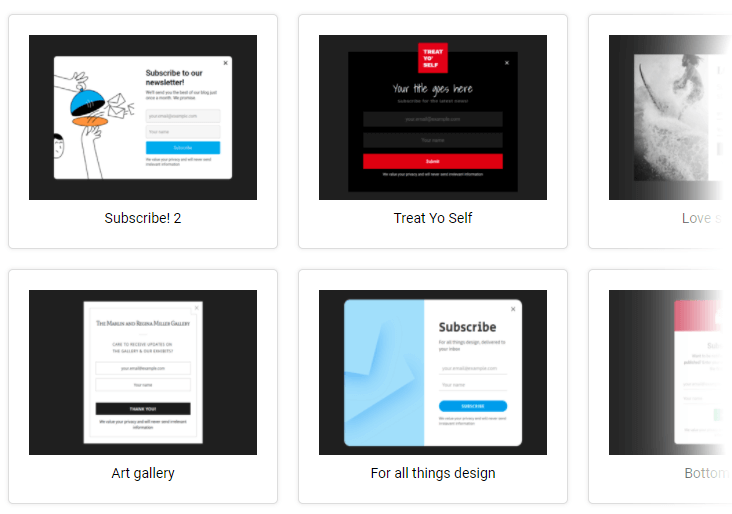 Sender Features
Sender offers several different template options, and the designs are fully customizable later in the process.
The "Behavior" section allows you to set up the desired function. Here you can set up a timer when the popup appears, show the form only when the user scrolls to a specific percent of the page, or choose to display the popup when intent to exit is detected. 
You could choose how frequently the same user will see the popup if they did not take action previously. Pop-ups can be scheduled to display on a particular date or set up to only be shown on certain pages and/or devices. 
Once the desired pop-up set-up is complete, you will find the form's script, which must be embedded into the web page. Additionally, report statistics, like total signups, will be displayed as well.
Forms modification will not change the script code. Once the latest progress gets saved on the platform – changes will automatically reflect on your web page.
2. Squarespace Popup Forms

Key Factors
Fully customizable popup forms.
Announcement bar option.
Doesn't require any programming.
Don't have an exit-intent popup option.
Squarespace Pricing
A premium feature, popups are only available in Business and Commerce plans, prices ranging from $18-$40.
*Squarespace currently allows personal account holders to submit a request to include announcement banners as part of Covid relief.
Squarespace Features
This pop-up form is easy to use and doesn't require any programming knowledge, making Squarespace is an excellent tool for content managers. Although it might not be the best for web developers as their popup forms don't support custom code. But Squarespace Popup forms also simple to use with WordPress.
Creating a popup with Squarespace is a straightforward process, and popup designs are fully customizable. Use style tweaks to edit buttons, fonts, colors, animations, and many more. The popup preview updates as you make changes, so you can experiment with different looks to find a design that works best for you.
Form & Button Conversions allow you to see how visitors engage with the promotional popups, as well as track your form submission conversion rate.
Squarespace allows to enable only one popup at a time – this can either be a subscription form or an action button. Another option is to use an announcement bar to display another message on your site.
Another thing to note is that promotional popups only appear when the user visits a particular page, and Squarespace doesn't offer exit-intent popups.
3. Elementor Modal Popup

Key Factors
Advanced rules for a modal popup.
More than 100 popup templates.
Easy integrations.
Elementor Pricing
While there is a free version available, it does not include a form builder. Paid versions vary from $49-$199.
Elementor Features
Elementor is fairly easy to use – just set up the form, fill in the rules in the predetermined boxes, and you have your popup! There are various triggers, rules, and conditions that determine when a popup occurs. The popups can either be manually triggered by an action or triggered automatically through conditions and advanced rules. The said rules gives the user more flexibility and allows creating HTML image popup, on click CTA's modal popups, and HTML popups.
They currently have over 100 Popup design templates to choose from, all of which can be enhanced by custom CSS.
Elementor does not limit the number of popups on a page, so be mindful when setting it up – otherwise, it can negatively impact your user experience.
Elementor's popups easily integrate with MailChimp, Drip, ActiveCampaign, ConvertKit, HubSpot, Zapier, GetResponse, MailerLite, MailPoet, Slack, and Discord.
4. Mailchimp Popup Maker

Key Factors
Free plan.
reCAPTCHA and opt-in confirmation option.
Multilanguage option.
Mailchimp Pricing
Mailchimp has a number of free and paid plans to choose from, and their popup maker is included in all plans. Their prices start from 9$, and plans are customizable to suit the needs of your business.
Mailchimp Features
Mailchimp popup forms are user-friendly – allowing you to design the form to fit your brand, add a special offer or discount to help grow your audience, and boost your sales. Customization includes choosing your style preferences, picking a layout, and controlling how and where the popup appears.
Mailchimp uses cookies to limit the number of times a visitor sees the popup form to once a year. Although if the user clears cookies or uses a different browser – the form will reappear. Also, the popup form is a single opt-in by default, although you can make it double opt-in and add reCAPTCHA confirmation to prevent fake sign-ups.
Mailchimp also allows you to set up pop-up forms in a different language – a beneficial feature for those trading internationally.
You can preview your popup before publishing to see how your form will appear to your visitors across different devices.
When you enter your website URL Mailchimp generates a code snippet, which needs to be copied onto your website.
If your site is connected with Shopify, WooCommerce, and PrestaShop, Mailchimp allows for auto-publishing the form once it's designed.
5. Hubspot Pop up Forms

Key Factors
Free plan.

Integrations with more than 400 apps.

Drop-down banner & Slide-in box options.
Subscribers tracking.
Hubspot Pricing
Free tool, with paid options for various marketing solutions also available.
Hubspot Features
Hubspot offers a straightforward tool to create mobile-optimized pop-up forms without needing a developer. Hubspot popup forms integrate with more than 400 apps.
Several different popup types to choose from, such as drop-down banners and slide-in boxes – these popups are easily customizable and will work on any website.
Complete CRM helps you manage all the leads gotten from the pop ups, with detailed and extensive analytics to examine how the forms perform.
You can also set up email notifications so you will be alerted once the lead converts on a pop up form.
6. Popupsmart Builder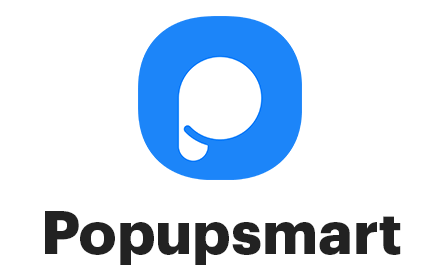 Key Factors
CRO Consultancy option.
Large gallery of design options.
Option to add popup with Google Tag Manager.
Popupsmart Pricing
Free membership allows creating unlimited popups, yet page views are capped at 5000. Premium memberships range from $29-$129, and paid options offer more benefits, such as unlimited websites and analytics.
The Expert membership also includes CRO Consultancy, where Popupsmart's own optimization experts examine your website and propose possible improvements for optimal conversion.
Popupsmart Features
Popupsmart's tool is accessible to everyone, as there is no need for coding. This tool is set up in minutes, and users can create their first pop-up campaign.
Popupsmart has an extensive gallery of design options, which promise to improve conversion rates with advanced targeting features.
A unique feature is a teaser pop-up that shows up before or after the main pop-up. It works to increase the pop-up visibility up to 65%, and it's set up to appear according to your targeting options. 
Popupsmart is compatible with all websites – add a single line Javascript code to the source code of the site, or add the code with Google Tag Manager.
7. Poptin Pop-ups Maker Tool

Key Factors
Client/subscriber account management.

Different types of pop-ups.
Advanced pop-ups targeting features.
Poptin Pricing
Free and paid options available – plan prices range from $19-$99 per month, and all plans include unlimited pop-ups, even the one that's free.
Poptin Features
Poptin is a versatile pop-up maker tool with many integrations, agency plans, and client account management. Choose from different types of pop-ups, such as lightbox, full-screen, slide-in, top/bottom bar. Poptin also has advanced targeting features like exit intent, and they offer an A/B testing feature. A helpful drag & drop editor will make this tool easy to use for those with no programming knowledge.
You can also use their built-in autoresponder that can be set up to send an email immediately after someone opts in. 
Poptin also boasts great customer service, which includes live chat support with short response times. Additionally, their special plan for agencies helps manage all client accounts under a single dashboard.
Integrations with:
CRM:
Agile CRM.
HubSpot.
Pipedrive.
Powerlink CRM.
Salesflare.
Zoho CRM.
Automation: Zapier.
Platforms & CMS: BigCommerce, Blogger, Drupal, Joomla, Instapage, Leadpages, Magento, Opencart, Shopify, Squarespace, Weebly, Webflow, Webydo, Wix, WordPress.
8. Sleeknote Popups

Key Factors
Free 7 day trial.
Vast number of templates.
Easy to optimize popups for different device.
Smart triggers.
Sleeknote Pricing
Starting you off with a free 7-day trial, Sleeknote has different membership options to choose from, starting at Basic membership, offering 50,000 sessions per month for €49, up to Enterprise membership with 750,000 sessions per month for €549. Custom plans to suit larger session numbers are also available.
Sleeknote Features
Easy to use drag and drop tool, no web developer required. Sleeknote offers a vast number of templates, and the designs are customizable to complement your website's aesthetic. There are several conditions and triggers to choose from, helping you engage your site visitors without hurting the user experience.
Sleeknote's device-specific campaign editor allows you to easily optimize your campaigns for mobile, without hurting the user experience.
Smart Triggers analyze how visitors engage with your site and find the best time to show your popups.
Most Popular Form Builder for WordPress: Contact Form 7

Contact Form 7 Pricing
Free, Pro version is available for $15.
Contact Form 7 Features
Contact Form 7 is a free form builder WordPress plugin used by many developers because of its advanced features. biggest
One of its more significant drawbacks for people building their own websites is that this tool is not a simple drag & drop. That makes it hard for those without HTML, or at least in-depth WordPress knowledge, to build or edit a form.
Although, as a professional tool, Contact Form 7 offers a lot more flexibility for custom solutions. Rather than just fiddling about with templates to yield a suitable design, with Contact Form 7, you can customize the layout, fields, and logic for your popup. Once you have the desired popup form set up – Contact form 7 will generate a shortcode to be pasted onto any page of your website.
Also read: 5 Best Newsletter Plugins for WordPress in 2022 (Free & Paid)