Social media platforms are arguably the fastest growing traffic sources in human history. Use it to your advantage!
Today, every mainstream social media platform has no less than hundreds of millions of users, adding up to around 2.46 billion users worldwide, according to Statista. Having in mind that social media referral traffic from two of the giants (Facebook and Pinterest) adds up to almost 26 percent – it is no wonder that marketing via these websites became very popular among businesses. These outlets, if used correctly, can generate unbelievable amounts of traffic.
However, it takes a lot of time to properly use and manage these platforms. All of the possibilities social media marketing presents may seem overwhelming, but that's where social media marketing tools come in handy. These tools will help you manage all social media platforms with ease.
Here are several tools to help you out.
Best Social Media Marketing Management Tools
Sendible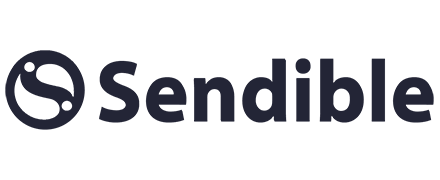 Key features
Post previews. Post previews allow to preview how your posts will look before publishing.
Content calendar. Scheduled posts on one visual calendar.
In-depth reports.
Sendible is an all-in-one social media management tool which helps social media managers streamline how they manage social media for brands – from planning and collaboration to engagement and analytics.
Perfect for agencies who have multiple clients, Sendible's dashboard allows you to quickly and easily respond to brand mentions and comments from one centralised place. The ability to compose multiple posts from Sendible's smart Compose Box is also a huge advantage of the tool.
---
HopperHQ

Key features
Social media calendar
Scheduling to multiple social media channels
Instagram analytics
Instagram carousel support
Instagram grid planner
Hopper HQ is a social media management tool, helping agencies, brands and influencers save time planning their content for Instagram, Facebook, Twitter and LinkedIn, to make space to focus on other creative tasks.
---
Brand24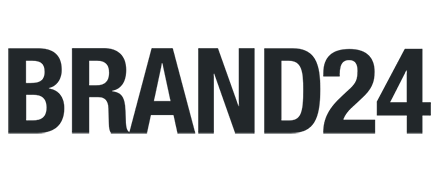 Key features
Social media monitoring
Newsletter monitoring
Podcast monitoring
Sentiment analysis
Social media reach
Hashtag tracking
The tool covers a wide variety of sources, including all major social media platforms, newsletters, podcasts and every inch of the internet. This solid and affordable tool can help you monitor and manage online reputation, track and assess marketing campaigns and your competitors, get customer feedback, do social selling, and more.
If you want to maximize the potential of your social media marketing with one simple app, then Brand24 is something worth testing.
---
Milanote

Key features
Write notes & to-do lists
Organize with drag and drop interface.
Share workspace for team collaboration
With hundreds of built-in templates
Milanote is a tool for organizing creative projects into beautiful visual boards. By design, it feels a lot like working on the wall in a creative studio – visual, tactile and sometimes a bit messy – Milanote is a great fit for designers who work in teams remotely.
---
Oktopost

Key Features
Drag-and-drop visual publishing calendar
Deep CRM integration for trackable metrics
One-click employee advocacy publishing
Advanced social listening and monitoring
Oktopost is a full B2B social media engagement suite that supports modern, data-driven organizations. From social publishing and employee advocacy to social listening and advanced social analytics, Oktopost is your one-stop shop for all your social needs.
Built specifically for B2B companies, Oktopost is a user-friendly platform that centralizes your social tasks and data in one place. Its most valuable feature, the employee advocacy board, allows you to create and share ready-to-post social content with your employees to amplify your brand message further.
Best Social Media Scheduling Apps
SocialBee
Key features
Content curation
Content creation
Content categories
Social media scheduling and publishing
Social media analytics
SocialBee is an all-in-one social media management tool that allows you to move all your social media content creation and distribution tasks to one place.
It supports posting on the most important social media platforms out there, such as Facebook, Instagram, Twitter, LinkedIn, Google My Business, and Tiktok.
With SocialBee, you can create, schedule, and evaluate your content to all your social media accounts from one intuitive dashboard faster and easier than ever. Not to mention that you can invite your team to the platform, tag them, provide feedback and approve or dismiss the post before sharing them on social media.
It has advanced features that allow you to build your posts from scratch, including your graphics, by using the Canva integration.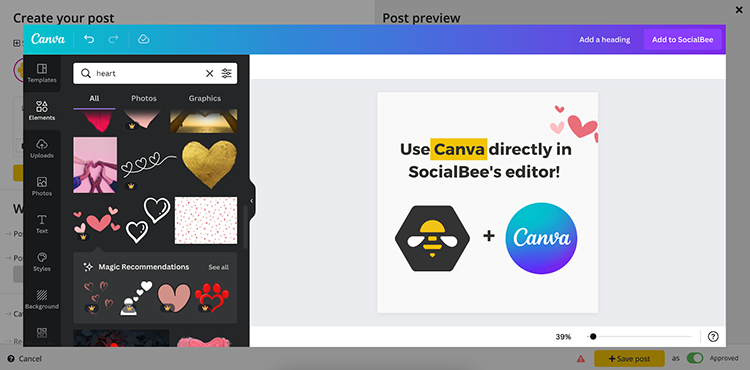 ---
Recupost

Recurring Schedules to post content on different platforms either monthly or weekly
Libraries to manage content while creating recurring schedules
Inbox to easily manage comments & replies
Workspace feature for agencies to manage social media profiles
White-label reports for agencies
RecurPost is a "One-click Share all" social media scheduling app that helps marketers to plan, schedule, and manage social media posts on all platforms. With Recurpost, you can not only publish posts at the "best time" to gain maximum engagement but also create recurring schedules to gain attraction on your blogs. Our Library feature helps social media managers to manage their content efficiently.
Apart from bloggers, RecurPost is ideal for small businesses/startups to delegate their clients using the Workspace feature. The Inbox feature helps users to easily reply to messages and align your team members to reply to them. Users can easily avail of these features starting at $12.50.
---
Tailwind

Features for Instagram
Instagram partner integration.
Smart hashtags
You can switch between auto-post and notification reminders for simple Instagram Story scheduling.
If you'd like to have your social presence scheduled and maintained in an orderly way this tool is exactly what you need. It is a simple mechanism that will allow you to create a schedule.
You'll be able to decide exactly when and how you want to reach Instagram and Pinterest users without putting too much time and effort in it. And, considering the staggering accumulation of over 3.7 billion visits over the last 6 months – these platforms are truly worthy of your attention.
Main features for Pinterest
Schedule posts from around the web on Pinterest using the Tailwind browser extension.
Join Tribes of like-minded people in your niche to share relevant content and grow your reach.
Easily reshare your best Pinterest Pins and the best times for engagement using SmartLoop.
Keep an eye on your progress with our Pinterest and Instagram analytics.
Best Social Media Design Tools
Design Wizard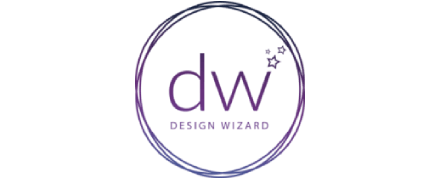 Key features
Custom color palette
Free font library
Resize feature
Integrations with Hubspot, Buffer, Intercom and Marketo
Searchable templates
If you're looking for the next big tool to support your social media marketing, party planning, and visual content creation, look no further than Design Wizard.
You'll be able to create good-looking posters, images, and videos in a matter of seconds. The website holds over 1 million images and above ten thousand videos.
With videos, you can create TV-quality video footage quickly and easily. Video is moving quickly with marketing and is now an essential addition to your social media strategy.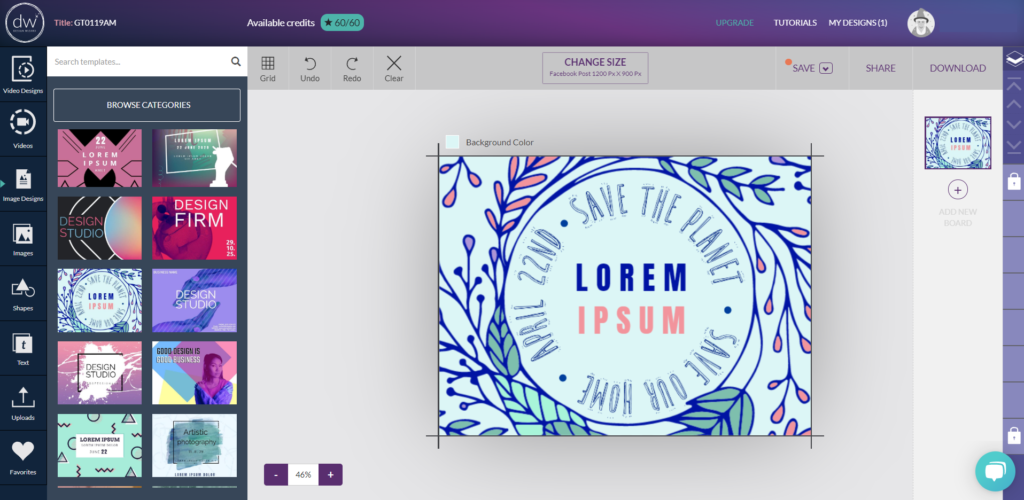 ---
PhotoADKing

10000+ Templates for Image & Video
Integrated Graphic and Video Collection
Remove Background From Images
Create Objects With 3D Editor
Easy Drag & Drop Online Design Tool
Creative Font Library
SVG Support
PhotoADKing is a graphic design tool that has over a million layouts, photos, graphics, and fonts to choose from. The software can be used by both professionals and non-designers, allowing users to create stunning graphics using a simple drag-and-drop interface.
---
Edgar

Key features
Unlimited content library
Color-coded categories
A smarter content composer
Shorten links and track clicks
Upload and edit in bulk
Handy browser extension
Native video support
Auto-expiring content
Most entrepreneurs would probably agree that most successful businesses are the ones that solve a relevant problem. MeetEdgar is meant for exactly that – solving a specific, relevant problem. Founder and CEO Laura Roeder has capitalised on the lack of concrete software that she needed as a social media expert and a tutor. She has been in need of a tool that would recycle and publish social media updates without ridiculously tedious manual work.
Therefore, she has decided to take matters into her own hands and so – one of the best tools for e-commerce business was born.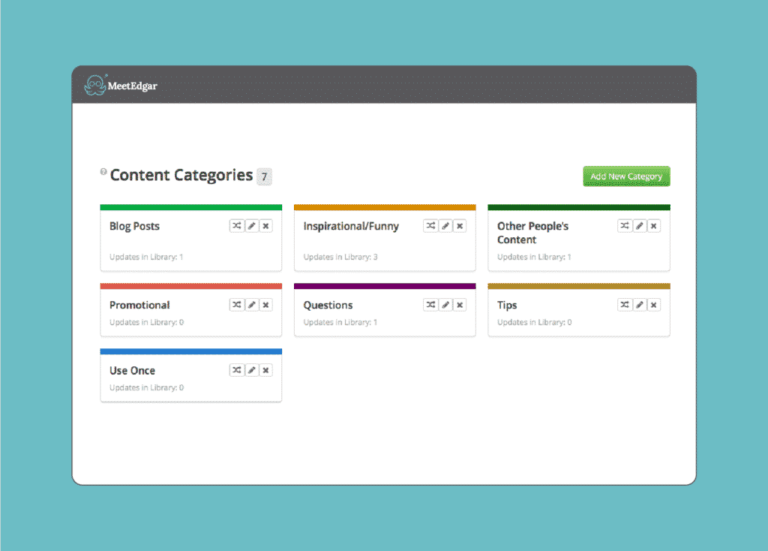 Whether you're a startup or a booming enterprise, the six tools mentioned in this post are worthy of your attention. Make sure you try them!
---
Mega Creator

Built-in graphics;
Ready-made templates;
Free font library;
Opportunity to create custom images;
Searchable graphics.
Mega Creator is an online design tool that lets you create content for social media. To get started, choose the type of social media template or start from scratch. There're many ready-made templates to choose from, and you can customize not only Mega Creator's built-in resources but also any photos, backgrounds, or graphics you wish to add to your image.
Apart from built-in visual content, add professional effects to images that include people, like changing face expression or body position.
Best Social Media Video Maker
Biteable

How would you present your company in the best light possible? In what form would the information be preferred by the majority of the internet? You probably already know the answer – video.
We all know what works best at this day and age, so why doesn't every entrepreneur use it? Because it is quite difficult to execute it properly. For the video to fulfill the expectation of each consumer there are a bunch of criteria.
We're so used to seeing quality content that every video is expected to be edited by a professional and that's both time consuming and expensive. Although you don't need to worry about that anymore – Biteable is here to help you.
Here's what you can do with this tool:
1. Pick a style
Unless you have tons of experience in video editing, you'll have a hard time creating aesthetic looking video. Don't worry though, Biteable templates will guide you, so you'll be able to produce neat-looking material anyway.
2. Choose a track
Also, they've got their own music library, so you won't need to look for that elsewhere nor be worried about copyrights issues.
3. Video editor
Easy to use interface – from uploading your content to editing. Videos you create can be used in various ways – ads, explainers, presentations, and so on. You'll also be able to share the final product on your social media by a single click of a button.
---
VEED
Easy-to-use video editor;
Screen Recorder;
Live Streaming
Subtitles and Transcriptions.
VEED makes it easy to create stunning videos for your social media content. It's a drag-and-drop video editor with one of the largest libraries of HD video clips and professional-quality music tracks.
Additionally, you can use this tool to add subtitles or transcribe your existing videos. It also offers a variety of video effects and a toolkit that can be used to create fun videos. Whether you need a professional training video, a pitch video, or just want to make some social media content, VEED is here to help.
Best Social Media Photo Editor
Instasize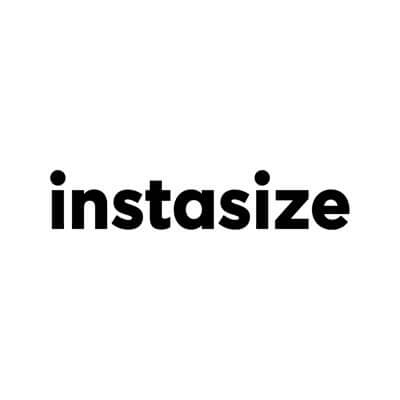 Photo editor
Video editor
Stock library
Resizing tools
Web Stories
Instasize is a photo and video editing app that has an incredibly user-friendly interface, making it perfect for aspiring digital creatives. The app is a handy tool that allows you to make professional-grade edits straight from your mobile phone.
Web Stories enables users to create engaging content independent of any social media platform, meaning you can post them anywhere through a shareable link. Plus, the convenient resizing tool formats your content for any channel with just a tap.
Best Social Media Analytics Tools
Buzzsumo

As an E-Commerce business, you always should try to stay up to date with opportunities to get publicity and generate traffic to your website.
Moreover, you ought to do so in a way that is as little time consuming as possible. Sometimes it may take more time to conduct the research than to create content, which is not optimal at all. You should leave all the dirty work to Buzzsumo.
This tool identifies and tracks the most engaging content on the Internet and by doing so – helps you create better content.
Research – You'll get access to the most shared content for a topic or domain, today's trending content, competitor content, formats that are gaining most traction, most asked questions on a topic, etc.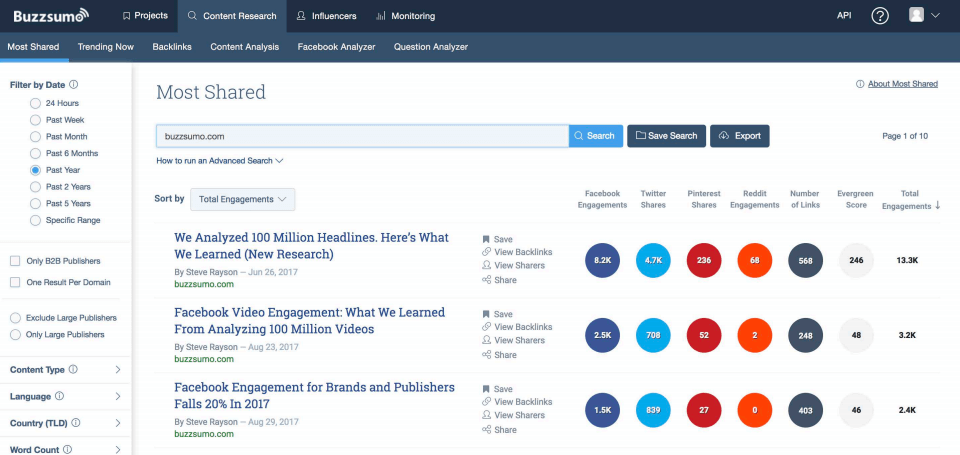 Amplification – See the top influencers and authors for any topic, influencers that would be willing to share and linking to your content, people who are already sharing your and/or your competitors' content.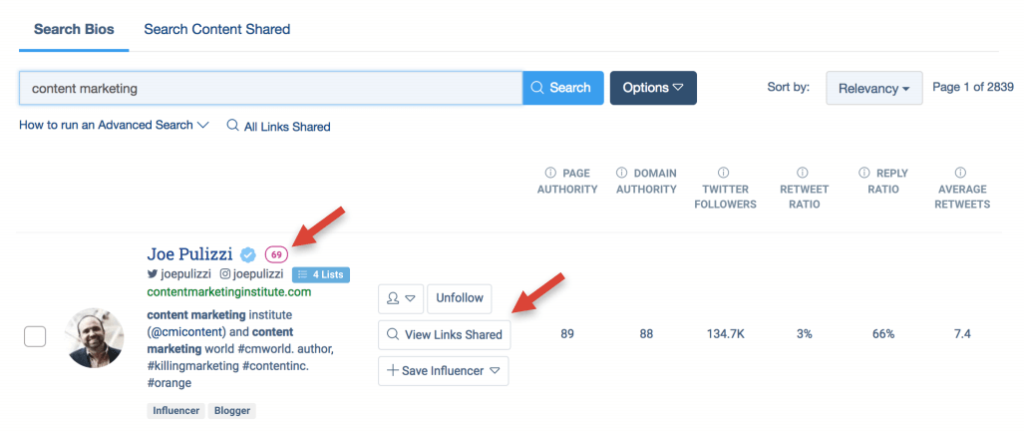 Monitoring – You can get real-time alerts and daily digests as soon as the new content on a topic is published, also when your brand is mentioned or when competitors publish new content, or when someone links to your site or competitor sites.
The features they provide are very simple yet crucial. The effectiveness of your SMM strategy relies on how fast can you generate the right type of content and whether you can make it go mainstream via social media platforms. This tool helps you with all of those issues.
---
Social Status

Facebook and Instagram Stories Analytics
YouTube Analytics
Twitter Analytics
LinkedIn Analytics
Competitor Analytics
Social Status is social media analytics and reporting tool perfect for brands and digital agencies to automate their social media reporting. Reports can be white-labeled, completely customized, and exported to CSV, PDF, PPTX, and Google Slides.
Best Social Media Monitoring Tools
Agorapulse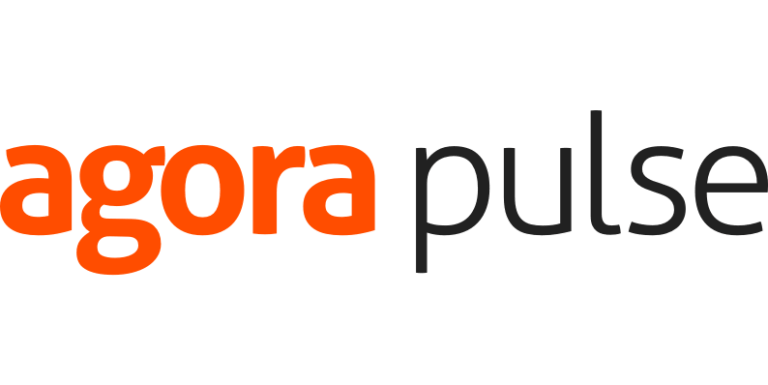 Key Features
Schedule the publishing of your content.
Engage with your clients. Reply to all of your conversations in one place.
Monitor relevant social interactions.
Track how well does your content do.
Build meaningful relationships with your followers.
Effective collaboration with your own teammates.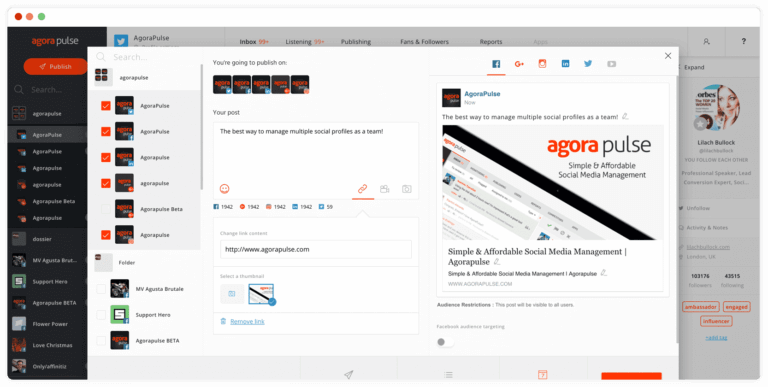 ---
BrandMentions

Efficient web & social listening
Monitor brand performance
Industry trends
Instant alerts on brand mentions
Helps to attract, acquire & retain customers
Monitor everything that is being said about your company or product on all the channels that matter. You can find out where and when your brand is mentioned so you can maximize the results of your marketing strategy. Also you can retain or acquire customers with mentions' sentiment, likes, dislikes – the more and faster you know, the better you can react.
Get to know your customers' core interests and create products that fit their exact needs and desires.
Best Social Media Automation Tools
Jarvee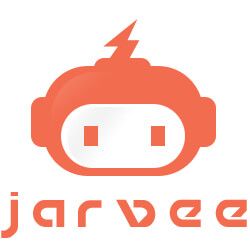 Automated ocial media posting
9 different social media platforms you can manage in one place
Content resharing
Manage messages
Jarvee is the only social media tool you need to manage all your social media accounts. You can schedule your posts and other actions for different social media accounts, for Instagram, Facebook, Twitter, LinkedIn, Pinterest, Reddit, Youtube, Tumblr, and Quora.
Schedule your new posts, or reshare content automatically, schedule posts with videos and images, post comments, like and follow other users, create different groups, manage messages and make your social media tasks smooth. Jarvee is a user-friendly tool made to make your automation process efficient. With Jarvee you can grow and track your social media accounts with ease.
---
Best Social Media Tracking Software
Rebrandly

Branded links
Link management
Customised analytics
Traffic routing
Deep linking
Rebrandly is the industry-leading link management platform to brand, track and share short URLs using a custom domain name. It offers you the chance to register a domain name or use one you already have and create branded links in order to increase your brand awareness.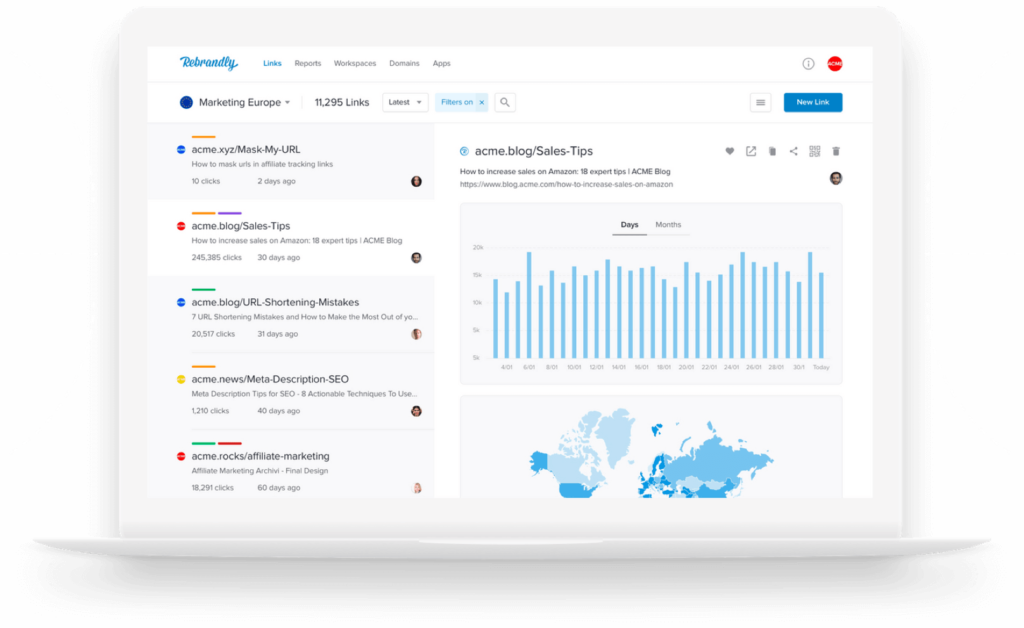 ---
Best Poll Maker
Jotform Poll Maker

Embed polls on your website
Share them with a link or QR code
Create unique poll using templates, widgets and conditional logic
Collaborate with team members in real-time on your forms
Form analytics tool to keep track of submissions
Jotform Poll Maker is a drag-and-drop form builder that includes many features to help you reach out to your social media audience. You can easily collect feedback from your users and use it to focus your efforts on improving your brand. Jotform integrates with many tools that you can use to improve your workflow.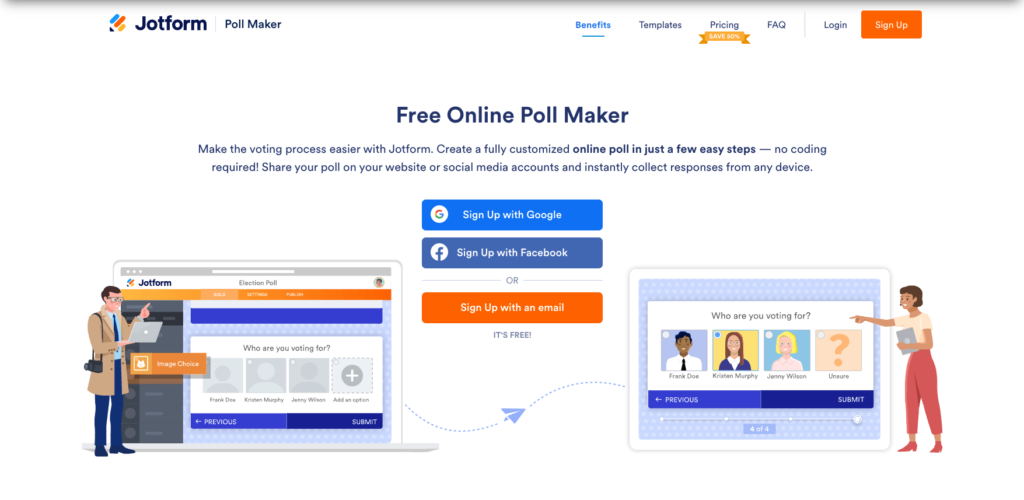 ---
Disclaimer: None of the companies mentioned in the article above pay us, nor are we spreading biased information by mentioning the tools in any other articles in our blog. Everything written in the 2019 Roundup post series is an honest personal and professional opinion based on personal experience and research.
Onward & Upward,
Sender.net Team
Also we recommend to read:
Like what you read?
Apply it in practice with Sender.net - the most cost-effective email marketing solution in the market.
Try Sender for free