Profit from your knowledge
Apply email and SMS marketing strategies you already know to see the best results with Sender. It's free. It's easy.
Get Started For Free
Whether you believe in true love or not — a whole lot of your prospects out there do.
Despite the after-effects of the pandemic, US customers spent 21.8 billion on Valentine's shopping in 2021. 38% of this spending was on eCommerce platforms.
According to National Retail Federation, customers in the U S spent $23.9 billion during Valentine's in 2022, and this number will surely rise in the coming time. If you're aiming to get a piece of this massive "Valentine's pie", you need smart Valentine's Day marketing ideas this season, as most Valentine's Day spending occurs during this time.
15 Valentine's Day Marketing Ideas
You must be busy running your business and need time to brainstorm unique ideas to promote your business on Valentine's Day, which will occur soon. Don't worry. We've got some exciting ideas you can use this Valentine's Day without hassle. So, let's go:
Use Promotional Popups on Your Website
Popups can be a great way to start with Valentine's day marketing and attract new customers and engage with your website visitors. During Valentine's season, contextual popups on your most popular pages can significantly boost your revenue. Take a look at the following popup, for example: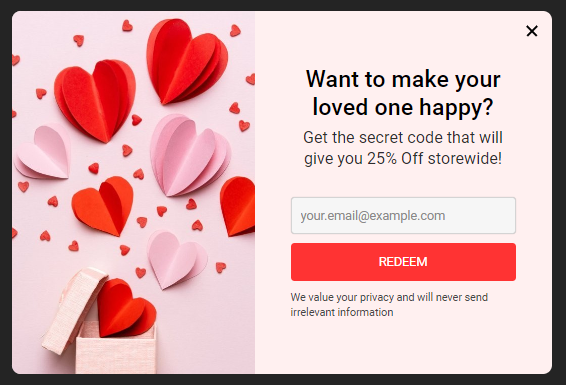 The popup can be placed as an exit intent popup that nudges a buyer to check the collection. The emotion-packed headline + a coupon code for a special collection will surely drive clicks (and even conversions). You can also add popups asking them for their email in return for a coupon code or a unique Valentine's Gifting Guide. This will help to grow and build your email list fast.
Want to create popups and forms without any hassle in just a few minutes? Then don't walk, run to Sender, as we're here to help you achieve that!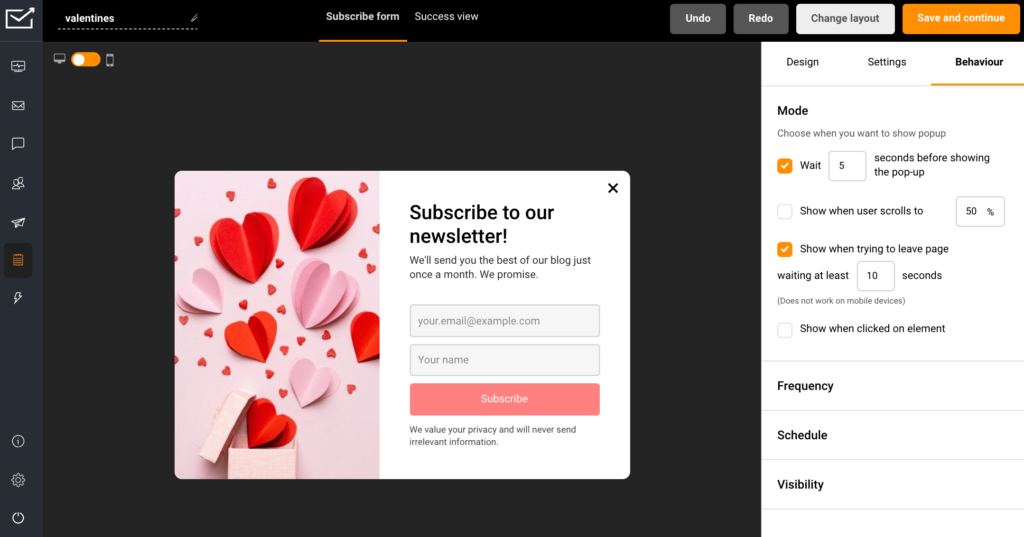 Run a Valentine's Day Sale
Creating a love-themed offer around Valentine's Day and promoting your existing collection is a clever way to grab attention. Many brands, especially in jewelry, flowers, chocolates, apparel, and related segments, run special Valentine's Day sales. Take the example of Love & Crafted — a handcrafted fine jewelry brand:
The interesting ad graphic, along with the ad copy, makes it feels like someone's conversing with the reader is something that stands out. Plus, the offer is lucrative, too, if you consider the jewelry industry. The Facebook ad promoting Valentine's sale would have gotten many clicks for the brand. You can also try having such a digital campaign planned when you launch your Valentine's sale.
What we loved here?
Love-themed product collection;
Contextual ad messaging and creative — appealing to emotions;
Value-packed offer nudging viewers to check the sale.
Show Love to Single People
Valentine's Day is seen as the day of the couples. But there's a bigger growth opportunity in targeting singles during Valentine's season and showing the power of self-love.
Faasos, a cloud kitchen brand, launched a #DateAWrap campaign targeting singles during Valentine's. It collaborated with social media influencers to promote the idea of 'dating a wrap instead of a human' and enjoying company with food — a way of self-love.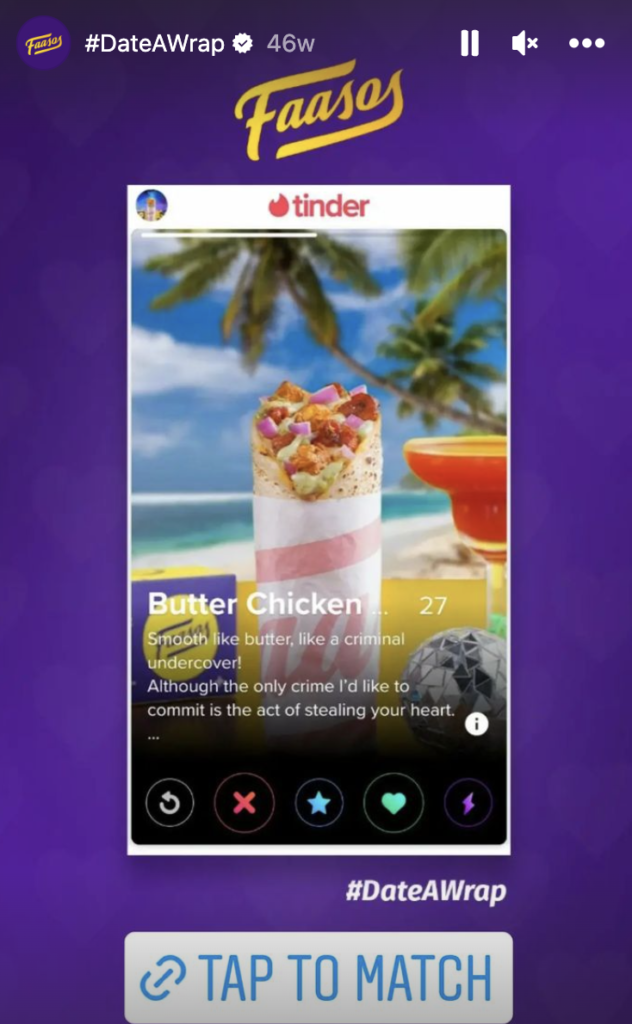 The campaign asked users to right-swipe their favorite wrap (on Instagram) and send a cheesy pickup line. The brand rewards people with witty and clever pickup lines with a complimentary wrap.
The brand revealed that the campaign was insanely successful and reached over one million users on social media platforms. Plus, it led users to create user-generated content around the brand's idea of a Valentine's — a win-win for the brand. Faasos would have received many orders during the campaign period, too.
What we loved here?
A clever way to promote brand offerings;
Value-packed offer based on engagement and creativity of users;
Promotion powered by user-generated content.
Use SMS Marketing for Sharing Exclusive Deals
SMS campaigns are a powerful medium for eCommerce businesses looking for engagement and conversions. For Valentine's, you can leverage this medium, which is otherwise ignored by many of your competitors. For example, you can share exclusive deals, sneak peeks, and limited-period offers via SMS with your subscribers.
Here's how Valentine's SMS could look like in Sender's tool: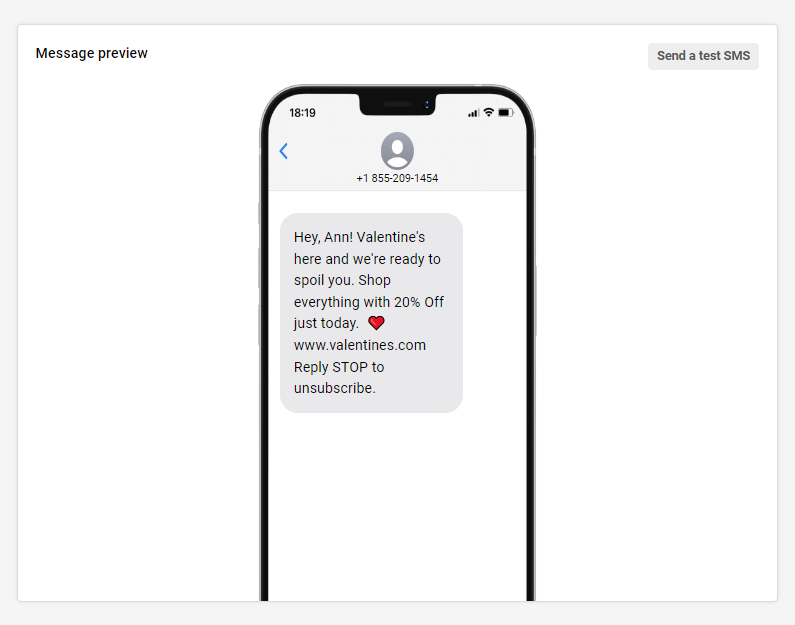 The simple message with a personalized greeting and an announcement is a great hook. You can easily compose such a message within Sender — it's a childsplay.
Be Clear About Your Delivery Dates
If you plan to generate sales on Valentine's, you need a solid promise to deliver your products on Valentine's. It's essential to show actual delivery dates to your customers.
Delivery dates are generally hidden in the product description or shown after someone orders. However, showing the delivery date can be an effective strategy to drive sales during the valentine's sale.
Everist has created a beautiful emailer that promotes the special Valentine's offer and clearly shows the delivery promise. Have a look: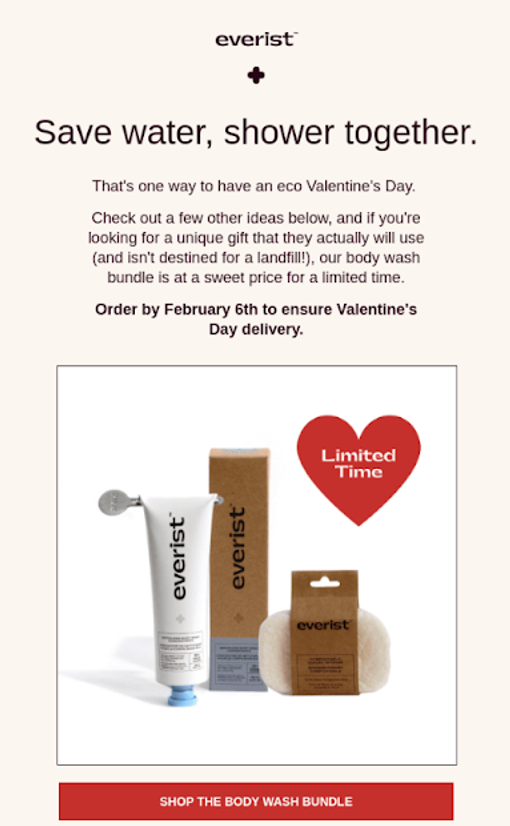 The simple email with a prominent image of a limited-time offer works really well for the brand's goals. The clear messaging for the end customer to order by a specific date for Valentine's day delivery is sure to drive clicks and conversions.
What we loved here?
Simple email newsletter design;
Clear and bold delivery promise followed by an image and CTA;
Limited time offer announcement.
Use UGC and Customer Testimonials during Valentine's
If you're running Valentine's sale, you can ask your existing customers to write reviews and use them in your creatives. These could be product reviews, reaction videos on Instagram, or any other form of user-generated content.
Here's a great example by Warby Parker. They used customer responses in one of their Valentine's emails: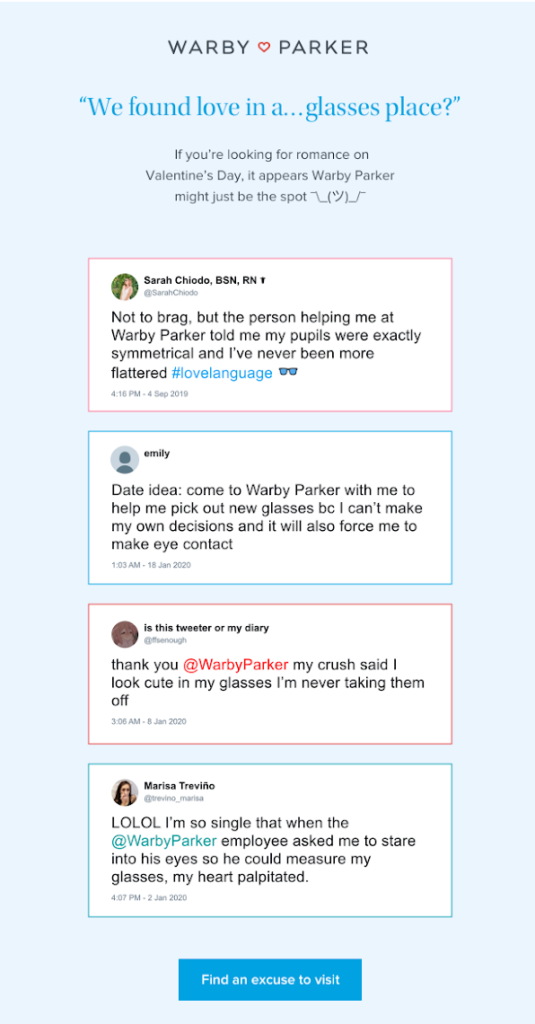 The email is a mix of 'singles targeting' + Valentine's vibe, and they seem to have done an excellent job at it. The UGC testimonials in the form of tweets would make anyone form a 'warm' opinion about visiting the store. The contextual CTA and the final message of gifting a 'gift card' feel genuine.
What we loved here?
Use of actual tweets within the email;
Witty copywriting targeting singles as well as couples;
Clever choice of colors to suit the theme and stand out simultaneously.
Drive Urgency by Announcing Flash Sales or Using Timers
During the busy Valentine's month, when every other brand is bombarding offers, you need more than just an announcement. Adding countdown timers and flash sales announcements is a great way to offer an interactive email experience without complicating your email campaigns. Look at the following email by Withings: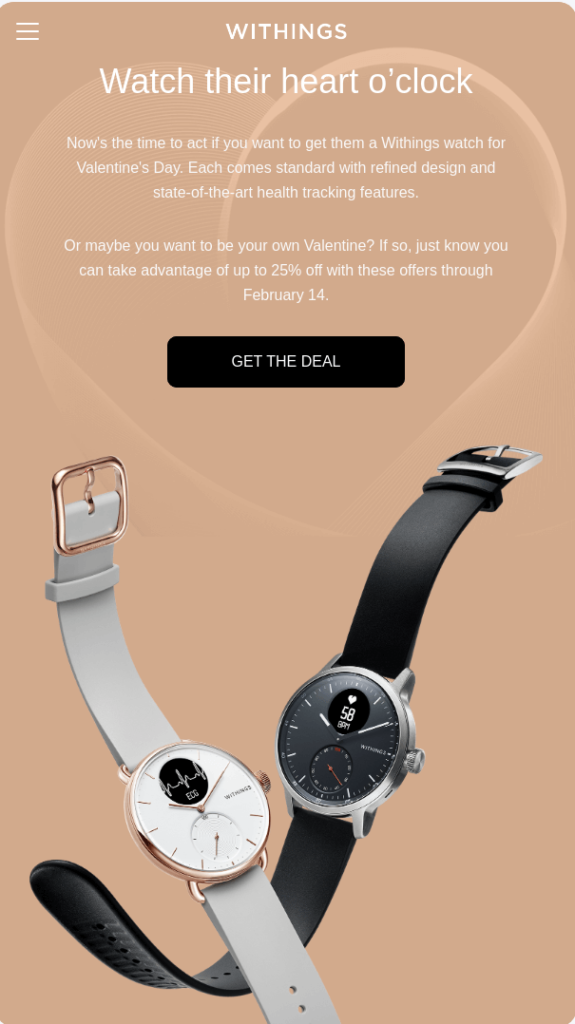 What we loved here?
Urgency-inducing subject line;
Simple yet impactful emailer design;
Time-sensitive offer.
One of the best tools for time-sensitive offers is a countdown timer. You can create Valentine's day marketing emails with countdown timers using Sender for free. See here: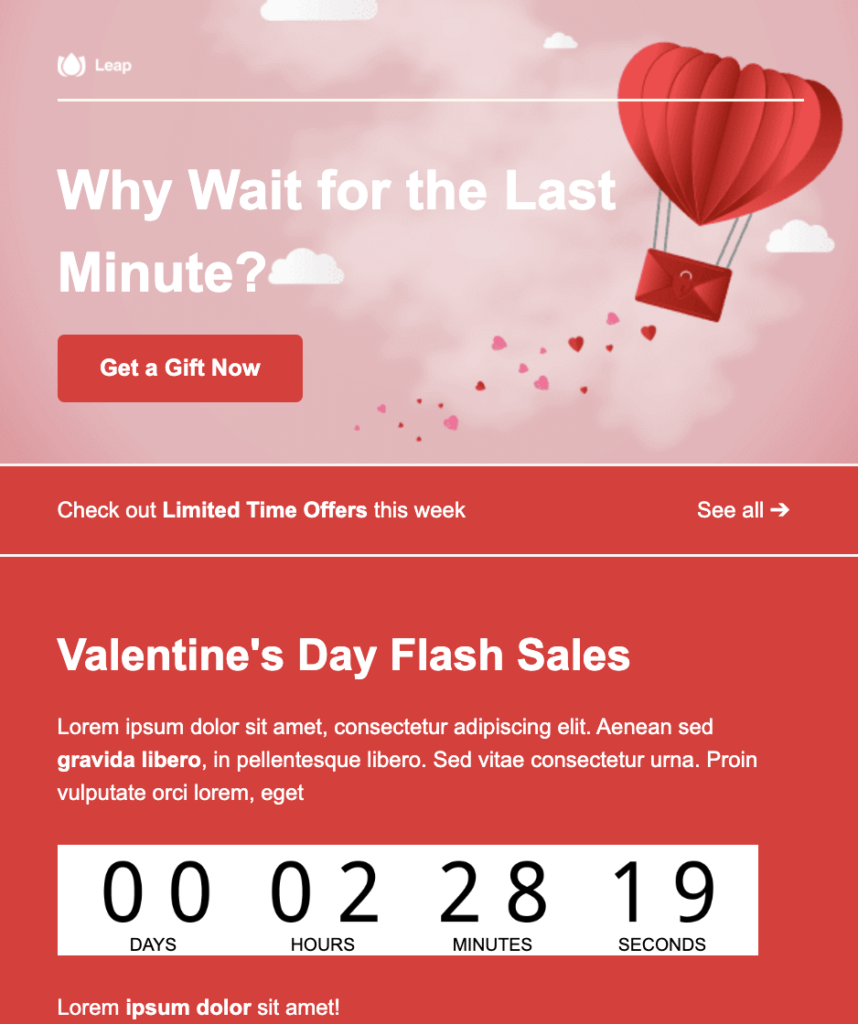 Target Last-Minute Shoppers
We all know someone who always forgets about buying a gift for their wife or girlfriend. Don't we? Why not create a Valentine's Day marketing campaign for last-minute shoppers?
Yelp realized that such blunders could lead to disastrous consequences and sent out the following cute email on Valentine's Day itself to give an idea of how to make the day special: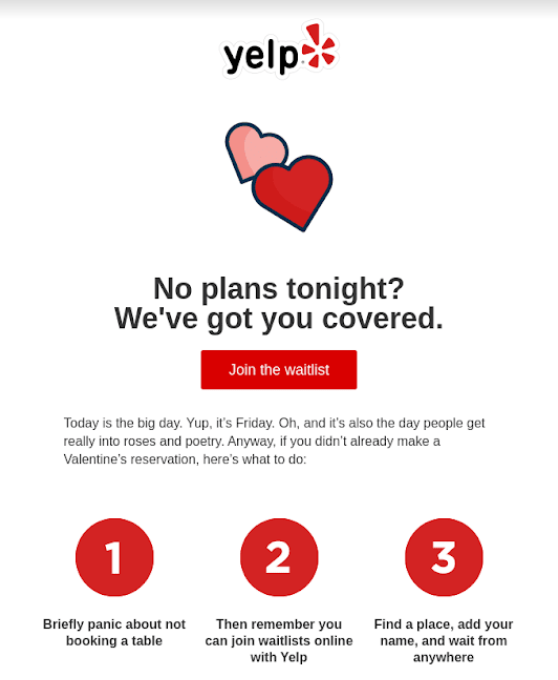 The direct header 'No plans tonight?' would grab the attention of people who forgot about the special day. A simple infographic of 3 steps and a CTA button invokes an emotion to act immediately for anyone who hasn't planned anything for V-day. No one wants a hangry partner on Valentine's. Right?
What we loved here?
The timing of the email — just on the morning of Valentine's;
A simple process of using the Yelp service is humorously outlined in 3 steps;
Contextual copywriting that empathizes with last-minute planners.
Host A Valentine's Day Event
While shopping for your significant other is a great Valentine's gesture, taking them to a night full of experiences is better. You can leverage this emotion to host a special-themed event for potential customers.
If you are a property owner — a restaurant, cafe, hotel, BnB, or any experience center, hosting a love-themed Valentine's day marketing event makes great sense. Take the example of Rush, a Trampoline park that hosted a special 'Two for One event on Valentine's: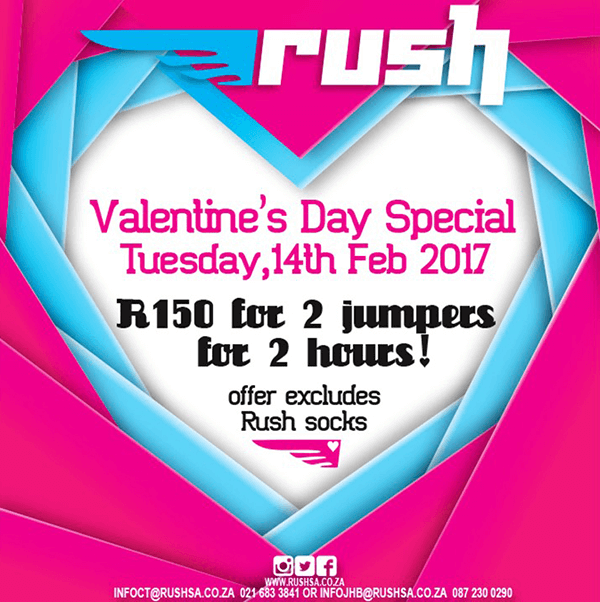 The special discounted offer for Valentine's Day season drove a lot of footfalls to the venue. Plus, it created an instant brand connection for them as many 'lovebirds' enjoyed the unique experience. Most came back later during the year and turned into loyal customers.
What we loved here?
A contextual offer that utilized the idea of spending time together;
Unique activity and affordable pricing;
Host a Special Valentine's Giveaway or Contest
Events needn't just be offline. You can launch a special digital campaign, including a contest and giveaway, to grab the attention of V-Day shoppers. Announce a valentine-themed contest that promises a lovely gift and see how people flock to improve their odds of winning.
Postable used Valentine's as a reason to announce its special $100 giveaway that asked its subscribers to tag someone special on Instagram.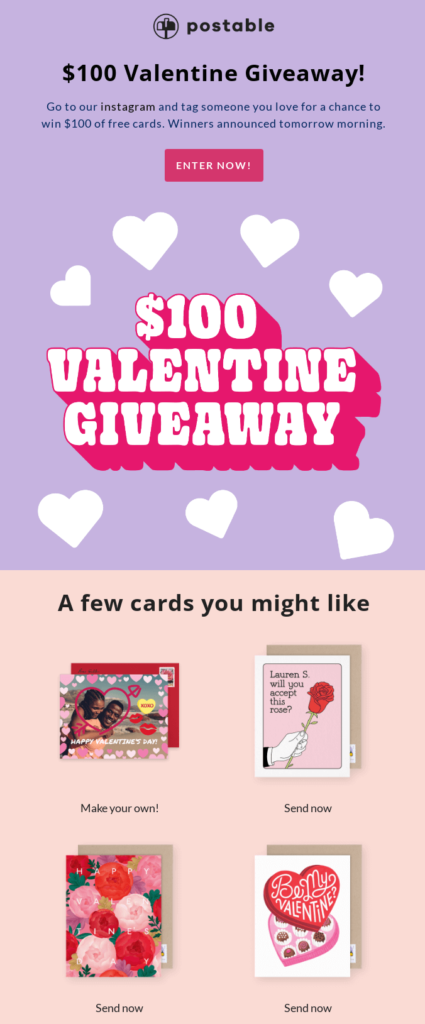 The brand integration on the Day of love was so on-point. Plus, the no-fuss, minimal-effort participation tasks (just tagging someone) would have given the brand enough boost on Valentine's. Think of the attention and reach their Instagram would have gotten on Valentine's — something like a lottery for a brand that sells love-themed cards and post-its.
What we loved here?
Easy steps to enter the giveaway;
Clever placement of the brand's product along with the contest details;
Useful giveaway prizes or Valentine's day gifts would nudge users to participate.
Create and Share V-Day Gift Guides or Gifting Tips
Most people suck at picking the perfect gift. But they need to do more than goof up on Valentine's. So, they appreciate and love a brand that gives them great gift ideas for their loved ones. Creating Valentine's gifting guide can be a great Valentine's Day marketing idea. Sharing it with your subscribers to simplify their gift shopping, just like Estee Lauder did in their Valentine's Day campaign, will earn you brownie points: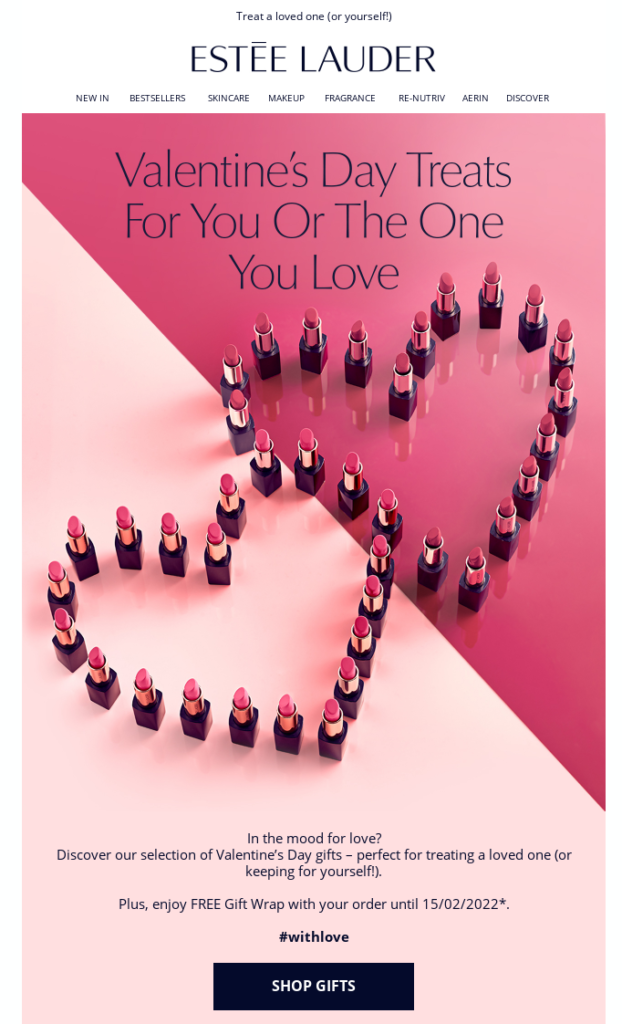 The email has a lovely vibe and shares interesting gift ideas for her. Plus, the highly contextual engraving service offered will surely make people think twice about making it extra special. The brand has also offered a 'free gift' to everyone who orders for Valentine, making the deal highly irresistible.
What we loved here?
The lovely theme and vibe of the emailer;
Contextual offer (free gift) that excites the reader to order soon.
Use Video Content For Promoting Valentine's Offers
Video content can be a powerful tool for valentines day marketing and promoting your Valentine's Day offers. You probably already realize the potential of a viral TikTok or Insta reel.
Consider creating a short, attention-grabbing video that showcases the feeling of love and introduces your product, deals, or V-day offers in the discussion. You can even plan an elaborate video campaign through February to give people ideas based on your brand and offers. Take the example of Woolsworth from South Africa. The brand created an aesthetic video about V-day breakfast recipes on Instagram.
The brand is a retailer known for promoting an aesthetic and 'tasteful' lifestyle through creative ways. The contextual video about making Valentine's special for your significant other is a nice reminder to do something interesting. It's like putting ideas into the viewer's head. And imagine the love the brand received during Valentine's week. They've been known to launch several food-themed promotion campaigns on social media since. You can also create similar love-themed videos as an email along with a personalized Valentine's Day card note to your subscribers
What we loved here?
An aesthetic and share-worthy video that adds value to a viewer's life;
Subtle hints about making the Day special that might nudge users to buy something from the brand;
An attention-grabbing video that would intrigue and invoke interest from the relevant target audience (Viewers/likers of this video are the direct audiences of the brand).
Learn about video email marketing and how to leverage videos for flawless promotions.
Appreciate & Reward Your Existing Subscribers
This season is not just about gifts and sales. It is about how people celebrate Valentine's Day together – a celebration of love and relationships. So, the good idea is to reward and shower love on your existing subscribers. You can show your gratitude, create something special (like an offer), and send it across as a love-themed email.
Take the example of American Express. They used Valentine's as a reason to reward their subscribers with a special redemption offer: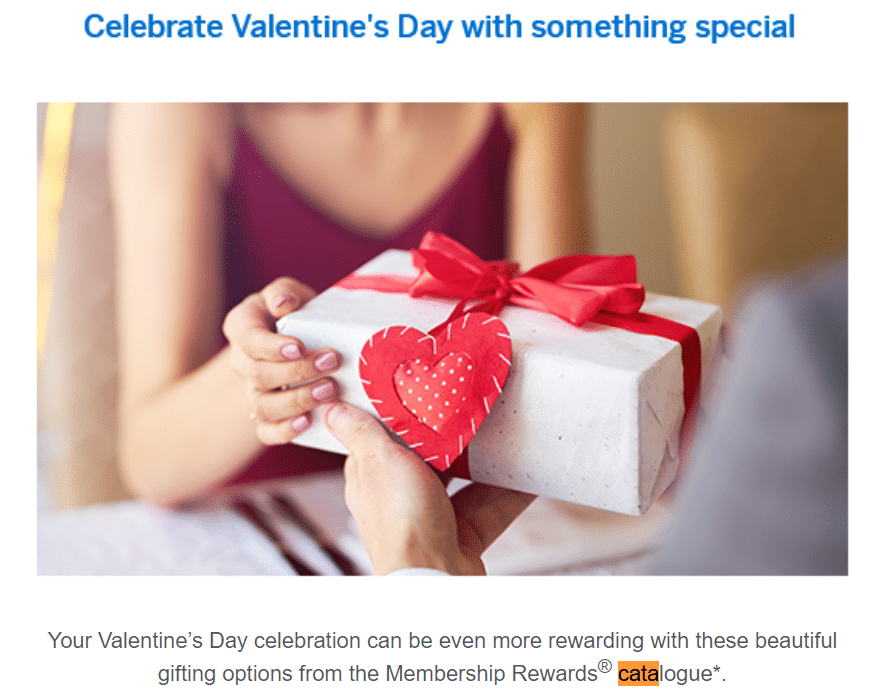 American Express sent a special valentines day marketing email and created thematic banners on their website expressing gratitude and explaining the scheme. The members could enjoy a 'higher' redemption rate when they choose to redeem their reward points during Valentine's season. Plus, the card provider gave them contextual offer options from large retailers and online stores, all highly sought after during Valentine's season.
What we loved here?
Contextual reason to reward and appreciate the subscriber;
No-nonsense copywriting and marketing plan to engage existing subscribers first;
Beautiful imagery that showcases the feeling of being gifted and loved.
Create an Exclusive Love-Themed Product
If you are extra generous during Valentine's season and want to do something exciting, you should think of launching special Valentine's Day gifts like a fresh collection or product. This will give you an extra reason to reach out to your subscribers.
Look at the following email example by DQ: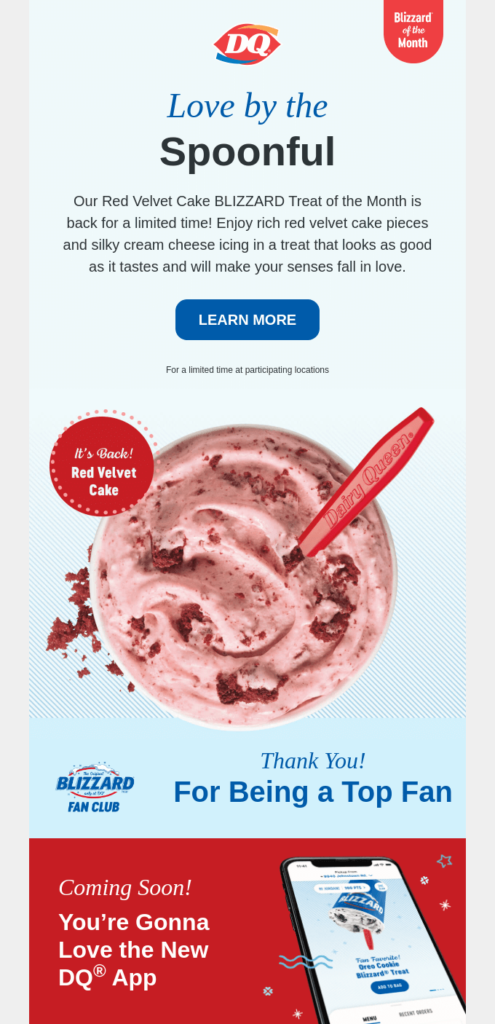 DQ, or Dairy Queen, is a popular Cake brand that launched a special Red Velvet Cake to celebrate Valentine's season. An email was sent to its subscribers, thanking them for being fans and announcing a limited-time cake that looks perfect for Valentine's. The sugar-coated email copy and imagery would have surely tempted many to make Valentine's day special with DQ's cake.
What we loved here?
Love-themed copywriting and email design;
Great product idea with a contextual offer;
Additional 'ideas' on how to make the day special (tempting users for the second time).
Try Advertising on Instagram
Instagram can be a great platform for reaching potential customers during Valentine's season. Consider running a targeted ad campaign on the platform using eye-catching images and compelling copy to promote your Valentine's Day marketing ideas.
You can do many creative things on Insta to grab attention, generate interest, and compel users to share photos of their V-day moments with your brand.
Take the example of Cadbury. They launched a special 'How far will you go for love?' campaign on Instagram for Valentine's celebration: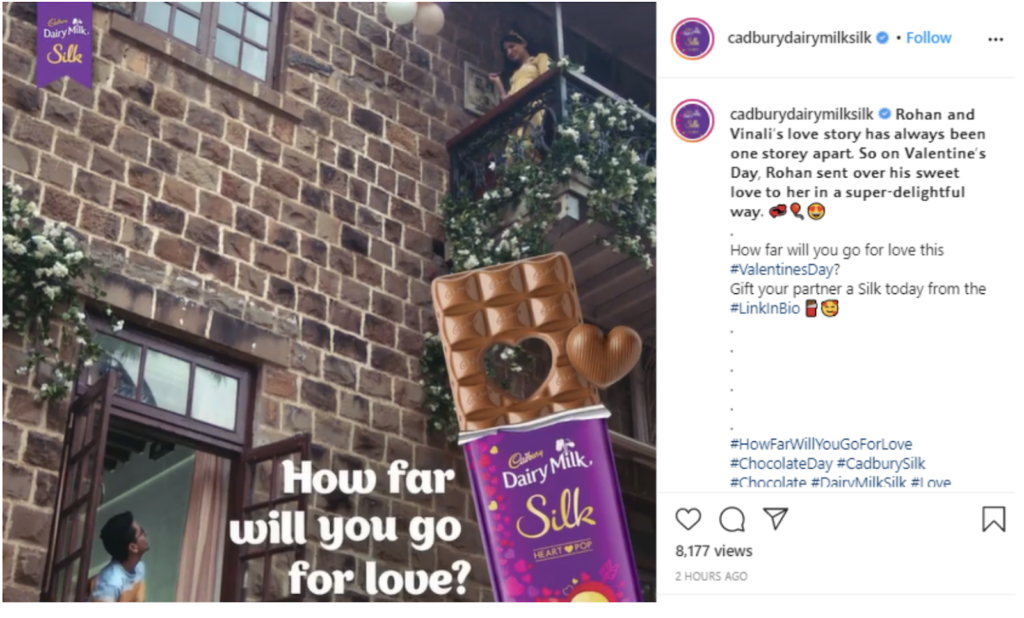 The brand shared a series of short videos about 'love and affection' under the campaign and nudged users to share their personal love stories. The campaign was insanely successful, and Cadbury got a lot of mentions and user-generated content during Valentine's season. No wonder the brand tops the sales charts for chocolates in several regions during Valentine's Day.
What we loved here?
Cute and love-themed ad campaign designed for the younger population;
Clever product placement backed by storytelling promotion concepts.
Valentine's Day Marketing Campaign Ideas by Industry
If you feel that Valentine's Day is too mainstream or even an 'off-topic' discussion in your industry, let me tell you something — your competitors are already preparing for it. You must also be open-minded towards Valentine's marketing and use industry-specific ideas like the ones below to promote your business.
Real Estate Marketing for Valentine's Day
Suppose you are a real estate agent or agency. In that case, you must use this seasonal opportunity to connect with their customers at a deeper level to ensure they are always top-of-mind when the prospect eventually wants to buy or sell.
Some great ideas for realtors to pursue are:
Put out branded social media content in the form of posts and stories wishing everyone a great time this Valentine's.
Leverage the power of email marketing to wish your prospect inside the privacy of their inbox.
Send out a physical Valentine's day gift card with a small daily-use gift.
Conduct an open house and then raffle a free, all-expenses paid dine-out at the hottest eatery or restaurant in town for the lucky winner!
Offer free real-estate consultation on purchases and sales.
Host contests and giveaways over Social media.
Valentine's Day Sales Ideas for Retail Business
Retail businesses can leverage this opportunity to firmly establish their value in the minds of their prospective customers. Some top ideas for retail setups include:
Running an Exclusive Store Only Discount for Valentine's day.
Express your appreciation with "Thank You" cards during checkout.
Hold daily lucky draws and raffles and distribute the results on social media alongside tagging the raffle winners.
Offer valuable freebies (such as candy and roses) at checkout
Be active on social media and reach out to and respond to prospects online as swiftly as possible.
Valentine's Day Email Campaign for B2B
B2B or Business to Business is a scenario where the buyer and seller of the product are both businesses. B2B sales are often high-ticket, are presided over by a bigger team of buyers (it is not a simple "Add to Cart" action), and often take longer to close, as compared to B2C (Business to Consumer).
Some of the things every B2B business can and should do are:
Leverage the power of email marketing and the reach of social media to wish key contacts who are likely to decide the transaction.
Work with local charities and give tremendous support and value without worrying about lead generation—for example, an activity such as fundraising for a benevolent cause.
Plan and distribute gifts of value and remembrance to your existing customers and future ones.
Make it a special day for your employees and treat them to a dine-out or get-together!
Valentines Advertising for Restaurants
Apart from New Year, this is perhaps the perfect opportunity to make fabulous sales for restaurants. So, if you are a restaurant or bar owner, some creative ideas to include:
Distribute Dine-In only discount coupons applicable only for d-day (Valentine's day) through emails and social media.
Decorate the interiors of your restaurant in pink and red for the entire week in line with Valentine's theme, and call it "Valentines Week."
Offer Valentine's day discounts for couples-only dine-ins.
Re-design special couples-seating-only spaces with privacy, extra decorations, and special attention.
Rework your existing menu and create a special one in line with Valentine's day.
Name a special food item or drink after Valentine's day!
You could even go a step further and dress up your waiting staff with paraphernalia (for example, a pink handkerchief) that adds more color to the occasion.
Do you want to go a step further? Share your top recipes over social media while still asking people to come and visit you!
Valentine's Day Ideas for Jewelry
Both offline and online, Jewelry retailers have a lot to rejoice about on Valentine's day. And for pretty obvious reasons. Diamonds may not be every woman's best friend, but hey, gold and silver come a close second too!
Some ideas jewelry businesses can pick on:
Run a strong email marketing campaign (assuming you already have your list by now) that creates a desire by displaying your best jewelry in the form of high-quality graphics featuring models.
Valentine's day advertising—Yes, ads to the rescue! Run a Facebook or Google ad targeting the seasonal keywords you expect them to punch in to find someone like you.
Have compelling offers in place, e.g., FREE Shipping for your online jewelry ecommerce store or FREE minor repairs of gold and silver jewelry and wearables for the entire Valentine's week.
Execute a promo campaign with a relatable and relevant influencer over TikTok or Instagram.
Run contests and giveaways on social media to up engagement.
Check out what US-based luxury jewelry retailer Tiffany does on their website.
We love the copy and easy-on-the-eyes website home page.
Valentine's Ideas for Salons
Everyone wants to look their best on Valentine's day. So ensure that any Valentine's day marketing strategy you plan out for your salon or spa focuses on reminding them about this!
Some quick ideas:
Redesign your social media covers and icons to bring them in alignment with the special occasion that is Valentine's day!
Run giveaways and contests to get your fans and followers excited about February 14th.
Run special discounts, exclusive offers, and service combo packages for the entire Valentine's week.
Don't end up ignoring existing customers. Email and SMS your existing subscribers list about the upcoming offers or a coming soon message.
Be open to offering FREE makeup sessions.
Hand out surprise discount scratch cards to everyone for the entire week.
Design special offers for those who book and pay for sessions in advance.
Missing this Nifty Trick in Your Valentines Day Marketing Strategy?
Email marketing plays a crucial role in nurturing both present and potential customers, whether you are an offline business or an online store. In addition, it's a great way to stay in touch with everyone interested in your business as much as you are.
If you are looking for a simple email marketing service for your email campaigns to send out visually stunning newsletters that are not only easy to design using a drag-and-drop email editor-cum-builder, but also something that will not cost an arm and a leg to keep using, you are in the right place!
Combine emails and SMSes into a tightly-knit automation sequence to create the perfect high-conversion engine for your business.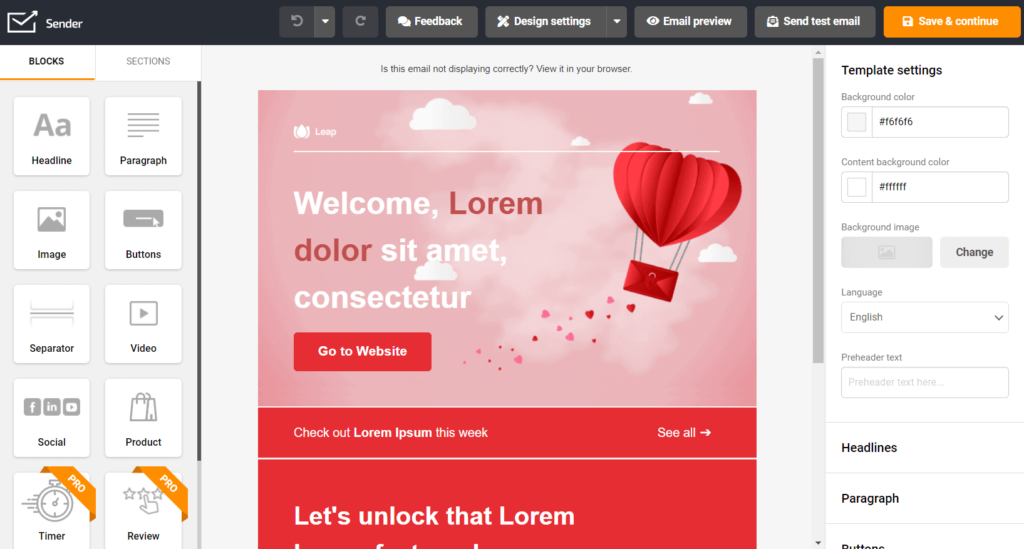 Additionally, Sender features SMS, also known as a text messaging marketing feature. If you're looking for a convenient way to reach your customers via two different channels – consider trying it out!
Not ready to jump in yet? Try out the FREE Forever plan that allows you to send out a maximum of 15,000 emails to a maximum of 2,500 contacts every month! For a lifetime, yes!
Key Takeaways: Best Valentine's Day Ideas
Get creative with your Valentine's Day sale offers
Create month-long campaigns to nurture leads during the days leading to Valentine's, on V-day, and after Valentine's Day
Plan your Valentine's campaign around emotions and feelings;
Use audience and industry-specific Valentine's ideas for your campaigns;
Pay special attention to the creatives and copy of your Valentine's ad and email campaigns.