How do you alert customers of new updates?
How do you tell them that you just added an exciting feature to your SaaS app and need them to take a minute from their busy schedules and check it out?
And how can you make them do as you say? Explore this piece to find out!
What is Email Notification?
An email notification is any email businesses use to inform subscribers about updates or changes to a service or website. The primary goal of an email notification is to inform, not promote.
You can send email notifications about terms of service changes, possible security breaches, welcome messages, social media engagement, etc.
Why should I send email notifications?
From banks to SaaS businesses, small eCommerce stores, and fortune 500 companies, almost every functional enterprise sends an email notification. If you're wondering whether or not to join the bandwagon, you might want to read on!
Customer Retention
Customer retention is simply your ability to retain a customer over a specified period. Thankfully, email notification promotes customer retention. It increases the customer's lifetime value and boosts revenue.
An email notification also creates room for customer loyalty. Simply put, once you can retain customers with timely information, they will easily influence consumers in their circles to buy from you.
Updated & Informed Customers
Consumers love it when they're in the know. They love being the first to learn about new products and services and appreciate it when you go the extra mile to keep them informed.
Email notification allows you to constantly and consistently keep customers informed and updated about exciting features, new products, service changes, etc.
Email Vs. Push Notifications
Before discussing the many differences between both notifications, know this – email and push notifications allow you to send instant messages simultaneously to multiple subscribers. But they don't serve the same purpose.
In general, email notification implies sharing content with consumers without requiring further action. On the other hand, push notifications act as a 'middle man', always trying to get users to click on your CTA.
With that in mind, let's compare.
Tolerance Threshold
Email notifications have a high tolerance threshold, even for inactive subscribers.
That means certain subscribers who receive regular emails from your brand might ignore or delete your emails but wouldn't unsubscribe—giving you an opportunity to retain and re-engage a cold audience.
On the other hand, web push notifications have a significantly lower tolerance threshold. Many users unsubscribe from push notifications the second it gets on their nerve.
Length
You can write as much as you like in an email notification and, if needed, include images.
Push notifications have limitations in length depending on the devices and browsers used. You're limited to 50 characters for titles, 125 characters for the body text, and one image.
A/B Test
When running A/B tests with push notifications, you'll encounter minimal variables. So polishing web push notifications is easier because of the little content.
An email notification is hard work to polish due to too much content.
Also read: A/B Testing in Email Marketing [Best Practices]
7 Essential Types of Email Notifications
You can send out different types of email notifications. However, the efficiency of email notifications depends on the email service provider behind your marketing endeavors—try to work with a reputable email service provider.
Below are the seven most common types of email notifications.
1. Activation Email
Account activation emails verify subscribers' email addresses and remind users of their choice to sign up for the product. When used strategically, activation emails can keep new subscribers engaged, reminding them to explore your store often.
2. Welcome Emails
Welcome email notifications are for customers who have just created an account. This email is the best way to help users get off to a good start. Your welcome email should be short enough to prevent boredom and long enough to inform your audience adequately.
Also read: 5+ Welcome Email Template to New Customer (Examples)
3. Activity Email Notifications
Activity email notifications remind users of their activity or inactivity on your app. It serves as a reminder for the expiration of account products and can make consumers who haven't completed certain activities return to the app.
Activity email notifications may also include social media highlights subscribers might have missed.
4. Reports Email Notifications
Apart from sending new product alerts to consumers, ecommerce marketers may also need to send out reports in the form of workflows. For example, your email notification could be a detailed summary, an overview of the activities of your team members, or details of a sales pipeline.
5. Two-Factor Authentication and Password Resets
An email notification may ask customers to make a password reset, especially if there are reasons to believe that the customer's account faces a security threat. Two-factor authentication emails help users secure their accounts.
6. User Invites and Shares
If you run a B2C social platform, you can encourage users to share content and invite friends to try your app. Also, you can send out this type of mail as an invitation to colleagues to join a project or work with your team.
7. Security Change Email Notifications
Updating users when their login details or account information changes build rapport and make users develop trust and confidence in your product. For an intuitive experience, personalize your brand's security change email to provide details on the location and address of the new login.
How to Create an Email Notification
The easiest way to create email notifications while spending less is through Sender. Sender is one of the leading automated email service providers offering a generous FREE-FOREVER plan, which allows sending up to 15 000 emails to 2,500 subscribers every month.
Here is a step-by-step guide on using Sender to create an email notification:
Step 1: Go to Automation and click Create New Workflow. Check the upper side of the window to see the button marked Create New Workflow.
Step 2: At the next step, select a trigger to get the automated email process going. For example, if creating a welcome email, select the trigger marked "subscriber joins a list." Once selected, the automation flow gets triggered for each user.
Step 3: After selecting a trigger, add content. You should include the words "Welcome email," or any other type of email notification you intend to create within the content.
Step 4: With that, your email notification is ready. However, you may define how and when the mail delivery will happen. Additional measures like action, condition, and delay are necessary—depending on a user's previous activity.
If you are looking for ways to deliver your emails quickly and efficiently, consider Sender. This omnichannel service provides high-class automation feature for your best results. Multichannel automation, which combines email + SMS channels, is a great way to create compelling customer journeys and effective campaigns.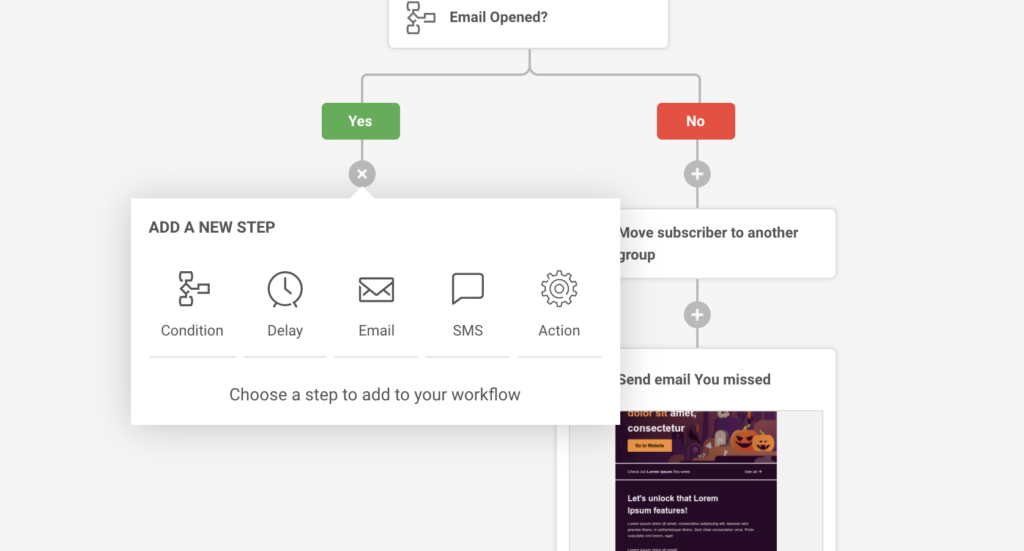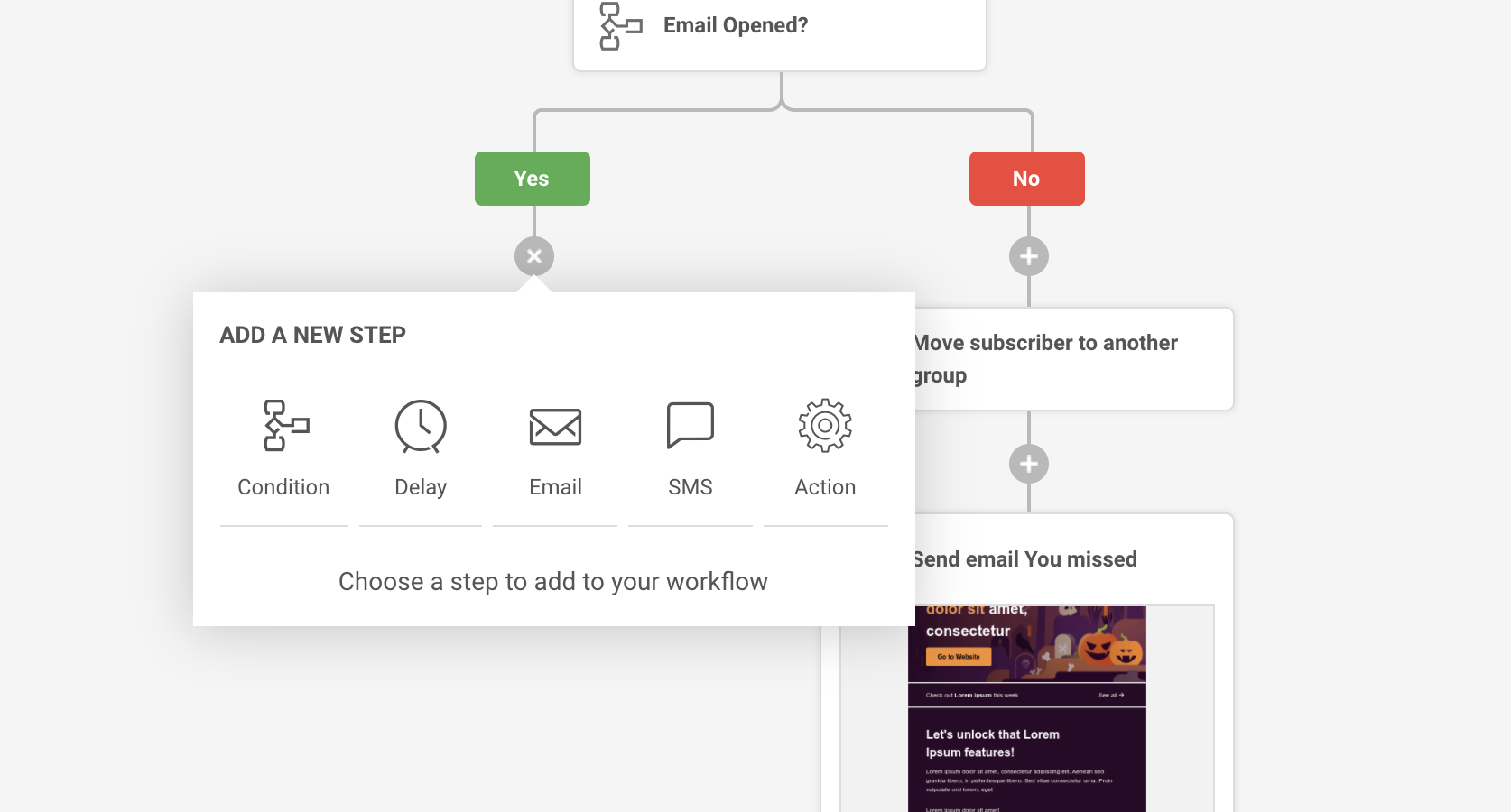 Email Notification Tips
Every marketer wants their email notification endeavors to yield wonderful returns. While that's very okay, you must be willing to put in the maximum effort by guaranteeing timely message delivery, readable and interactive content, and a clickable, swift, and precise CTA.
Here are some helpful email notification tips:
Focus on Subject Lines
The email subject line is the first thing your customer sees in an email notification. It conveys the essence of the message even before the customer gets to read it. The subject line should grab a user's attention instantly. For example, "Suspect Account Login" alerts the user to the likelihood of a breach in their account security.
Add Clear CTA
A sound email notification should have a clear call-to-action related to the email's main idea. Anything contrary can leave your subscribers confused and distracted. For example, your CTA could be "Answer the Comment" or "Join the Conversation."
Use Personalized Text
Want to build loyalty and trust among subscribers? Invest in email personalization. Regardless of your product, you can personalize the subject line and create varied content for subscribers based on their gender. The idea is to create a message that resonates with everyone.
Send Immediately
Email notification revolves around instant messaging and action. It tells customers that there's a swift change they might want to know about instantly — your messaging must be immediate.
For example, when using email notifications to inform users about technical issues in your website, make it immediate — use power words like avoid, alarming, etc. that instantly prepare them for possible downtime.
Email Notification Examples
Moment: This email notification sample reminds iPhone 13 owners to buy a new case. It has a simple CTA, "Find Your Case."
Image source:reallygoodemails
Spotify: This email notification from Spotify notifies subscribers about podcasts on the website. The simple CTA says, "Play a comedy podcast."
Image source:reallygoodemails
Google: Google seeks to notify its YouTube Premium subscribers of cloud storage services. The CTA says, "Redeem Gift."
Image source:reallygoodemails
Uber: Here is an email sent to a first-time subscriber to the company's services. It invites the users to book Uber services whenever they're ready.
Image source:reallygoodemails
Netflix: The email notification from Netflix informs the subscriber of a new show called "High Score." The email has three CTAs, "Play," "My List," and "View All TV Shows and Movies."
Image source:reallygoodemails
Amazon: With this email notification, Amazon informs a client of the delivery of ordered goods. Two CTAs seek feedback, "It was great" and "Not so great." The third CTA, "Track your package," encourages the user to follow up on the package.
Image source:reallygoodemails
Email Notification in a Nutshell
Emails are tried and tested communication channels for reaching out to new subscribers, reminding them of your services, and advising on changes to your website.
We recommend you explore Sender when trying to create an automated email workflow—our simple, straightforward process helps your email automation process up and running in no time.
Also read:
What is an SMS Notification? Definition, Examples, Services
Like what you read?
Apply it in practice with Sender.net - the most cost-effective email marketing solution in the market.
Try Sender for free