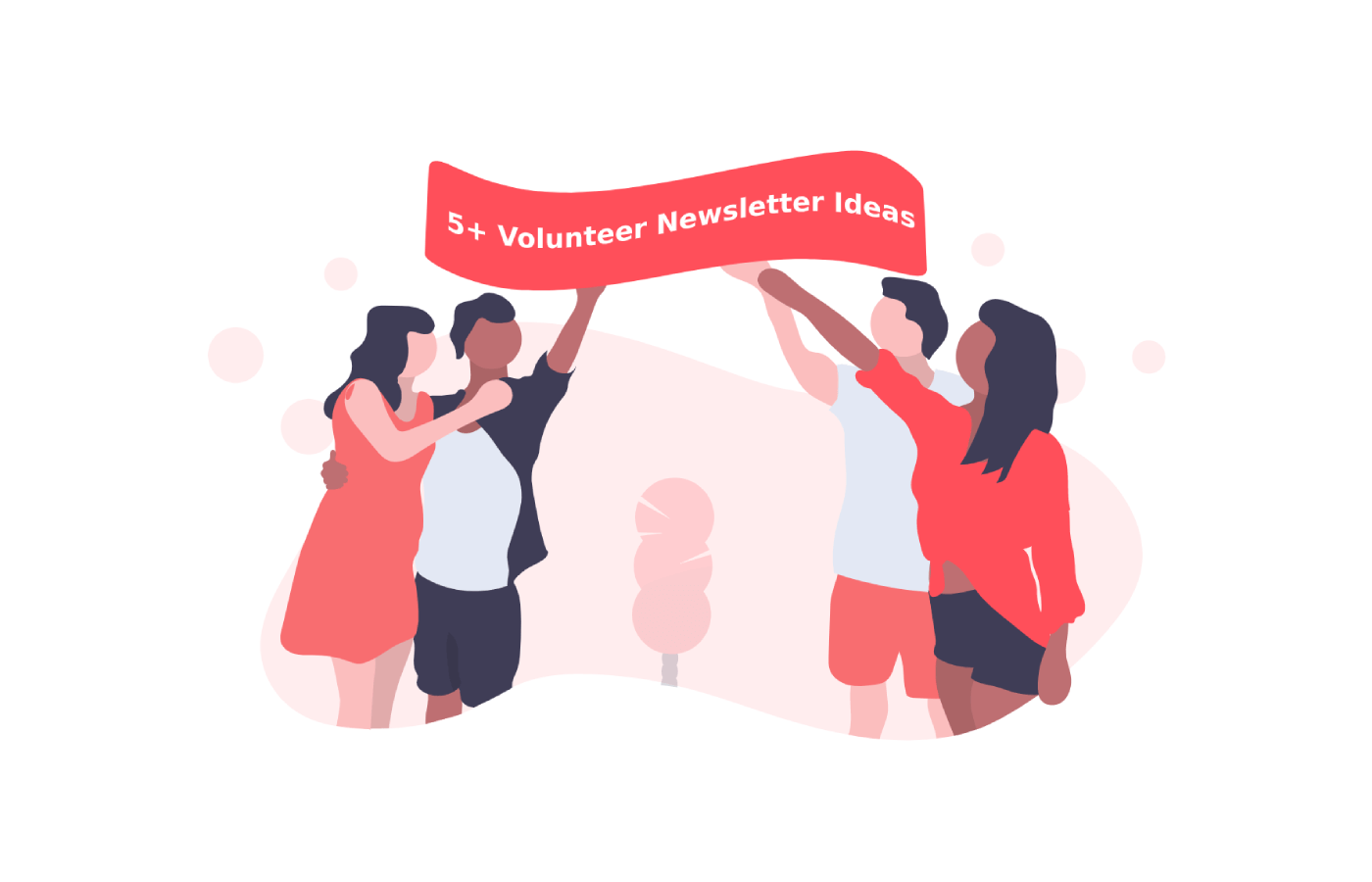 5+ Volunteer Newsletter Ideas for Email Template
A lot of volunteer organizations prefer to distribute their promotional content via email marketing, and for a good reason.
In terms of content, the most effective type of email among volunteer organizations is a newsletter because it helps distribute information in a comprehensive but concise manner.
However, the main drawback of this type of email content is that newsletters sometimes can be quite boring to read.
Plain-text newsletters often fail to deliver the message because, no matter how well you can write, reader engagement is not always about the text but also about the email design and the shape of the story.
So, today, we'll take a closer look at the five ideas for volunteer newsletter creation that will inspire you to deliver the message in a more informative and captivating way.
Tell stories in your volunteer template
You've probably heard about the power of storytelling in marketing. Some studies claim that this is the most potent approach in marketing in terms of ROI. Reportedly, 55% of people would return to buy more from the brand if they like its story.
But what about storytelling for non-profits?
This approach is universal for any time of venture, and the reason is simple – storytelling makes the message 22 more memorable than if it would be just presented with facts. It adds meaning to your message that your audience can relate to, that's why it is so powerful.
How can volunteering organizations use storytelling in newsletters?
Let's take a look at the following example.
Disability Matters, a newsletter issued by CBM, an international Christian development organization, is a great example of using storytelling for non-profit.
In the image below, you can see how this organization uses the stories of people working for it: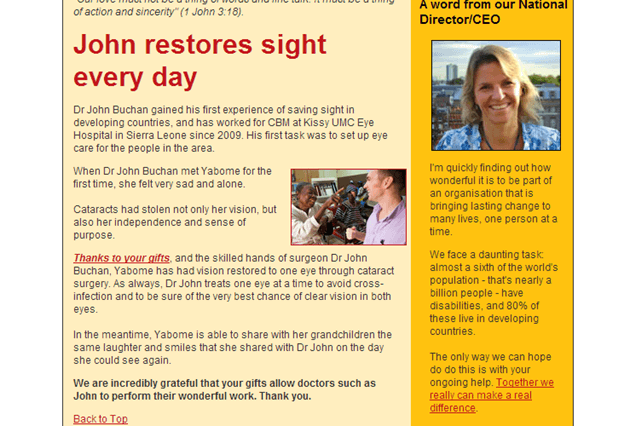 The stories are told from two perspectives – from the person who helped and from the person who received help.
This approach makes this email a perfect example of a volunteer newsletter because it both shows the efforts to make a change and the positive outcomes of these efforts.
2. Build Your Newsletter around Contributions
The usual format of a volunteer newsletter is a news bulletin, which gives a quick overview of the main activities of the volunteer organization over a period of time.
While such a format is effective in delivering essential information, it can appear quite dry and boring to read.
To make it a little bit more engaging, you can shift the focus from what you did to what the contributors did and dedicate all the achievements to active involvement in your cause.
You can see how this approach comes to life in the following example by Charity: Water, a non-profit organization that delivers drinking water to developing countries: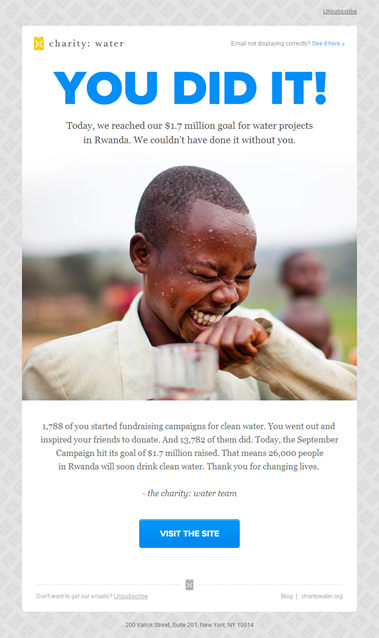 The success of a non-profit largely depends on the contributions of its donors.
Whether you build schools, do food delivery, or provide medical help to underprivileged communities, your donors want to know that their contributions help you make this change.
Building a newsletter around your donors' active involvement will help you tell them that their contribution matters.
Moreover, it will encourage them to keep supporting your volunteer organization in the future.
3. Support Your Newsletter with Credible Evidence
Storytelling may not fit the goal of your newsletter if its main focus is to get new donors.
In this case, you might want to include something more convincing, like research and studies.
No matter what type of volunteer organization you're running, if you want to get new sources of contributions, you need to show your data competence and in-depth knowledge of how to measure the factors that define the success of your cause.
The donors, especially if it's a company or a governmental organization, don't like to spend their money without having a clear idea, why this money matters for this cause and how it will be spent.
Adding evidentiary support to your newsletter can help them make the decision for your benefit.
However, if you're just starting to build up your network of donors, you don't have to write a newsletter that looks like scientific research.
Instead, you can start with some general studies that prove the importance of your cause, like in the example below:
Such emails with studies and data may appear a bit dry, but they are important to keep your donors updated.
However, you don't need to make every newsletter like this.
Instead, you can include such an email into your newsletter content strategy on a recurrent basis and send statistical updates every one or two months.
4. Try a Different Volunteer Newsletter Format
All the examples of newsletters that we mentioned above have the same format – it's a simple letter with updates.
But it doesn't have to be that way, and you can choose any format you want, as long as it effectively delivers the message.
For example, here are a few newsletter ideas you can choose from:
a word from the head of your volunteer organization;
the timeline of activities;
holiday-tied formats.
If your newsletter is a news update and you want to make it more engaging, you can use the format of a school news bulletin board, as RSCPA did in their newsletter below: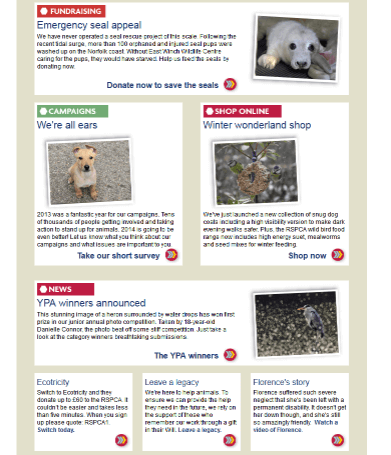 When choosing the format for the newsletter, keep your audience and their needs in mind. At the end of the day, your goal is to deliver updates in a clear and concise manner and make sure that your donors understand your message.
5. Tie Your Newsletters to Your Social Media Campaigns
One of the ways how volunteer organizations measure their achievements is by collecting the response from people across social media via social media campaigns.
Such an approach allows non-profits to evaluate their successes objectively through the eyes of those affected by their work.
To make sure that more people are involved in your social media campaigns, you can announce these campaigns in your volunteer newsletter.
Battersea Dogs & Cats, a pet rescue organization, actively employs this strategy.
One of their latest newsletters includes an announcement of the social media campaign #rescueismyfavoritebreed: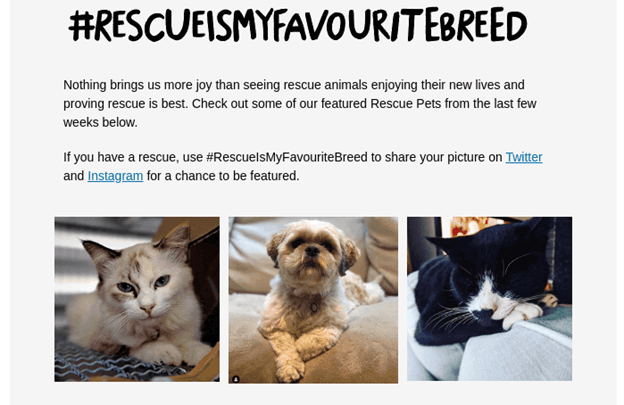 In this campaign, the organization invites everybody who rescued a pet to post a picture on social media and then get featured on the organization's social media page.
However, by using such feedback from people, Battersea also effectively raises its visibility, letting others know that its efforts for this cause bring positive results.
Over to You
I admit – writing a good volunteer newsletter is quite a challenge. It is hard to include every important piece of news along with other updates and make it look not just informative but also engaging.
But it's definitely not impossible, and the examples that you've seen in this article prove that.
As long as you focus on the needs and interests of your audience, the ideas will come to you.
Also, keep your focus on the goal of your volunteer organization, as it will define the message of every newsletter.
Images credits: Charity Email Gallery
We highly recommend to read:
---
About author
Dorian Martin is a content creator and an editor at Essaysupply.com. He also has his own blog, where he gives small business owners tips on developing a successful digital marketing strategy.