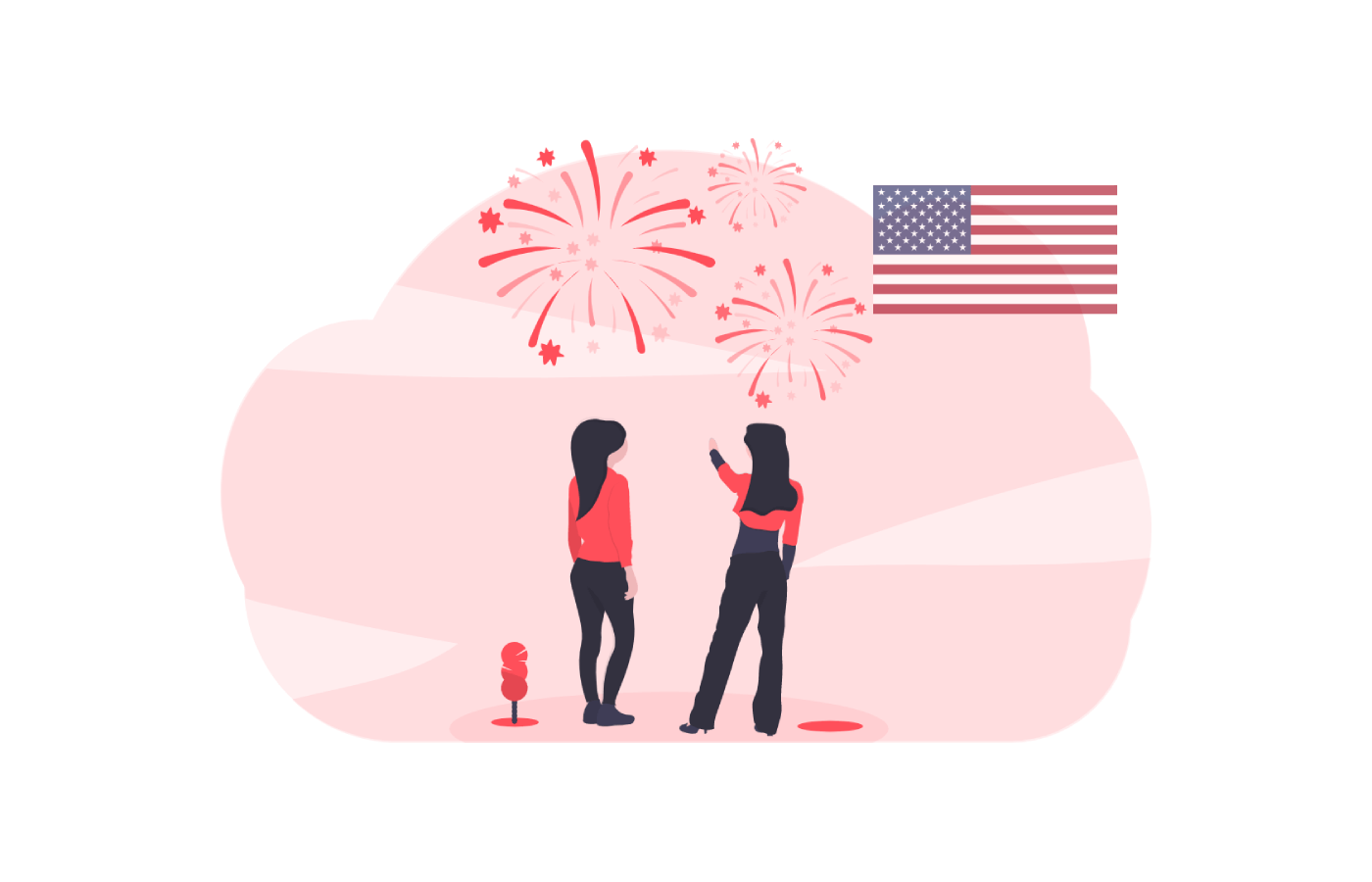 4th of July Email: The Definitive Guide
Before we get started with some ideas you can add to your email, here are some great advantages of running a 4th of July email campaign.
Start with the main things in 4th of July email
1. Make clients happy
Independence Day is a significant holiday. If you're are overseas, your USA clients will appreciate you going the extra mile for them.
2. Increase sales
Like most holidays, the Fourth of July is a big-spending opportunity. Customers will be more willing to spend more to celebrate this particular holiday.
3. Clicks
Anything to do with the 4th of July is likely to get you more clicks from clients looking for a sale or exclusive deals.
4. Easy to get involved
Independence Day is an easy celebration to get involved. With themes like Summer, BBQs, fireworks, patriotism, etc. there's sure a way for you to include it into your marketing plan.
Here are 5 types of the forth of July newsletters that you can include in your email marketing strategy.
Best 5 email types for 4th of July
The Simple Newsletter
You can get connected in celebrating the 4 of July by sending clients a celebration email. Simply wishing clients a Happy Independence Day is a great way to support the holiday without running a massive campaign.
It is perfect for busy companies or overseas businesses. Although easy, it's also a useful trick to let US subscribers know you are thinking about them.
Pick a simple template and focus on a traditional 4 of July themes such as the flag or fireworks. It will keep the design on the topic, as well as making it visually appealing.
The Patriotic Email
This email campaign idea is great for companies selling a product or service that can be used on the 4 of July.
Consider the products you sell and how families are celebrating together could use them.
By promoting your product in time, you should expectedly see a growth in sales before the important day.
Get customers excited for the celebration day by including lots of patriotic symbolism such as stars, red, white and blue colors, or even the flag.
Don't forget to send these emails a few weeks before so that consumers still have time to buy.
The Sale Email
Operating a themed sale is one of the easiest methods for companies to celebrate Independence Day. As many customers use a celebration as an excuse to spend more, a sale is an ideal opportunity to encourage this.
Use clear call-to-actions and compelling graphics such as GIFs, and colorful images, to build up hype around your promotion. Also, make your sale the central element of your email's subject line, so subscribers will want to open it immediately.
Remember to announce your big sale a few days earlier, so customers know it's coming.
The Checklist Email
Help your clients prepare for the 4of July by including list advice and useful information.
A party preparation guide or recipe ideas are both great examples of how your company could help clients get ready for the big day. If your company sells party equipment, food & drink, or garden items, this is your celebration.
Explain to the customer how your business can help get ready for the Fourth of July party. Include a checklist of products that will be useful for the party and use lots of images to create the main focus of the email.
Don't forget to keep to the Independence Day theme to help your subscribers get in the party mood.
Always double-check that all of the products you include in your list are correctly linked and carry enough stock on your website. It will help to avoid disappointment on such a big day.
The Reminder Email
Lastly, a reminder email is a way to help consumers get ready for the special day.
This email campaign idea can go with one of the other four ideas, or be used as a standalone newsletter.
Send out a reminder email to remind customers that Independence Day is just around the corner. In this email, you can add all of the essential information such as shipping dates, opening hours, and ideas for last-minute shopping.
Try adding a sense of urgency to work on the last-minute nature of your newsletter. It will help subscribers to carry out their final buying and give you one last opportunity to boost purchases.
Also we recommend to read: