30,000+ brands grow with Sender
Join them and unlock the simple way of skyrocketting your sales through email marketing.
Get Started For Free
Forms are the backbone of most websites on the internet. They help capture leads, accept payments, and more. But picking the right online form builder is quite a task.
Many online form builders promise the moon. But how to choose one that suits your online growth goals? Let's look at some of the best online form builders in this blog and see how they cater to your online growth needs.
Different Types of Online Forms
Before we explore the different form builders, let's quickly look over the different types of forms and a few examples. These form types can be used at different web pages or stages of your conversion funnel based on your online growth goals.
Newsletter Signup
Newsletters are a great way to start email marketing and engage your target audience. You can use a form builder to create an email newsletter signup form.
A newsletter signup form generally asks for an email address and a name but can sometimes simply ask for your email.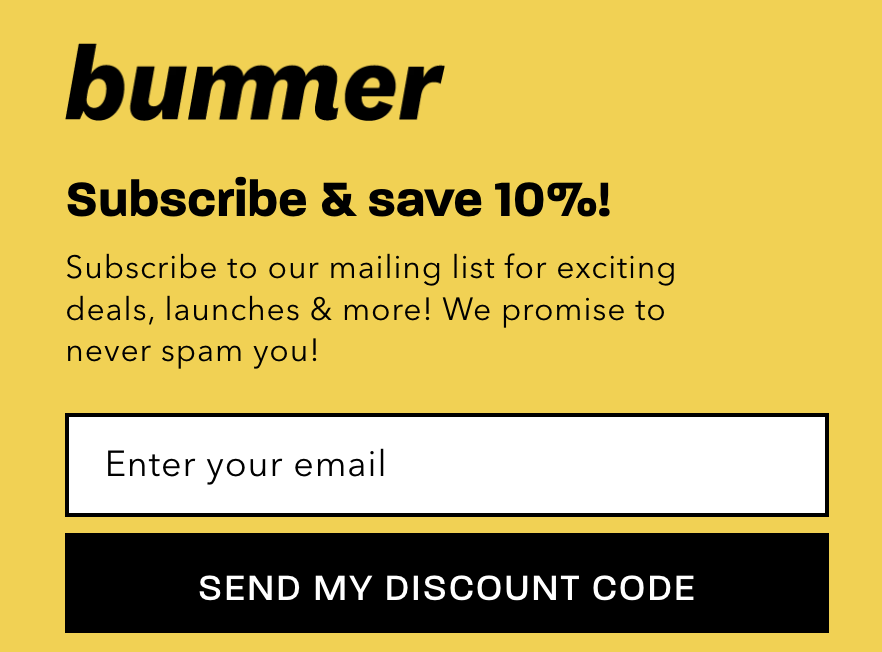 Newsletter forms can be added to the homepage, sign-up pages, squeeze pages, or your blog to help you add a visitor to your existing email list, which you can use to send email newsletters. You can even set up nurture campaigns for email marketing for your email subscribers.
Best for
Bloggers and newsletter operators;
Media websites and influencers;
eCommerce businesses trying to launch or grow a newsletter.
Sales Contact
Let's admit. We all dream of a lead avalanche through our marketing website. A contact form helps you make that dream come true. It captures the lead's information and sends it to your sales team for outreach or further nurturing.
Contact forms can be pretty diverse and ask for personal information and questions that help segment or qualify a lead.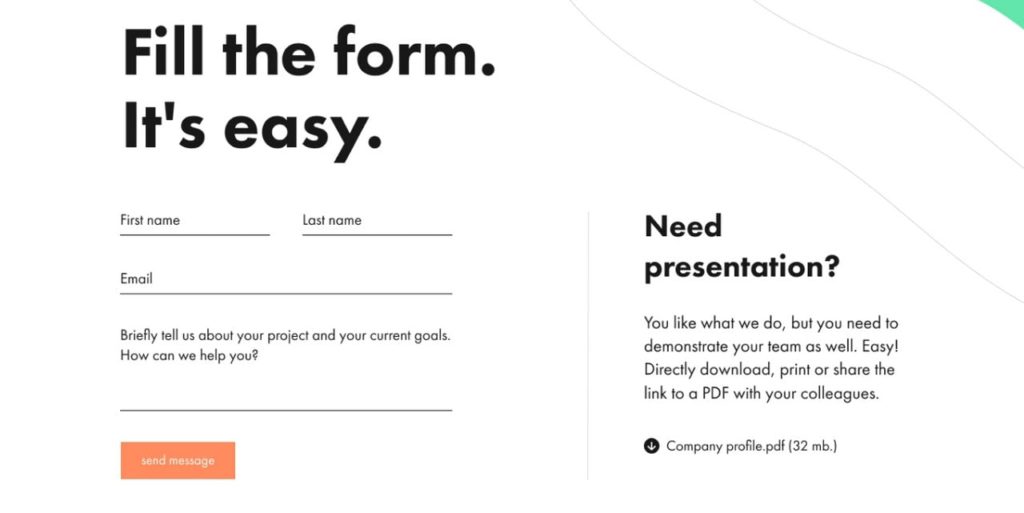 A strategically placed contact form on the website can be a great lead-generating engine that can pump up your sales pipeline.
Best for
Agency businesses looking to attract leads from websites;
Real estate business owners looking to improve their lead generation efforts;
Any service-oriented business planning to pump up its lead pipeline.
Event Registration
If you're into event marketing, you know the importance of RSVPs and an invitee list. Event registration forms can be added to webinar signup pages or event landing pages to prompt people to take action.
Event registration forms ask for attendee information like email, name, and other personal details. Generally, they're connected to an email autoresponder that gives the attendee information about the event and prompts them to add the event to their calendar.
Best for
Digital coaches who host webinars and seminars;
Social media influencers who want to nurture their audience;
Event management company trying to improve their digital footprint.
Customer Feedback
Customer feedback forms are exactly what it sounds like. They help gather opinions about a product or a service from customers.
Such forms are generally structured like a survey, with questions like:
How satisfied are you with a 'product or service'?
Where did you hear about ' the product or service'?
Will they recommend 'the product or service' to their friends/family?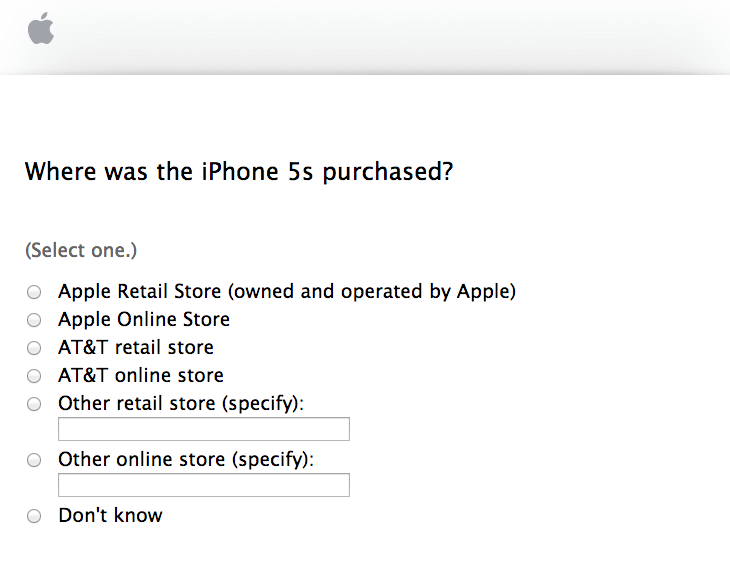 Such forms are used to conduct product-market fit surveys, perform market research, and help make important product decisions.
Best for
SaaS businesses trying to find their product market fit;
eCommerce businesses planning to boost customer delight;
Retail business owners planning to conduct market research.
Also read:
Online Order And Payment
Payment and order forms are common on eCommerce websites and Shopify stores. Websites add these forms to boost conversions and allow users to buy directly from the website.
Order and payment forms should be easy to complete, don't lag or hang, and shouldn't be lengthy. They should also be hosted on a secured and encrypted server as they deal with sensitive information. A best practice is to divide the form into sections in case you need a lot of customer information.
Best for
eCommerce business;
Digital product sellers looking to sell directly via web pages;
Social media influencers looking to sell products to their followers.
Account Signup
You must have seen membership or registration forms on community and social media websites. They ask for your personal information like name, email, and telephone number to help set up a profile and access gated information, resources, or website features.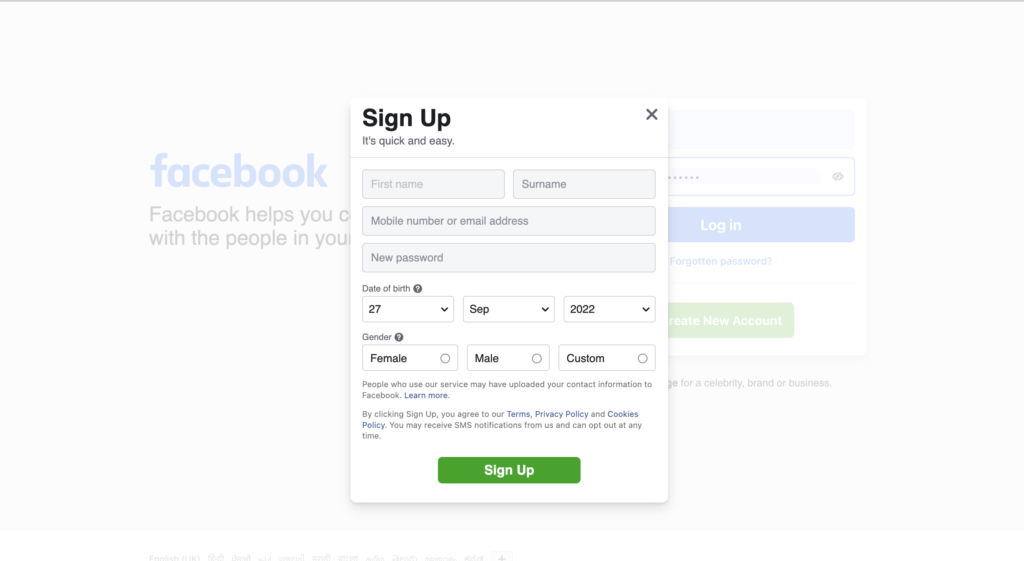 Registration forms are not just for social media or membership sites. They're also great for businesses that want to deliver value consistently, stay connected, nurture a lead, and try to convert them over time.
Best for
Forums and e-learning platforms;
Social media-type businesses looking to monetize their following;
Digital coaching and training businesses.
Contest Registration
Running an online contest is a great way to attract more visitors and generate leads through a website. A contest registration form asks for personal information and other questions for entering sweepstakes and grabbing a chance to win something — a coupon, deal or freebie.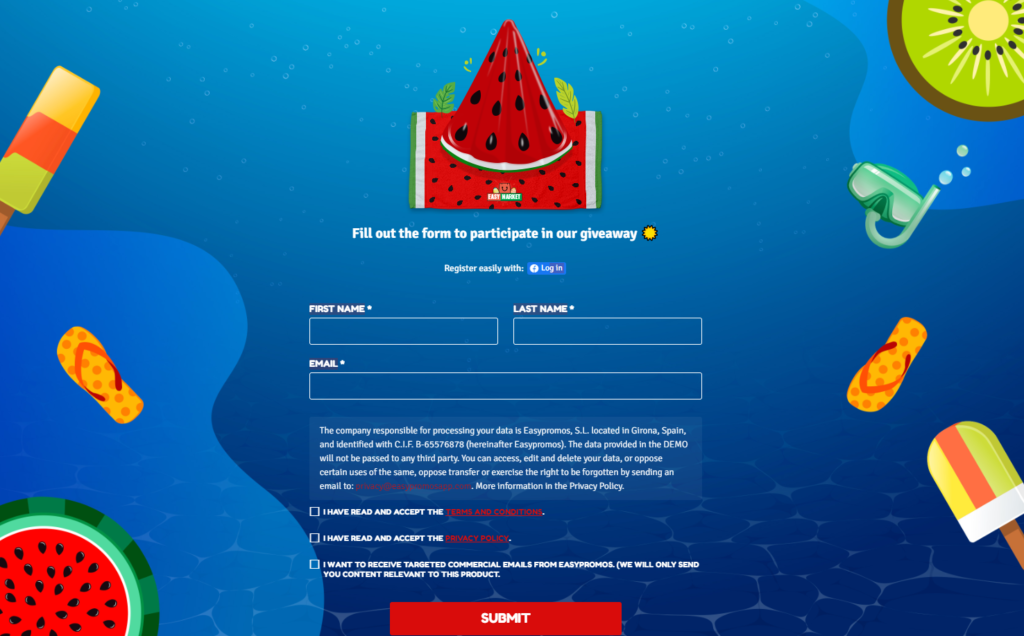 Contest registration forms are great at convincing first-time visitors to try out their product or service. Generally, such forms are used by eCommerce and D2C brands during Halloween or the holiday season.
Best for
eCommerce businesses looking to boost their engagement and revenue;
Online store owners planning to reward their followers;
Retail businesses looking to launch holiday offers and sweepstakes.
Contact Form
A general contact form helps customers reach out to you in case of any queries. These are most visible on the bottom of the homepage or footer, or have a separate contact page on the website.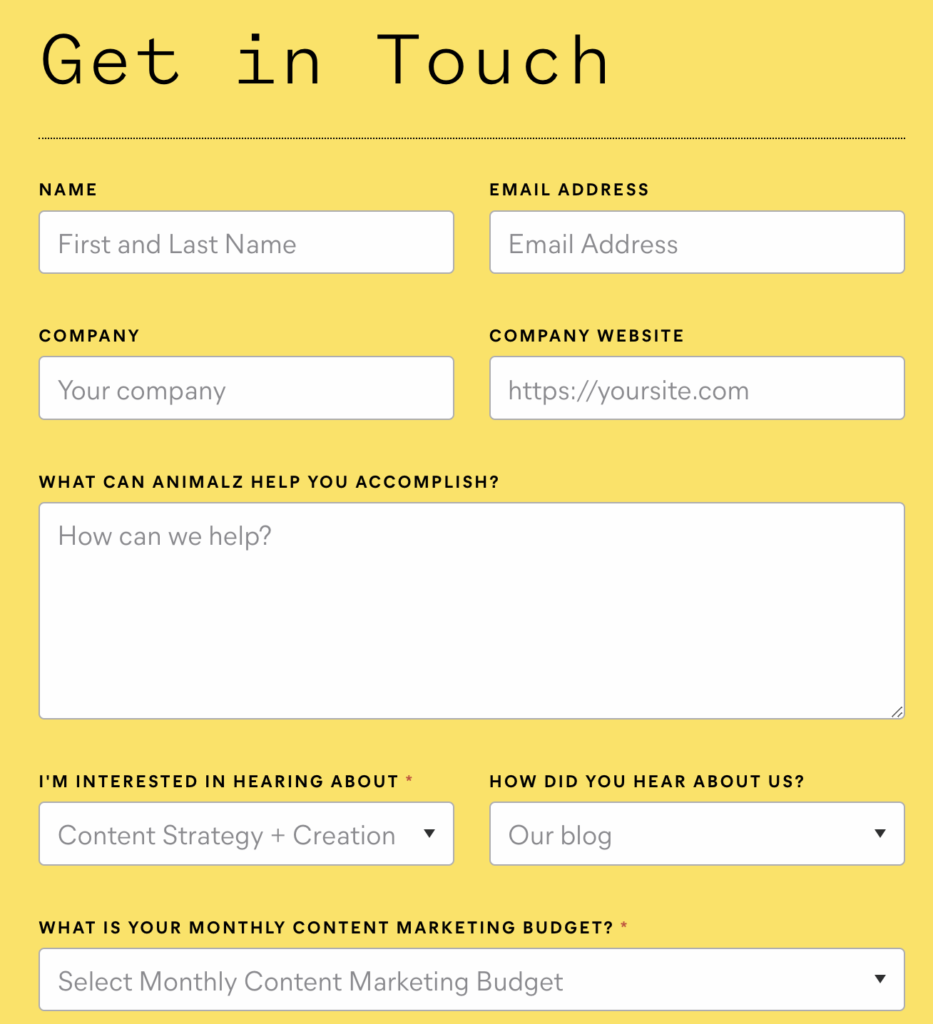 A contact form is a must-have element on any website, as no matter how clear you're with your copy, some customers would still want to talk to you. It's best that you keep the contact form simple yet complete.
Best for
Any business looking to promote their business online via a website;
Consulting businesses looking to generate queries online.
What Features Should the Best Form Builder Have?
Before we dig deeper into the list, let's explore some must-have features for an online form builder. This list will help you compare different online form builders and pick the best one based on your specific needs.
Intuitive User Interface (UI): The form builder UI must be simple, fast, and user-friendly. It should guide you in building a beautiful form based on your needs. Choose an online form generator with a drag-and-drop interface that lets you create forms by placing elements on a canvas.
Template Library: Form templates are a huge time saver. So, pick a form creator with an extensive template library. The template library will help you create forms faster without compromising quality. There should be forms for lead generation funnel, email newsletter signup, contact, etc.
Behavioral Settings: A form builder should have advanced capabilities to track user behavior and contextualize forms on the website. Forms should appear at specific events, like when the user is ready to close the page (exit intent popup) or scroll to the end. Personalization based on user behavior boosts conversion rates.
Analytics & Optimization: A form builder should help you test and optimize different elements based on data. Data will also help you understand user intent and time spent filling out the form. You should be able to tweak the form appearance, fields, and interactivity for better outcomes.
Easy & Quick Integration: Form builders should be easy to set up and integrate with your existing tech stack. They should provide a plug-and-play solution that can connect to your existing WordPress, Wix, Shopify, WooCommerce, or Magento website.

Affordability: Using a form creator should not make you feel like paying the ransom. It should have generous usage limits and minimal restrictions, making you more money than you're spending on it. The best form builder comes with multiple pricing plans (and a tiered usage model) to help you pay as you grow. Also, never rush for a form generator with the cheapest plan.
11 Best Online Form Builder Apps for Different Purposes
Okay! Enough information about online forms.
The internet is full of online form builders with several interesting features. Free online form builders come with restrictions, while a paid solution allows you to create unlimited forms, use advanced features that help you accept unlimited form submissions, and analyze form data. Using online form builders or a SaaS solution is one of the best ways to create forms quickly.
1. Sender — Free Online Signup Forms & Pop-ups
Sender lets you create beautiful, professional, and responsive online forms to grow your email list, ask for contact details, or generate leads. Use Sender's drag-and-drop builder to create and launch inline or pop-up forms for your website.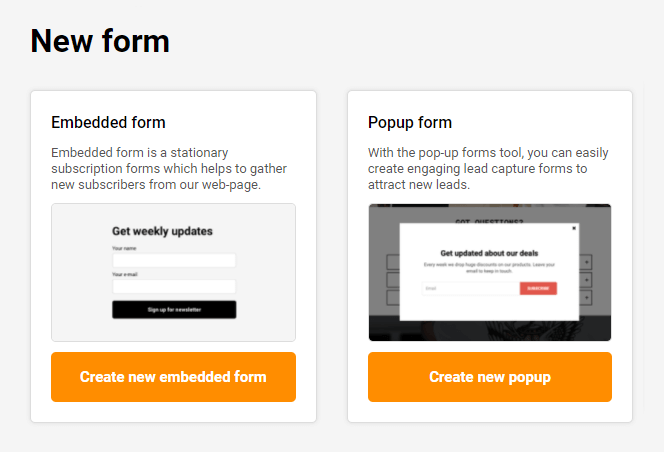 The best part of using Sender as a form builder is that you can track visitor behavior to show forms at the right time. For example, adding a smart exit-intent pop-up form that prompts a user to sign up for a free offer or discount when they're just about to leave your website.
Unlimited custom fields, even on free accounts, full GDPR compliance, drag-and-drop form designer, and advanced features like showing form at a specific interval make Sender a powerful form builder for any digital business.
Automated workflows & integrations: Easily connect with your existing CMS, website, and lead management solutions using advanced integrations and automated workflows.
Full GDPR compliance: Secure platform with European data centers to comply with the latest privacy laws and protect user privacy.
Real-time reports: Get real-time data about form submissions on a central window (dashboard) for analyzing your performance.
Advanced spam protection: ReCaptcha and other spam protection features
Mobile responsiveness: Fully responsive popup and in-line forms that look good on mobile, tablets, and desktop screens.
Useful features
Create beautiful signup forms that can be embedded in-line or used as a pop-up;
Advanced behavioral features like exit intent, scheduled frequency, or custom timing settings for pop-up forms;
Complete design customization and responsiveness even for free account owners.
A few clicks integration via plugin or script
Best for: Niche website owners, online businesses, eCommerce brands, bloggers, and publishers.
Pricing: Free for all Sender users, including free accounts.
---
2. Gravity — Best for Payment Forms
Gravity Forms helps you create custom web forms for your website. You can design interactive forms for subscriptions, sales, registration, etc. But it's widely known for solid payment integration features, making it useful for WordPress websites accepting payments online.
It's a great solution for any online business with WordPress websites looking for features like a drag-and-drop builder, conditional logic, data routing, etc.
The online form maker got a lot of negative publicity due to some serious security vulnerabilities in 2015. But since then, it has completely secured itself with solid security features and regular audits.

Today, Gravity is used by millions of WP website owners who want to accept payments online without wanting to try a third-party tool. Gravity integrates well within the WordPress dashboard, making it easier to create.
Useful Features
Drag and drop form builder;
Paginated and responsive forms;
Email logic and data routing;
Payment integrations, APIs and Webhooks.
Best for: eCommerce websites and businesses accepting online payments
Pricing: A basic license plan for one website starts at $59 per year.
---
3. Ninja Forms — WordPress Form Builder
Ninja forms help you build beautiful forms for your WordPress without much fuss. You can use forms for accepting donations, file uploads, lead generation, and more.
Ninja Forms uses a modular approach to enhance form functionality and add advanced features. For example, you can buy add-ons to use conditional logic for your form fields and so on.

You can create unlimited forms with a payment plan. However, if you need advanced functionality like conditional logic and custom layouts, you must buy add-ons (plugins) by spending over and above your current plan. This is a big trouble for any small business or website looking to start growing its online footprint. So, if you want a full-package form builder, you can avoid Ninja forms.
Useful Features
Intuitive drag and drop form builder;
Free layout and styles add-on for complete customization with a paid plan;
Integrations for all popular email marketing tools and payment gateway platforms.
Best for: Bloggers, WordPress website owners, and starter websites that don't need advanced features and analytics.
Pricing: Starts at $49 per year for one website.
---
4. Hubspot – Free Online Form Builder
If you use HubSpot's free CRM, HubSpot form builder is an excellent option.
The online form builder is a part of Marketing Hub that is free to use for every HubSpot user. Primarily designed for lead generation, HubSpot form helps you build and launch a simple form in minutes.
You can add the form to your website and automate adding all contacts to the HubSpot CRM. You can then use this information to set up and personalize email campaigns for nurturing leads based on your campaign goal. It makes the whole process really simple, even for the first-time user.

Though it's a nice online form builder tool for creating forms and comes with many templates, its real potential can only be unlocked when you're a premium HubSpot user, which comes with a hefty price tag.
Useful Features
Create and deploy conversion-ready forms for lead generations
Automatically add contacts to your CRM from the website
Set up automated flows for marketing automation directly
Best for: Existing HubSpot users and businesses serious about marketing automation
Pricing: Free to use but has limited applications if you don't have a premium HubSpot account.
---
5. Mailchimp – Simple Online Signup Forms
Mailchimp form builder bundles with a Mailchimp account and lets you create online signup forms. It lets you create, design, and launch a beautiful online form to accept user signups for your newsletter and be a part of your audience.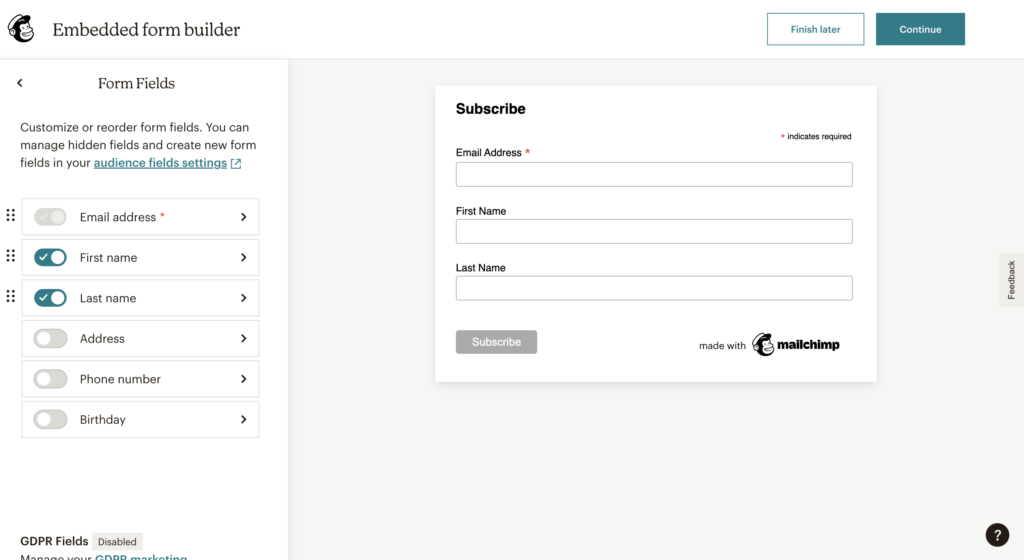 MailChimp form builder allows you to customize every aspect of the signup process, including the 'thank you' page and welcome email. So, you can take complete control of the user onboarding experience. It also lets you translate your form into 50+ languages.
The best thing about MailChimp is its simplicity, but sometimes it can be pretty limiting too. For example, there are only limited design customizations available. All in all, it's a decent option if you just need a basic signup form. But if you're planning something big, it's better to look for MailChimp alternatives.
Useful features
Drag and drop form builder with translate feature
Customization options for thank you page, confirmation page, welcome email, etc.
Hidden fields
Best for: Existing Mailchimp users.
Pricing: Free to use for Mailchimp users.
---
6. Typeform — Best Form Website Builder
Typeform lets you build responsive and visually appealing forms. Forms created on Typeform differ slightly from ones built using standard online form builder software. They are intuitive, feel like interacting with a human, and prompt a user to progress further.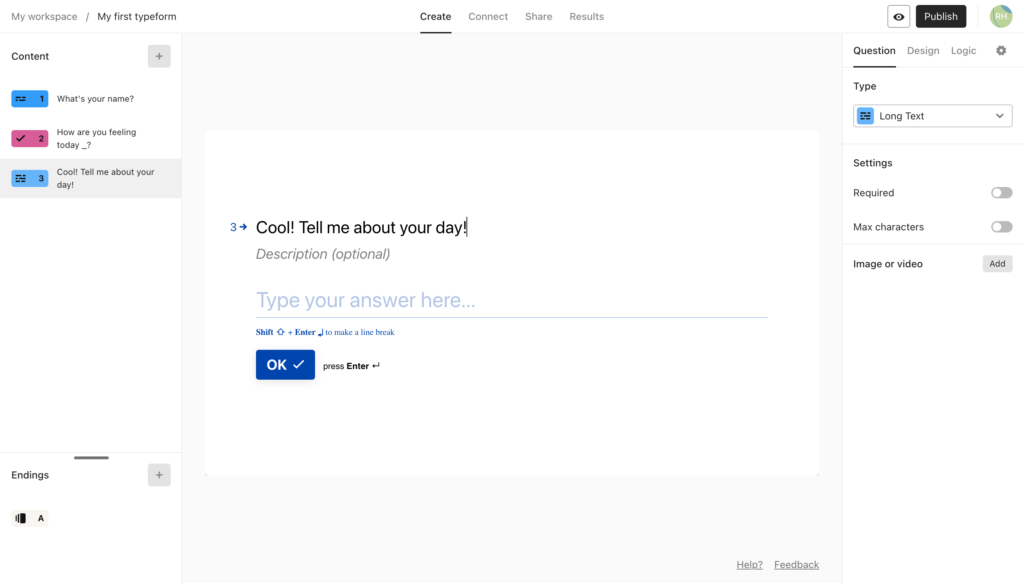 Typeform is mainly used for interview forms, online surveys, market research, recruitment applications, or other scenarios requiring sequential question flow. However, Typeform has an extensive library of templates with options suitable for lead gen, contact registration, quizzes, and more.
You can use Typeform to nurture your leads, conduct a product survey, or dig deeper into user behavior with some great questions. Also, the features and UI of the form builder tool would not restrict you from trying some creative form ideas to engage your visitors in a better way.
Useful Features
Drag and drop form builder with a vast library
Hidden fields and conditional logic jumps
Integrations will all lead marketing, automation, and email suites.
Best for: Conducting market research, collecting client feedback, and floating quizzes.
Pricing: Starts at $25/month for up to 100 responses.
---
7. Google Forms — Free Form Creator for Simple Forms
Google Forms is a free online form builder that helps you quickly create basic online forms. Generally, they are used to conduct surveys or ask for information. You can embed them on any web page or share a link directly.
The simplicity of Google Forms is great. But that's precisely what makes them unsuitable for a modern online business. Primarily because they lack the professionalism and seriousness that will engage a visitor on your website.
While it's suitable for a simple online project, accepting event registrations, or conducting a poll, you can't benefit much from the free form builder. The lack of customization features, obsolete layouts and templates, and advanced analytics restricts you from using it in any online funnel.
It's better to use Google Forms for hobby projects and conducting direct user surveys, but when it comes to gathering leads or accepting signups, try some other form builders mentioned in this blog.
Useful Features
Completely free to use
Unlimited responses that get recorded in a google sheet
Conditional logic and questions
Quiz features for educators and market researchers
Best for: Small side projects, online surveys, and educational purposes.
Pricing: Free to use.
---
8. Wufoo by SurveyMonkey — Best Alternative to Google Forms
You must already have heard about SurveyMonkey. It now has its own form builder known as Wufoo. Wufoo is a simple, no-nonsense form builder that allows you to create contact forms, registration forms, payment forms, etc., for your website.
While the UI feels obsolete, the form builder can be seen as a strong alternative to Google Forms. It has an in-built feature to create themes for all your forms, helping you maintain standardized design principles. Plus, the 300+ templates can be a time saver.
The form builder supports all modern features, such as real-time analytics, dynamic condition-based fields, branching logic, and more. You can also integrate with payment processors like Stripe, Paypal, and others to accept payments online.
All in all, this is a good tool for someone who doesn't want a fancy tool but still would like to explore online form builders. But if you want a better UI, you should definitely look at other SurveyMonkey alternatives in this article.
Useful Features
Drag and drop form builder with an in-built theme designer;
Supports payment, file uploads, and custom fields;
Integrates with all major business tools and Zapier;
Automated workflows and branching logics.
Best for: Market research firms, eCommerce businesses, coaches, and digital influencers.
Pricing: Starts at $14.08 per month for upto 5 forms and 100 responses.
---
9. Jotform – Online Form Builder With The Largest Template Library
Finally, the last one on the list — Jotform. If you've ever thought about forms, there are high chances you've already tried this. They are known for the largest form templates library on the internet and a clean UI.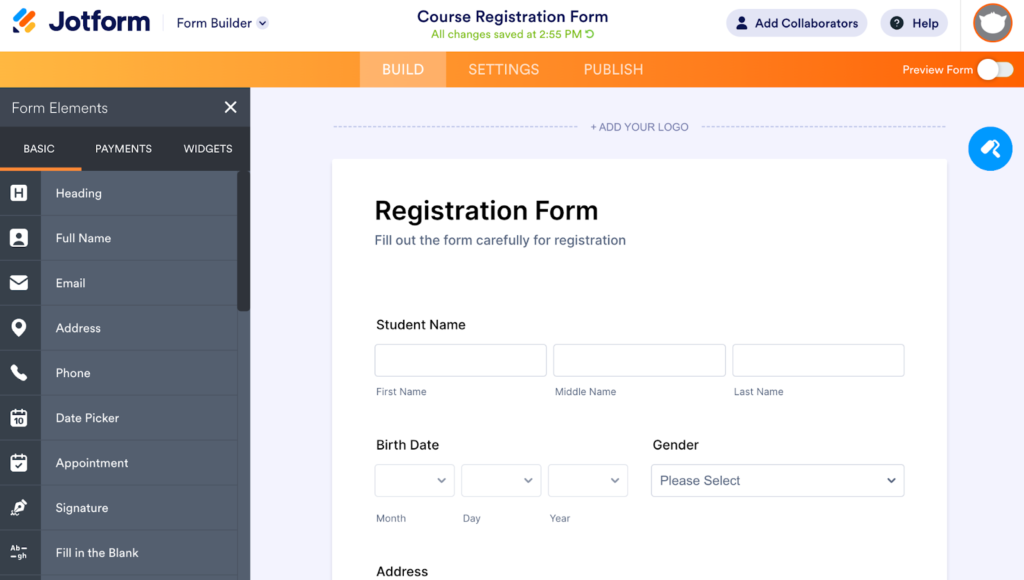 Jotform has the easiest form-building experience out there. It asks you about your need, shares relevant templates, and gets you started with customization.
There are more than 10,000 templates in the Jotform marketplace, and the best thing is to customize them as you want. You could choose one based on your need, industry, or profession and get started in minutes.
Plus, advanced features like conditional logic, email notifications, thank you page, etc., give you total control without overwhelming you. With a free pricing plan that allows you to publish 5 forms, it's a nice tool to test your online form-building skills.
Useful Features
Drag and drop builder with a responsive and simple UI;
Huge template library with 10,000+ templates for all industries and use cases;
Conversational forms in card layout for better user experience;
Email validation and ReCaptcha to improve your online lead gen efforts.
Best for: Online marketers, eCommerce platforms, and newsletter creators.
Pricing: Starts at $34 per month, billed annually. Free plan is also available.
---
10. forms.app
forms.app is a form builder tool where you can create surveys, quizzes, and forms online. forms.app makes your form creation process even easier thanks to its 1000+ premade templates.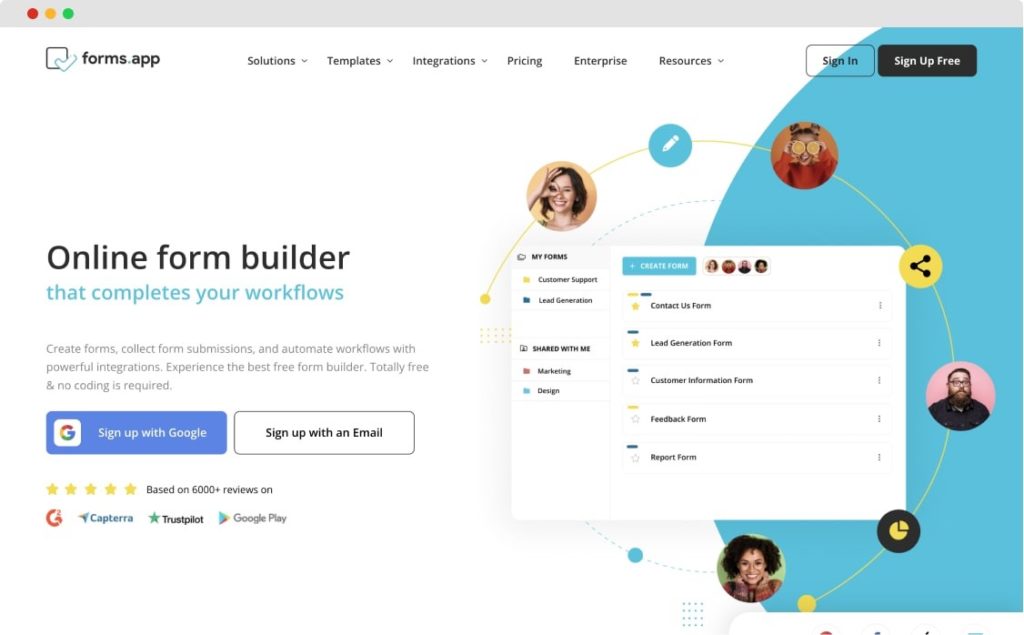 In addition, forms.app is also great for small businesses thanks to its forever free plan. You can also use advanced features like conditional logic, calculator, various customization features, payment collection, and signature collection in the free plan.
Useful features
No additional fee when accepting payments;
Integration options with more than +500 apps;
More than 1000 pre-made templates;
Easy to create forms and surveys thanks to drag and drop feature;
+25 field types to include diverse features in the forms.
Best for: small to medium businesses.
Pricing: forms.app's basic plan starts from $12 when it's billed annually.
---
11. JetFormBuilder — Best for Gutenberg Forms
JetFormBuilder is a powerful form-building plugin for WordPress native editor that allows you to create customized and advanced forms for your website. With its block-friendly drag-and-drop builder, you can design forms for a variety of purposes, such as subscriptions, sales, registration, surveys, feedback, and more.
One of the standout features of JetFormBuilder is its conditional logic, which lets you create forms that adapt to user responses. This allows for a more personalized and engaging user experience.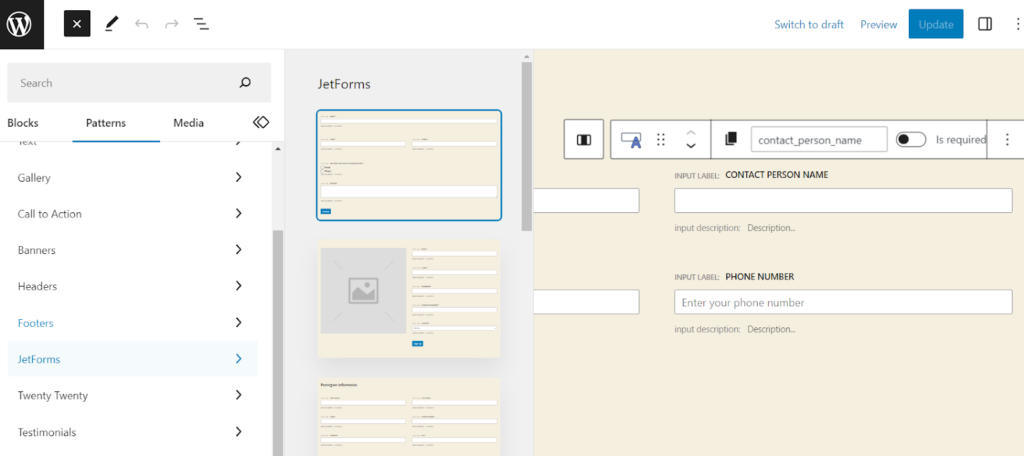 JetFormBuilder also provides a range of payment integration options, making it a great choice for businesses that accept online payments. Plugin offers support for well-known payment gateways such as PayPal and Stripe.
This WordPress plugin is a good asset for building front-end submission forms, like guest posts and product or service placements, with the ability to publish posts instantly or after admin approval.
Useful Features:
form patterns for the most used forms;
multi-step forms with step indicators;
form records and payments dashboard;
third-party integrations with Webhooks.
Best for: Creating front-end forms for WordPress websites.
Pricing: The core plugin is free; you can buy Pro add-ons from $38 per year/site.
---
Best Form Builders: Key Takeaways
Once you align your goals, tech stack, and the form builder, you'll be able to truly leverage the power of online forms to grow your business online. All the best!
When searching for the best form builder, always pick the one that suits your online marketing goals and sales funnel. Here's what you should always keep in mind:
Sign up for a free trial to see if it suits your online marketing goals;
Check for native integrations with your website, email marketing tools, and tech stack;
Make sure it is affordable to use it without fear of restrictions or losing your data.
Also read: