Profit from your knowledge
Apply email and SMS marketing strategies you already know to see the best results with Sender. It's free. It's easy.
Get Started For Free
Planning your ecommerce marketing agenda for unlocking astounding financials in 2022?
Data, analytics, and automation are the most bankable choices you can make this year, as suggested by a recent BCG feature.
The story talks about a Direct to Customer or DTC strategy that adds to your business growth by collecting valuable customer data, CX personalization, and agile methodologies to quickly launch and test new products.
Building a robust and high-performing ecommerce marketing strategy for your brand requires an unflinching focus on the following:
Customer-first, digitally native, and online brands with a highly focused product portfolio
Retail brands with fully-integrated digital channels
Well-established Segmentation-Targeting-Personalization (STP) strategy that helps you create customer-first brands
But then again, how do we actually build strategies around these guiding principles? What can customer-first and industry-leading brands offer to the SME sector as learning? And how to make sure that all your efforts are well-aligned with your customers' preferences and brand expectations?
Here, we explore the answers to all these and many other questions and discuss the top strategies and tips for ecommerce marketing.
What is Ecommerce Marketing?
Ecommerce marketing is the process of driving awareness and action toward your brand offerings that are sold online. Ecommerce marketing involves targeting online channels such as social media, search engines, websites, email, and streaming sites for customer targeting and sales. The process focuses on guiding a prospect such that they ultimately make a purchase and become your customer.
However, it definitely doesn't end here. You must also ensure that existing customers stay with you and make repeat purchases.
This is where the eCommerce marketing strategy steps in!
The e-commerce marketing strategy comprises all the steps marketers must follow to ensure that their marketing is on-point and targeted to the most relevant audiences. It ensures that you grab new customers and keep the existing ones happy and engaged.
Take a look at the following image, that is an excellent visual representation of marketing in Ecommerce: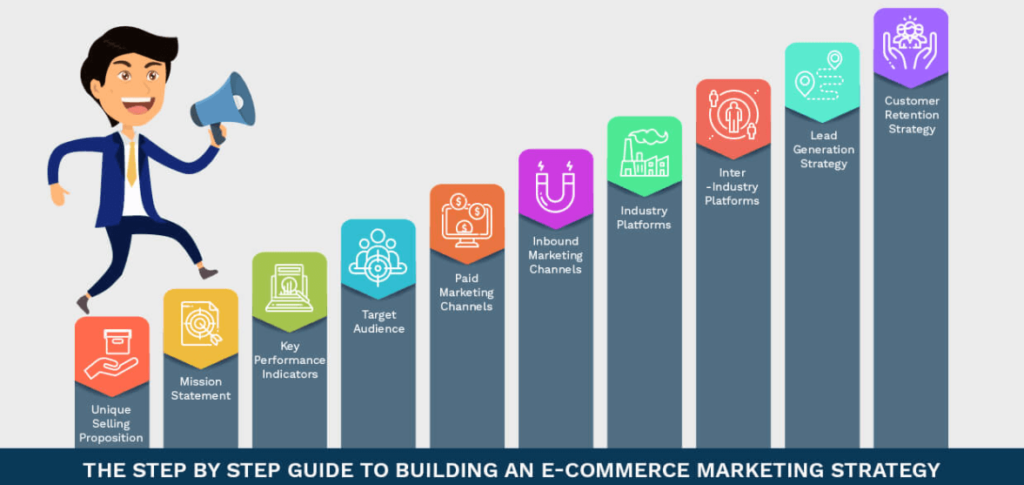 This approach keeps fueling your ecommerce sales and steers your business towards sustainable growth, your ultimate aim!
Ecommerce Advertising
Another marketing approach for eCommerce is advertising. eCommerce advertising essentially involves paid strategies that help sell products or services online. These ads drive traffic to the eCommerce business by targeting new prospects and retargeting repeat visitors. This type of advertising encompasses all paid advertising, including PPC ads, display banner ads, Facebook ads, etc.
Next, we explore the various types of eCommerce marketing and discuss them to help you understand which one works the best in which scenario.
Types of Ecommerce Marketing
There are different types of marketing techniques depending on your goals and marketing objectives. Below, we discuss the top marketing techniques.
Email Marketing in Ecommerce
Ecommerce email marketing involves using emails to promote brand offerings to potential and existing customers. Emails are highly affordable, highly popular (4100 mn + users globally), and offer an ROI of $42 per dollar invested in it.
Apart from offering excellent economies of scale, emails help you easily reach global audiences as you can send thousands of emails in one go.
Some other benefits of using email marketing in ecommerce are:
Campaigns can be measured, tracked, and monitored in a better way
Delivering targeted messages to target audiences becomes easier
You can schedule a drip or pulse campaign to send a series of emails based on the actions taken by a customer
Deliver personalized messages via email, such as newsletters, personalized product recommendations, etc.
Boost sales
Gather customer feedback, conduct surveys, and gather quotes
Gather and nurture leads via cold emailing
Another fantastic way to use email marketing for ecommerce is to use AMP emails, which allow you to add dynamic and interactive elements to your emails. So, the viewers can take all the actions right inside their inboxes without being redirected to web pages they might not trust.
Shopify Email Marketing
Shopify is one of the most popular ecommerce platforms that allow you to send emails to your customers directly from Shopify email. But first, you must open the Shopify Admin and send customized marketing emails to your customers.
Shopify email marketing allows you to leverage cross-selling by targeting the customers who have already made purchases with you. As a result, you can recommend a similar product or service and convert your prospects into customers and repeat buyers.
Likewise, you can improve your sales via upselling techniques by showcasing more expensive or better quality products as a better choice than what they bought last time.
Some of the best advantages of using Shopify email include:
All the required tools are available in one place with detailed product guides
No coding skills are required to create, customize and share marketing campaigns
You can manage the campaigns right from the platform
2500 emails are available for free per month
Shopify email marketing works perfectly well for SMEs in ecommerce that wish to have a frugal yet powerful marketing platform for their ecommerce setup.
SMS Marketing for Ecommerce
SMS marketing allows you to assume an omnichannel stance for marketing and ecommerce efforts, as you target your prospects and customers even when they are offline.
SMS marketing draws its strength from its ability to sideline the online channels' noises, such as videos, social media posts, etc. As a result, when your customers check your SMS, you have their undivided attention and, thus, can deliver a direct and clear message.
With 46% of global mobile users spending 5-6 hours per day on their phones, SMS serves as one of the best channels for ecommerce marketing. Moreover, as people know that the spam rate and noise in SMS are lesser than the other internet-based communication channels, they take messages more seriously, leading to high open rates and better engagement.
Some other advantages offered by SMS marketing are:
Mini surveys for rapid data collection
Geo-location-based data collection
Demographics-based customer targeting
To make the most of your SMS campaigns, you can add a personalized touch to your messages and boost customer engagement.
All things considered, when it comes to omnichannel services – Sender got it all. Complete multifunctional marketing platform, which combines the bulk of required marketing tools under a single roof. Employ effective Email + SMS campaigns with marketing automation, all within a single platform.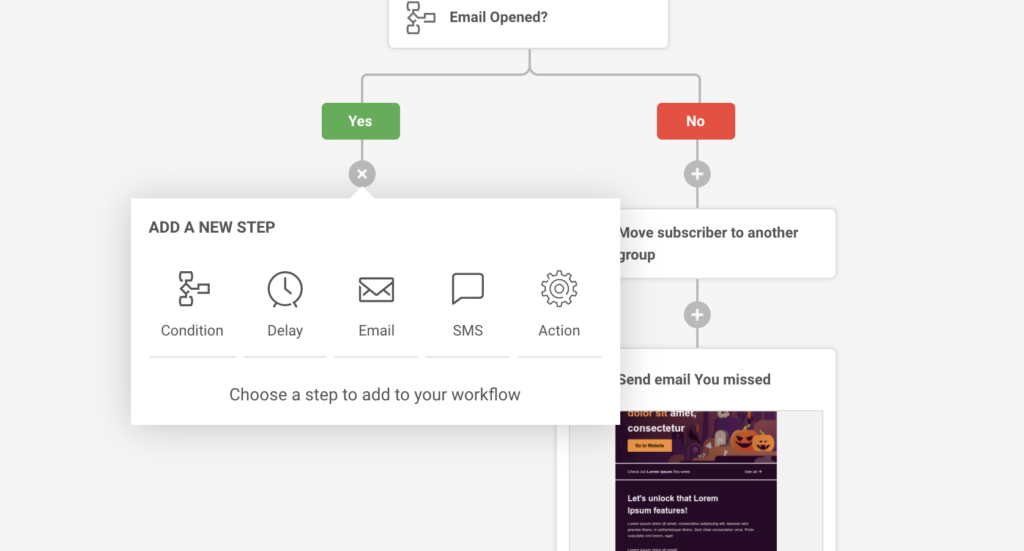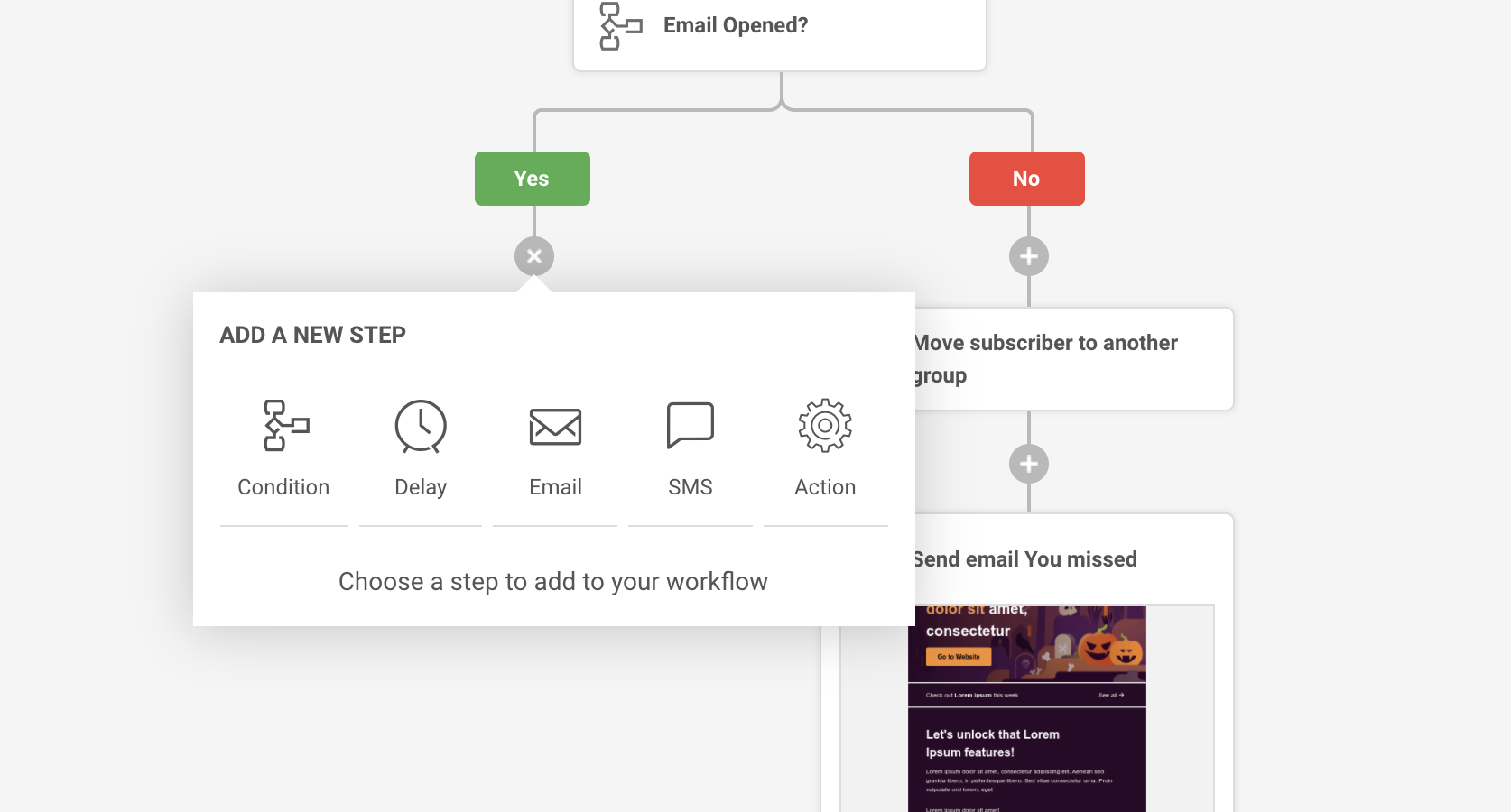 Take Sender for a spin and experience complete functionality with zero financial commitment. No restrictions, no discrimination – enjoy complete marketing experience with 15 000 monthly emails on a FREE FOREVER plan.
Content Marketing Ecommerce
This type of marketing involves using content in different formats, such as videos, tutorials, infographics, blog posts, short content pieces, walkthroughs, infographics, etc., to spread the word among your audiences.
Content allows you to target your customers across multiple channels in a highly targeted manner and serve brand or product-related information in a customer-savvy manner. Content marketing is a form of inbound marketing that brings your customers to your brand offerings right from where they were searching for relevant solutions. It allows you to experiment with different ideas and approaches and serve content across multiple channels in an engaging form.
Some of the most compelling benefits of using content marketing are:
It improves your marketing ROI
Your conversion rates increase
You can generate traffic, sales, and leads from multiple channels
Search engine visibility gets enhanced
You can educate your audiences with the best the resources
Creating and using content for marketing also allows you to create an in-house knowledge repository for your teams in blogs and articles that they can access anytime they want.
Social Media Marketing for Ecommerce
In this technique, you use social media platforms for customer engagement, marketing campaigns, brand building, and raising awareness regarding your brand offerings. Social media campaigns might also involve celebs or social media influencers to enhance the reach of your marketing efforts.
With more than 4.48 bn users globally, social media has become a bankable marketing channel for every age group and demographic element.
Social media marketing offers the following benefits:
You can drive traffic to your websites
You can boost conversions with this enhanced inflow of leads
You can connect with your audiences on a deeper and more emotional level
By linking social media platforms with your customer service system, you can enhance the support quality as well
Social media marketing for ecommerce allows you to be as diverse and as experimental as you want. Ads, reels, videos, content pieces, and mass messages – the list of options is undoubtedly excellent!
Ecommerce Marketing Strategy
Having an in-house marketing team that constantly innovates and works on new e-commerce marketing ideas from experiential learning is another way to boost your sales, reach, and conversions. First, however, you must ensure that learning is an inevitable part of your organization's culture to keep the marketing efforts fresh, energetic, and well-aligned with your brand.
In-house marketing allows you to target your marketing efforts in the best possible way, as your team and analysts can access a wide range of customer and marketing data that can be used for drilling into the granular details, such as:
Which channel do your customers interact with the most
How do your customers react to the email newsletters
Which marketing campaign generated the best results
You can streamline and refine your multichannel marketing concepts and roll out better campaigns based on targeted analysis.
Marketing Automation Ecommerce
Automation-based marketing involves using software tools for marketing campaigns. Some common marketing automation examples include popup software, which comes with AI and allows you to create and share different types of delightful, efficient, and high-converting popups across all your public channels.
Popups allow you to accomplish various things, such as:
Gathering customer or prospect data
Addressing cart abandonment
Enrolment in personalized marketing
Growing your email lists
Targeting and engaging your customers in various ways
Automation works because it's the ideal employee that never gets tired, stays online 24/7X365, and stays punctual, resilient, and productive without going on vacation.
Best marketing automation examples that you can opt for your ecommerce setup include:
Customer analytics
Automated workflows
Landing pages
Email automation
Ecommerce Marketing Plan
An Ecommerce Marketing Plan allows your entire team to stay on one page regarding all the efforts, marketing tactics, and operational details of your marketing campaigns.
You can have an organized and well-defined approach to marketing and build a successful marketing strategy from the same.
A recorded plan also allows you to see whether there are any resource conflicts or dependencies in the system and how to address them in case they exist. You can set specific and reasonable campaign goals and set proper KPIs for measuring them.
An excellent example of an ecommerce marketing plan is shown in the following image: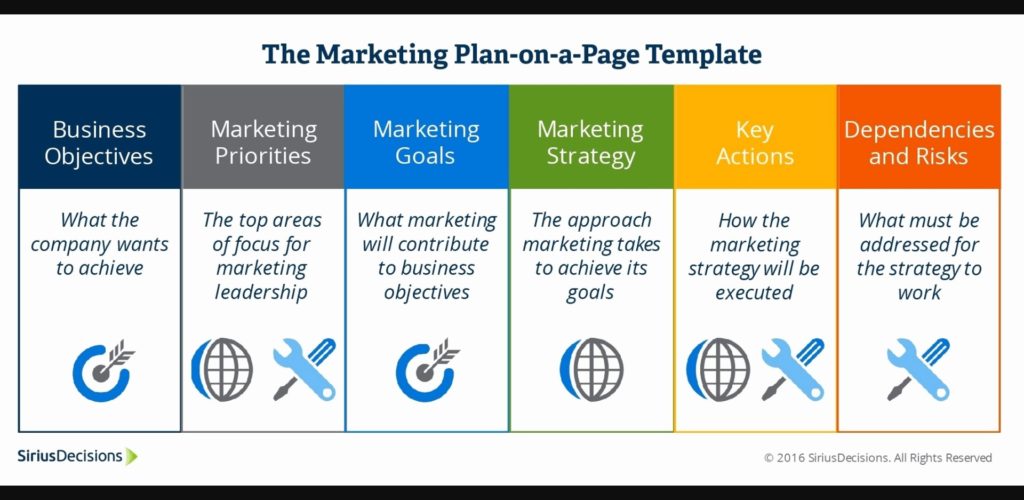 Next, we discuss some pro-level marketing tips to boost your online sales.
Ecommerce Marketing Expert Tips to Increase Online Sales
Boosting online sales requires an in-depth understanding of your customers, marketing channels, and marketing goals. So, it's a cumulative result of multiple efforts directed toward customer targeting, lead nurturing, and optimizing customer journeys in their entirety, instead of focusing on standalone touchpoints.
Ultimately, the customer never drops out of the sales funnel, even after purchasing, and enters the nurturing phase.
Below, we share some excellent marketing tips to boost your online sales and take your customer engagement levels up through the roof!
Set Goals and Objectives
Set out clear and well-defined goals and objectives for all your marketing efforts. This will allow you to check whether your marketing efforts are generating results or not. You can also measure these results against the set KPIs and keep the marketing efforts reasonable and targeted.
Instead of doing everything at once, identify the most feasible and impactful marketing activities, such as:
Increasing your organic search traffic
Boosting your conversion rates
Enhancing Customer Lifetime Value (LTV)
Increase your customer acquisition activities via multi-channel marketing practices
Lowering Customer Acquisition Cost (CAC)
Setting measurable and specific targets for well-defined and relevant timeframes, such as quarterly or yearly goals
This way, you will be able to draw more value out of all your efforts, realize the areas where you are underperforming, and improve yourself quantifiable.
Social Media Integration
Social media has a massive following across the globe, with Facebook having 2.9 bn, Whatsapp having 2 bn, and YouTube having 2.5 bn monthly users. Such an enormous audience can be easily targeted with relevant content offerings and marketing ideas that resonate with their browsing and shopping habits.
Powerful media channels, like Instagram, allow you to target customers via engaging photos and reels. For even better results, you can opt for sharing compelling photos, choose strategic hashtags, and select the right time to share and advertise your posts.
While social media is a great marketing option, the key to success is engagement with your followers and subscribers. Therefore, you need to be responsive in comments, replies, and your entire social media activity.
Some other ways to make the most of social media marketing are:
Online contests
Polls
Sharing behind-the-scenes videos
Sharing product development stories and featured content
Influencer and affiliate marketing
Online stories via engaging images
Responding to brand mentions, including the passive ones
Real-Time Personalization
Deliver personalization not only as and when your customers want but wherever your customers want. Not all your customers are contacting your support staff for troubleshooting or complaints. Some of them need suggestions about your products or some help choosing the most relevant product.
Hence, make sure that you have an omnichannel presence to deliver real-time personalization in various forms, such as:
Live chat
Chatbots
Social media messenger
SMS
Emails
Calls
A fantastic example in this regard is this Sephora chatbot that offers product recommendations and engaging replies right inside the chat windows, as shown below: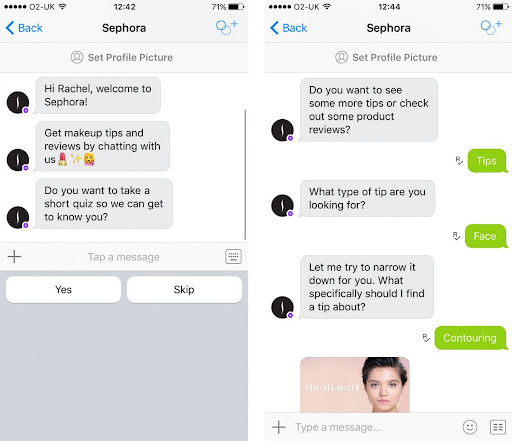 Stats suggest that customers consider personalized offers as 2.1 times more important as compared to generic offers. Also, 70% of them say that brands need to have an in-depth understanding of their shopping behaviors.
Choose the Right Customer Journeys to Prioritize
The very first step towards omnichannel marketing in ecommerce digital strategy is to have a targeted omnichannel strategy. Also, it's important to select the right cross-channel customer journeys smartly.
Employ advanced analytics to fully use your customer-interaction data and decode customer intentions, shopping behaviors, and customer motivation across multiple channels.
Such a deep understanding of customer data will help you identify the most valuable cross-channel experiences and how to deliver the right and targeted marketing for them.
Some of the key considerations for customer data analytics include:
The inclination of your customers toward using multiple channels
Importance of brand journeys or shopping journeys to the customers
Customer-Savvy Content Marketing
When it comes to ecommerce marketing via content, every customer is perceptive. Thus, you must choose the right content strategy.
Statistics suggest that customers are willing to spend a little extra for purchasing the same brand offerings if they can get better services. Likewise, some customers prefer to get personalized product recommendations in their inboxes every month or quarter.
Finally, many customers are ready to give their feedback to contribute to enhancing the services and products you offer.
To keep all these customers happy and engaged, you need to target them with customer-savvy marketing. For example, send personalized content offerings that are well-aligned with their brand expectations.
Also, you can target social media consumers with compelling posts, features, and videos, while the avid trend followers can be targeted with influencer marketing.
Address Your Abandoned Carts
Abandoned carts are lost customers who might never return, especially if purchased from another place. Recent studies show that the cart abandonment rate stands at a whopping 69.23%, and as an ecommerce business owner, this could drive your business down South.
Work on cart abandonment with timely marketing efforts, such as drip campaigns where the customers are repeatedly reminded to complete the checkout. You can use exit popups to re-engage the customers even before leaving your web page. Entice them with drool-worthy offers and discounts to ensure that you close them.
Using SMS marketing for cart abandonment is also one of the best tips for ecommerce marketing that directly addresses cart abandonment and aims at customer retargeting.
Customer Segmentation
When you use data analytics for customer data, you get actionable data insights and a granular understanding of your customers' preferences.
Now, you can go for customer segmentation to choose the right mix of ecommerce marketing ideas for the best results.
Getting your customer segments right will allow you to focus the right ecommerce marketing strategies on the right customers that boost your sales. Customer segmentation is a gradual process as it requires data from multiple sources.
Hence, we recommend conducting thorough market research, in-depth customer data analysis, and creating customer segments.
Some common criteria for customer segmentation include:
Customer demographics
Purchase history
Browsing history
Buying capacity
Ad interaction history
Support preferences
Once you are ready with different customer segments, you will notice that some customers are present in multiple segments. These high-priority customers can yield outstanding sales with proper marketing tactics.
Create the Right Mix of Email Marketing Strategies
Email marketing in ecommerce involves sending many different types of emails to your customers and prospects. However, your email lists don't have customers with similar mindsets, purchase histories, and buying preferences.
Also, different marketing campaigns call for different emails, such as promotional emails differ from lead nurturing emails, and transactional emails vary from announcement emails, etc.
As every marketing campaign has different goals and objectives, you must choose the email types carefully.
Some of the emails that you must include in your email marketing strategy are:
Abandoned cart emails
Milestone emails
New product announcement emails
Curated content emails
Progress emails
Review request emails
Newsletter emails
Confirmation emails
Special offer emails
Welcome emails
Set a Proper Email Frequency
The frequency with which you send emails to your customers has a big say in your email marketing campaigns' overall success or failure. Also, your ecommerce events might not run continuously, or you might run out of ecommerce marketing ideas as well.
Hence, setting a proper and regular frequency of email marketing nudges is crucial for successful results. On the other hand, if you send emails too often, the customers might get frustrated and might even add you to the spam folder.
Likewise, if your email frequency is too slow, you might lose on streamlining the customer journeys at the right moment. Your customers might forget about you, or they might get engaged with some other customer-savvy brand.
Further, it's important to note that email frequencies vary for different types of emails. For example, cart abandonment emails are more frequent than newsletters or surveys.
Use Automation
Robust, reliable, and intuitive automation allows you to automate your marketing efforts, such as social media marketing results can be enhanced via autoresponders, drip marketing, automated email workflows, etc.
Automation empowers your marketing teams with streamlined and optimized workflows that help them accomplish much more in a short period.
Some of the best ways to leverage automation include:
Dynamic content
Advanced segmentation and filters
Push notifications
Landing page marketing activities
Live performance graphs
Automated marketing campaigns give sustained sales and customer engagement results and complement the marketing teams in creating highly-targeted marketing strategies.
Building the Right Ecommerce Marketing Strategy: Getting Started
By now, you might have realized that creating and implementing a robust and high-performing ecommerce marketing strategy is a time and effort-consuming process. You have to do much research, analyze your customers and choose your targets with an expert eye.
So, many of you might wonder – are the results worth the efforts and resources you invest in marketing and ecommerce?
The Answer is Definitely YES!
But then again, how to market an eCommerce business as a beginner? How to build the best strategy for your eCommerce setup?
Well, the answer is, to begin with, a thorough analysis of your customer base and marketing requirements. Take account of the channels your customers use most frequently and how they respond to brand communication sent via them.
Remember, a perfect and high-converting marketing strategy results from constant learning drawn from an experiential understanding of your customer journeys. So, be patient and keep experimenting with different strategies to make your marketing efforts better and more targeted.
Also read: What is Online Advertising? Definition, Benefits & Examples
Author Bio :
Vikas is responsible for the overall marketing of ProProfs Picreel. As a Mechanical Engineer by nature, he is obsessed with technical marketing and loves to analyze and execute. He is most happy when he is pedalling through the mountain with headphones on.
You can connect and engage with Vikas on LinkedIn