Profit from your knowledge
Apply email and SMS marketing strategies you already know to see the best results with Sender. It's free. It's easy.
Get Started For Free
SMS marketing for restaurants is an underutilized channel. It's pretty unfortunate as restaurant text messaging has the potential to blow up and bring incredible results.
After all, SMS marketing has shown itself to be a powerful contender in other industries.
We, however, see the incredible potential SMS marketing for restaurants holds and would like to share it. So, in this article, we'll go through all of the benefits, strategies, and templates necessary to create powerful SMS campaigns.
Benefits of SMS Marketing for Restaurants
SMS marketing for restaurants is no different than in most other industries. As such, most of the benefits apply. In general, SMS is a channel that's widely read, opened, and replied to or clicked through. It's also highly engaging.
For example, customers are 4.5x more likely to respond to an SMS message than an email. The response rate crushes even popular social media platforms and messengers by at least twice.
Additionally, SMS are some of the most read messages across all channels. They have an open and read rate of about 98% after 20 minutes have elapsed. More than 80% of millennials, for example, open SMS messages within the first 90 seconds.
Finally, SMS marketing uniquely fits restaurants as it's highly reactive. Sending promotional offers or other messages through email is too slow. By the way, only a few people expect to communicate from a restaurant, primarily through email. So, SMS marketing remains the best bet.
SMS Marketing for Restaurants Best Practices
1. Only Send Important Restaurant Message
The restaurant industry isn't known to be very communicative outside of the venue. So let's keep it that way by not overusing SMS marketing. Instead, only send messages you think clients will enjoy.
An easy way to gauge whether it's worth sending an SMS message to a customer is to think about whether there's any unique value delivered. If there's no value the customer will receive, then forget about it.
2. Keep Restaurant SMS Messages Short
SMS messages are known for being straight and to the point. SMS marketing for restaurants is no different. Don't write an overly extensive copy to deliver a discount code.
While newer models of phones can add several SMS messages into one, it's highly recommended to stay within the 160-character limit.
If a message goes above that limit, it's split into two, both sent through the network and combined in the recipient's phone. Unfortunately, there's a ton that can go wrong during the process.
Also read: What is the SMS Character Limit?
3. Collect Opt-in Contacts and Provide Opt-outs
This isn't as much of a best practice as it is necessary. Data protection and other legislation have made it necessary to get consent from users before you can engage with them. SMS marketing is no different.
Additionally, you should always provide, at least once, the opportunity for users to opt-out. Not doing so is not only not kind but can technically land you in some trouble!
4. Personalize Text Messages
You can't go wrong with personalization. It works in every marketing channel we know. Since you already have to collect consent through opt-ins, you will have some information on to base your marketing.
SMS messages, however, are short, and you can't do much to personalize them. However, one excellent way to personalize is to add the customer's name to the message. It doesn't take up many characters, but it makes the message seem more personal.
Samples of SMS Marketing for Restaurants
You don't need to reinvent the bike regarding SMS marketing for restaurants. Some highly successful ones have engaged with SMS for some time.
They have generated some sample text messages, marketing for restaurants strategies, and done much more. So take inspiration from these templates and have them serve as the foundation of your strategy.
Promotional SMS Campaign for Restaurants
Campaigns are rare when you might opt to send several different messages. Although in SMS marketing, we wouldn't recommend overdoing it as most of the time, a single promotional message will be more than enough.
These templates you can use for free:
[Brand name]: [Customer name], Only today! [X] is [%] off at all of our restaurants. Reply STOP to cancel.
---
[Brand name]: It's a special day, [Name]. Get [%] off your entire order! Online orders only. [URL]. Text STOP to cancel.
---
[Brand name]: FREE! Get one [X] for free when purchasing [Y]. Offer available until [date]. Reply STOP to cancel.
Restaurant Takeaways SMS Messages
[Brand name]: Thinking of spending a great time at home, [name]? It's [%] off for takeaway today! Reply STOP to cancel.
---
[Brand name]: Time to spend an awesome weekend with the family. Buy a family sized [product] and get a free kids meal! Reply STOP to cancel.
---
[Brand name]: Bring something fun home! All meals are [%] until [date] if ordered for takeaway. Text STOP to cancel.
Holiday Themed Restaurant SMS Messages
There's no better time to offer a discount, a season's greetings, and re-engage customers than the holidays.
So while everyone is shopping around for presents or looking for ways to celebrate, restaurants can join in on the fun with some holiday promotions.
Black Friday
[Brand name]: Tired of all the shopping, [name]? Grab a quick snack. [%] off is on us! [URL]. Reply STOP to unsubscribe.
---
[Brand name]: Bring some downtime to Black Friday. Enjoy a great meal on us – buy 1 [product] and get 1 free. Reply STOP to cancel.
---
[Brand name]: Stay fueled! Mix & match items and get [%] off! Online orders only. [URL]. Reply stop to cancel.
Christmas
[Brand name]: Still looking for a quick gift? Grab a gift card for someone who enjoys food just as much as you! Reply STOP to cancel.
---
[Brand name]: Why cook on Christmas? Order right from us online, get [%] off, and it will be delivered to your door. [URL]
---
[Brand name]: Happy holidays, [name]! We're running BOGO all until [date] for selected products! Check them out [URL].
Labor Day
[Brand name]: Happy Labor Day! Time to take a well deserved rest with a great meal. [%] off everything! Reply STOP to cancel.
---
[Brand name]: We've got Labor Day covered. Get [%] off your entire order! [URL]. Text STOP to cancel.
---
[Brand name]: Labor Day deal! Get [%] off selected meals online. [URL] Text STOP to cancel.
Happy Hours
[Brand name]: Happy Hours! Get a [%] discount on all orders from [hours] to [hours]. [URL]. Text STOP to cancel.
---
[Brand name]: Happy hours! All orders in-restaurant will receive a [%] discount from [hours] to [hours]. Reply STOP to cancel.
---
[Brand name]: Are you ready for our happy hours? Get [%] off all online orders from [hours] to [hours]! Text STOP to cancel.
Feedback Request SMS Messages
Businesses thrive on receiving feedback from customers. The restaurant industry is no different. In fact, feedback in restaurant businesses might be more crucial than anywhere else. Catering is all about the quality of service, after all.
[Brand name]: [Name], we hope you enjoyed our service. Have some thoughts? Leave them at [URL]. Thanks!
---
[Brand name]: How was it? Your feedback, [name], would be invaluable. Feel free to share it at [URL]. Thanks!
---
[Brand name]: Thank you for visiting us. Want to leave feedback? Click [URL]. Text STOP to cancel.
Restaurant Opening Day Text Messaging Templates
No day is more important to a restaurant than the opening one. A good start can make or break the business in the coming weeks or months.
As such, you want to attract as much attention to the opening day as possible. Text messaging marketing is the perfect opportunity to do so.
[Brand name]: We're almost there! We will be opening on [date] at [address]! Join us live for some great meals. Text STOP to cancel.
---
[Brand name]: Well, we're done! Our restaurant at [address] will be opening on [date]. Show us this SMS to get [%] off!
---
[Brand name]: We're finally opening! Join us at [address] on [date] for a special feast. Text STOP to cancel.
Also read: 76 SMS Templates For Every Situation
How Can Restaurants Collect Opt-in Subscribers?
Collecting opt-in subscribers, as we've mentioned previously, is necessary. But, unfortunately, the legislation only permits sending marketing proposals to people who have given their consent.
Manually collecting consent, however, would be incredibly slow and inefficient.
Using marketing services providers becomes a necessity. Most SMS marketing software companies grant various methods to collect opt-ins. Some of the popular options include pop-ups on websites or sign-up forms.
SMS marketing providers make it easy to integrate these features into any website. Generally, it can be done with a few clicks. Once users start signing up or filling out pop-ups, they are automatically added to the subscriber list.
Text Messaging Service Provider for Restaurants
Sender is the best marketing automation tool in 2021, as rated by Capterra. We've heavily focused on providing accessibility, ease of use, and great prices for all of our customers.
Our solution has both email and SMS marketing available without extra hidden costs. You will easily get subscribers, draft impressive SMS campaigns, and optimize them with in-depth analytics.
Creating an SMS campaign usually takes up to a few minutes and is sent out instantly.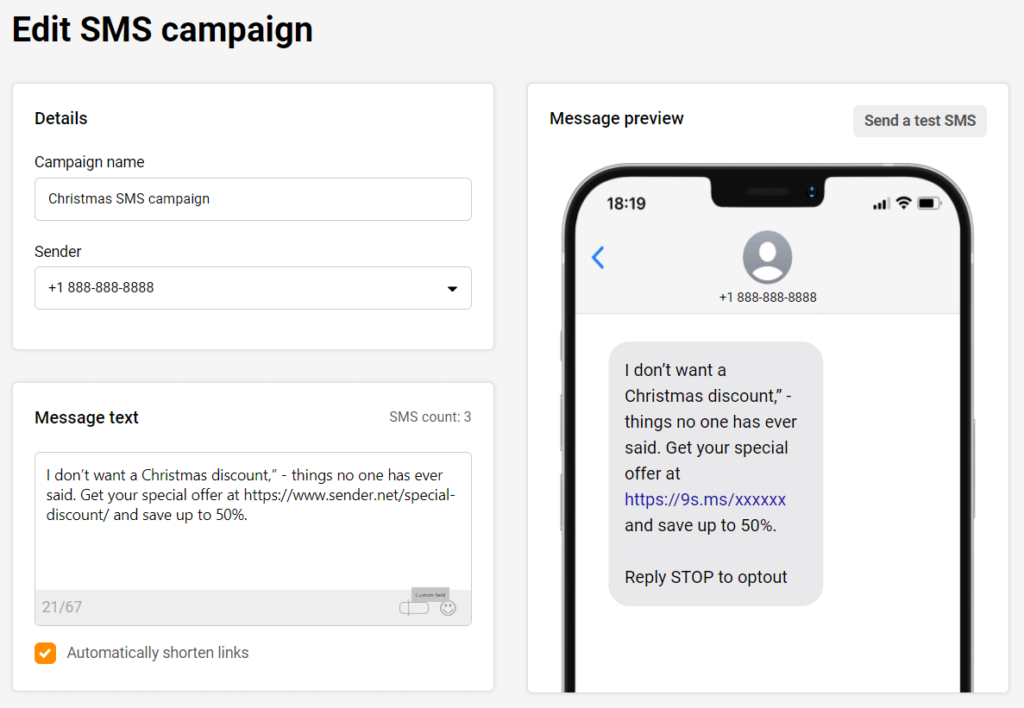 Additionally, our SMS marketing features include extensive automation options. You can send scheduled or triggered messages to every subscriber no matter how complex your workflow might be.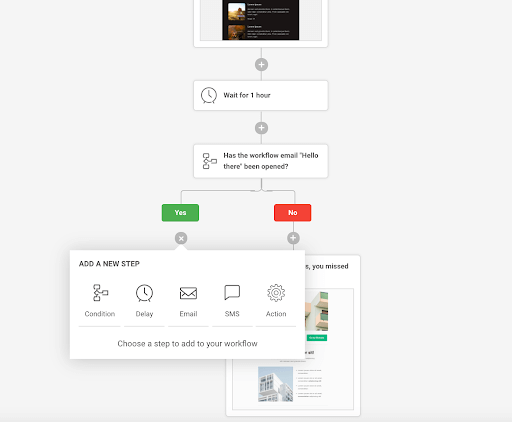 Finally, our solution can be easily integrated with the most popular ecommerce service providers (e.g., Shopify, Woocommerce). All it takes is a few simple clicks to take advantage of the full feature set Sender has to offer.
Also read: