30,000+ brands grow with Sender
Join them and unlock the simple way of skyrocketting your sales through email marketing.
Get Started For Free
Email marketing is one of the most effective ways to generate leads and increase engagement. And it's also one of the least expensive and easiest ways to do so.
But enterprises need to constantly evolve their email marketing strategies and manage all the aspects to ensure it's working for them, which takes a lot of time.
That's where a feature-rich enterprise email marketing platform comes in. Access to a reliable enterprise email marketing platform lets you automate recurring activities involved in planning and executing email campaigns without having to do all the heavy lifting yourself.
If you're looking for a robust enterprise email marketing solution, you have landed on the right page. Let's explore the best enterprise marketing solutions in this blog.
Properties of Best Enterprise Email Marketing Platforms
An email marketing platform is a marketing automation tool that helps automate your email campaigns. It integrates with most other marketing technologies and platforms to provide seamless data integration, content curation, automation, and more.
Identifying the best enterprise email marketing platform that suits your sales funnel is crucial for success. But before you pick a solution, here are three qualities you should look for in an enterprise email marketing platform:
Rich Visual Design Tools.
Successful enterprise email marketing campaigns leave a mark on their target audience. To leave a mark, you must create a first impression by blending accurate messages with a design that appeals to the email recipient. A good enterprise marketing platform should have a no-code email design builder to speed up the campaign creation.
Flexible Template Collection.
Email campaign templates save the company management time and money in creating strategic messages for clients. The platform should provide multiple template designs that you can edit to fit any specific ad campaign. Flexibility will allow you to customize the enterprise email campaign with the brand.
Reliability and Technical Support.
An email marketing tool must be reliable and technical support must be readily available.
While a good platform should perform well under all conditions, there will always be some technical hiccups, and when this happens, you should get the help you need when you need it without waiting for a long time. Also, the email marketing service you pick must have excellent deliverability and uptime.
SMB vs Enterprise Email Marketing Tools
You probably wonder about the difference between an enterprise email marketing solution and an email marketing tool designed for SMBs (small-medium businesses). After all, both are meant to run marketing campaigns. Well, the answer lies in the varied goals and sales funnels of an enterprise vs a small business.
While small businesses are built on direct, personal connections and deal with low/mid-ticket products, B2B enterprise sales cycles are complex, involving many stakeholders. So, enterprise solutions require deep integrations with sales and marketing solutions.
| | | |
| --- | --- | --- |
| | SMB Tools | Enterprise Tools |
| Automation Features | Basic or mid-level automation | Deep and complex automation workflows |
| Analytics | Standard analytics features and dashboard | Deep analytics with advanced analytics dashboards |
| Integration | Basic integration features | Integrates with thousands of marketing/sales suites |
| Omnichannel Support | Limited or no support for omnichannel campaigns | Supports multiple mediums like email, SMS, and others |
| Personalization Capabilities | Standard personalization capabilities | Advanced personalization based on complex sales funnels and buyer's cycles |
| Investment/Payment Plan | Low cost of operations | High cost of operations |
6 Best Enterprise Email Marketing Platforms to Consider
You must've done your research about enterprise software for email marketing. Use our suggestions for the best software, services, and platforms to expand your understanding of the enterprise ecosystem. And compare all the platforms before choosing a particular email service for your enterprise. Here are six powerful platforms to consider:
1. Sender — Complete Email & SMS Marketing Platform
Sender is one of the leading email marketing automation platforms for businesses of all sizes. Sender has a wide range of features designed to enable enterprise marketing experts to target prospects and subscribers across the entire customer lifecycle.
Best for:
Enterprise clients looking for omnichannel campaign automation;
Teams planning to engage clients through emails as well as SMS;
eCommerce businesses looking for advanced lead nurturing.

Sender provides all enterprise-level email marketing and email automation features like automated workflow and lead scoring, customizable templates, smart email scheduling, and analytics.
You can set up nurturing campaigns, segment contacts, use advanced tags/groups and even create popup forms. Custom segments, content personalization, dynamic content, and deep integration with popular enterprise suites and third-party applications make it an excellent solution for enterprise users.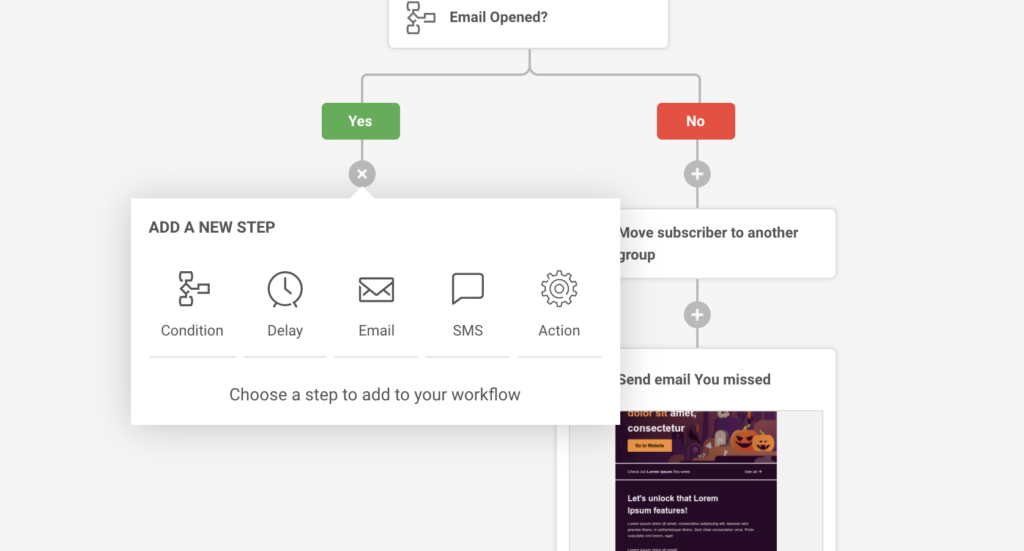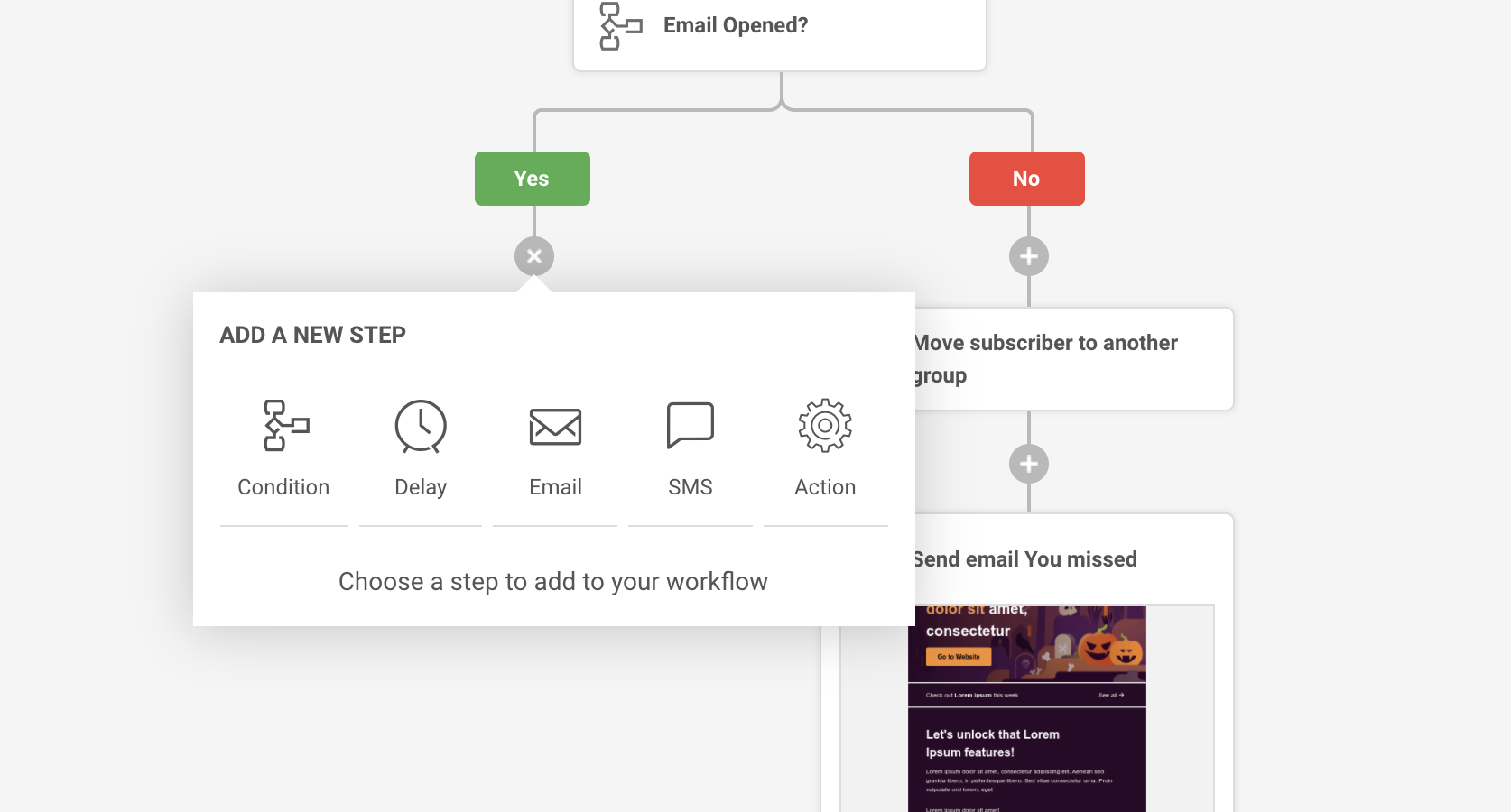 Key Features
Sender is a refined enterprise email marketing solution that supports both SMS & email marketing campaigns. The solution promises excellent deliverability and comes with features like:
A drag-and-drop editor to build HTML emails and text emails;
An intuitive user interface to manage campaigns, analyze results, set up workflows, and more;
Advanced segmentation and list management features for dynamic personalization;
Automation builder with behavioral and activity triggers to automate email campaigns.
Sender Supports Omnichannel Campaigns
Sender provides an omnichannel solution that transmits information across email and SMS and keeps you in constant contact with your customers. Launching a campaign is as simple as the screenshots below.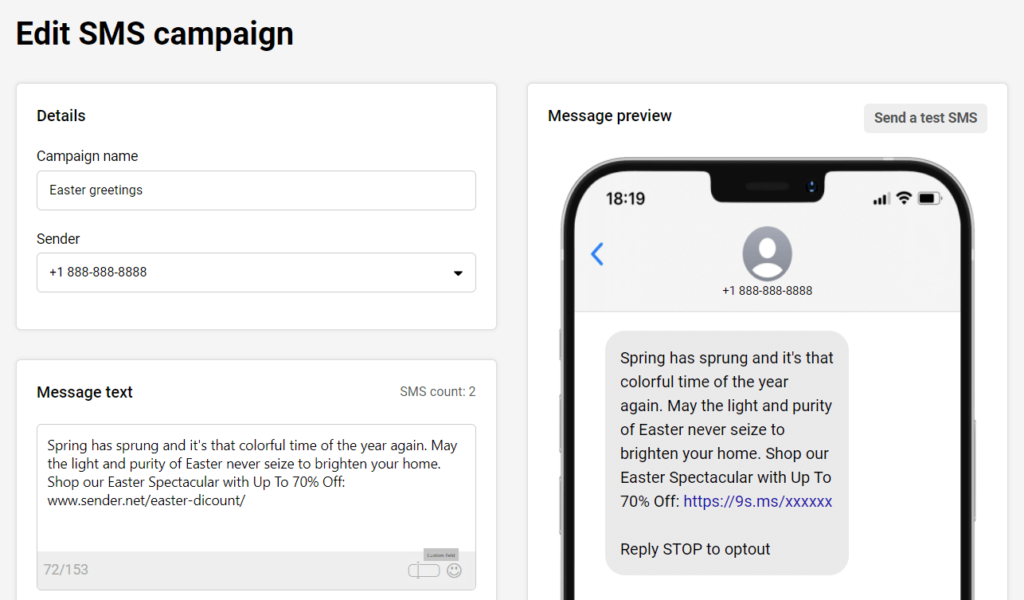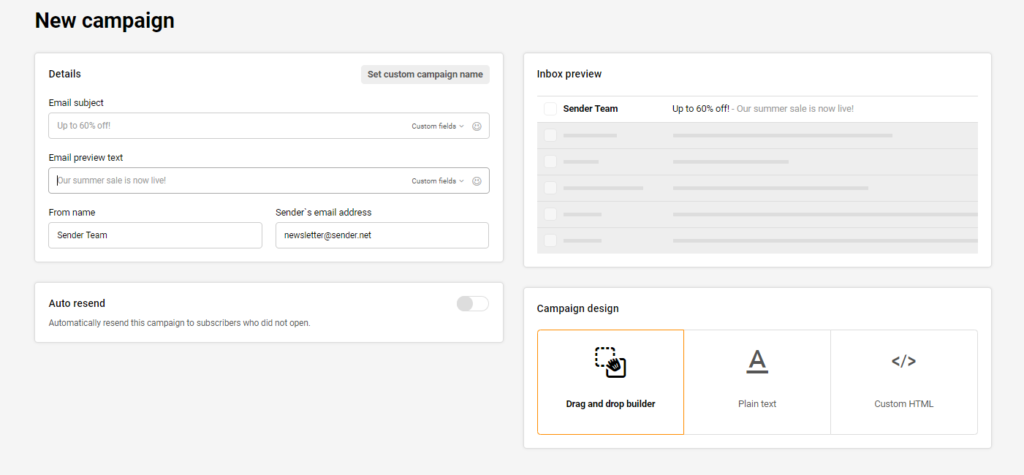 Pricing
Free to use for up to 2500 subscribers with most features;
Paid plan starts at $8 per month.
---
2. HubSpot — Great for Large, Fragmented Teams That Need Alignment
HubSpot is an enterprise email marketing platform with features including CRM, analytics, A/B testing, marketing automation, landing pages, and more.

Best For
Large, established businesses;
Teams with evolved sales and marketing processes;
Departments targeting strong marketing, sales, revenue alignment.

HubSpot has all the advanced capabilities an enterprise seeks in a marketing automation solution. You can quickly set up complex workflows and sync your marketing, CRM, sales, and revenue operations. When it comes to email, it has an in-built drag-and-drop email builder, advanced segmentation, and a journey tracker to help you achieve your growth numbers.
HubSpot's Key Features
HubSpot is known for its integrated solutions that sync sales, marketing, revenue, and service processes. Some prominent features include:
Free CRM solution that syncs contacts across sales and marketing;
Personalized automated email sequences;
Massive integration ecosystem;
Advanced A/B testing features.
Pros & Cons
HubSpot is a specialty enterprise platform when it comes to email marketing. With all its benefits and capabilities, it does have some limitations too. Here are the pros and cons of choosing HubSpot as your enterprise email marketing solution:
Pros
Cons
Free CRM;
Large ecosystem of third-party apps;
Complete lifecycle management.
It can get costly for a business with a high-growth sales and marketing pipeline;
Complex flows require high-level learning and in-depth training;
Not suitable for the fast-paced environment;
Limited reporting, e.g., lack of segmented traffic reports.
HubSpot Pricing
Starts at $45 per month for up to 1000 contacts;
Free trial available for 14 days.
---
3. Pardot – Great Enterprise Email Marketing Solution
Pardot is one of the most powerful B2B marketing solutions powered by AI analytics and lead nurturing capabilities. Typically used by Fortune 500 and large-scale enterprises, Pardot is suitable for Salesforce-driven enterprises.
Best For
Enterprises with existing Salesforce-driven processes;
Large-scale enterprises with thousands of employees;
B2B enterprises with long lead nurturing cycles.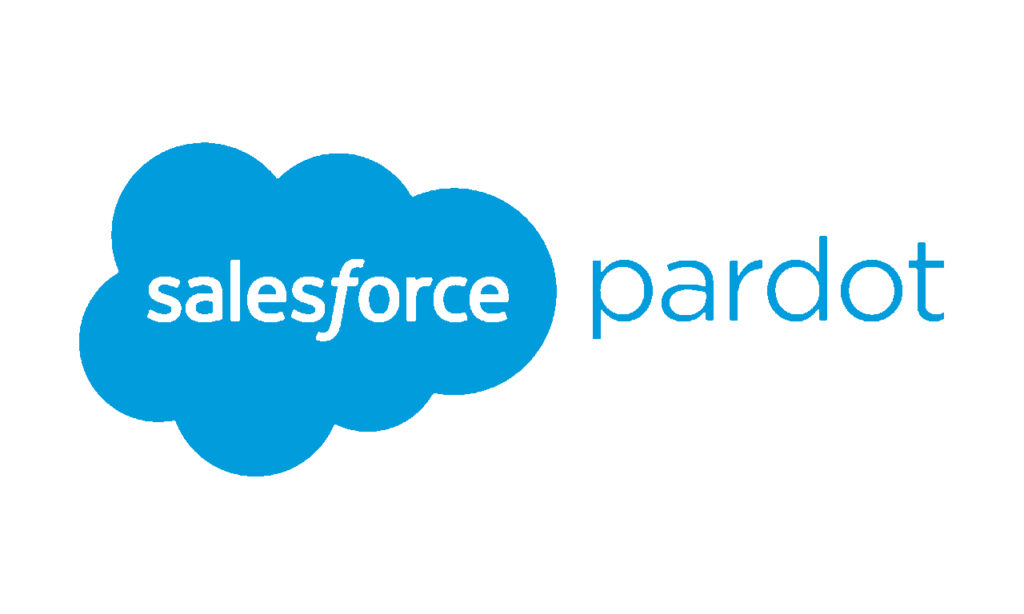 Pardot has sophisticated AI-powered features fully integrated with Salesforce and has some niche subproducts suitable for finance, healthcare, media, and manufacturing industries. You can easily create elaborate marketing campaigns, nurture leads, or use the in-built user journey builder to create complicated email sequences without coding.
Plus, it comes with deep analytics and strong behavioral scoring powered by Einstien AI — Salesforce's in-house AI solution. AI can be used to analyze behavioral scores based on the online behavior of marketing leads across multiple channels.
Pardot's Key Features
Pardot is primarily designed for particular industries and use cases. However, it has all the features you expect from a robust enterprise email marketing solution. You can use it for:
End-to-end lead generation and management with automatic lead scoring;
Drag and drop form and landing page builder;
Visual marketing automation and email campaigns builder;
Strong analytics with native integration to Salesforce Sales cloud;
AI-powered lead identification, nurturing, and engagement features.
Pros & Cons
Pardot is a powerful solution that you can consider if your enterprise processes are already managed by Salesforce. Here are the major pros and cons of choosing Salesforce's Pardot as your email marketing solution:
Pros
Cons
Strong analytics and behavioral automation features;
Dedicated products designed for critical industries like healthcare, manufacturing, finance, etc.;
AI-powered behavioral scoring for all inbound leads.
Exorbitantly expensive;
Suitable primarily for enterprises with existing Salesforce-driven processes;
Limited customer support.
Pardot's Pricing
No free plan or trial available;
Basic tier starts at $1250 per month for up to 10,000 contacts.
---
4. MailChimp — Email Marketing Starter Solution
MailChimp is a leading enterprise email marketing platform that enables businesses to send personalized and targeted emails. You can manage an email list, design emails, track campaigns, and analyze results from a single dashboard.
Best for
Early-stage startups;
Businesses or companies starting with email marketing;
Non profits looking to engage donors via email.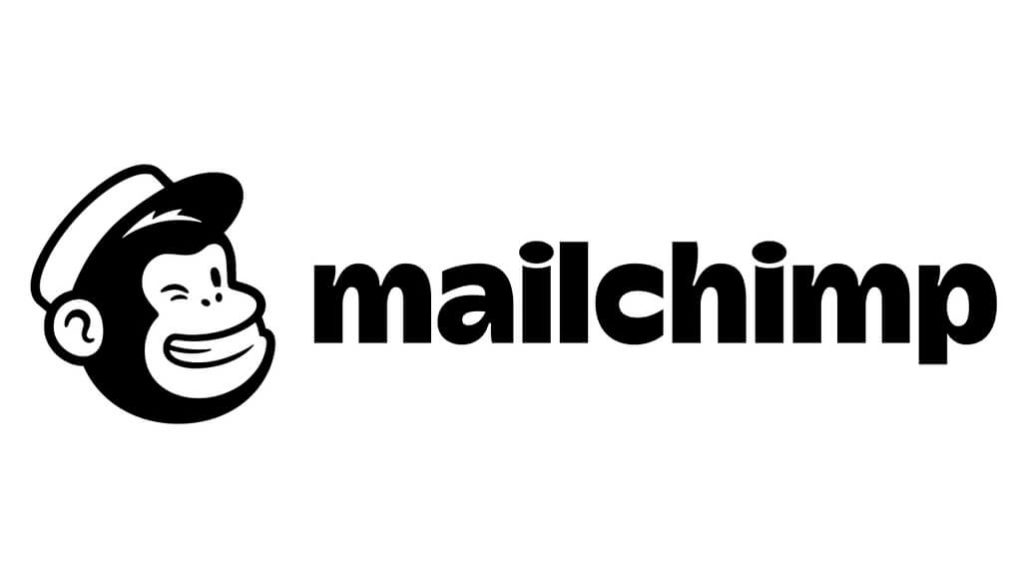 Though MailChimp comes with several useful features, it isn't an ideal solution if we compare it to others on the list. The platform is geared more towards small businesses, and you should only pick it up if you're beginning with email marketing and don't mind overspending on limits without advanced features.
MailChimp's Key Features
MailChimp has everything you need to get started with email marketing. You will primarily love using the following features:
Drag and drop email builder;
Supports multi-user accounts for enterprise plans;
A/B testing features for email campaigns;
Standard list segmentation and grouping features;
Pros & Cons
MailChimp is great for enthusiasts, but the platform's features and capabilities fade a bit when it comes to serious email marketing for enterprises. Here's a list of MailChimp's pros and cons for you to consider:
Pros
Cons
User-friendly interface;
Quick and easy to set up;
Landing page builder.
Lack of advanced marketing automation feature;
No option to see all email contacts from a single dashboard;
Costly than other email marketing solution providers for enterprise users.
MailChimp Pricing
Starts at $13/month for up to 500 subscribers;
Free plan available with a daily limit of 500 email sends.
---
ActiveCampaign — Intelligent Email Marketing Platform
ActiveCampaign is a powerful yet simple SaaS solution designed for a large company.
Best for:
Startups on a high-growth route;
Teams looking for advanced lead qualification and marketing automation features.

Known for intelligent automation, A/B testing, drip campaigns, and intelligent workflow management, ActiveCampaign is an excellent enterprise solution. ActiveCampaign has everything you need to design beautiful, personalized emails and grow your business. It integrates with many popular third-party systems to allow marketers to access all the tools they need to drive success.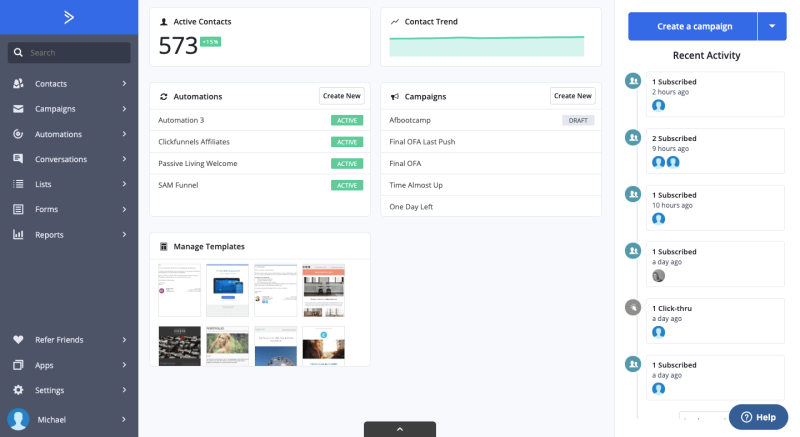 ActiveCampaign Key Features
ActiveCampaign has all the standard features you need for email marketing, including:
Advanced subscriber engagement tracking;
Landing page and web form builder;
Real-time reporting and analytics;
Audience segmentation and list management features.
Pros & Cons
Before picking ActiveCampaign for enterprise email marketing, have a look at the pros and cons of the platform. Here's a brief list of the most important benefits and disadvantages of using ActiveCampaign for enterprise email marketing:
Pros
Cons
Intelligent automation recipes and workflow management;
Customer journey and deal overview dashboard;
Form and landing page builder.
Limited reporting features, especially on lower plans;
Complicated email design builder;
Limited integration options and heavy dependency on Zapier for connecting to other tools.
ActiveCampaign Pricing
Starts at $29 per month for up to 1000 contacts;
Free trial available for 14 days.
---
Klaviyo — Designed For eCommerce Success
Klaviyo is popular among the eCommerce community for email marketing. It has a dedicated plan known as Klaviyo One for enterprise users.
Best For
Nurturing leads, starting a newsletter or sending email campaigns;
Consolidated teams and small business owners;
eCommerce store owners.

Known for its robust personalization and revenue attribution capabilities, Klaviyo is perfect if you want to take things to the next level.
Klaviyo offers direct integrations with Shopify and other eCommerce platforms and has a streamlined data platform to give you complete insights into who your audience is. You can use its native integrations or API to build complex automation scenarios or use it to put marketing on autopilot.
Klaviyo Key Features
Klaviyo is a powerful enterprise solution that you can rely upon for its advanced features like:
Audience segmentation based on customer behavior, preferences and buyer's journey;
Customizable templates with a huge variety of options for eCommerce businesses;
Predictive analytics and behavioral forecasting;
Webhooks for a weaving complex buyer's journey.
Pros & Cons
Klaviyo is an amazing email marketing platform, but let's evaluate it with an unbiased opinion. Here are the pros and cons of choosing Klaviyo for email marketing:
Pros
Cons
Advanced data management and visualization dashboard;
Designed for Shopify & eCommerce email marketing flows;
Predictive behavioral analytics.
Steep learning curve;
Limited customer support options;
Expensive.
Klaviyo Pricing
Starts at $60 per month for up to 1000-1500 subscribers;
Free trial plan for up to 250 contacts.
Must-have Features for an Enterprise Email Marketing Platform
SMS marketing and social media can make companies feel like email marketing has become obsolete. However, advanced automation features within an email marketing platform are useful in increasing conversion rates and taking pressure off your marketing team. Here are some features you should look for in an enterprise email marketing platform.
Marketing Automation. If you plan to use a platform for your enterprise email marketing needs, ensure it has advanced marketing automation features. It'll help you with lead management, scoring, and nurturing. You can use marketing automation to segment your list into different categories based on interests and online behavior. Then, use automation to trigger specific events for nurturing leads. For example, you can use custom segments to segment leads when they sign up for an event. Then use lead scoring and custom workflows to move them further into the buyer's journey automatically.
Email Automation. The email automation feature in the marketing automation tool allows you to schedule periodic emails triggered by specific company activities, times, and events. Email automation is critical in enterprise email marketing because it frees employees from tiresome communication relay schedules.
Contact Management. The first step to improving CRM for your business is ensuring your enterprise email marketing platform has accurate contact management tools or CRM software. Contact management uses technological filters to organize customers and prospects for targeted communication. Good enterprise email marketing software prioritizes contact management.
Segmentation. According to research by Acowebs, customer segmentation helps increase subscriber engagement rates by over 700 percent. With sophisticated segmentation, your enterprise email marketing tool can target specific demographics according to their interests. Segmentation allows you to develop unique content for every customer on your email list and increases the probability of conversion. These sophisticated analytics can be reviewed and segmented according to location, personal interests, purchasing power, and past purchase analysis.
Broadcasting Lead Magnets. Lead magnets help generate leads from your website, blogs, or online campaigns. Your email marketing solution should be able to automate triggers that can send lead magnets to an incoming lead automatically. When prospects opt-in for your newsletter, your email marketing tool should automatically send the content. Broadcasting allows you to create one-click campaigns that automate the delivery of lead magnets and welcome emails to new subscribers.
Advanced Analytics. Analytics is a critical part of any marketing activity, especially when it comes to enterprise campaigns. Relevant analytics and reporting help you square in on winning strategies, content, and campaigns. An email marketing solution should have advanced analytics features to help you see how email opens and engagement rates across different audience segments. It should also be able to test and compare different variations of your campaigns, analyze how they perform, and determine which one converts best. This will help you improve your conversions and ROI.
A/B Testing. The solution you choose should be able to automate A/B testing across different campaigns. A/B tests help you test different versions of the same email, subject line, or email design and determine what works best. Ideally, you should pick up a solution that helps you A/B test at scale, as you'll be dealing with lots of data and campaigns to grow your enterprise business.
Deliverability. Email deliverability is something every marketer is concerned about in the age of AI-powered spam filters. Ensure that the tool you pick promises excellent deliverability so your campaign doesn't end up in spam. You can additionally warm up your prospects to improve your email deliverability.
24/7 Priority Support. We can't stress the importance of customer support enough. Many email campaigns fail because messages and responses to and from the customer don't get delivered. Priority support features separate good enterprise marketing platforms from underperforming ones.
Multi-user Access. Multi-user access lets you involve team members and providers in overseeing and managing email advertising campaigns. A good enterprise email marketing software should allow you to set permissions and give limited access to information according to involvement levels in ad campaign planning.
Service Level Agreement and SSO. SSO in enterprise email marketing software is a feature that allows a user to set up and use every platform application with only one login credential. Also, SSO reduces the time you take to respond to customer queries, thus, increasing the turnover rate.
SMS Channel for Emergencies and Important Notifications. SMS integration for any email marketing software is crucial for important message notifications. They are necessary for sharing emergency information, new product alerts, and communicating company event programs.
Dynamic Content and Email Personalization. Creating dynamic content and sending personalized messages improves customer experience and increases the chances for subscribers to read and respond to your emails. Therefore, good enterprise software would allow you to tailor texts and images according to the target audience and message intent.
Support for Third-party APIs & Integrations. Enterprise platforms can never work as a standalone solution. They feed on data from different marketing, sales, and CRM solutions different teams use. Your email marketing solution should have a robust ecosystem that supports third-party integrations, APIs, and apps.
Popular Use-Cases for Enterprise Email Marketing
Every commercial enterprise has an audience that requires updates on the company and its products. Enterprise email marketing solutions offer a platform for updating users and ensuring consistent communication. Here are a few use cases for email marketing within an enterprise:
The most common use for enterprise email marketing is sending bulk transactional emails. Businesses use transactional emails because clients respond more to emails with a transaction request or a call-to-action request;
Enterprise marketing emails introduce new products to clients and prospective clients;
Email marketing ensures companies keep clients and other business partners updated on brand and product improvement;
Email clients about the upcoming trends in the industry.
Companies can use bulk emails to gather feedback from their audience.
Key Takeaways
Pick an enterprise solution with omnichannel marketing support and advanced integrations;
Always choose a platform with a flexible and transparent pricing model;
Never compromise on email deliverability and audience segmentation features.
Also read:
---
Author Bio
Anmol Ratan Sachdeva is a content marketer and small business consultant who has a strong grip on topics like marketing automation, email marketing, and content marketing. He loves to write about building, improving, and growing a business.