Like what you read?
Apply it in practice with Sender.net - the most cost-effective email marketing solution in the market.
Try Sender for free
With each passing day, there is more and more hope that the worst days of the pandemic are behind us.
Of course, the journey is far from over, but it's still exciting to have reached this point where we all can take a moment and enjoy the activities we used to do.
For many businesses that means it's time to reopen and tell consumers that we're back in business.
It's important to remember that a reopening message is a sensitive subject for many people. A lot has happened in the last year, and it's essential to be thoughtful when announcing your business reopening.
As we all know, there were many different ways companies responded to the pandemic, and there are many ways they'll ease back into their pre-pandemic routines. There's no perfect way to do it (who knew?), so we've prepared some examples of reopening messages in order to help you craft a message that suits your unique situation.
Reopening Announcement Message Examples for Institutions
The coronavirus pandemic has created unprecedented challenges for schools and universities, so it's no wonder that these institutions are reopening after lockdown with a mix of excitement and apprehension.
It's essential to communicate to students and families that you are taking proper steps to ensure a safe reopening. In your reopening business message, be clear about safety measures, such as cleaning procedures, social distancing guidelines, and face masks for students and staff. Here are some examples of school reopening messages:
Reopening of schools after lockdown
Example:
We are happy to announce that we will reopen our school on [date]. We want to thank you all for your support and cooperation. As you're aware, maintaining a balance between promoting student learning and safeguarding student health is crucial. We want to assure you that we're taking all the necessary measures to ensure the safety of our students, teachers, and staff.
Reopening of colleges and universities
Example:
Dear students, classes will begin again on (DATE) as usual, with a few exceptions due to COVID-19 protocols. Campus buildings have been thoroughly sterilized, and sanitation stations have been set up throughout the campus so that all individuals can maintain proper hygiene protocol at all times. Social distancing measures are still in effect. We look forward to seeing you soon!
Reopening Announcement After Covid-19 Template
Businesses must reopen, and there will be some changes when they do. Ensure that you send a message that reflects your brand's identity. You should also let your customers know what they can expect, so they feel safe, comfortable, and informed.
Example:
We're Ready to Open!
We know this is a difficult time for everyone and we're committed to doing our best to help. With the reduced spread of Covid, we've finally decided to reopen our retail shops. As a precautionary measure and in line with the FDA directives, kindly put on your nose mask when visiting our store. We can't wait to see you.
Cheers and stay safe.
9 Reopening Message Examples for Different Business
While it's still a little too early to tell how things will change in your area, one of the things you can do right now is let your customers know you're reopening. The best way to do that is through a reopening business message. There are a few things you should keep in mind while writing your message to announce your reopening:
Make sure it's clear you're open for business;
Set expectations on how clients can book or place orders;
Be transparent about what precautions you're taking to ensure their safety and wellbeing;
Show empathy for their situation and give them a reason to support your business.
When you use an email marketing tool like Sender, it won't be a hassle to compose any of these messages. Bulk emails and SMSes, automation, segmentation and personalization—all available with Sender.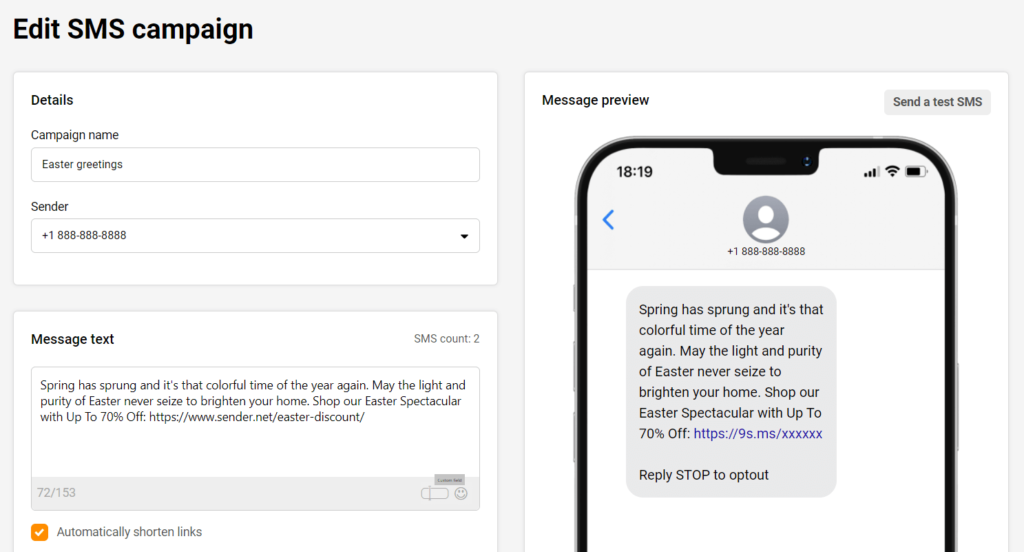 Here are some examples of messages from different kinds of businesses announcing reopening dates and how they'll proceed:
Pubs Reopening
To get things back on track, you might want to inform your customers of the new rules that will be in place in your establishment. This is also an excellent opportunity for you to get creative with your message, especially if you've already started making upgrades or changes to ensure that everyone will have a pleasant experience. You could even mention the new things you've prepared for them, like unique cocktails or meals that will make their experience something to remember.
Example:
Hi <name>! We're open again. Come on down to enjoy your favorite pint (or two) and live music, sports games, and more! In order to continue keeping everyone safe, we will be limiting our seating capacity and operating at 50% occupancy, so make sure to book your spot by calling us at <number>!
Restaurants Reopening Announcement Message
Restaurants and hotels have specific requirements and restrictions for cleaning after the pandemic. From enhanced guest room cleaning to reconfigured seating, there are many adjustments your guests should be informed of before they start making reservations. Here's an example preparation message:
Example:
We're excited to announce we'll be opening for dine-in service on Friday [date]. We ask everyone to remain at least six feet apart while waiting to be seated, and let us know if you prefer a table spaced away from others. We will continue to follow all CDC and state guidelines regarding sanitation and disinfection and wear masks at all times while working.
Also read: 30 Effective Restaurant Email Subject Lines That Will Convert
Office Reopening Message to Employees
Whether you want to send a quick email or create a newsletter, make sure your staff knows the latest news on how you will be operating and what they can do to help keep everyone safe.
Example:
We are opening the office, starting June 1st—our first steps towards bringing the hybrid working experience your way. We have made some changes to ensure your safety is our priority during these unique times. Things will look slightly different when you return to work, but we are excited to see you all again.
Retail Shops Reopening
Regular consumers have missed the walk-in shopping experience your retail shop offers. Consider sending a reopening message to customers to show your appreciation for everyone who has been eagerly anticipating your return.
Example:
We have missed you dearly! Our store will reopen on [date] at [time]. We ask that you wear masks for the safety of everyone in the store. Our top priority is to keep our employees and customers safe during this time. Thank you for being so patient, and see you soon!
Hotels Reopening
Hotel reopening messages should be warm and welcoming, encouraging guests to return to the familiar comforts of your hotel and reminding how much you value them. Consider including an offer if you're able, like a discount on future bookings, complimentary breakfast, or a free upgrade.
Example:
We're thrilled to announce that we will be reopening our doors on [date] at [time]. We can't wait to welcome back our old friends and meet some new ones soon. As always, we will continue to put strict cleaning measures in place for the safety of our guests and staff.
Also read: 25 Attractive Short Welcome Messages for Customers
Travel Places Reopening Message Example
People are ready to get back out on the road—and they may even be more eager than ever. However, the pandemic has also affected travel destinations, whether they're beach resorts or theme parks. In this case, how can you invite people back without sounding too pushy? Your best bet is to focus on the positive aspects of travel while highlighting essential safety measures.
Example:
After ten months of closure, travel zones across the country are finally reopening! Come down and explore what's new in your area! Please note that tickets must be booked online in advance. We look forward to seeing you!
Salon Reopening Message to Clients
The salon reopening message should be gentle and relaxed but also direct. It suggests a new, fresh start for the salon by keeping the tone optimistic, without the need to provide any details.
Example:
We're so excited to have you in our salon again. We want to let you know that we've taken all the necessary precautions to ensure your safety and comfort. We will be carrying out thorough disinfection of the salon before we open, and we have also installed hand sanitizer dispensers at the entrance. Our staff will be wearing masks, and we encourage you to do so. We look forward to seeing you soon!
Also read: 27+ Appointment Email Examples
Gym Reopening Message
Gyms are beginning to reopen in some parts of the country, make sure your members know how you'll be keeping them safe as they return.
Example:
Are you ready to improve your health and get back in shape? We're excited to announce that we will be reopening our gym on [DATE]. Our main priority is safety. In order to protect our members' health, we have implemented some new hygiene procedures. We've also reduced the capacity of our gym so that everyone can exercise their bodies and minds while maintaining a safe distance. If you need more information, please don't hesitate to reach out. We look forward to seeing you again!
Store Reopening Announcement
It's important to create a brief message but still manage to cover all the bases. Try offering special promotions or discounts or even give away freebies as a sign of appreciation for their continued support in keeping your store afloat so that you can reopen your doors.
Example:
It's been a long time since we've seen you. We hope you are well. We are pleased to announce that our store has reopened after we took the time to ensure it's safe for everyone. To celebrate our reopening, we'll be offering a 20% discount on everything from May 26-28. Just show this email at the counter, and enjoy! Thank you for your continued support.
Also read: How to Write an Announcement Email (With Tips and Examples)
5 Reopening Announcement Message for Different Channels
Reopening email message:
Subject line: We Are Back!
Hi Christy,
We hope you've been well? We're excited to announce that we're now open again! And to celebrate our reopening, we designed a special offer, discount filled catalog just for you. Come check out our new designs and inventory. We know you'll love what you see…we can't wait to see you!
CTA: Take me there.
Reopening text message:
We're back! Come check out our new product line and updated inventory. This is our best collection yet, and we can't wait for you to see it—we hope to see you soon!
Reopening website message:
Finally, we have some excellent news for you! After months of being closed, we are now open for business. Come by today for a look at our new products and expanded inventory. We know you won't be disappointed!
Reopening social media message:
The day has finally come! We are now open again, with a few changes. Check out this message on our website for more details: (include link). Hope to see you at the store soon!
Reopening WhatsApp and Telegram message:
Great news, everyone. We are open again! Come check out our new product line and inventory. We can't wait to see you!
Share Your Reopening Announcement Message with Sender
Now that you've as many templates as you need to send the right reopening Announcement message to consumers, you might be wondering; how can I spread the word in the most cost effective and reliable way possible?
Well, it's simple! You need an email marketing software that allows you to send more while spending less. That's where Sender comes in. You can use Sender to bridge the gap between your email & SMS list and revenue. Register for the free plan today!
Also read:
44 Best Marketing Softwares for Business (Free and Paid)