Triggered email is one of the well-known methods of marketing. It has plenty of benefits. Triggered emails are vital for boosting sales and lead generation.
According to our research email marketing generates $41 for every $1 spent on marketing. This statistical figure shows why it is of great significance to use email triggers for boosting sales.
Email triggers use to determine the customers' attitudes and nature. Lead generating becomes more comfortable if you understand your customers' demands.
It also requires a proper understanding of your product and services. Until you understand how to capture a larger audience with email triggers, you would never hit high sales.
A small business, you must use email triggers along with other social media tools for maximum conversions.
Effective Tips To Boost Sales Through Different Types Of Triggered Emails
Triggered emails are used for various purposes. They are versatile and lead to high sales.
1. The Warm Welcome Email Is Mandatory
The customers on your website aren't specifically visiting to make a purchase. It is like the customers or buyers in a shopping mall, doing window-shopping. If anything attracts them, they might make a purchase.
Affectionate welcome is paramount. Imagine yourself receiving high-end importance.
Anyone would indeed be inclined to purchase because of the nice gesture you show to your customer.
You can make them join your newsletter – as newsletters are a good way of turning visitors into buyers.
You could offer them a little offer or discount and the affectionate welcome note in the triggered email that is automated.
It gets you the trust and leads in building the relationship with the customers.
Here are few examples of welcome email: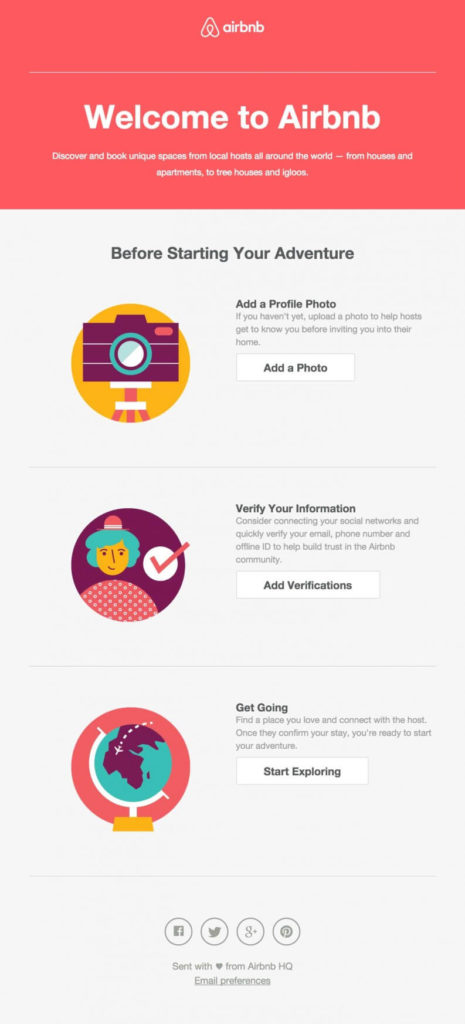 Source: Original Airbnb welcome email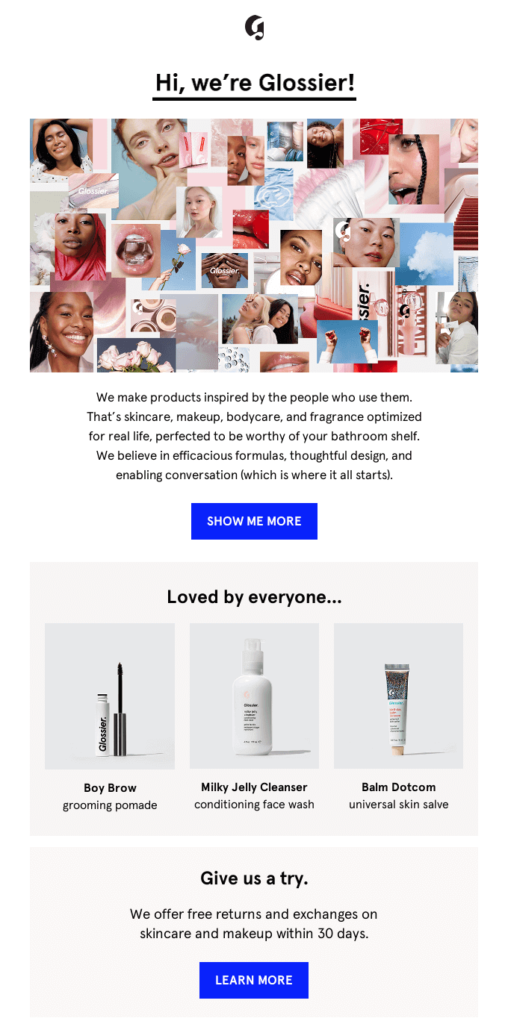 Source: Original Glossier welcome email
2. Customer Nurturing Will Generate Leads
The reflection of your nurturing shows the values and morals you have inserted. Whenever there is a visitor, see it as a potential customer.
Nurturing is what then comes to play.
Using triggered emails to delight and stimulate the visitor so that he/she landed on the customers' list.
By using an email, you can build a relationship with them as it ensures the customers that you care for them and develop empathy.
3. The Abandoned Cart Email Follow-up
It happens millions of times that you see possible sales on your e-commerce store, but it eventually resulted in an unsuccessful outcome.
This unsuccessful outcome happened when the customer clicked the item, added it to a cart, and finally left it there and vanished. The average rate of this happening is 69.57%, which shows the incredible volume to turn into leads.
The prospect left the buying process, that is where the email follows up is required. There are automated marketing tracking systems with which you can respond via emails.
You could use email triggers for abandoned cart follow up and nurture that lead and turn that ran-away visitor into sure information.
E.g., someone abandoned a writing service on your website. In that case, you might send some relatable writing samples of different formats that attract the customer and turn that into a potential lead.
4. Automated Feedback Email
Quick follow-ups lead to relationship building. Connect with your customers by asking for feedback. Feedback gives you the chance to improve, and you could see what the customers like the most at your online business store.
As soon as the client or customer is done with the purchase, an automated email must hit the inbox so that they could realize the strong value you give to each of your clients.
Automated feedback emails are quick and easy to set up.
You can easily give a personalized touch to the content of the email.
You could learn people's shopping habits and store them in your database and use other email triggers for a lead generation later.
5. Greeting and Birthday Email
Occasions such as birthdays, anniversaries, and festivals are the perfect time to connect with your customer.
Trigger emails at these occasions are great to ensure that you're communicating with possible leads and nurture them to build relationships.
You can use trigger emails for a special occasion by adding a small gift voucher from your side to offer some discount percentage that leads that customer to a potential sale and future sales.
This nurtured customer is a high-value for bringing in more customers.
6. Customer Retention Email
Customer retention should be the most prioritized step for every marketer and business. It is significant to get new customers and boost revenue but retaining the existing customers is something most brands and companies neglect.
But this all depends on the way you nurture the customers. Nurturing for customer retention is a fruit-bearing measure.
Create a step-by-step automated email process.
For example, starting from the welcoming the customers on board, sending greetings and offers on different occasions, and later by providing offers and discount percentages, etc.
Here's an example, how Sender email automation looks: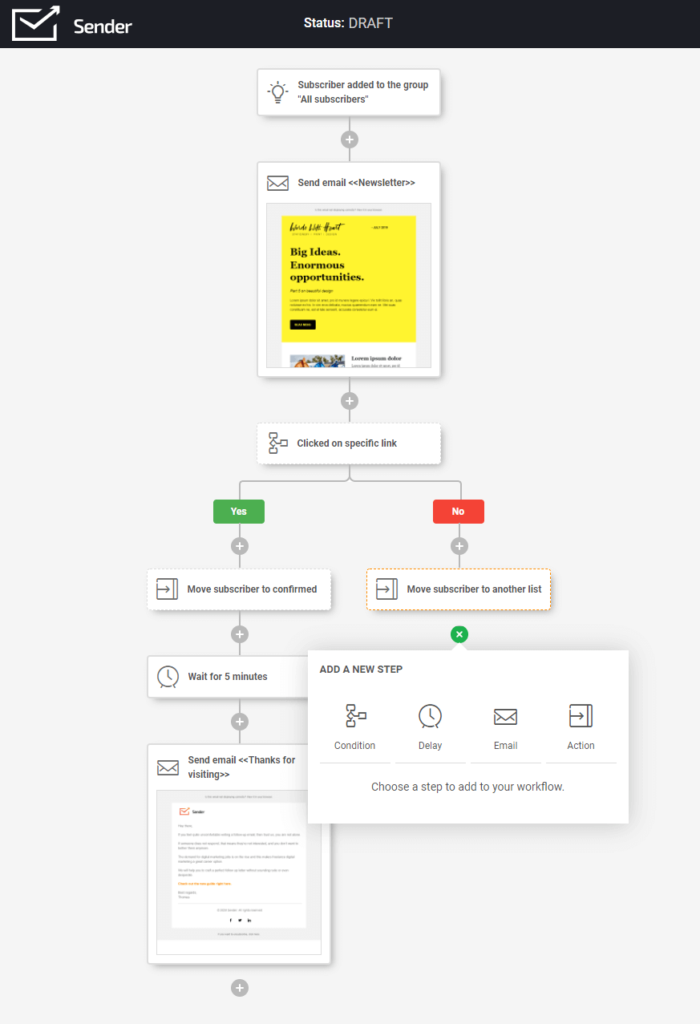 This is a cycle that your automated email trigger must use for sales generation.
7. Order Confirmation Email
Order confirmation email or text is what customers are desperately looking for. Whenever a customer places an order, the customer hopes to get a confirmation email that confirms the order status.
An order confirmation email is another way to connect with your prospects. This step shows that you care for the customers, and caring leads to a better connection, ultimately resulting in the sure leads in the future.
Your order confirmation email should include;
A tagline or subject-line that confirms that the product or service has been acquired.
The amount that has been deducted by mentioning the details of the discounts, if provided.
It must have a tracking ID along with the estimated delivery time.
Also, with Sender platform you can setup automated order confirmation emails.
Firstly you need to setup API or integrate Sender tool with your ecommerce platform.
After that click on "Automation" and select your trigger: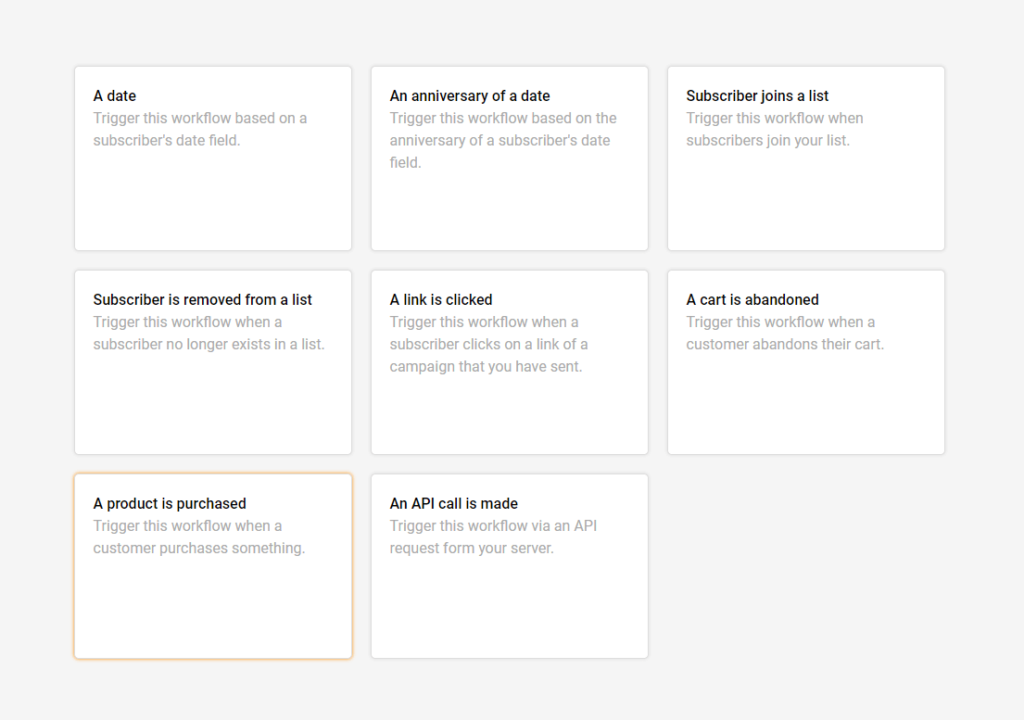 And setup your drip campaign. Here's an example of order confirmation email automation: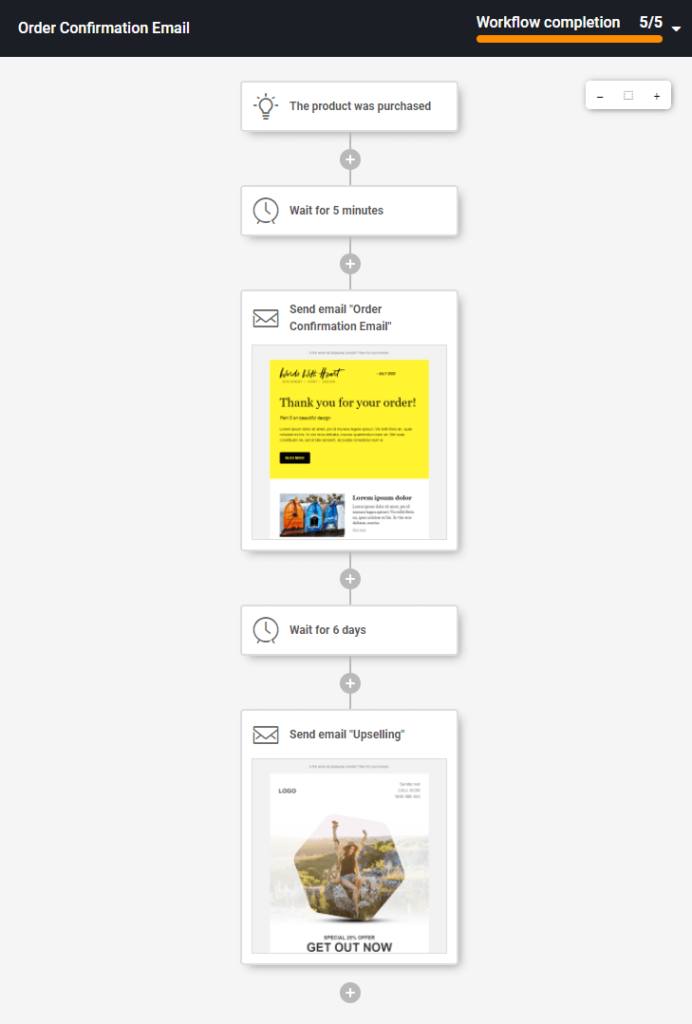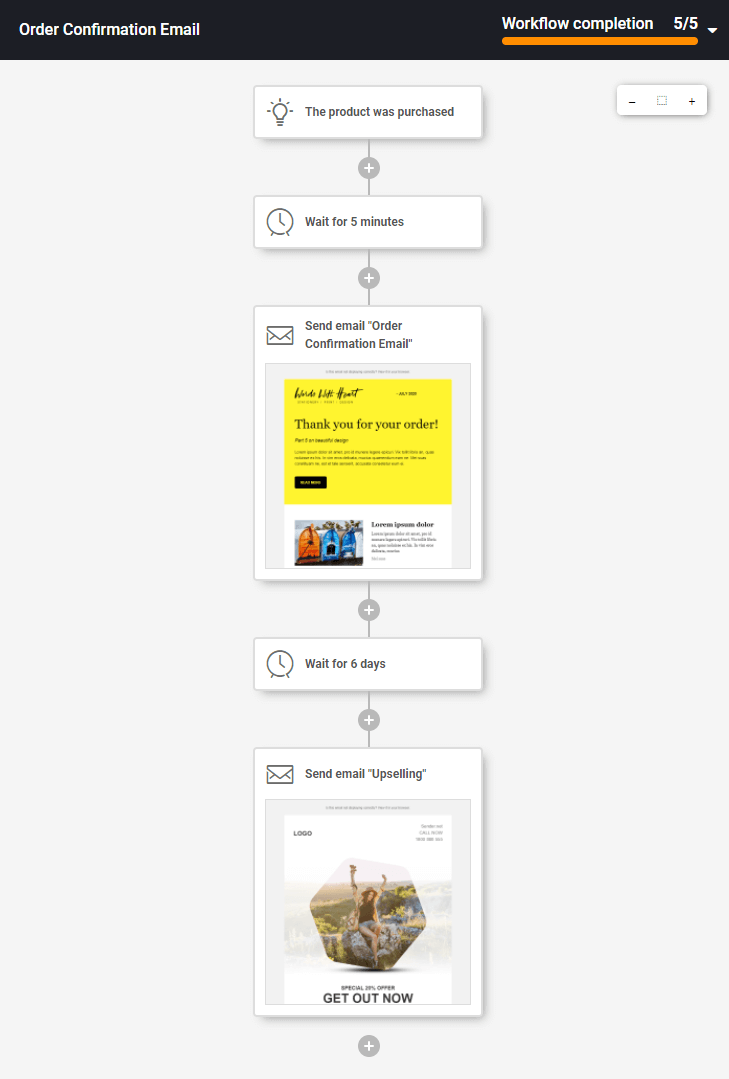 8. Creative Emails Will Increase Sales
Your marketing team must consist of creative teams that form a divine force. Your triggered emails must be creative as people are attracted to creative write-ups.
Creative emails can be sent anytime you wish for it. Your welcoming emails, abandoned cart emails, order confirmation emails, retaining emails, etc. all the emails that you send must be creative.
Creativity in emails leads to success in increasing sales by having more customers.
9. Initiate The 'FOMO Emails'
'FOMO' stands for fear-of-missing-out, which is a psychological term. According to Strategy Online's studies, it was studied and found that 60% of Millennials make instant purchases as soon as they experience FOMO.
It is part of human behaviour that attracts us to the things we thought are at a losing end.
What you can do in this email trigger to boost the sales;
Run automated trigger email mentioning about the products that are ending or going out of stock.
Use creative email mentioning the products, codes, details or specifications, price range, or any discount.
This shouldn't sound like a warning. It must be compelling and appealing, which is completely done the way you draft the document.
10. Use Effective Communication To Increase Engagement
Customer engagement is the single-most driving factor in increasing engagement bringing more leads. Communication is vital at this platform.
When you keep your customer engaged, the prospect understands why your product or service is useful to the consumer and why they must make the purchase.
Effective communication increase engagement.
It helps you:
Understanding the customers' requirements.
Personalizing your email triggers for the segmented audience.
It gives provision for the purpose and helps you in controlling the crisis.
It helps in keeping the brand promise.
11. Personalizing The Customer Experience
Personalization in customer experience surely means designing and producing content for customers. This triggered email is automated with specifically designed to give a personal touch to the customer experience.
It is appreciated by the customers and drives sure sales as the customers get connected with the brand using this triggered email methodologies.
Wrapping It Up!
Generating more sales is a dream for every marketer and business. But there are specific ways to generate more leads.
Trigger emails are vital for this process and are highly used for lead generation.
---
About author
Samantha Kaylee is presently working as Assistant Editor at Crowd Writer, an excellent platform offering essay help. She has been associated with the writing industry for the considerable time and gained a credible name with her outstanding write-ups on various topics. She has a deep passion for writing on digital topics.
Like what you read?
Apply it in practice with Sender.net - the most cost-effective email marketing solution in the market.
Try Sender for free