One email can determine whether people will attend your event or miss it entirely.
Knowing how important well-crafted invitations are, we decided to compile some useful content for you to avoid uncomfortably empty conference rooms!
In this article, you will find:
Tips for creating email invitations.
Email invitation design examples.
Free email invitation templates, ready to use.
Learn How to Make an Email Invitation Template on your own
Sadly, you can't just google everything.
Sometimes you won't be able to find an email template that hits all the spots. This is why we compiled a list of the most important tips for creating bespoke emails all by yourself. All you have to do is to personalize them according to specific requirements and send them at an appropriate time.
When to Send an Email Invitation?
Send too early, they'll forget about it. Send too late, they won't have time to include it in their schedule. Overdo it — it'll go to spam; play it down — it'll end up under a pile of other emails.
Picking the right time to send an email sounds like a nightmare, but don't overthink it. The attention-grabbing subject line and alluring offer can make up for it.
Now — how to understand if the time, subject and matter were the right picks?
You can rely on Sender for email analytics. It shows in real-time who and when opened your emails, who clicked on the links inside them, and more. This way, you know exactly when to send what kind of emails!
When is the Best Time to Send an Email Blast (Specific Schedule)

Our recommendation.
Email Invitation Content — Universal Writing Rules
Each email invitation differs from the other, but these elements are a must and you'll use them each time:
Pique the recipient's curiosity with the interesting subject line.
State what's the point of your email right away and what's in it for them
Essentials: date, time, location and duration; depending on the type of event, you can also clarify the dress code, whether they need to bring something, etc
Contact person/ form
RSVP and CTA buttons — make them visible!
Another good idea is to insert a calendar invite form so they can include it in their schedule right away and set a reminder for your event.
Apart from email, you should consider LinkedIn messages as well — otherwise, you miss a sea of opportunities!
LinkedIn has plenty of data waiting to be used for meticulous personalization, which drastically increases the chance of email getting opened in the first place.
There are no guessing games and email verification. As all the accounts belong to real, active LinkedIn users, you can be sure the message will land where it should.
This whole process can be automated and remain accurate with Expandi. This tool offers a unique set of features that make cold sweats caused by Linkedin cold message outreach a thing of the past. No other service has Dynamic Placeholder for personalization — and it's safe as well.
Email Invitation Size
This will depend greatly on the type of email you're sending.
The general rule is to include the most important (and interesting) parts above the fold — the section they see before they start scrolling. In case the first part doesn't speak to people, trigger their curiosity or offer them something attractive, they'll exit and erase your email with a flick of a thumb.
You can add whatever you deem necessary below the fold, as long as you keep it tidy and relevant. Include the parts from the previous section above the fold; below, you can add:
Reminders.
Time-tables and program.
Additional explanations and details.
Sponsors.
Email Invitation Design Examples
Good email design, no matter the purpose, has these three important characteristics:
It's clean.
Goes in line with company branding.
Style is occasion-appropriate.
Colors, fonts and layout make a difference between an eye-sore and eye-catching email!
When company colors are too hard to match with holiday-themed email invitations without it looking all over the place, save them for the company logo in the corner.
It's more important to provide key information — it's okay to keep the branding minimal when needed.
The company font shouldn't be a problem, but be mindful of how you combine it with other fonts — ornate fonts may create quite the clutter.
The good thing is, you don't have to design the emails from scratch! There's plenty of free email design platforms you can find online, and create emails such as the ones we listed below.
Here is how looks free Sender email design builder: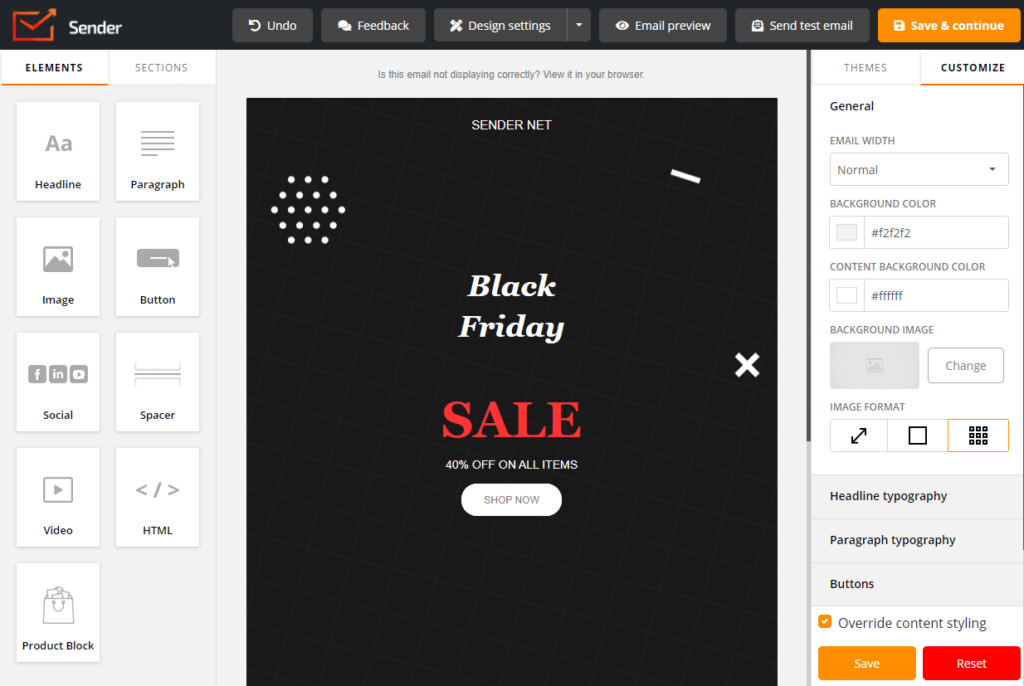 Email Invitations We Love
Apart from directions for creating your invitation email templates easily, we picked a few examples to show you what it looks like in real life and mailbox!
These invitation emails will show you what kind of mistakes to avoid and what a good template looks like.
1. Kurtner Financial – Business dinner invitation email sample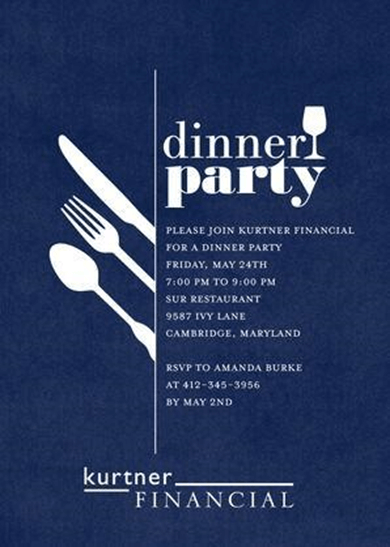 What we love about it:
Design is up to the mark — formal, but still fun.
Quite a few fonts, but they match well.
What we'd improve:
Not interactive whatsoever (no calendar, map or RSVP button).
2. IFMA – Team launch invitation email sample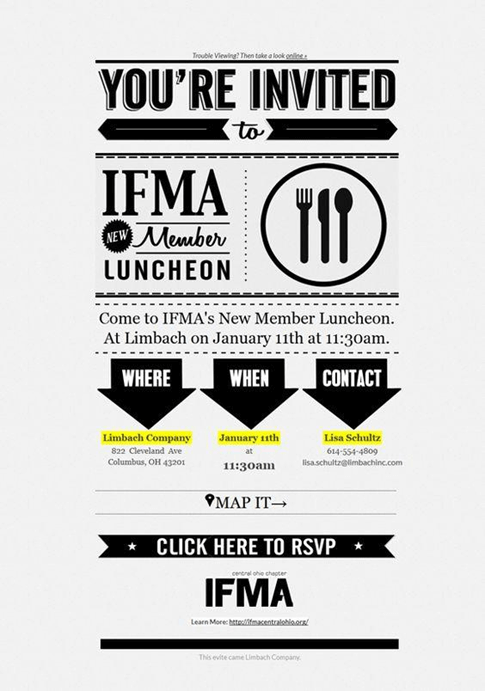 What we love about it:
Apt information choice and placement (especially the where-when-contact arrows).
Venue location map and RSVP button.
A simplistic color scheme.
What we'd improve:
The text above the arrows is already included below, so we'd use that space for something else.
Too many different fonts — not easy on the eyes.
3. Christmas Party Invitation Email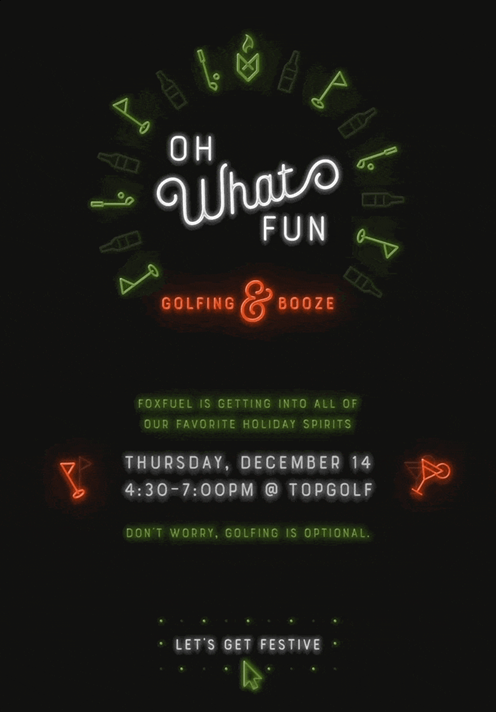 What we love about it:
Design is simple, pretty and very holiday-appropriate (see colors and drawings).
Amusing, yet not in-your-face and pushy humor.
Has all the info you need.
What we'd improve:
The RSVP button at the end could stand out more — this one blends in too much.
No company branding of any kind.
4. Tailor Brands – Survey Invitation Email Example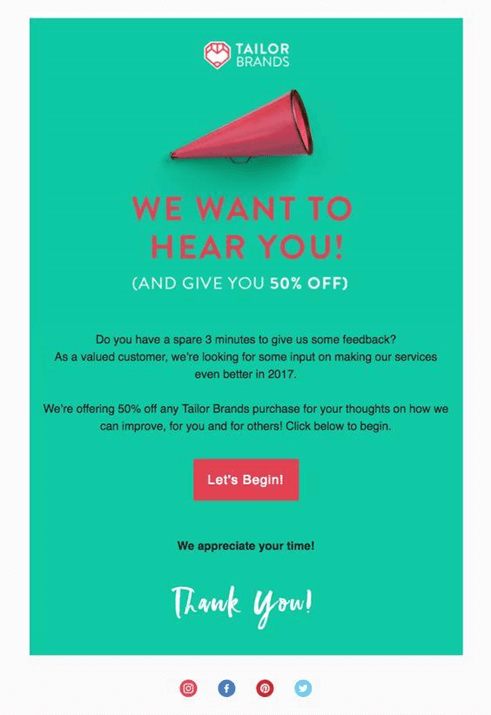 What we love about it:
Provides something in return — a generous discount.
Appreciative of customers' time (notice they're stating how long it will take).
Excellent CTA design and position.
What we'd improve:
Don't fix it if it's not broken — this email checks all the boxes!
Email Invitation Template Examples
Now that we went through the basic outlines, design and notable examples, let's have a look at a few more email invitation templates.
Complicated design options aren't necessary, as long as you do the right thing with the textual part. Even text could be simple, provided that you follow certain rules — see examples below.
Team Meeting Invitation Email
This email invitation is suitable for inviting the whole team for a quarterly recap.
To: [email addresses of the recipients]
Subject: Marketing department – Quarterly meeting
Hi everyone,
As the end of the first quarter approaches, I'd like to thank you all for your effort and invite the whole department to a meeting next Thursday, [date&time].
We will discuss the following:
[first topic]
[second topic]
[third topic]
This meeting will last an hour at most; please confirm your attendance in the Google calendar form attached below.
Best,
[email signature]
---
Interview Invitation Email
This interview invitation is meant to be sent to candidates who applied for a job at your company.
To: [email address of the recipient]
Subject: Interview at [company name] for the open [job title] position
Dear [candidate name],
Thank you for your interest in working at [company name].
We would like to invite you to an interview to discuss your qualifications further. It will take place at our [city name] office, and we expect it to last about 20 minutes. Feel free to ask any questions regarding the position, company, or anything else tied to the hiring process.
Please reply to this email and let us know which of these options work for you:
[date & time suggestion]
[date & time suggestion]
We are looking forward to meeting you in person!
Best regards,
[email signature]
---
Farewell Invitation Email
This invitation is less formal, meant to be used for smaller, close-knit teams.
To: [email addresses of the recipients]
Subject: Farewell surprise party for Ms. Joan Robinson
Dear all,
As you already know — Joan is leaving the company at the end of the week after 5 years of working for [company name].
As she's always been more than an amazing coworker, [coworker's name] and I have decided to throw her a surprise farewell party this Friday and would like the whole team to attend!
This is the schedule for the day the party will be held:
16:00 — [coworker's name] and I will go to the Conference room to decorate, sort out the music, food and drinks (just the two of us, not to raise any suspicion)
16:15 — start leaving the office one by one, come to the Conference room
16:45 — someone from the team will go to her office and invite her downstairs to the Conference room to help with something; then we surprise her!
We planned to party until 19:00, and then proceed to the bar. This part is optional, please decide by this Wednesday if you want to come and let me know so I can reserve the right amount of seats!
We haven't decided on catering yet — please let us know your suggestions, so we can get everything in time. Once we have a deal, we'll split the costs and place an order.
Cheers,
[your name]
---
Conclusion
These were the main do's and don'ts of writing various kinds of email invitations. The rules we discussed, with a couple of personalization points, apply no matter you're sending the emails to your coworkers, clients, job applicants or prospects!
The most important takeaways are:
Get straight to the point
Make the email interactive with maps, calendars and buttons
Don't clutter the email with overly intricate design
Now, you're ready to create and send the email invitations, and watch the crowd gather!
Also we highly recommend to read:
---
About author
Stefan Smulders is a SaaS Entrepreneur | Founder of Worlds safest software for LinkedIn Automation / Expandi.io | for more than 5 years Founder of LeadExpress.nl.
Like what you read?
Apply it in practice with Sender.net - the most cost-effective email marketing solution in the market.
Try Sender for free