Email marketing yields an average 4,300% return on investment for businesses and brands across the United States (Source: DMA report dated Aug 2013 report). So email marketing works. But not every email marketing campaign does.
Especially given that users exchanged over 300 billion emails in all of 2020. So, what can you do to make your email stand out from the clutter? What goes into the making of a successful email marketing campaign?
Everything you always wanted to know about creating effective email marketing campaigns but were afraid to ask—ALL answered here!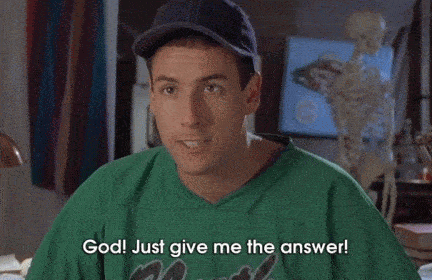 What is an Email Campaign?
Without getting into complex definitions, let's just say that email marketing is the process of sending emails to existing and potential customers at its most basic level.
An email marketing campaign is a series of such emails with a common end goal in mind. These emails could be sent in an automated fashion (in which case we call it an autoresponder sequence), or they could be sent out as a weekly or monthly newsletter blast (also called eblast).
The overall objectives behind an email marketing campaign are usually education, entertainment, or a potent mixture of both.
When done right, an email newsletter campaign lets you build deeper relationships with your subscribers over time, which eventually translates into increased leads and enhanced sales for your business.
Email Marketing Campaign Benefits
An effectively run email marketing campaign helps you:
Increase brand awareness
Drive customer engagement with the brand
Boost website traffic
Generate more interested leads
Nurture these leads towards a sale
Sell more products and add more revenue to your business
And it helps you do all of this at a meager cost (as compared to the paid ad ecosystem or advertising) and, more often than not, on complete automation.
Types of Email Marketing Campaigns (Examples)
This section will review the different types of marketing emails you can send and their benefits and drawbacks. The knowledge should help you choose the most appropriate email type and how to proceed with using it with your current marketing strategy.
The most commonly used types of email campaigns are as follows:
1. Drip Email Marketing or Onboarding Emails
Emailing new subscribers or members to deliver a resource (promised during sign-up), set the right expectations, and educate them about the next step. Usually set up as a sequence of "drip" emails intended to reach the subscriber's inbox at predetermined intervals. A few drip campaign examples include welcome sequences, reactivation emails, nurturing emails and other sequences that requires series of emails.
2. Announcement Email Campaign
Use this type of email campaign to promote new product arrivals, new feature releases, an upcoming event or digital webinar, or a round-up of a blog post. Usually people refers to it as mass email marketing, due to its volume of newsletters
3. Holiday Promotional Email Campaign
This is a sales email sequence that aims for maximum revenue generation with the help of holiday discounts and great offers. Typically run during Black Friday, Cyber Monday (BFCM), Christmas, New Year, and other holidays.
4. Seasonal Email Campaign
This email campaign involves mailing prospects to sell seasonally relevant products or services—for example, warm clothes during the winter season.
5. Re-engagement Email Campaign
Also called win-back emails, aimed at inactive prospects or customers who have not been engaging with your brand. The key purpose is to reactivate them before they are on the churn list.
6. Abandoned Shopping Cart Emails
This automated email campaign shoots out a sequence of emails reminding shoppers who've added items to their ecommerce carts but for some reason didn't go through and complete their purchase.
7. Upselling & Cross-selling Emails
Send a product recommendation based on their browsing habits or past purchases. Upselling has many techniques; one example: "Hey, you were just checking out ABC. We think you should also see XYZ."
8. Greeting Emails
Make your prospects feel like rockstars on special days, and they will remember you for good: birthdays, anniversaries, and whatnot.
9. Regular Newsletter Email Campaigns
Weekly, Bi-Weekly, Fortnightly, or Monthly email newsletter aimed at lead nurturing through sharing valuable, engagement-worthy, and relevant content.
These different types of email marketing campaigns solve different problems for businesses. And you need to make a place for them all as part of your email marketing strategy.
10. Email Advertising
Email advertisement allows you to remain in consumers' faces, steadily updating and reminding them about what's new and trending.

Primarily, emails are an ideal way to build a relationship of trust, likeability, and authority with your audience.
Also read: What is Email Advertising: Definition, Example & How to Start
Email Campaign Service & Software
To build out effective campaigns, you need a professional-grade email marketing tool aka email blast service. These feature a drag and drop editor, autoresponder and workflow automation, signup forms, and standard tracking & reporting.
While there are a lot of SaaS companies out there that provide these standard features, you should only really be looking at the best ones for your business.
The following email marketing tools stand out from the crowd for all good reasons. So let's check them out:
1. Sender – Refined Email Campaign Service
Sender is the email tool of choice for ecommerce businesses wanting to send out high-converting automated email marketing campaigns while avoiding high fees for monthly usage or the steep learning curve that comes with most other tools.
It features high-quality popups and opt-in forms to collect email addresses and grow your list.
Both simple and complex automation workflows are supported for email and SMS (often called Omnichannel) messaging inside one convenient dashboard, often resulting in high ROI campaigns. Text messaging is also supported.
Integrations with Magento, WooCommerce, WordPress, PrestaShop, Zapier and other platforms are available to assist you in sending highly converting newsletters that are actually beneficial to your business.
It's easy to be misled by its highly affordable cost (easily compared to the other top guys), thinking this may be an also-ran. However, it punched well above its "price" weight and was named Capterra as the Top rated email marketing and automation software for 2021.
Not to mention, Sender's FREE FOREVER plan that features up to 2,500 contacts and 15,000 emails monthly (including complete access to top-tier features like automation).
It seems perfect for small businesses starting with email marketing, those testing the tool out, and nonprofits who are trying to keep their cost overheads low.

2. Mailchimp – Most Popular Email Marketing Software
MailChimp (recently acquired by a USA-based financial software company called Intuit) is a high-quality, AI-powered marketing automation solution provider for a wide range of business needs.
Mailchimp features rock-solid reliability in email delivery and feature set to boot. Its primary disadvantage is that it doesn't support SMS messaging, which is a must-have if you are serious about building high-converting ecommerce campaigns.
Also, its less-than-intuitive (sometimes confusing) interface can involve some learning curve.
3. Constant Contact – Email Marketing Software with Great Deliverability
One of the oldest email marketing tools around, Constant Contact has an intuitive email builder and a wide selection of responsive templates to help you create visually appealing emails.
It also features robust contact email campaign management and automation features most businesses need from a solid email marketing platform.
Although, their features and email designs are outdated and not innovative anymore.
4. ActiveCampaign – Great Email Campaign Management
An easy-to-use email system, ActiveCampaign allows users to send and automate their email marketing campaigns. It features an in-built email design tool to create beautiful-looking HTML newsletters.
Its standout feature allows you to split test (A/B) emails to improve your deliverability and opens. It also lists compelling marketing automation capabilities.
But the prices, unfortunately, bites so ultimately it's a matter of choice and preference for your own good.
There is no such thing as the perfect tool for your email marketing campaigns, just the one you are most comfortable with and the one that best fits your business needs. So choose carefully.
Email Marketing Campaign Strategies
Designing email campaigns can be fun. We recommend the below step-by-step approach to designing successful email marketing campaigns.
Understand your target audience well

Work through this backward by listing all of the problems your product or service solves, and then create your Buyer Persona by seeing what types of people are actually having this problem.

Ensure an accurate list of interested prospects. You need good input to get great output. So ensure that your opt-in forms and popups are highly optimized for relevancy based on buyer persona.

Segment your list into different categories based on the audience's motivation to buy, among other factors.

Segment your list into different categories based on the audience's motivation to buy, among other factors.

Clearly understand and state the end goal through this email marketing campaign. Why are you running this campaign?

Do you want maximum downloads of a particular resource, more consultation call bookings, or flat-out sales and direct revenue?

Chart the prospect's buying journey and identify touchpoints where they are likely to need education, information, and handholding.

These touchpoints are where your emails fit in. More often than not, it will take more than a single email to do the job. Also, doing all of this will give you an idea of the timeline for which your campaign will run. Your email marketing campaign planner is slowly filling up now.

Ensure that your subject lines involve scarcity, urgency, or even curiosity. More importantly, ensure you avoid using common spam words in your subject line.

Maintain the content and copywriting in your email in a language that aligns with the Buyer Persona of the reader. Keep it direct and unambiguous.

Design out your email newsletter using the email marketing tool's in-built design tool.

Ensure that your subject lines involve scarcity, urgency, or even curiosity. More importantly, ensure you avoid using common spam words in your subject line.

Maintain the content and copywriting in your email in a language that aligns with the Buyer Persona of the reader. Keep it direct and unambiguous.

Design out your email newsletter using the email marketing tool's in-built design tool.

Add relevance with email personalization.

It's a good practice to have a great email footer and signature that mentions any information in compliance with anti-spam regulations such as GDPR, including your address and Unsubscribe options.

It's a good practice to have a great email footer and signature that mentions any information in compliance with anti-spam regulations such as GDPR, including your address and Unsubscribe options.

Check your emails for mobile responsive design and readability. Then test them for inbox deliverability.

Be on top of your numbers—Open rates, Click through rates.
While it's a good idea to keep your mind open to new ideas, inspiration, and trends, it primarily helps to take action, keep testing to find out what works, and then improvise on it with further optimization.
Email Campaign Examples We Can't Get Enough Of
Welcome Email Campaign

Source: original Last Crumb email
Announcement Email Campaign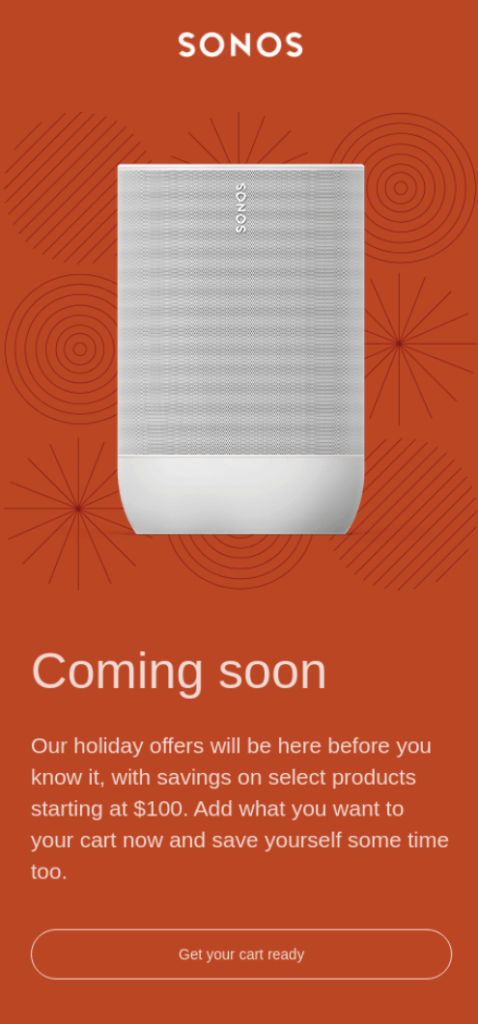 Source: original Sonos email
Holiday Email Campaign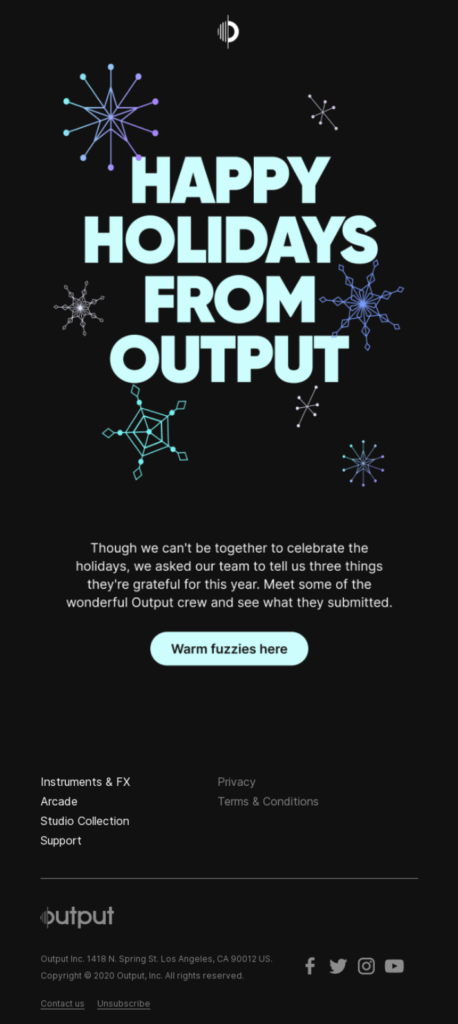 Source: original Output email
Seasonal Email Campaign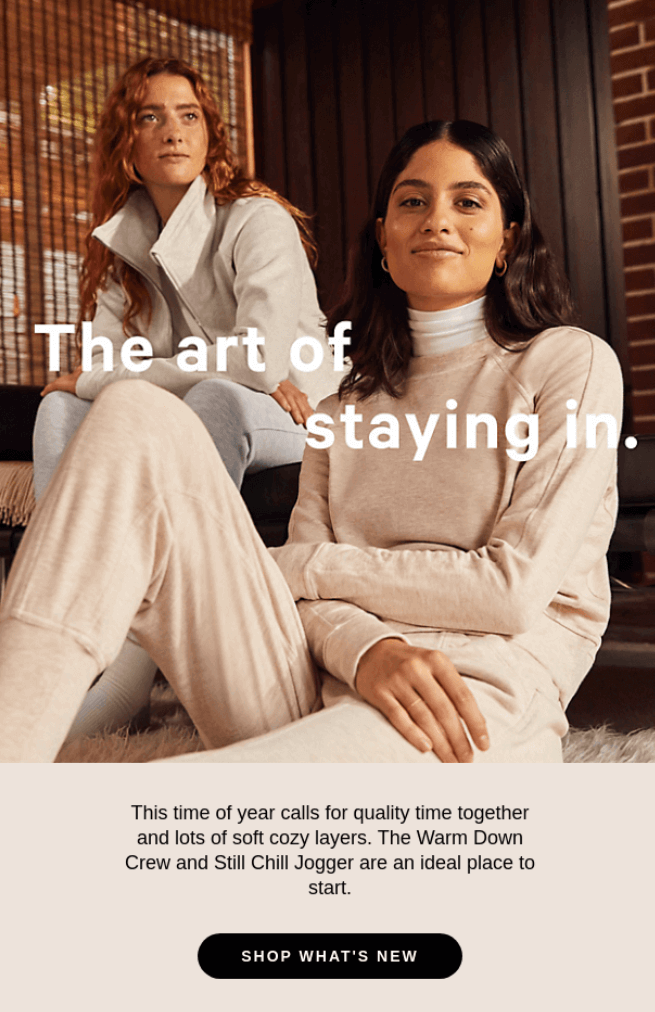 Source: original Lululemon email
Email Nurture Campaign for Re-engagement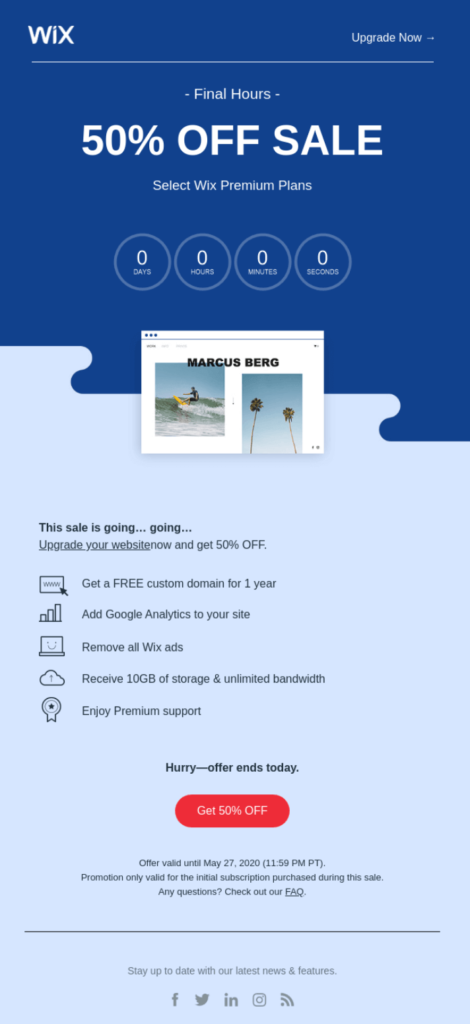 Source: original Wix email
Email Campaign Designs & Templates
When sending out emails as part of your email campaign, you must choose between text and HTML formats. While text allows for excellent deliverability, a beautifully designed HTML newsletter often converts higher.
Sender features a high-quality drag and drops editor that allows you to design your HTML email newsletter from scratch. Often you can do this using pre-made templates without having to write a single line of code or work with a mockup, graphics editors, for that matter.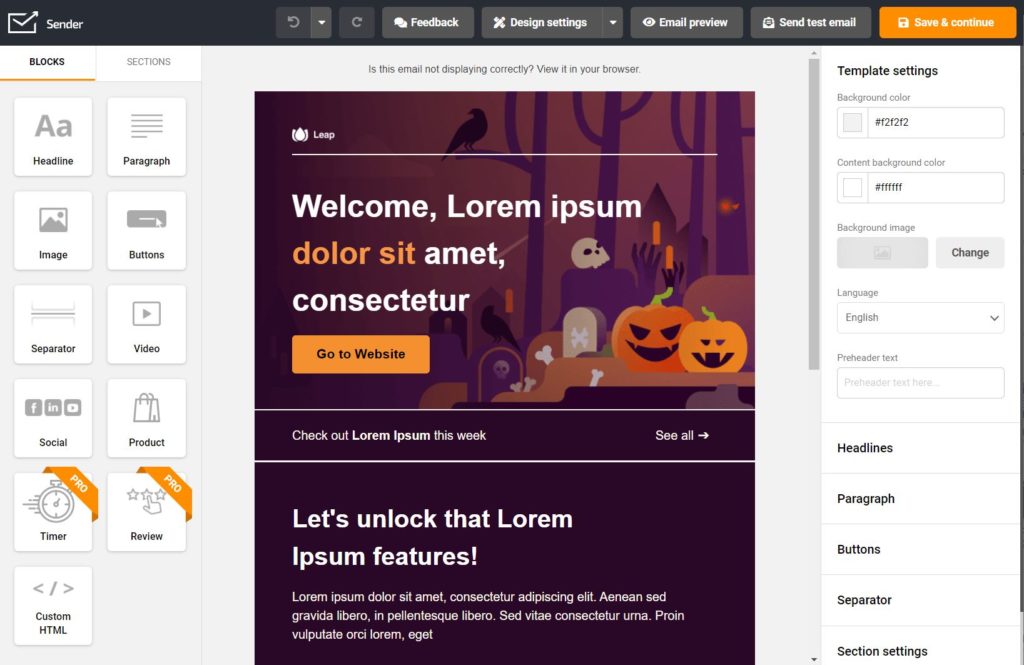 The free email templates (from Sender) are visually stunning, easily editable, and responsive. Moreover, they are pre-designed in that all you really need to do is enter your text inside and click send.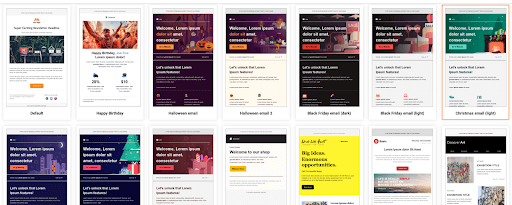 Best Time to Send an Email Campaign Blasts
While there can never be a universally accepted rule on the best time to send an email campaign, there's some good advice.
For any B2B email marketing campaign, avoid weekends, early mornings, late nights, and public holidays. Generally, just times that you don't expect them to be online checking out their office emails.
For B2C communication, the best days seem to be mid-week—Tuesday, Wednesday, and Thursday. Typical on a Monday, people seem to be loaded with work, while Friday seems to simply be all about getting through the current week into the next.
Safe times for maximum opens seem to hover between 9-11 AM.
But who are we to say? Test it out and find out for yourself.
The best time that your niche audience responds best may be very different from what you see here. For example, if you are an EMCee, your best times could be Friday evenings and Saturday mornings when people are busy making plans.
Also read: Best Time to Send Emails in 2022: By Email Type
Create an Unresistible Email Campaign Using Sender
In case you are still wondering how to get started with Sender, hop on to our FREE FOREVER plan first up. Once you are all set, follow this step-by-step screenshot-based tutorial that you can use to get your first email marketing campaign up in minutes.
Improve Email Campaigns with Refined Tips
While having a generic email marketing strategy helps when you start, it's challenging to find the sweet spot for successful email marketing campaigns without extensive testing. What works for someone else in a different niche or business may offer little to no meaning or result for your audience and vice versa.
Nonetheless, given how low-cost yet high ROI they actually are, email marketing campaigns are here to stay and will continue to be an integral part of any business's marketing strategy mix.
Also read:
---
Content contributor – Santosh Balakrishnan
Like what you read?
Apply it in practice with Sender.net - the most cost-effective email marketing solution in the market.
Try Sender for free