As a startup, you may have great concerns about website traffic, images & designs, search engine rankings, and the like.
However, the most important thing could be "How to attract as many clients as possible?" and you put all the effort into finding potential customers.
If you're looking for an effective way to grow your newly-built business, the implementation of email marketing strategies is what you need. In this article, we'll be providing you with the ultimate email marketing for startups you would love. Let's check it!
Indeed, email marketing is an effective strategy for startups to overcome the difficulty of building brand awareness at the beginning and quickly grow after that. In the next part, let's discover 13 email marketing strategies that startups shouldn't miss.
Gather Subscribers
Building a strong customer list is an important factor that influences the effectiveness of any email marketing campaign. The basic logic here is that, if you don't know who you should send email to, no one is aware of your business promotions.
Start by creating a good-looking popup or pick from the pre-made designs on the form builder and capture each page visitor effectively.

Each new lead is automatically moved to the dashboard for further nurturing programs via automation or other matter. No manual work is required, enjoy the synergy.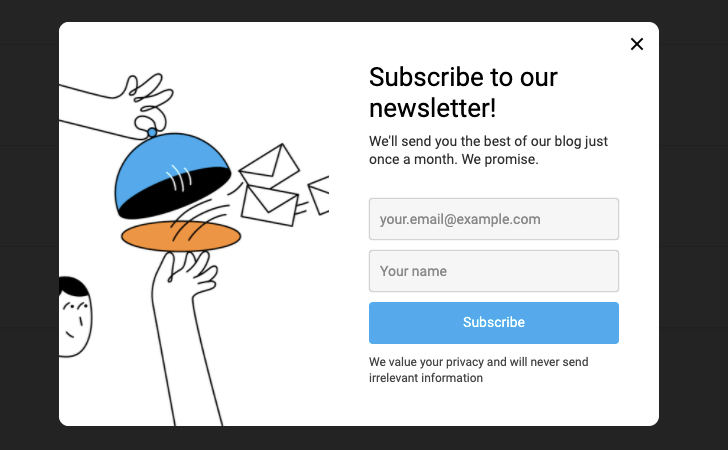 Pro tip: You can gradually gather subscribers by sharing your website link on various social channels like Facebook, Twitter, Linkedin, Quora, and the like.
Also read: How to Build Your First Email List (8 steps for Best Start)
Quality Content
One thing you should keep in mind is that customers only subscribe to your website when they find what you offer valuable. Therefore, investing in high-quality content is a key to success when it comes to email marketing for startups. It increases the email open rate and converts subscribers to customers.
Pro tip: Take a look at your buyer's personas to figure out their problems and thus provide corresponding solutions. Besides, don't forget to optimize the header, the subject line, the introduction as well as consistency throughout your email.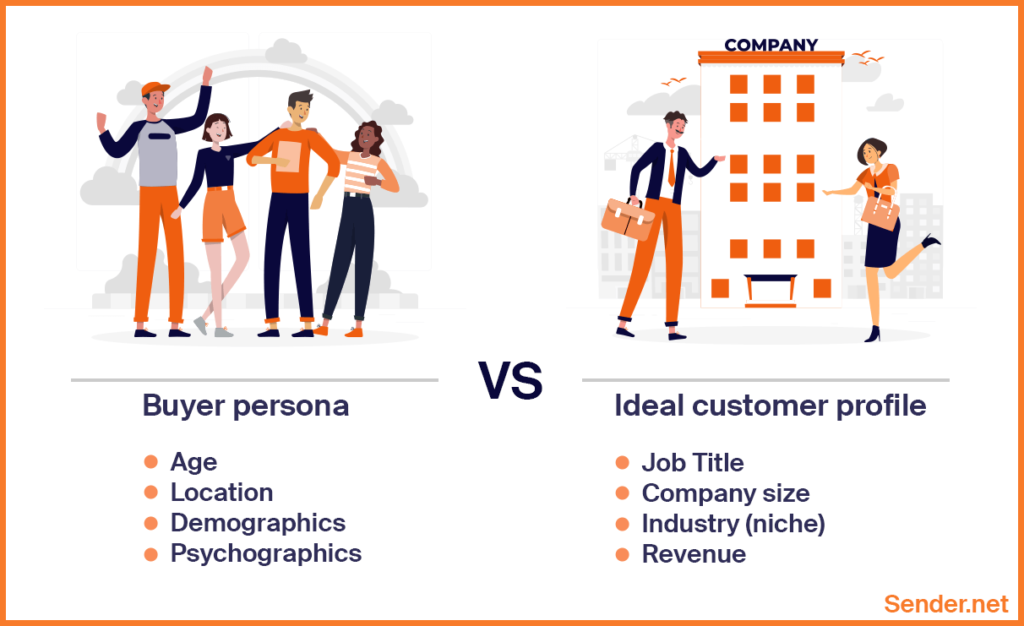 Clean Mailing List
Filtering the list of subscribers is also a productive email marketing for startups that you should take into account. It seems like a conflict with the first technique "Gather subscriber", doesn't it? However, cleaning the mailing list helps you narrow down the number of prospects who are really interested in the products or services you offer.
Pro tip: You can depend on the email open rate in the outreach and follow-up to remove unwanted emails from your email marketing database.
Use Emojis and Videos 😋
Using emojis and videos is one of the best practices when reaching out to your subscribers. This is a decent way to engage with customers and gives them a more personalized experience. Plus, high chances are that the recipients will spend more time watching the video and have an impression of your brand.
Evolve Interest Subject Line
The first thing that customers see when they receive an email notification is the subject line. Hence, it's crucial to create a simple yet eye-catching subject line that persuades your subscribers to open and read the whole email.
Pro tip: Try creating several subject lines and analyze the open rates to determine which one(s) is the most click-worthy for customers. You can have a look at 50+ Email Newsletter Subject Line Examples here for more details.
Optimize for Mobile
Optimizing newsletter design for mobile is one of the best practices regarding email marketing for startups. According to the Global Overview report released by Datareportal in 2021, 66.6% of the world's population are mobile phone users.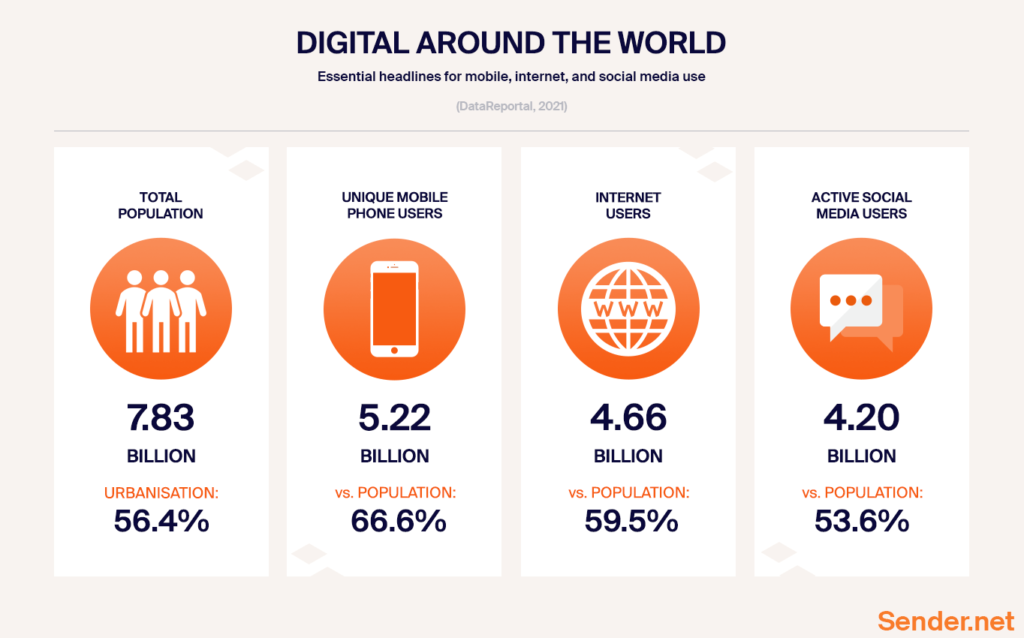 Hence, the probability that your subscribers may read emails from mobile phones is high. Besides, data collected from various mobile devices also help complete your target customers' profile such as:
Geography
Age
Tastes and preferences
Buying habits
Time spent on the Internet
This helps your email marketing target the right customers easily and thus contributes to the success of the whole campaign.
Creating mobile-friendly email marketing is not a demanding task. Almost every eCommerce platform, namely Shopify and Magento, offers built-in or add-on email marketing features for store owners. You can easily create and send email to your future prospects using the well-made templates it provided.
Sender email builder and templates are fully compatible and optimized for mobile, including mobile responsiveness. Each design is automatically adjusted for mobile view.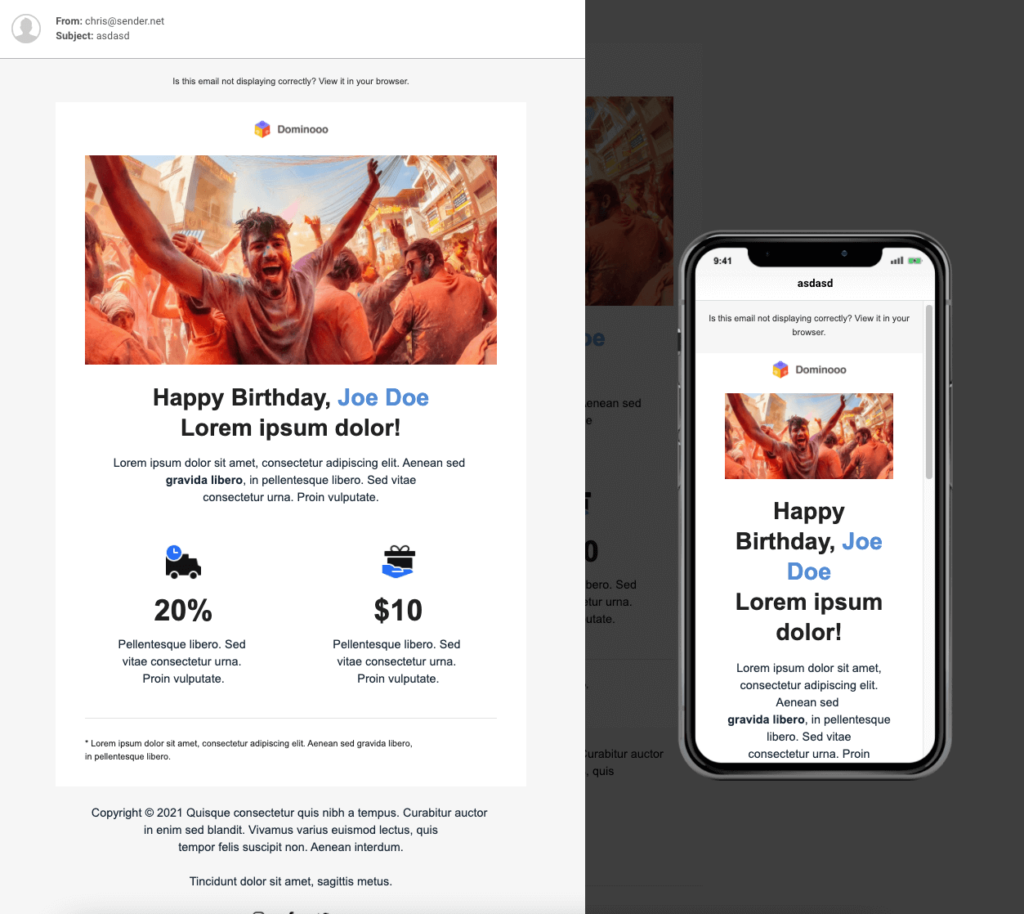 The Call to Action (CTA) Button
Displaying the call to action button properly is a decent way to "call" your subscribers to "take an action": go to the checkout page and complete the order confirmation. Therefore, this is a decisive element that drives conversions for your startups.
More importantly, the CTA button turns out to be a marketing tool that evaluates the customers' trust in your brand. Plus, you can also count the number of clicks into the effectiveness of the email marketing strategy.
Pro tip: The Call to action button should appear in the introduction, the conclusion, and anytime you mention your products/services in the body of the email. This increases the chance that customers will click on it. And don't forget to add a tracking code to determine which CTA attracts customers the most.
Gather Feedback
Another factor that contributes greatly to the effectiveness metric of email marketing for startups is feedback from subscribers. Think of the emails opened and how your subscribers reply to your newsletters will be beneficial for your analysis.
Pro tip: Enclose a feedback form right in the email sent to your customers or on your website. Besides, you can consider creating another campaign that encourages your customers to share their experience with your brand.
Also read: How To Ask For Customer Feedback
Offer Referral
Besides collecting feedback from subscribers, startups can take the referral offer into consideration. The introduction from your current email followers to other customers will give you a chance to reach more potential clients. Plus, it builds trust among them and helps your startups to grow sustainably.
Pro tip: You can create a referral scheme that gives your existing subscribers a discount when they share your business with others.
Personalization
Rather than focusing on the products/services merely, more and more brands are paying great attention to offer a personalized experience to the customers. Personalization in email marketing helps strengthen your brand loyalty and increase customer retention, leading to a growth in sales and revenue.
Pro tips:
Diversify your email lists: Divide your subscribers into smaller groups depending on interests, age, geography,… and send specific emails to them.
Insert your followers' name in each email: Talking to the recipients with their name is an effective way to personalize your marketing campaigns, but try not to insert it too much.
Create incentives: It can be a special offer for your top clients, or a birthday greeting with an attractive coupon on their birthday.
Choose the right time to send email: It would be annoying if your customers receive email notification when they are off duty, isn't it? Hence, make sure to send the email when your subscribers are ready to open and read it.
A/B Testing
As a startup, you may not have enough data to analyze the profile of your subscribers. Hence, you need to carry out A/B testing to make sure that the email marketing campaign is working productively. Besides, this method also helps you figure out what makes your email unable to grab the recipients' attention and add some modifications for better results.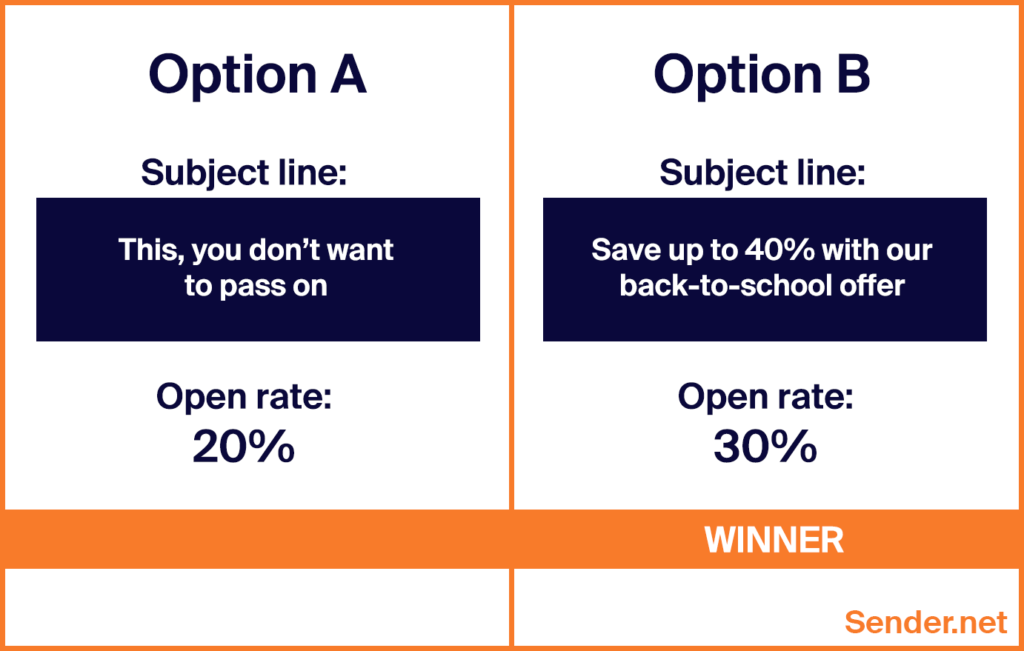 Pro tip: You can create 2 or several versions of your email templates and send them randomly. Then, take note of the open rates and track the recipients' actions to determine their interests. Gradually, you'll find which template is your cream of the crop.
Create a Set of Emails
Depending on the product or service that you're offering, you'll have a specific buyer persona that is different from the others. Hence, there should be a set of emails especially customized for your subscribers.
Let's take a look at some emails that are highly recommended for startups when it comes to email strategy:
Welcome email: an automatic email sent to your website visitors when they sign up to your subscriber list.
Onboarding: a series of emails that your followers will receive after the welcome email. These emails should provide information about the features and benefits of your product/service.
Newsletter: a value-added email that helps your startup increase brand awareness. Newsletter includes tips, tricks or tools that benefit the recipients even when they don't order anything from you.
Sales and product launches: reminds the subscribers about the product/service you offer. This type of email works well when you want to build a transactional relationship with subscribers.
Email Examples
Below are some examples that illustrate email marketing for startups that you may be interested in.
Nike's birthday promotional newsletter: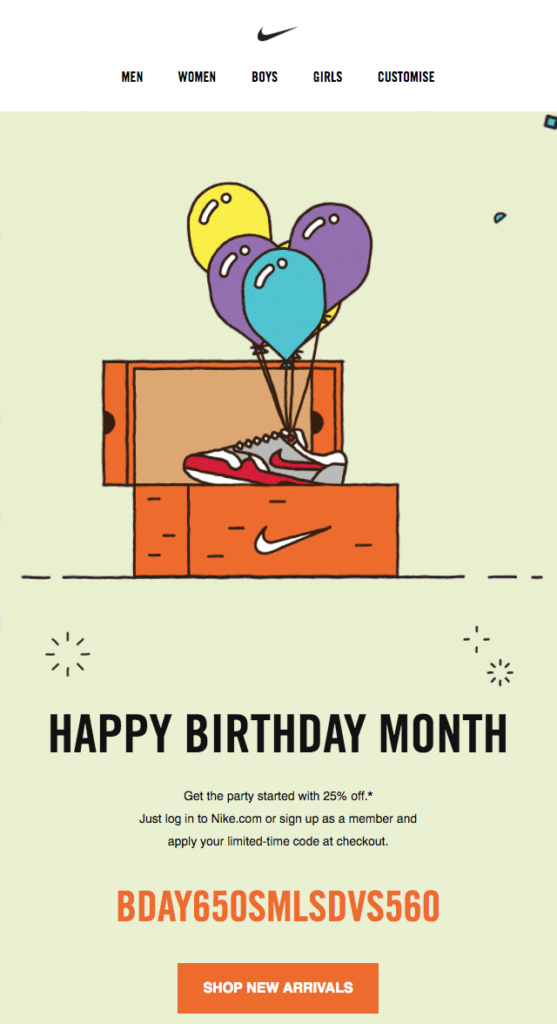 Announcement email from Uber: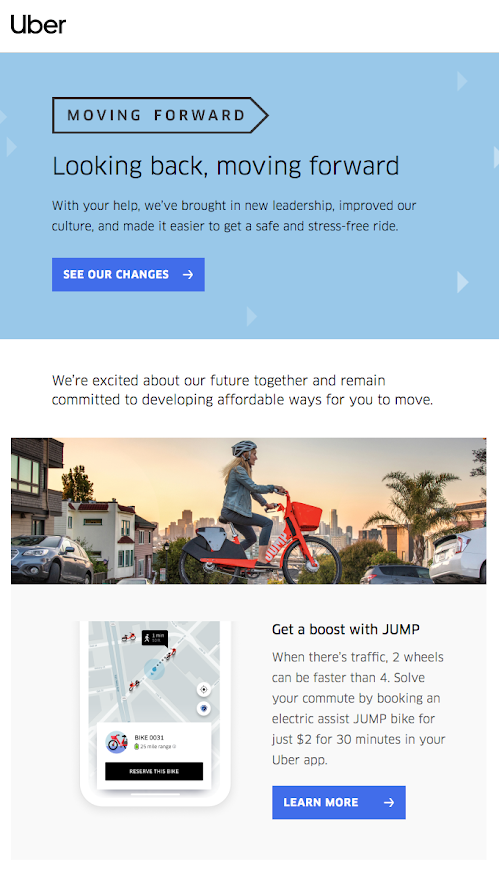 Sales promotion for Cyber Monday from Taylor Stitch: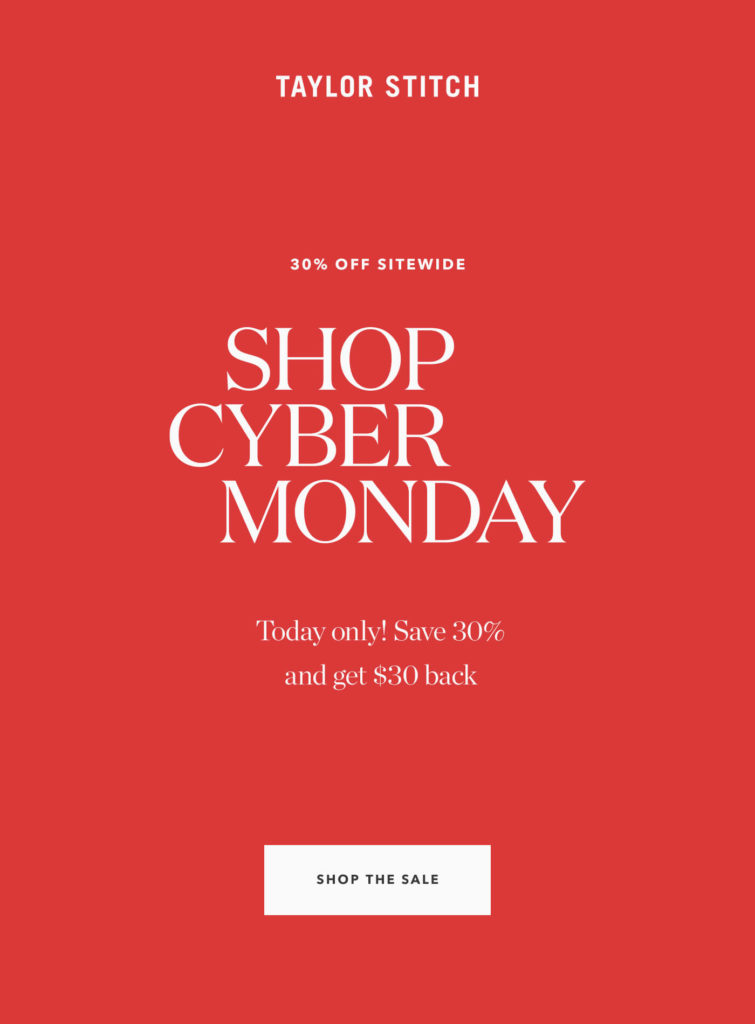 Leverage Email Marketing Campaigns with Solid Startup Strategies.
Email marketing campaigns are fertile grounds for your startups to reach more potential clients and build trust among the existing ones. If you are a brand-new business and looking for creative startup marketing ideas, the 13 email marketing strategies we mentioned above would help you a lot.
If you're looking for a powerful solution for moving your marketing means to the next level, consider Sender – the world's most affordable and easy-to-use email marketing platform, with all top-tier features, including email, SMS automation.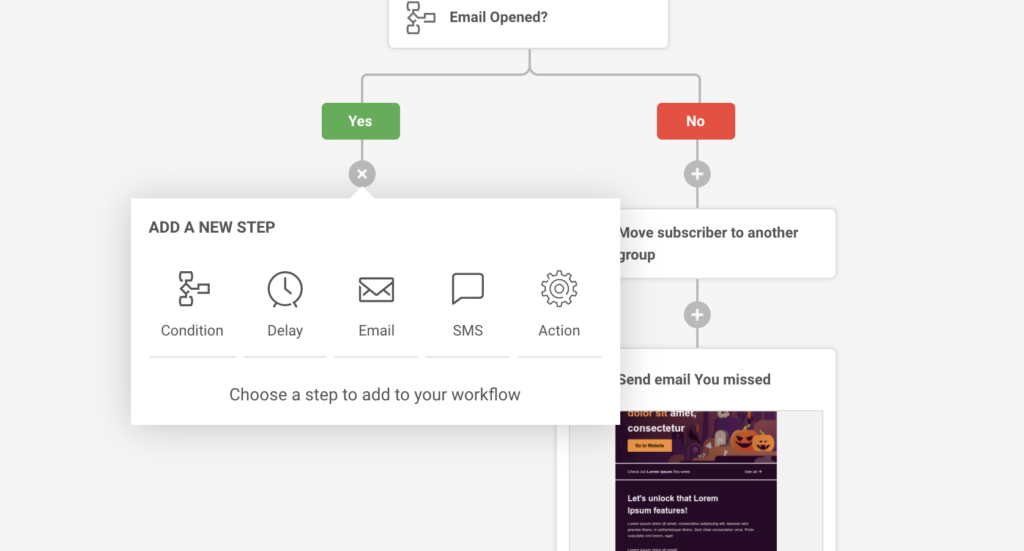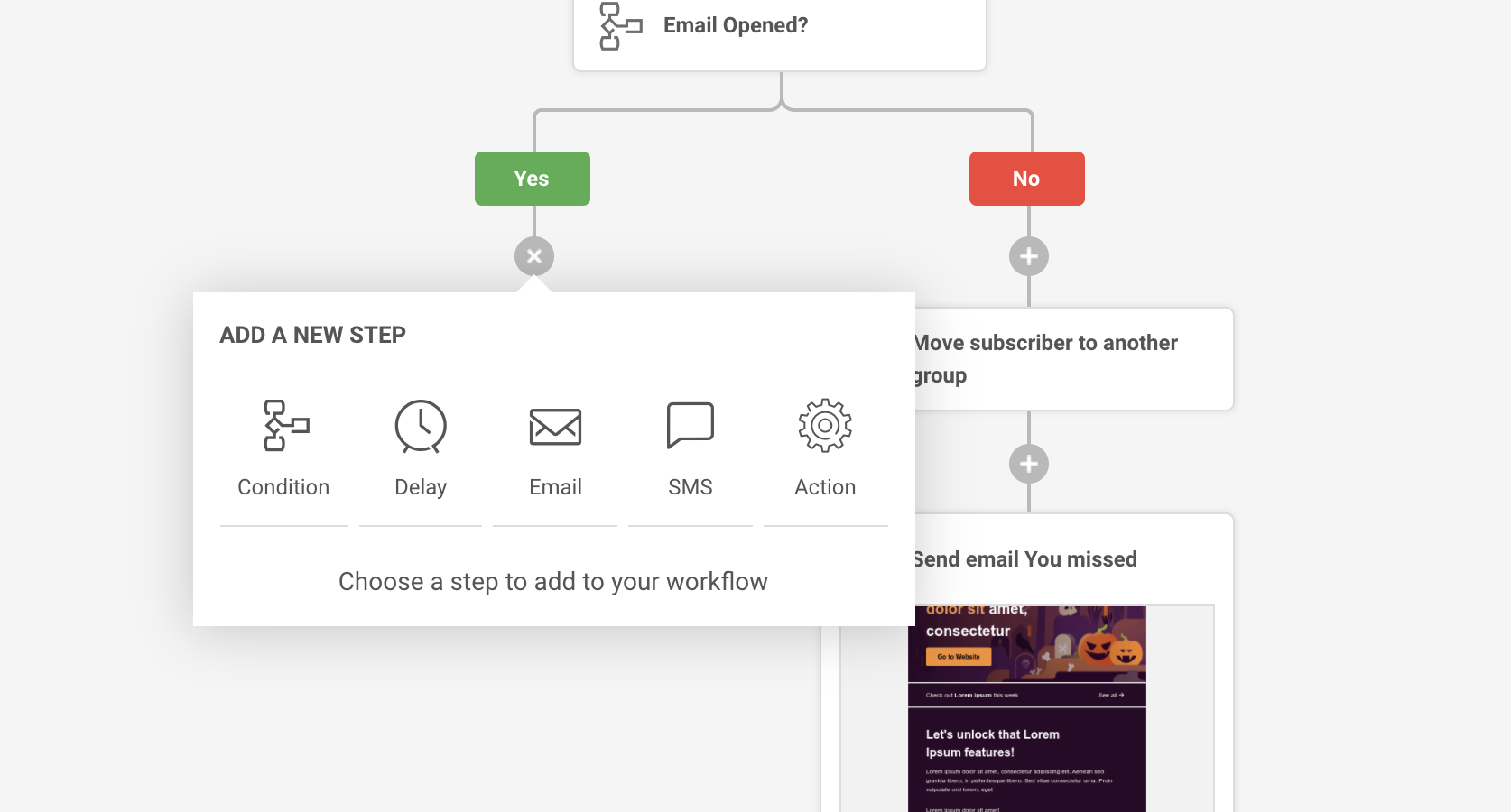 We come with out-of-the-box features that help you ensure high email deliverability with great email templates and a user-friendly interface.
---
About author
Charon is a content marketing executive from LitExtension – #1 shopping cart migration expert, with a passion for creating high-quality, SEO-driven blog posts that bring value to the audiences. Her favorite quote is: "Everything you've ever wanted is on the other side of fear."
Like what you read?
Apply it in practice with Sender.net - the most cost-effective email marketing solution in the market.
Try Sender for free