Holidays, a magical time for everyone, are a great opportunity to introduce the world at large with your company and products.
Everyone is looking for a way to celebrate or to deliver presents. Having good holiday marketing ideas will help you maximize the output of your campaigns.
In this article, we'll provide the best holiday marketing ideas to inspire you to adapt them to your own cause. There's enough holidays to do pretty much year-round marketing campaigns, however, we'd recommend picking the bigger ones to avoid saturating the market.
In this article you will marketing ideas for:
Christmas
New Year
Easter
Thanksgiving
4th of July, Independence Day
Valentine's Day
Black Friday
And we will introduce you to best marketing channels for holidays.
Holiday Marketing & Promotion Ideas
Christmas Marketing Ideas For Small Businesses
Christmas is probably the most popular holiday in the entire Western part of the world if not the most popular. People are truly enchanted by the holiday. In regards to spending, the average US citizen is willing to spend between $1000 to $2000 on gifts. Good marketing during the holiday period means helping people spend money on the right gifts.
One of the most popular holiday promotion ideas during this period is to do a Christmas giveaway. Ideas like these are fairly simple – a set amount of gift cards, money, or selected products are given away to people to perform specific actions.
Usually, these giveaways are done through social media for shares, likes, or comments (or all of them at once!).
It's an extremely efficient way to promote a brand without buying ads directly.
Here is an example from Soap & Glory Christmas deal in Instagram feed: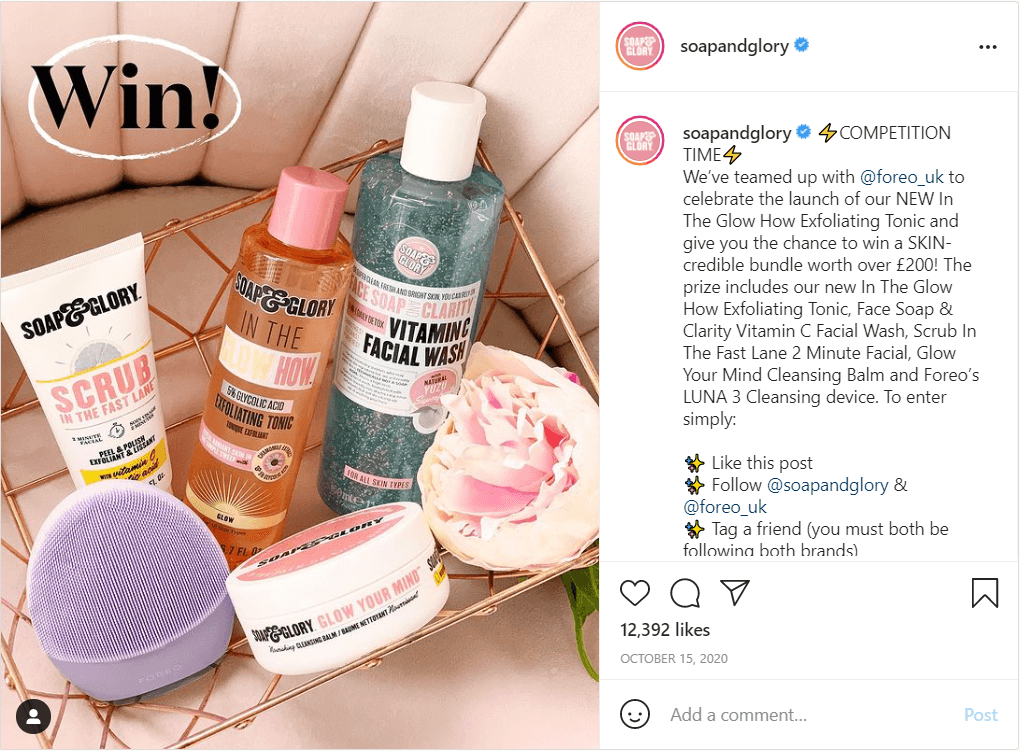 However, while it seems easy, a good giveaway done through social media still should have a strategy. There are several factors to consider:
Follower engagement
Amount of follows
Timing
Each of these factors should influence the giveaway strategy. For example, low average follower engagement means that comment-based strategies might be less effective (especially, if you ask to tag a friend). Focusing on boosting follows or other important social media metrics might be better.
Additionally, building Christmas slogans for advertising might boost overall holiday campaign effectiveness. Creating a good slogan takes a bit of time, however, if it sticks with the community and customers, the effectiveness will be astounding. Attaching your brand to a holiday in any way (e. g. Coca-Cola and the red Santa image) is essentially extremely cheap but powerful marketing.
New Year Promotional Campaign Ideas
New Year, when compared to Christmas, is more party-driven rather than family-driven. There's less gifts, more drinking, and more promises during the New Year festivities. Mostly the latter creates the best promotion opportunities.
One of the best New Year's promotional campaign ideas that is not industry-specific are new product launches combined with newsletters and other regular marketing activities.
In fact, these marketing campaigns are so popular that slogans like "New Year, New Gear" might already be stuck in your head.
Additionally, some industries will naturally do better with New Year's campaign ideas than others. For example, the fitness industry can produce impressive marketing campaigns as a large majority of New Year's resolutions involve health-related factors. Many people promise themselves (and others) that they will lose weight, gain muscle, and improve their overall health. Producing campaigns that promote ways to achieve those goals or focus on body positivity are a surefire way to get the most out of the New Year's marketing.
Also read: New Year Newsletter Ideas to Amaze Your Leads
Easter Promotion Ideas That You Can Apply in Advertising
Easter, the cousin to Christmas, is another family-based holiday. Like with Christmas, many people will be giving presents to their significant others, children, and other family members. However, Easter has the added bonus of being placed within Spring – times when the winter depression is beginning to fade away and positive emotions run higher.
For Easter marketing ideas, there are several general options, depending on the dedication to the holiday. One of the easiest and most effective promotion ideas is to tweak the regular newsletter to reflect Easter and include additional discounts or sales.
For those more dedicated to the holiday, running Easter-themed contests or online Easter-egg hunts can be an option.
While these two marketing campaigns require significantly more time and effort, they will greatly improve brand awareness and overall marketing effectiveness for the holiday.
Thanksgiving Marketing Ideas
Thanksgiving is heavily focused on the Americas. Most of Europe will not be involved in the holiday.
However, the narrow focus can allow for more efficient targeting and reduced overall costs.
Thanksgiving marketing campaigns generally revolve around giveaways and other free opportunities instead of contests. Giveaways can be done exactly like with Christmas by focusing on social media.
However, there are many more opportunities with Thanksgiving. Sharing customer success stories, glowing feedback about the company (and asking the community to do the same to others), thanking the employees and staff are all great options for Thanksgiving marketing campaigns. Generally, focusing on giving back to others is the way to go.
4th of July Marketing Ideas
Another USA-focused holiday, 4th of July is probably one of the most important holidays in the country. This holiday is the "truly American" festivity that revolves around the celebration of freedom.
Nearly all marketing opportunities will don the flag of the United States of America. Creating products with 4th of July specific packaging or branding is a cost-efficient way to promote a brand for the holiday. Including additional discounts or special deals will greatly increase the overall interest in the brand.
Additionally, 4th of July is an extremely visual holiday – fireworks, red, white, and blue colors everywhere, and much more is done each year.
Thus, in order to maximize the marketing campaign effectiveness social media like Instagram and Facebook should be heavily involved as these combine perfectly with the visual nature of 4th of July.
Running patriotic photo contests, posting with the relevant colors and fireworks are all great ways to make use of the holiday buzz.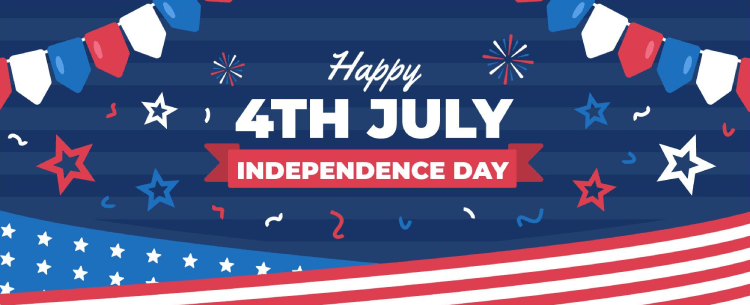 Valentine's Day Promotion Ideas
Valentine's Day is highly focused on love and the significant others.
Many marketers focus only on couples during Valentine's Day. However, as some of us may well know, singles also celebrate the holiday (in their own manner). Therefore, good Valentine's Day marketing campaigns should focus on both sides.
Of course, the easiest marketing campaign for Valentine's Day is to focus on couples and provide gift ideas. Finding the right gift for a significant other is quite a common pain point. Doing marketing campaigns through social media and online ads showing off Valentine's Day appropriate products as gifts might just give your customers a few ideas.
Additionally, doing Valentine's Day sales is another easy marketing win that will promote the brand.
To maximize the effectiveness of sales and discounts, the selection might be separated to products more appropriate (or suggested for) singles and those more appropriate (or suggested for) couples. That way both sides of the coin will be covered.
Finally, having a few content marketing ideas will be handy. Writing gift-giving guides or creating multiple choice tests that help customers select presents can be useful for nearly any holiday, including Valentine's Day.
Also read: 10+ Valentine's Day Email Marketing Ideas for Inspiration
Black Friday Promotional Marketing Ideas
Every marketer with some experience under their belt has done something to do with Black Friday. The next Friday after Thanksgiving might as well be a celebration of shopping and marketing.
Marketing ideas for Black Friday aren't too complex. They will all revolve around discounts, sales, or prices in some manner or form. Otherwise, competing with others will simply be difficult.
However, including something more charitable might improve the perception of the brand. For example, donating a small percentage of all sales to a charity might drive a different segment of customers than those looking for a discount.
Finally, creating a dedicated Black Friday campaign landing page before the holiday begins might be valuable. Displaying all the discounts and sales ahead of time (and any other benefits) allow customers to plan their finances and spending properly. In turn, that may increase participation in the marketing campaign.
Also read: 5 Powerful Promotional Email Examples
Real Estate Marketing Ideas
Real estate is a different ball-game to most other industries. Selling big-ticket items means the usual marketing strategies won't work. Small sales, promotional banners, or guides will simply not catch the eye of a prospect in real estate. However, that doesn't mean that realtors cannot make use of holidays.
There are many ways to approach the major holidays and acquire Easter real estate marketing, Christmas real estate marketing, and real estate holiday marketing ideas in general. Most of these, of course, will revolve around hosting either special, holiday-themed events or sending gifts (if appropriate).
For example, for the bigger holidays like Christmas and Easter, hosting special events and throwing parties might attract a significant amount of attention and provide an opportunity to network. A popular approach for those with a more expensive taste is to host a fundraiser as it works wonders for marketing, list building, and brand perception.
Additionally, sending gifts is a simple way to build perception and remain on the mind of your clients year-round. Albeit very common and nowadays probably boring, fridge magnets and calendars have been the most popular holiday gifts for a long time.
Best Marketing Channels for Holidays
Even if you have the best idea for the greatest holiday marketing campaign ever, doing it through the wrong channels will produce lackluster results. A marketing idea is only as good as the people it reaches, therefore picking something that has potential to reach the most prospects is a necessity.
There are 4 channels that should be utilized by most businesses:
Social media. All businesses should do some form of social media holiday idea marketing as it's cheap, effective, and easy to manage. We recommend to use Hootsuite or Buffer.
Emails. Emails are still the preferred way for many businesses to communicate. Sending out newsletters with holiday-related materials will still be massively effective. You can use Sender.net to get full email marketing benefits.
SMS. An often forgotten avenue of marketing, SMS has been on the rise due to the massive effectiveness of the channel. Sending out promotional offers through SMS is nearly guaranteed to deliver great results.
Online ads. Nothing is as measurable and equally as effective as old school advertisements. Since you can easily measure ROI, doing holiday-related marketing through this channel is almost guaranteed to bring great results.
Also read:
If you utilize all of these channels and include some of your own, most holiday marketing campaigns should bring great success. Combined with the ideas we've outlined above, all you need to do is mix things up a little bit and the sales will start rolling in.
Want to find out how you can get the most out of your marketing channels?
Read the Sender blog to see how powerful SMS and emails can be!
Like what you read?
Apply it in practice with Sender.net - the most cost-effective email marketing solution in the market.
Try Sender for free