Like what you read?
Apply it in practice with Sender.net - the most cost-effective email marketing solution in the market.
Try Sender for free
Shopify is an excellent platform for eCommerce businesses offering ease of operations and total control of the buyer's journey. If you've been using Shopify, you must set up emails to engage with your customers, send them recommendations, and more.
After all, email marketing has the highest conversion rate (4.29%) for Shopify stores compared to search, social media, and other mediums.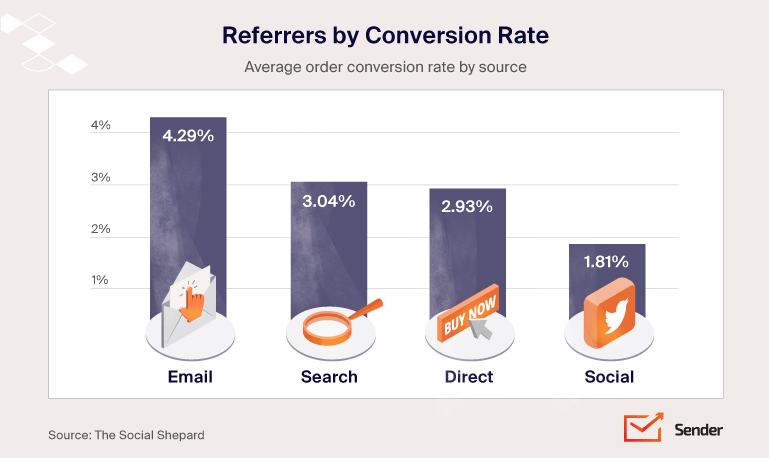 We've curated the best examples for you if you've not explored email marketing yet or are searching for Shopify email templates to refresh your brand appeal. So, let's get started.
How to Create An Effective Email Template for Shopify Store?
To create an email template for your Shopify store and automate email campaigns, you should pick a marketing automation tool like Sender. This will help you create different designer email templates for your Shopify Store with ease and efficiency.
Design & send Shopify email campaigns for up to 2500 subscribers for free without any restrictions.
Sender allows you to design, schedule, and automate all essential Shopify emails that will help you boost sales and grow your client base simultaneously. Here's how you can use Sender to create Shopify email templates:
1. Pick a Suitable Template From the Template Library
All online email marketing services have an email template library to give you a headstart. Sender's huge template library has ready-to-use email designs for welcome emails, re-engagement emails, holiday emails, Black Friday emails, and more.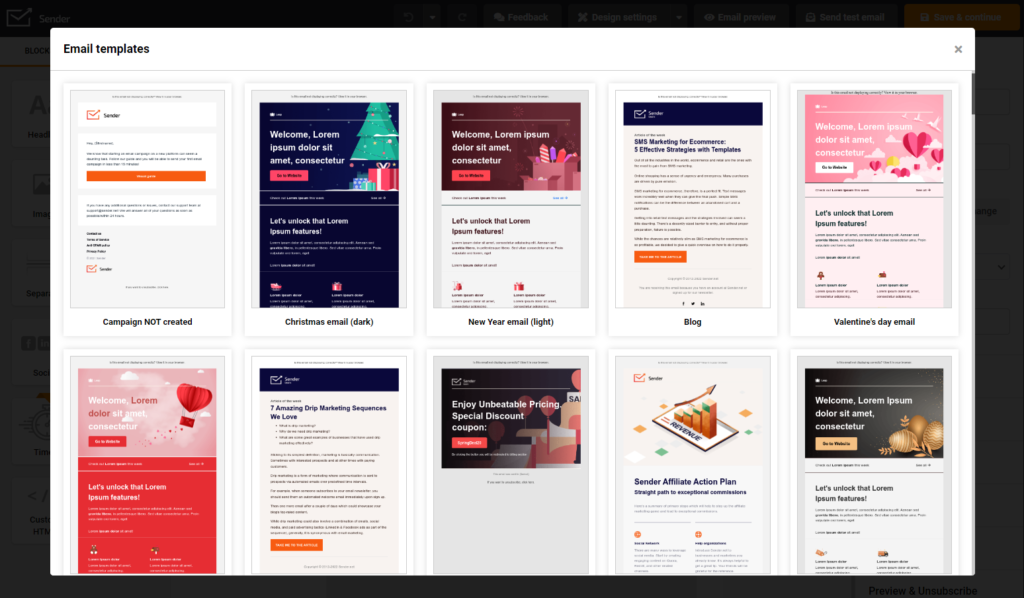 You can choose an appropriate email design and start quickly by browsing the template library. Create a new campaign and go to 'design settings' to pick an email template for your marketing campaign.
2. Adjust the Design
Once you've picked the design template, you can customize it according to your brand style and theme. The drag-and-drop email builder by Sender helps you customize existing elements like images, colors, email content, and even add new elements to the email.
You can start by adding your logo design, changing the design theme, or adding a custom HTML element to the email body. If you already have an HTML design, you can replicate it using the design builder. You can customize all of this (and more) even when on the Sender's free plan.
3. Add Your Email Copy
The copy of the email is equally crucial as the template design. So, the final step to creating an effective template is naturally adding relevant copy to your email.
You should pay attention to the subject line and always remember to personalize your email copy. A well-written copy for your engagement emails can boost brand recall and improve conversions.
Use different blocks within the drag-and-drop editor to create sections, emphasize important points, or create a unique layout that suits your requirement. Once you're happy with the email copy, save the design as a template for automating email marketing for your Shopify store.
How to Build Automated Emails for Shopify Store?
We all know how busy every business owner can get. Marketing automation can solve many of your problems, particularly as a Shopify admin. With the right Shopify apps to automate email marketing, you'll save time and grab the opportunity to upsell and register incremental revenue.
Sender is a fully-loaded marketing automation solution that supports omnichannel campaigns across emails and SMS.
You can connect Sender with your online store, create segments based on online behavior, and then set up campaigns based on your growth goals. Here's how you can use marketing automation for your Shopify store:
1. Create an Automation Workflow
To start automating your emails, you must set up an automation sequence using Sender. Sender allows you to automate welcome emails, transactional emails, lead nurturing campaigns, or eCommerce campaigns like win back, upsell or abandoned cart emails.
All you need to do is to go to the automation section on your dashboard to get started. You can set up automation for:
Welcome emails;
Cart abandonment emails;
Birthday wishes;
Multi-stage drip campaigns;
Lead nurturing;
Win back and follow-ups.
The best thing about Sender is that you can add SMS campaigns to your automation workflow to target customers and leads across multiple channels.
2. Set Up the Trigger
The trigger defines when the automation will be kicked off. Triggers can be a specific date, signing up for a newsletter, adding to a custom audience group, clicking a link, abandoning a cart, etc.
Here are some of the trigger emails you can set up within Sender for your Shopify email automation: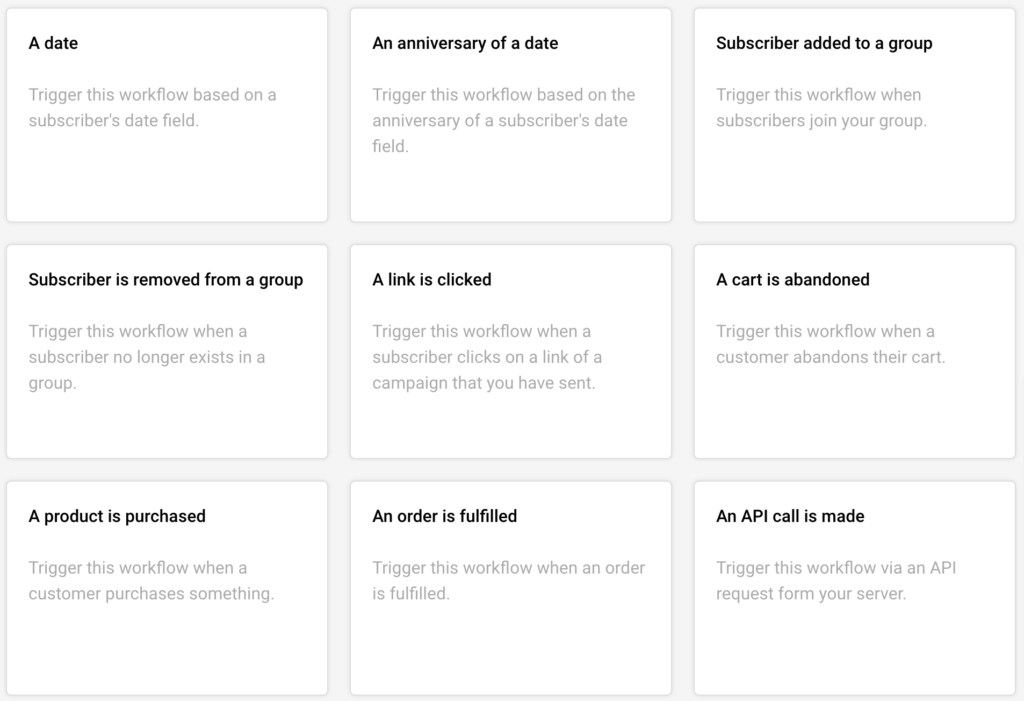 Choose the trigger you want to get started with automating your emails. For example, you can send an email and SMS whenever someone abandons an online shopping cart.
3. Add the Template
Once you finalize the workflow, it's time to add a template design to your automation workflow. You can either use an email template language like custom HTML or use email template apps to create your template.
If you want simplicity and perfection, use Sender's drag-and-drop builder to design the email and add the template to your automation workflow. You can also add an SMS for an omnichannel experience if you want.
Once you're done with everything, you must activate the automated campaigns. Your email list subscribers and customers will receive emails based on different triggers.
Best Shopify Email Templates
Templates are an integral part of a great email marketing strategy. They help save time on your marketing campaigns, engage buyers, send beautiful email messages to customers across major email clients, and build solid relationships.
The great thing is that you can send a custom message to your audience automatically using a marketing automation tool like Sender. Have a look:
The great thing is you can send a custom message to your audience automatically using a marketing automation tool like Sender. It's super easy, have a look: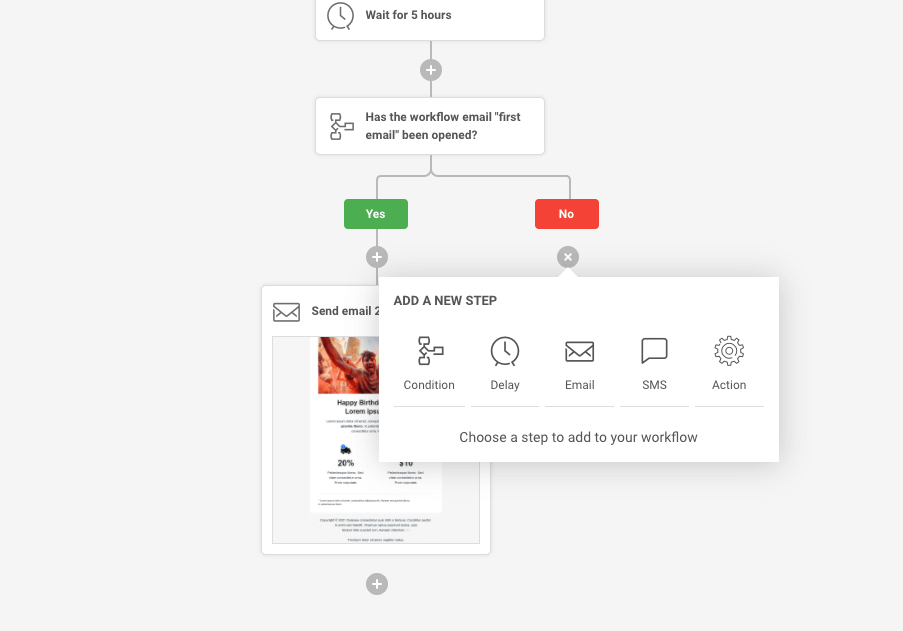 Here are a few essential designer email templates for your Shopify stores that will help you keep your customers engaged:
Order Confirmation Emails
When someone places an order in your store, it's good to communicate what's happening and tell them everything's good. Order confirmation emails are meant to serve the purpose. Also, this is an excellent opportunity to thank a customer for ordering. Include details about the order, the shipping method, and the estimated arrival date.
Use a friendly and approachable tone when communicating with your clients. Here's a great example of a confirmation email by Book of the Month.
The straightforward email comes after the order is confirmed and has a reassuring tone telling users what they ordered and when to expect the delivery.
Key Takeaways
Add details about the product ordered, shipping date, and shipping address;
Add a social sharing button or your social media handle to encourage users to share with their followers;
Make it simple and straightforward with a minimalist design.
Order Tracking Emails
Order tracking emails are different from order confirmation emails. Though many brands have started sending a single email to send confirmation and tracking, some industries take time to process the order. So, it becomes essential to send a confirmation immediately and an order tracking email later.
Take the following email template example by Carter's: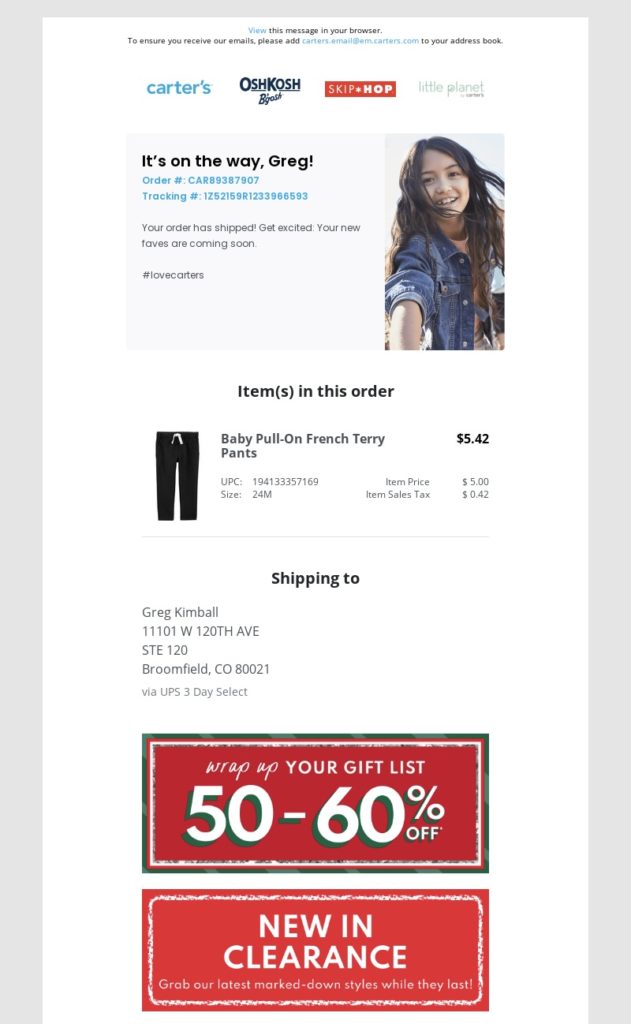 The tracking number is available at the top of the email, in clear view for your customer. The subtle personalization by adding a first name is really nice. You can even see complete details of the order, and there's even a CTA button at the end in case someone wants to initiate a return.
Key Takeaways
Add tracking information at the top of the email;
Personalize the email using custom fields like the first name;
Add order information, a way to contact the support, and a contextual CTA.
Email Notification Templates
Sending useful email notifications is essential for an intuitive user experience. You can send account-related notifications, sale or promotions notifications, or general notifications about payment, shipping, etc., to your customers via email.
If you're looking for email notification templates, here's an example from Pretty Little Thing USA. The email notification is sent to customers after they create a new account: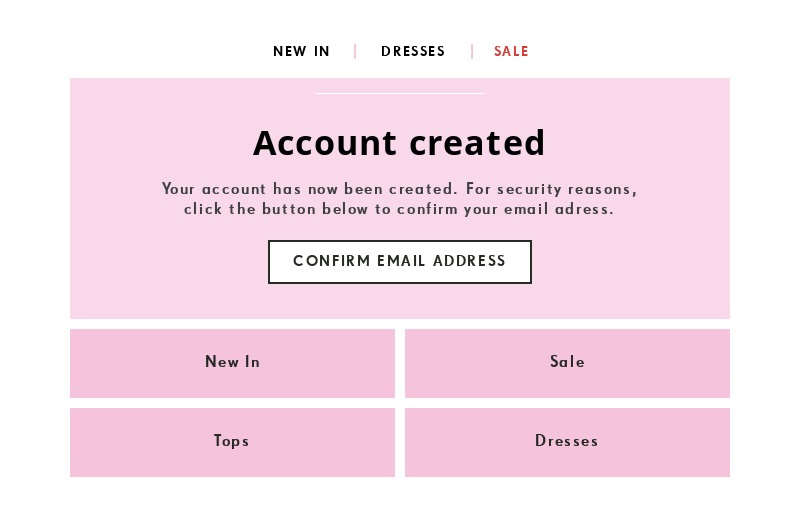 The simple and short email has one job — notifying users of their new account and sharing the next step of confirming their email address. The additional CTAs does the job of introducing the brand's collections (and products) for a new user to explore. They could have improved on the email copy and layout, though.
Key Takeaways
Each notification email should do just one job of announcing a change to the user;
Keep the email short and to the point;
Add a relevant CTA that moves the user further into the buyer's journey.
Custom HTML Templates
Custom HTML templates are coded and designed from scratch using HTML. Most email marketing tools like Sender has a custom HTML coding feature along with a drag-and-drop email builder.
Brands who want to create unique designs or compelling user experiences use email template code to create a custom HTML template for their eCommerce or Shopify stores. Take the following email template example from ModCloth: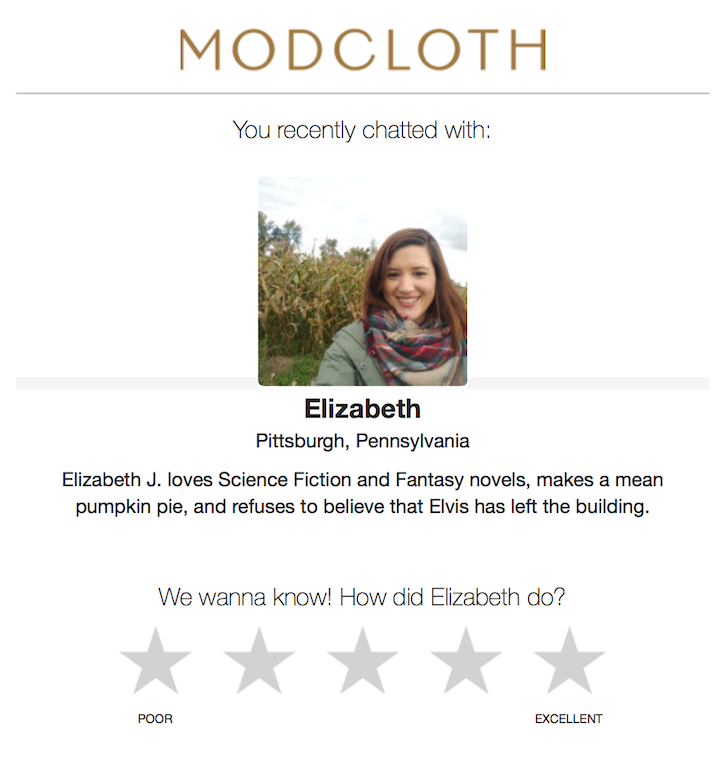 The interactive email is sent after someone chats with a support executive on the Shopify store. The email shares who they interacted with and asks the customer to give a rating based on their performance. The support rep's image and small intro go a long way in humanizing the brand's efforts and tells users who they can look up to in case they need more help.
Key Takeaways
Add an interactive element to your custom HTML email templates;
Try to add dynamic information in your custom emails;
Keep the design minimalist to make it responsive across different email clients and platforms.
Thank You Email
Thank you emails play an important role in the eCommerce buyer's journey. You can send thank you emails after someone signs up for your email list, buys a product, or just to make them feel appreciated as a loyal customer. After all, there is no single reason to make your customers feel special.
Kate Spade sends a thank you email after someone places an order in their store. Have a look: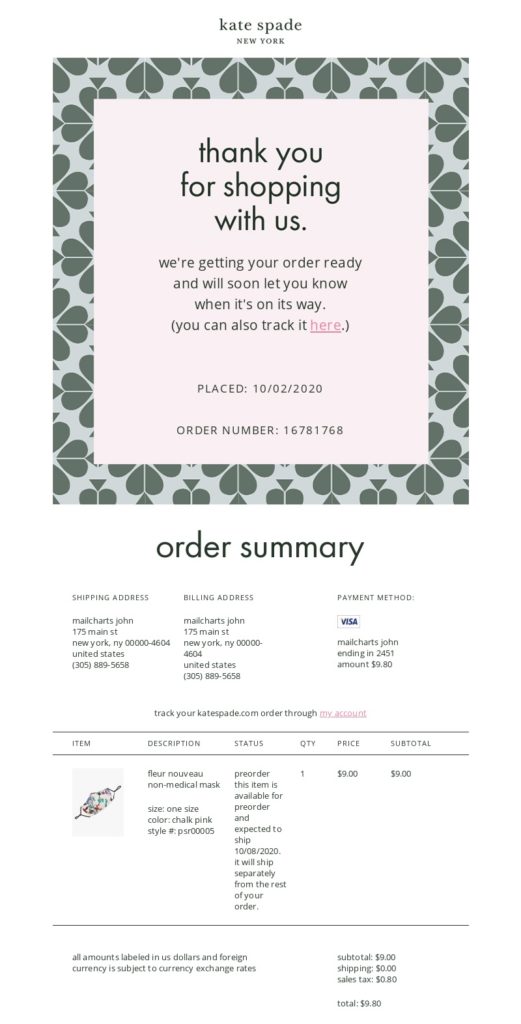 The bold and large 'Thank You for Shopping with Us' clarifies the intention — the brand appreciates the customer. Further, they extended the thank you email into an order confirmation email by sharing complete details about the order.
Key Takeaways
Use a warm and friendly conversational tone in thank-you emails;
Keep the design and copy minimalist and clean;
Add the reason why you are thanking the reader.
Welcome Emails
Welcome emails are sent when someone signs up for an account with your store. These emails can include an introduction to your brand, a brief introduction to your product, a link to your website, exclusive benefits, and a clear call to action.
Usually, these emails are warm, set expectations, and even reward the reader for signing up (or buying something). For the Shopify store owners, welcome emails are critical as it pushes the user towards making a purchase.
Here's an example by Pet House SuperStore:

The email has a warm and welcoming tone, trying to make the user comfortable. Plus, the email shares the benefits of joining the membership — an exclusive coupon code for subscribers to use for a first-time purchase.
Key Takeaways
Keep the email short and be upfront about your brand, membership benefits, etc.;
Share the incentives with the subscriber;
Appreciate and thank the subscriber in the welcome email;
Share ideas of how the subscriber can engage with the brand.
Referral Emails
One of the most effective ways to grow your client base is through referrals. It's one of the most important email campaigns you can plan as a Shopify store owner.
By sending referral emails periodically, you'll encourage your existing customer base to refer your brand to their friends and colleagues. Communicate how awesome it's to refer, share details about the rewards and provide them with a link to your referral page.
Here's an example by Puravida: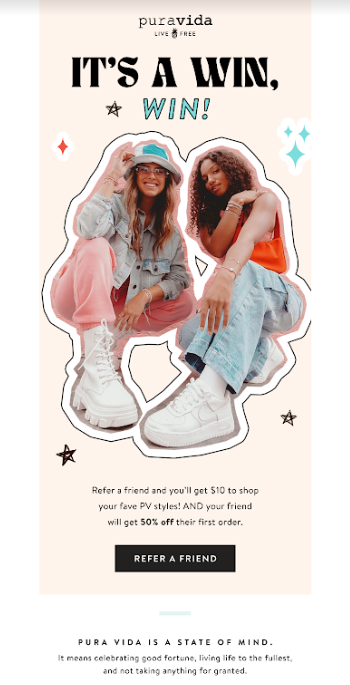 The friendly image of the two models gives a friendly vibe and an idea to share for looking good together. The banner image is followed by the referral offer with a prominent CTA button asking the subscriber to refer a friend.
Key Takeaways
Make the email all about the benefits of sharing;
Add a clear CTA at the end;
Give subscribers a solid reason to share, like an exclusive offer.
Newsletter Emails
Newsletters are fun, and everyone loves being part of a clan. When you run a newsletter, you give your Shopify store visitors an option to stay connected without the commitment of buying from you.
Newsletter emails help you keep subscribers updated about new products, promotions, and any other content that's useful for them. A well-designed newsletter can generate revenue, boost engagement, and drive loyalty for your brand.
Here's an example by LovEvery:

This newsletter email shares all the good things people say about the brand's products, creating a FOMO effect for the reader. The CTA buttons at the end will boost Shopify store visits.
Key Takeaways
Have a common theme or reason to send newsletters regularly;
Promote your product organically within the newsletter;
Make the newsletter about the reader — benefits, advantages, or unique offers that make their lives easier and better.
Promotional Emails Templates
When you launch a new product or promotion, the first few days are crucial to get people interested. A promotional email is a great way to intrigue your subscribers.
It's also an excellent way to get potential customers excited about what you're offering and remind them about your brand. Such emails help increase sales revenue and keep your subscribers engaged with fresh content or offerings from your brand.
Here's an example by Ethika:
The email is purely promotional and shares their latest discount offer. The countdown timer with the code and an intriguing headline would have certainly driven a few purchases.
Key Takeaways
Tell them the reason why you're reaching out to them;
Keep it fresh by sharing the latest products or promotions;
Add an element of intrigue, surprise, or mystery to make the subscribers curious.
Abandoned Cart Email Template
An abandoned cart is a major red flag. When a visitor comes to your site and abandons the cart on checkout, there's a high probability that they didn't find what they're looking for or there's a snag.
Also, it means you're losing out on potential sales. According to research, almost 70% of shopping carts are abandoned. For every 100 people entering your store, 70 will not buy anything, even when they have the intent. Think of the potential revenue loss.
An abandoned cart email is a recovery tactic to reclaim the lost revenue by reminding users to give you a second thought. Abandoned cart emails decrease the cart abandonment rate by 6.5% and lead to a 20% increase in online sales.
Here's a great example of an abandoned cart email by Melissa & Doug — an online toy store:
Notice the clever and emotional header image + copy. Also, the product details within the email make the reader instantly recall what was left behind.
Key Takeaways
Always time your abandoned cart emails and automate scheduling them;
Add details about the products they picked up (and didn't end up buying);
Add an incentive like an exclusive discount or free shipping offer.
Sender helps set up automated abandoned cart emails that you can trigger based on time or online behavior. You can even set up a follow-up campaign or SMS if the first email gets unnoticed.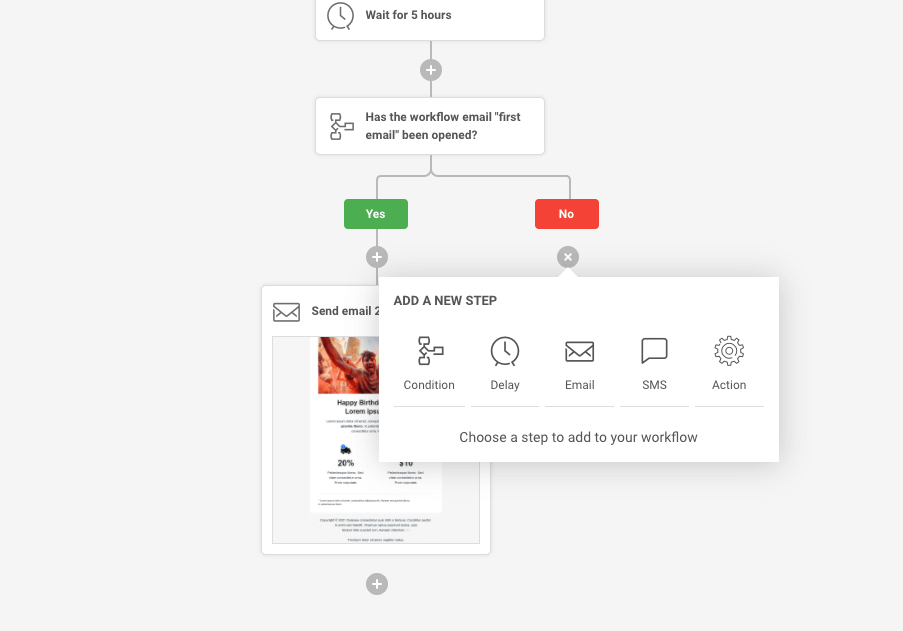 Winback Emails
Winback emails are sent to customers who recently churned, i.e., stopped buying from you or inactive customers. These emails have a single goal — make them want to buy from you again. Here's an example of a win-back email sent by Cat Lady to its past subscribers: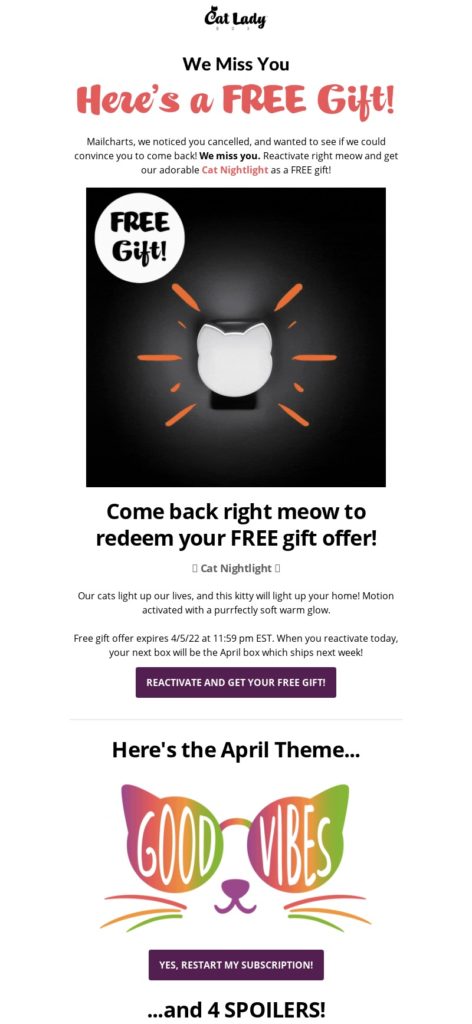 The email is sent to everyone who canceled the brand's subscription box recently and tried to lure them back in with the temptation of getting a free gift. The large image on top with a clear visual of the free gift grabs a reader's attention and would make many want to reactivate their subscription.
Key Takeaways
Add a valuable and no-brainer deal for customers to come back;
Add a last date to claim for invoking FOMO;
Create a contextual CTA that makes them check out/buy instantly.
Upsell & Cross-Sell Emails
Upselling and cross-selling are powerful eCommerce strategies to boost revenue and sales from an existing set of customers. Essentially, it involves sharing personalized information about an upgrade or complementing products with buyers who recently brought from you. The intention is to persuade them to buy an additional product from your store.
Here's an example of a cross-sell email by Tarte Cosmetics: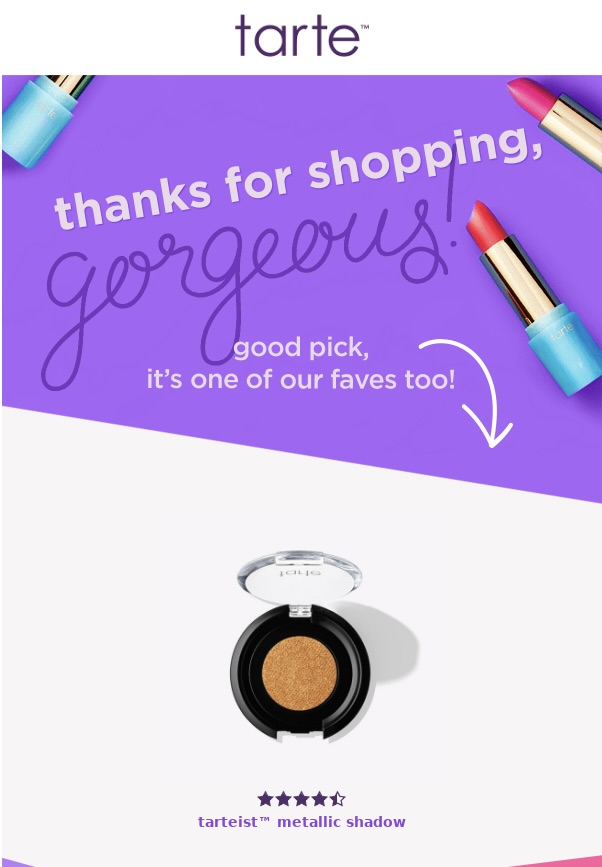 The email is sent after someone buys a product from their store. First, it thanks for shopping, and in the next section, suggest some products that would be useful with their recently purchased product. Have a look: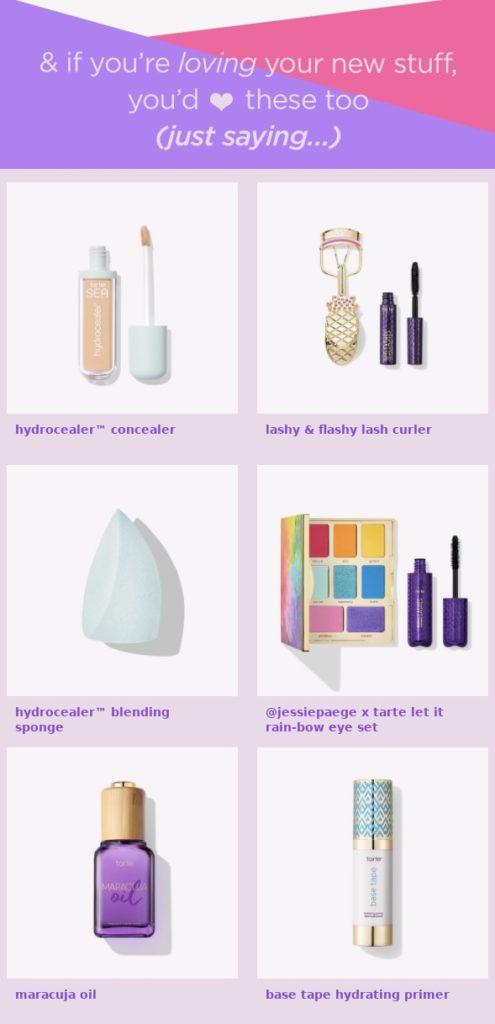 The email works well for their niche as beauty enthusiasts keep looking for personalized recommendations all the time. They used a contextual header copy in this section with direct CTAs to the relevant product pages. A nice approach to boosting customer loyalty among the existing customer base.
Key Takeaways
Schedule a cross-sell or upsell email in the post-purchase sequence;
Add contextual and personalized product recommendations to upsell and cross-sell emails;
Use relevant CTAs or links to speed up the process of checkout.
Shipping Confirmation Emails
Shipping confirmation emails are sent once you have shipped the product to the customer. These emails tell the customer about their order status and share the tracking link. Shipping confirmation emails are really essential as customers are always waiting for an update once they place an order. Here's a shipping confirmation email example by Mack Weldon:

The email informs the customer about their order status and that it has been shipped. The single CTA button allows them to track the status of the order. The tracking number with a hyperlink also takes them to the shipment website to check where their order is currently and how soon it will reach them.
Key Takeaways
Keep your shipping confirmation email brief;
Don't forget to add the tracking link and order information to the email;
Add relevant and personalized product recommendations to the email for upselling or cross-selling.
Key Takeaways: Shopify Email Template
Use a drag-and-drop email builder to design an email template for your Shopify store;
Set up automation workflows to nurture leads, win back customers, follow up, and grow sales revenue;  
Always customize the default email templates based on your brand tone and guidelines; 
Promise an omnichannel customer experience by using email and SMS simultaneously. 
Shopify Email Templates FAQ
How to Customize a Shopify email?
You can easily customize a Shopify email template using a drag-and-drop email editor like Sender. The email editor allows you to pick default email templates or customize your HTML email templates with ease. You can add your logo, change the design and color theme, personalize the content, and add new blocks for products, offers, or countdown timers with ease without having to code or spend hours with a designer.
What Tools Can you Use to Create Shopify Email Templates?
There are many tools and platforms to help you speed up the process of creating email templates for your Shopify store. If you want a quick solution, you can try Sender's email builder. It comes with a drag-and-drop builder, allow deep customizations, and is free to use for up to 2500 subscribers. So, if you want to start email marketing for Shopify, it can be a nice tool to explore.
---
Author Bio
Anmol Ratan Sachdeva is a content marketer and small business consultant who has a strong grip on topics like marketing automation, email marketing, and content marketing. He loves to write about building, improving, and growing a business.