In email marketing, automation refers to the software that exists with the purpose of automating marketing actions. 
This might help you save tons of hours while earning much more without you physically doing a thing.
Many marketers choose to automate tasks that would otherwise be impossible moneywise and timewise such – as greeting a new subscriber, abandoned cart recovery, post-purchase feedback requests and much more. Below we are sharing the best practices and the 5 best cases that illustrate how you can automate the simple email sending and increase returns significantly.
Email marketing automation makes these tasks duck soup.
When done right, marketing automation is a thing that allows companies to buy and sell like professionals. That is, to nurture subscribers with highly personalized, useful emails that convert subscribers to devoted brand-ambassadors and happy customers.
Read more about our Email Automation Tool (try with free plan).
This type of marketing automation typically generates a chunk of revenue for companies. They have up to 8x more clicks and opens and generate 6x more revenue according to Experian.
Now, let's see the examples of great automation campaigns. We picked the examples from, in our opinion, the companies that do email marketing properly to show you how exactly this could be beneficial for you.
1. A greeting email from FOOD52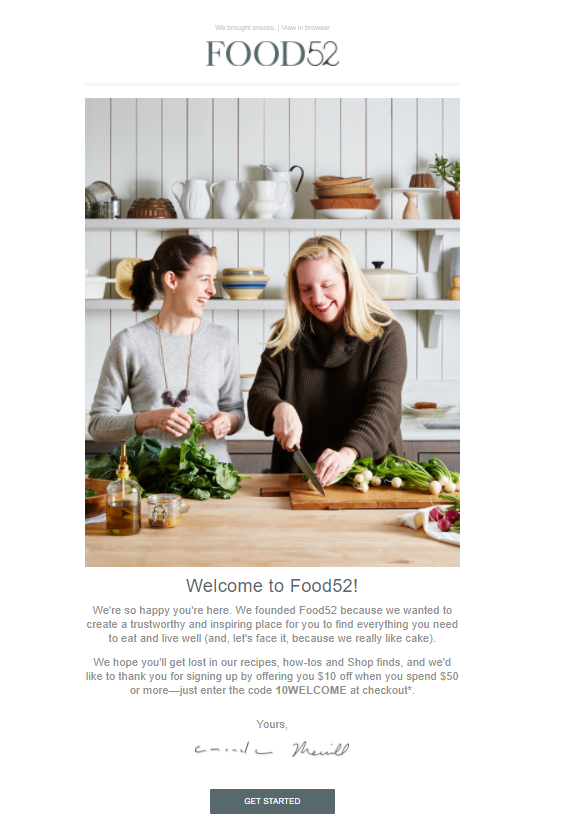 Look at the fine details of the email. Notice the "We brought snacks" at the top of the email?    
Now look at the subject line:

A clever hack, isn't it? It sure does accomplish the task of establishing the brand as a trustworthy one. So simple yet so clever!
Fun fact: did you know that 74.4% of consumers expect a welcome email?
2. A nurturing email example from Framebridge

If you think that nurturing your subscribers involves promotional content most of the time, you are dead wrong. Avoid the mistake of sounding too pushy or cheesy. Sincerely help your customers and they will trust you much more than if you'd choose to go down the sales road.
Just look at that email.
It's funny,  aesthetic and promises to give some real value to the subscriber! If that does not improve the overall image of the brand, nothing does.
The thing most people should take note of is how different and eye-catching in comparison to the rest of the email the call-to-action is.
Fun fact: Campaign Monitor says that including a call-to-action button instead of a text link can increase conversion rates by as much as 28%. (more on how to create a impressive and performing call-to-action we covered in there: How To Craft A Kickass Email Call-To-Action That Attracts Clicks)  
3. An amazing abandoned cart email from a brand we all know and love – Asos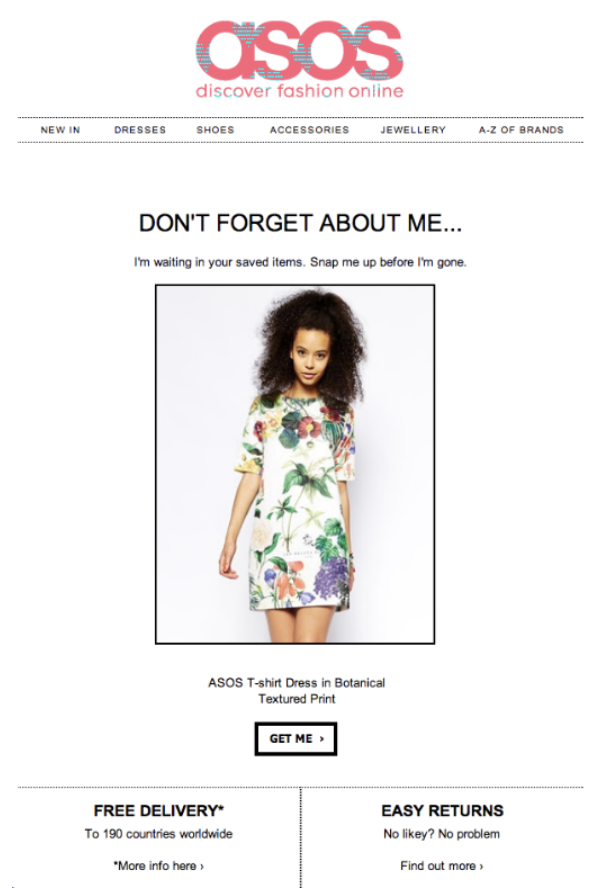 Just look at the email. It's symmetrical, aesthetic, has a clear call-to-action. The most important thing – the background is white, the text is black so that the item preview will always stand out!
It's amazing what a well-crafted abandoned cart email can do. Did you know that according to Baymard institute, an average of 69.23% of carts are abandoned? The number can reach an unbelievable 78% in some industries. That's just too much possible revenue to justify companies that are not taking advantage of the abandoned cart workflows. It's remarkably effective as a sales recovery tactic. According to Getelastic:
44.1% of all abandoned cart emails are opened

13.3% of them are clicked.

A whopping 35.3% lead to purchases back on site.

On average, each abandoned cart email is worth $5 in revenue!
You have to understand that customers often abandon their carts without meaning to do so, for example, because the website crashed, because the process was complicated, or because the site timed out: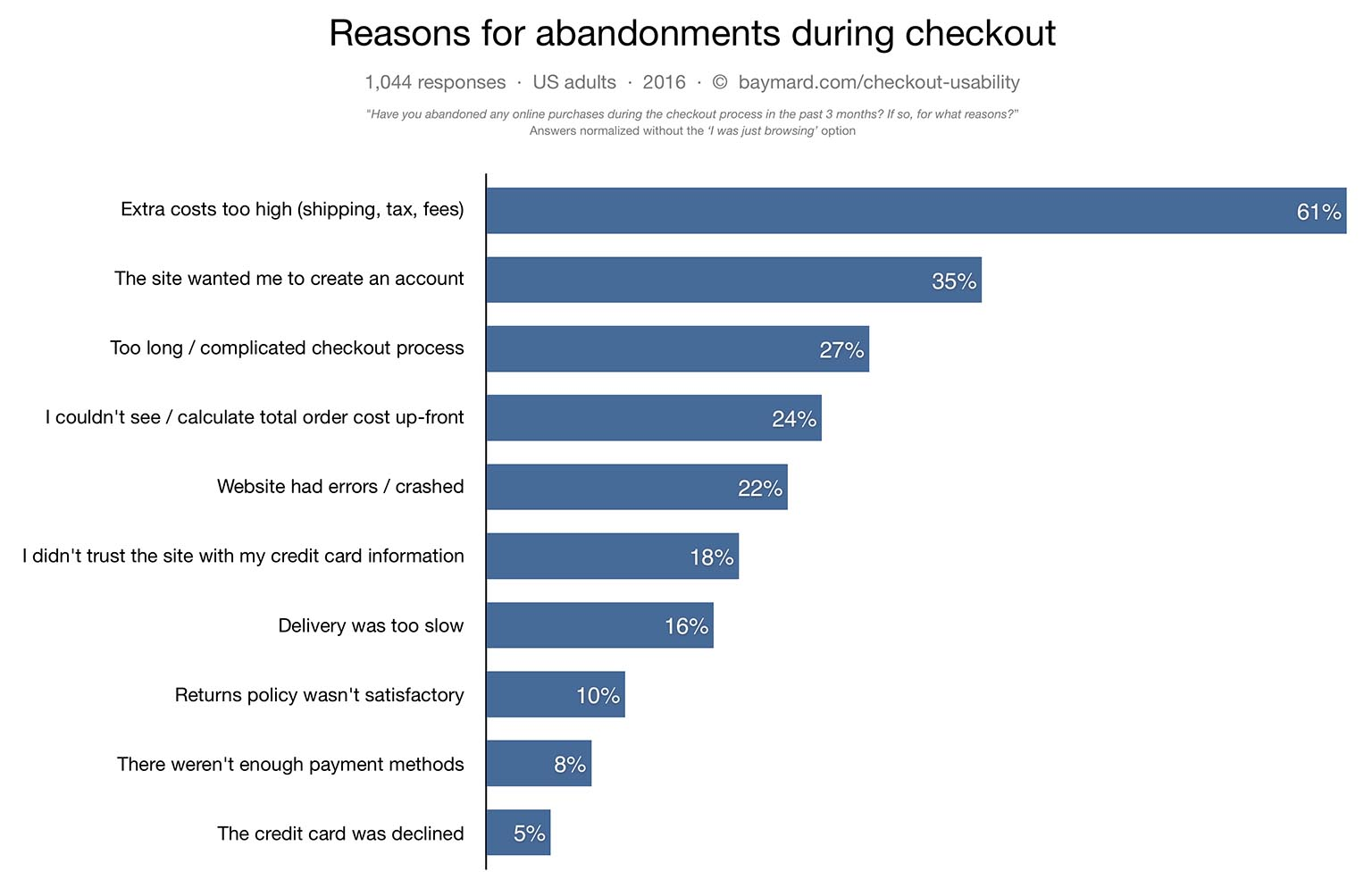 Statistics above are pretty eye-opening, huh? Abandoned cart recovery emails really could earn you some extra cash.  Our suggestion – to recover your sales using the abandoned cart method, include in the email a voucher that may include : Free shipping, 10% off the whole cart, a free item. If the email exploits the scarcity principle – says the stock is limited or the time to use the voucher is running out, the chances of making a sale are even higher. The best part of this – it could be automated. Once you set it up, the emails will be sent automatically – you are free to relish in the results.
4. A Net Promoter Score survey
Would your clients or customers recommend you to someone else? The Net Promoter Score (NPS) survey template asks this question to give you a quick look at what your customers think. By using this template, you'll be able to understand how happy your customers are and keep track of your company's performance over time. Here's an example from SurveyMonkey: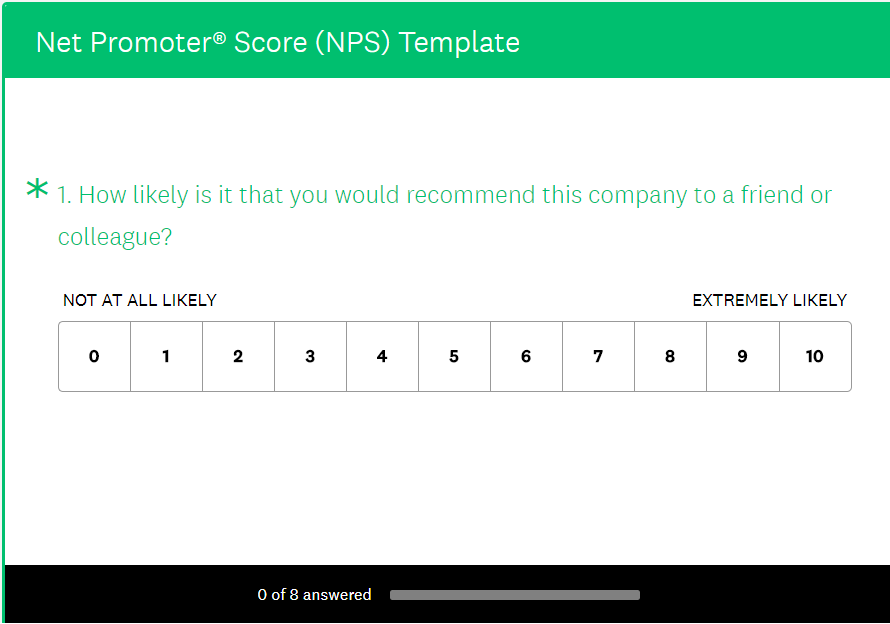 If you were to include a link to a survey in an email, this would greatly benefit your business.
It's always more expensive to acquire new customers than to keep the ones you have. Maybe you're losing a portion of potential sales just because you're not aware of the things that irritate some people?
Feedback is essential in avoiding precisely this situation. If you were to send a thank you email to people that rated you 8-10 and a feedback form for those that rated it lower than 7, you would surely gain loads of new information. Use this information wisely – it's essential in creating a word-to-mouth effect over time.
5. Event reminders
Here's a great reminder template from the Email Design Workshop: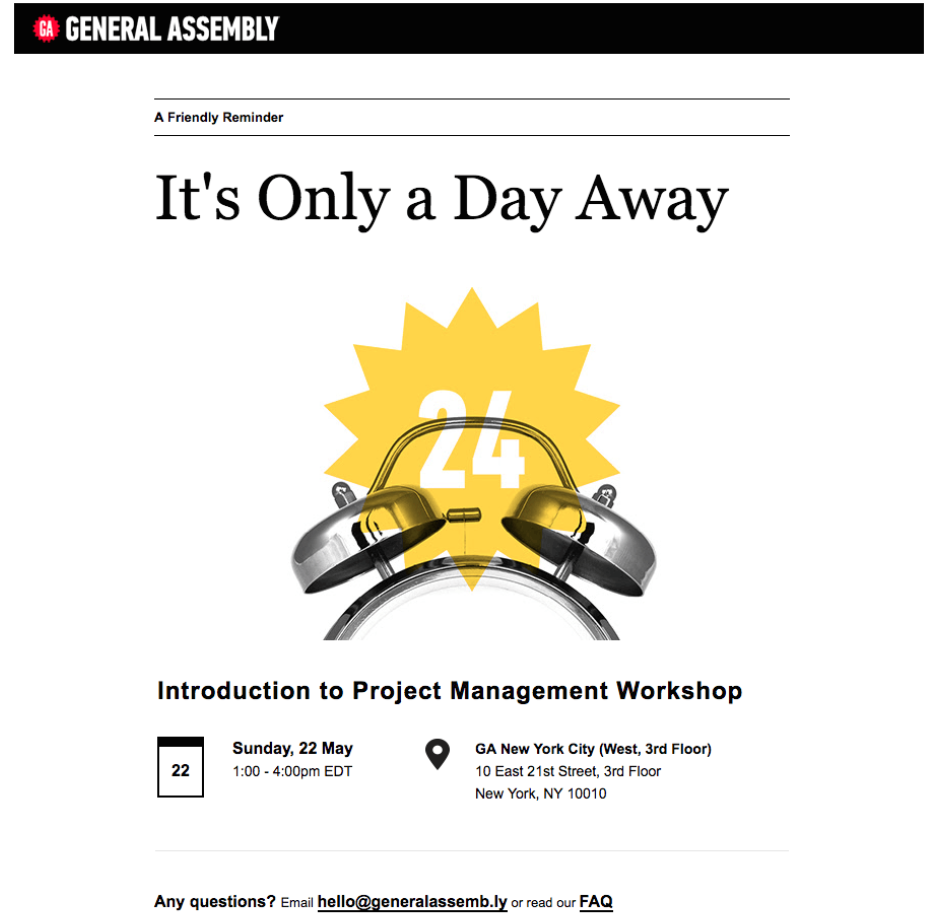 Fortunately, it's possibly a template for future event reminders. Just change the date, place, email and you're ready to go.
It's a widely known internet phenomena – tons of people complete the sign-up process, yet a fraction of them to come. Help forgetful people out – make sure they get a reminder of the place and time! Sending the reminders by hand would simply be irrational – why waste tens of hours when you can simply create a workflow and sit back?
You need to do it, if you want optimise your visitors and turn them into customers. 
No doubt that email marketing automation can be an extremely useful. It's essential in nurturing your subscribers and finally turning them into happy customers. It's possible to do this process by hand, but it's the 21st century, there's an easy way to do it!
Onward & Upward,
Sender.net Team
Like what you read?
Apply it in practice with Sender.net - the most cost-effective email marketing solution in the market.
Try Sender for free